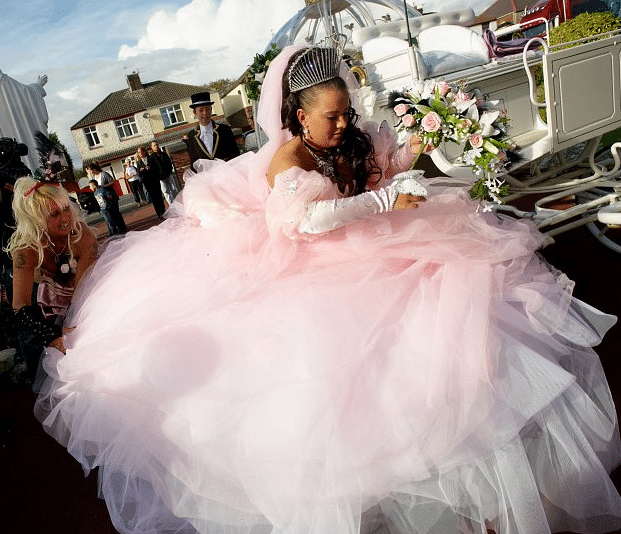 Here comes the bride, all dressed in – what? Our wedding day is one of the happiest days of our life, and while most brides-to-be dream of the perfect, classy, traditional wedding, others see it as an opportunity to get creative! It's hard to believe that some of these women chose to walk down the aisle wearing these bizarre gowns, but one thing is certain – it is sure to be a day they would never forget!
Orange is the new black
You might recognize this unconventional look from the reality show Big Fat Gypsy Weddings. The show follows couples of Irish Trevellers – an ethnic group with unique cultural customs – during the preparations for their big day.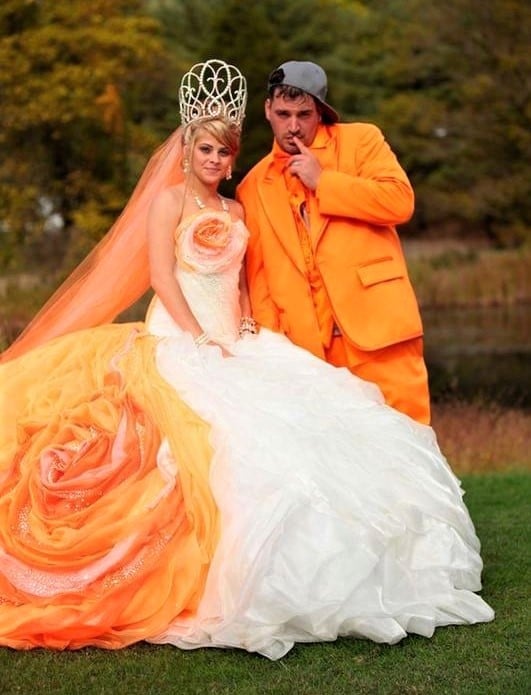 In this case, seems like what attracted the show to feature this couple was the unique choice of dress. Orange is a great color but a rather untraditional choice for a wedding dress! Coupled with the groom's glowing orange suit – it's a sight you can't take your eyes off.
The ultimate bridesmaid
If you think this dress suspiciously resembles the sheep's hair – it's because that's what it's made of. This sheep breeder from rural England loves her job and her sheep, and so dedicating her wedding dress to them seemed like the most logical thing to do.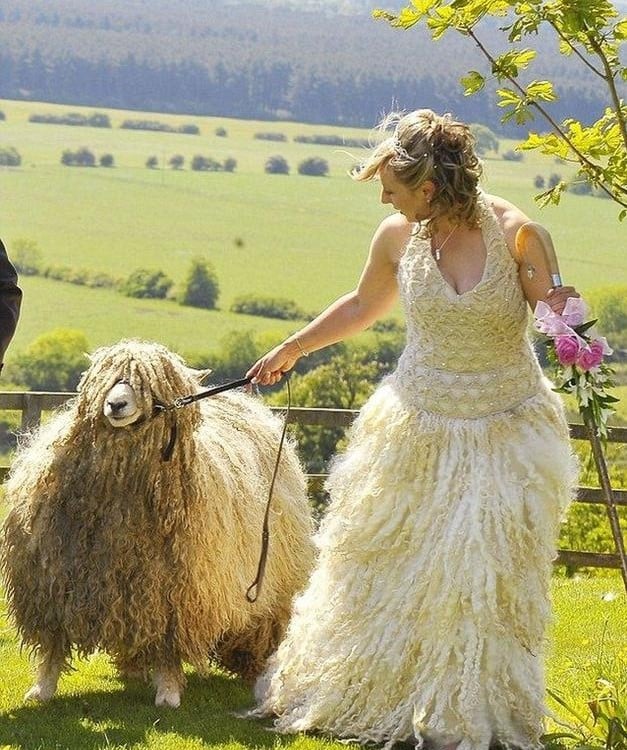 This is probably one of the most unique dresses ever made, and certainly one of a kind. It's made completely out of wool (from the sheep in the photo – the bride's favorite sheep!) and it took over 60 hours to make!
Flower girl
Following the success of My big Fat Gypsy Wedding, a similar American documentary was created, following the wedding customs of Romani-Americans. Much like the Irish Travellers, they have their own unique traditional wedding customs.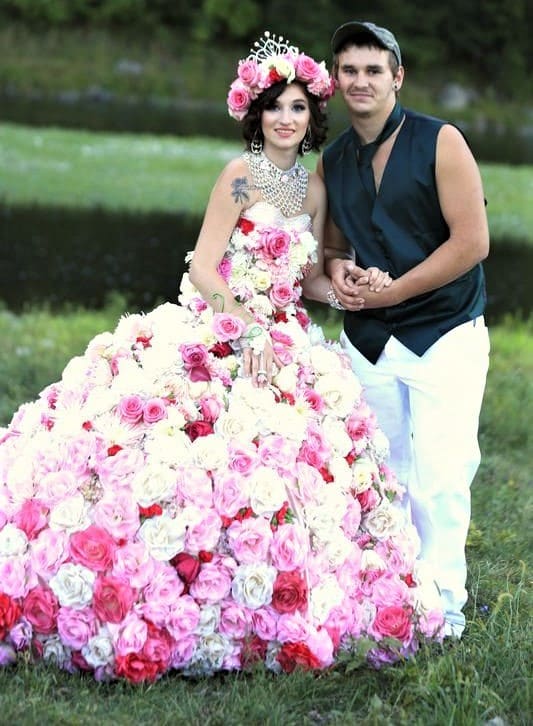 While we're used to hearing about the white dress, the bouquet toss and the "something old, something new, something borrowed and something blue" tradition – these aren't worldwide traditions, and every culture holds their own unique customs. Learning of these customs is what makes the Irish Travellers an interesting subject for the documentary.
She pops
Speaking of tradition – at least this dress is white, if nothing else! As strange as it may sound, turns out that balloon wedding dresses are a thing. They come in different shapes and sizes, but inflated wedding gowns are more popular than you thought.
It seems like a bold choice, however, and rather unsafe – as the balloons can pop at any moment! For instance, how do you greet your guests without the balloons popping? Or hug your new husband? As daring as it may seem, there's a whole industry of balloon wedding gowns.
A cheesy event
Okay, who among us women never dreamed of having a pizza for a wedding dress? The phrase "you are what you eat" has never been more literal – this bride decided that for her special day, she wants to be a pizza.
I'm guessing pizza is the favorite food of the bride and groom, and perhaps it holds a special meaning for the couple. Much like the balloon gowns, pizza wedding dresses are here to stay, as more and more brides choose this unusually delicious design.
Patriotism
We've all heard of themed-weddings, but how often is this theme the U.S? Apparently this, too, is not as uncommon as you might think! It's called a "Star and Stripes wedding" and just like the picture demonstrates, it's dedicated to the love of our nation.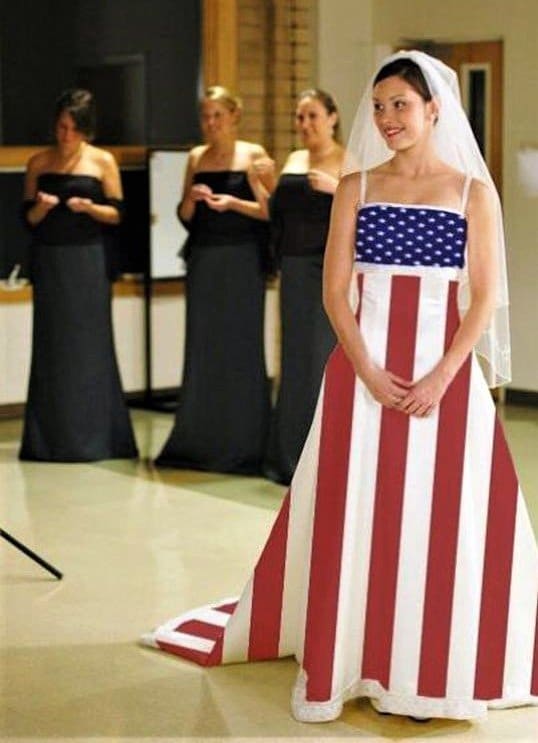 This wedding is accompanied by the Star and Stripes engagement photo shoot, where both bride and groom wear U.S related attire. The most popular date for a Star and Stripes wedding is – you guessed it – 4th of July.
Pride parade
Every dress has a story behind it, especially outrageous wedding dresses. This dress is called "Candyland Dress" – and you can see why. Everything about it is colorful and cheerful, like it came out of candy land! This is another bride that was featured on Gypsy Weddings, and her dress, understandably, was a big hit on the show.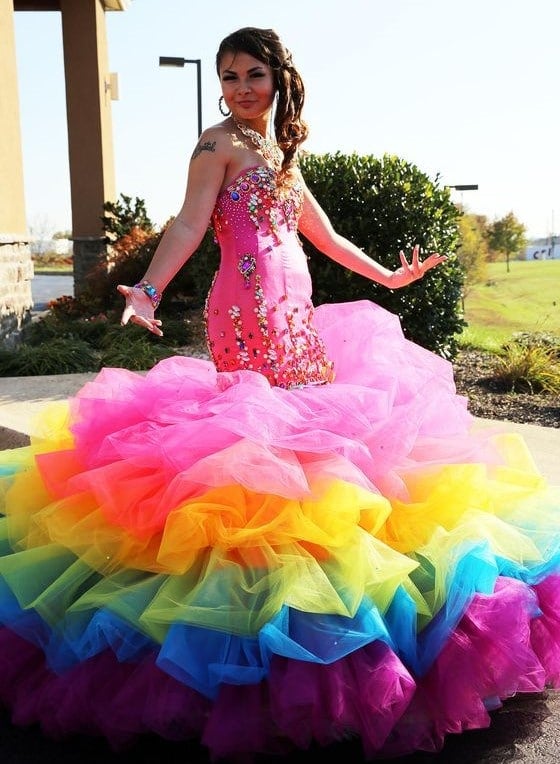 While all brides are the focus of attention on their big day, this dress is ought to make sure people won't take their eyes off you! Some might find it a bit too extravagant, but the girl in the picture seems to be rocking this dress.
Body paint
You can hardly call this one a dress, but it still deserves a place of honor on our list. This girl is wearing nothing but a skirt and some body paint – and in case you were wondering, body paint dresses are also a popular choice for brides looking to spice up their big day!
With body paint "dresses" you can do pretty much anything, as the dress is painted on your body according to your instructions. However, it seems like a dangerous choice, because what happens when it rains? We're not sure we want to get an answer to this question.
This girl is on fire
Look out – in the words of Alicia Keys – this girl is on fire, in the best possible sense. This bride is sure to turn heads at her big day, because she's a flame. The dress might have an original touch, but underneath it's still your good old white wedding dress.
Seems like this dress was meant to be a statement on how flaming hot the bride is, and how hot the wedding is going to be – but the outcome looks like graffiti wall decoration. Perhaps she should have gone with something more subtle.
Bride-groom
This unusual outfit has a name in the fashion world – half dress-half tux. It's a great choice of attire if you're getting married on Halloween and looking for a good prank, or if you want to marry yourself – you don't need anyone else, as you can now be both the bride and the groom.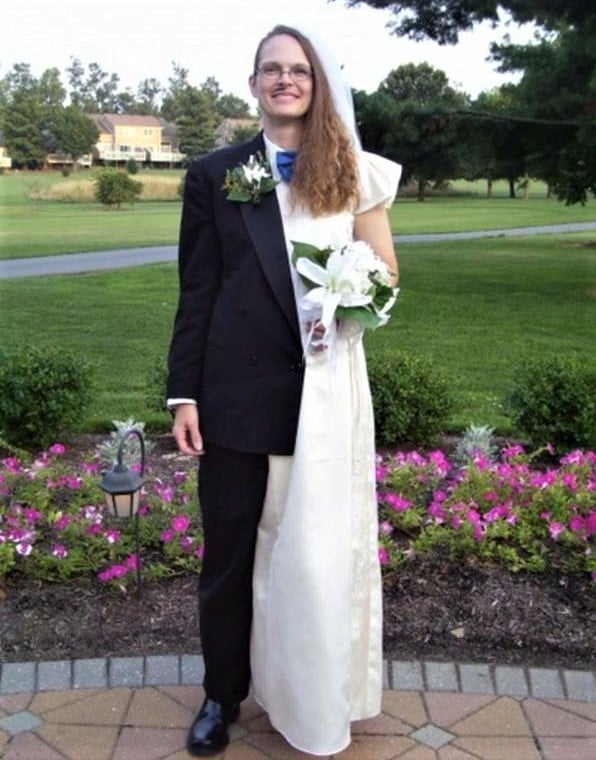 Apparently the half dress-half tux is a big hit among celebrities as well, and Michael Urie (Ugly Betty) rocked this outfit in the 2019 Met Gala! With all the flashing looks of the Gala, this one was by far the most controversial and outrageous.
The ultimate sports fan
Turns out that sports-themed weddings are a whole world you didn't know about! And while American football is the most common sport in the United States, in England it's soccer. That's why this lady chose to dedicate her wedding, and more importantly her dress, to Manchester City Football Club.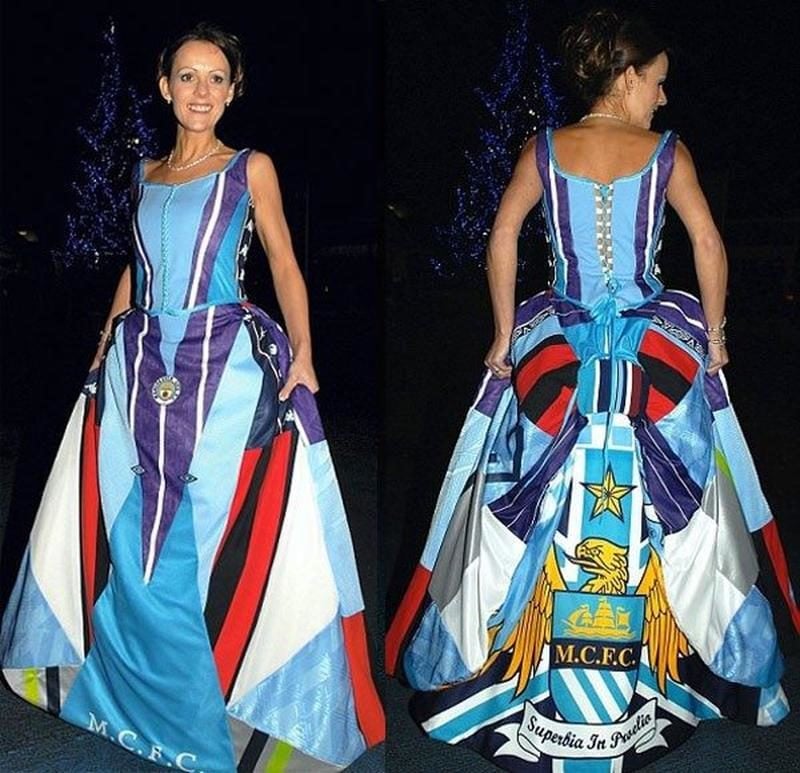 In case you were wondering how hardcore fans these people are – the dress is made entirely out of the husband's soccer shirts! And their honeymoon, naturally, was held at the team's stadium in Manchester, celebrating their big day at their favorite spot.
Just the right amount
Perhaps you already guessed it – this is another Gypsy wedding gown. What was appealing about the documentary show is that it didn't only demonstrate some of the most scandalous dresses you can imagine, but also the whole adventure around planning the wedding.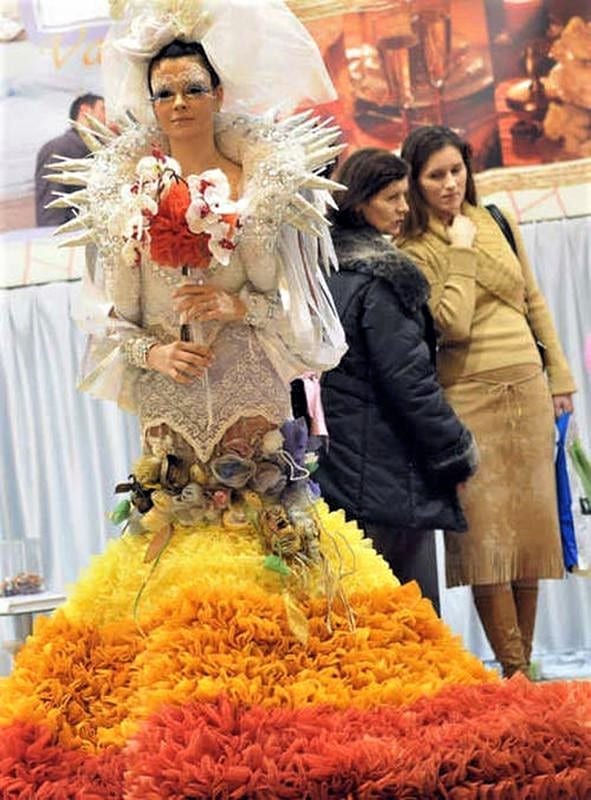 You can see by the look of these dresses that the Irish Travellers or the Romani-American have very unique wedding traditions. Besides the outlandish wedding dress, often the groom and the bridesmaids wear unconventional dresses to match and accompany the bride.
Can you explain this?
Wedding dresses often have a story behind them, whether it's a cultural one or simply a fashion statement – but this one I'm really not sure how to explain. It is unique – you can't take that away from her. And we're not here to judge, but other than that, it doesn't seem like the dress has a lot going for it.
Wedding dresses are supposed to be beautiful and not necessarily comfortable, but this one doesn't seem practical at all! How can you move around in a dress like that, dance, or let alone move your hands to accept the ring?
Just a bit over the top
Much like the lantern dress above, this wedding gown seems rather uncomfortable – to say the least! Is seems pretty heavy – the opposite of what you want to be wearing on your big day, when you're supposed to dance the night away.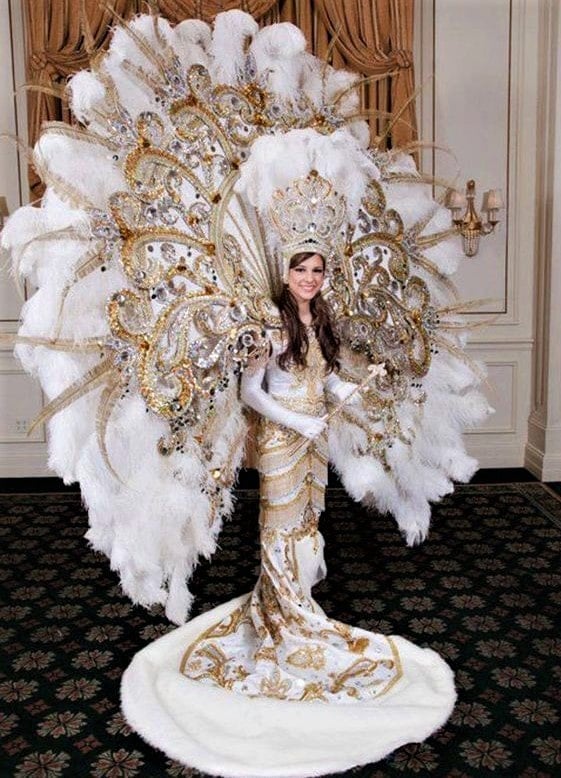 But with all joking aside, looks like this dress took a lot of work and long hours to make – look at all the intricate details! It's unclear whether they were going for queen, angel or a circus performer, but either way – this is one impressive dress.
Desert, anyone?
This isn't a dress, but a human cupcakes stand, for the sworn chocolate lovers among us. It's pretty handy, though – you walk around greeting your guests, and save them the walk to the desert table. The only this is, chocolate and a white dress doesn't seem like a winning combination.
Again, this desert dress is not as unusual as you might think! We also have champagne dresses, where the bride walks around surrounded by glasses of champagne. The only bad side to this dress is that you're facing a constant rick of getting it dirty with chocolate.
Prom queen
Every girl dreams of being a princess on her wedding day, and every princess needs a wand (wait – that's a queen, not a princess). Either way, this girl certainly had her wedding all planned out when she was a girl waiting for prince charming, and she wasn't going to give up her dream.
Pink is a rather utraditional choice of color for a wedding dress, but then again, it's better than some of the dresses we've already seen. This couple, featured on Gypsy Weddings, look like the prom king and queen, and only one question remains – how did the dress fit in the carriage?
The happy couple
Compared to most other dresses on this list, this one seems moderate! It's white, to begin with. But aside from the color, there's no connection whatsoever between this dress and anything that is traditional. It's hard to imagine a bride from the fifties looking like this.
It's a bit unclear what stands behind this dress, seeing as it's rather messy, with the layers of tulip flowing everywhere. But they seem happy and that's the most important thing – after all, it is their wedding day.
Fifty shades of yellow
Well, actually that's only one shade – but a lot of it! This bride is brighter than the sun – just the stunning effect you want to achieve on your wedding day. The flower arrangement to match this kind of dress is of course sun flowers, an unusual choice of center pieces.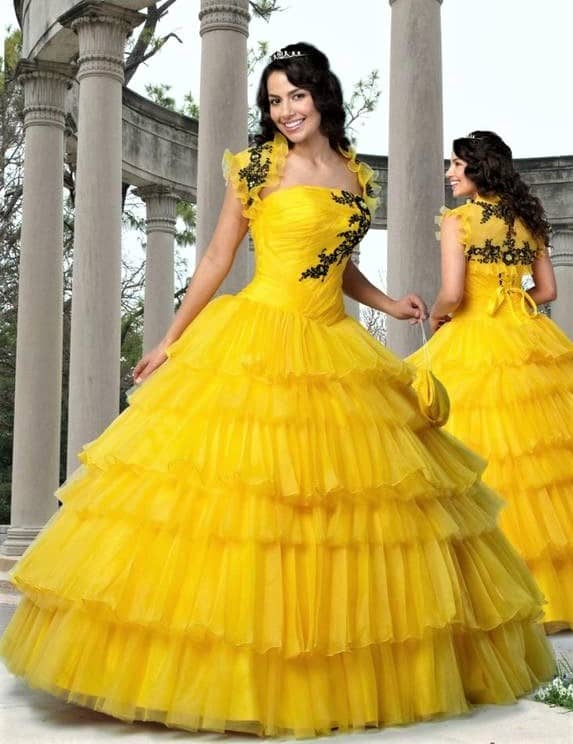 Yellow Quinceanera wedding dresses are more popular than you think – because why stick with the boring white, when you can be glowing like the sun?
Hungry for attention
This is taking the human cupcake dress to the next level – with a dress made completely out of cake! We've seen some bizarre things before, but this one takes the money. This cake was made on the bride's body – no bake of course, just cream and icing.
This is a good choice if you want to save on your wedding cake – but be careful not to eat it all before the ceremony starts! This wedding dress looks delicious and surprisingly flattering, but it's certainly unconventional.
For a themed-wedding
I'm not sure what was the theme of this fashion show, but it seems like it was either nature or a Christmas Special. Either way, this is a real wedding dress made by an acclaimed fashion designer and sold for a lot of money! Actually, without the extravagant headset, it's not all that bad.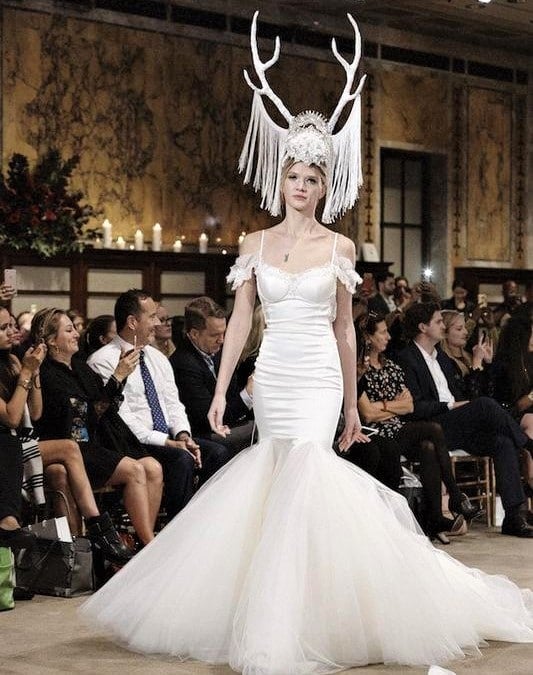 But another thing about fashion shows is that the clothes exhibited often look good only on the models, as they are tailor-made for them. This dress is a perfect example – I can't imagine it would look good on anyone other than this runway model.
A traditional wedding
With a headpiece like this one – who's going to notice the dress? It's almost as big as her head, and here we are back in the department of heavy, impractical dresses. But perhaps what catches the eye even more than this headset are the bridesmaids. This vintage photo shows that bridesmaids had to wear unfortunate dresses since, well, forever.
Being a bridesmaid is never an easy task, nor is it rewarding, but a good friend will do almost anything to make the bride happy on her big day. However, these dresses seem like the bride might be pushing it a little too far.
All covered up
This is yet another caption from a fashion show, and I'm not from this world, so I might be mistaken, but nothing about this dress strikes me as neither glamorous nor fashionable! And again – how can the bride dance in such a dress, let alone move her head?
At least it seems like she's wearing flats rather than heels. This dress looks like the best wedding gift you can ask for – except the happy couple wants to receive the gifts – not be the gifts! I didn't register for this one.
High fashion
The fashion industry has a flare for the dramatic, and so often in fashion shows they exhibit dresses that you can't imagine anyone actually wearing. The case is no different with wedding gowns, and this one is a perfect example.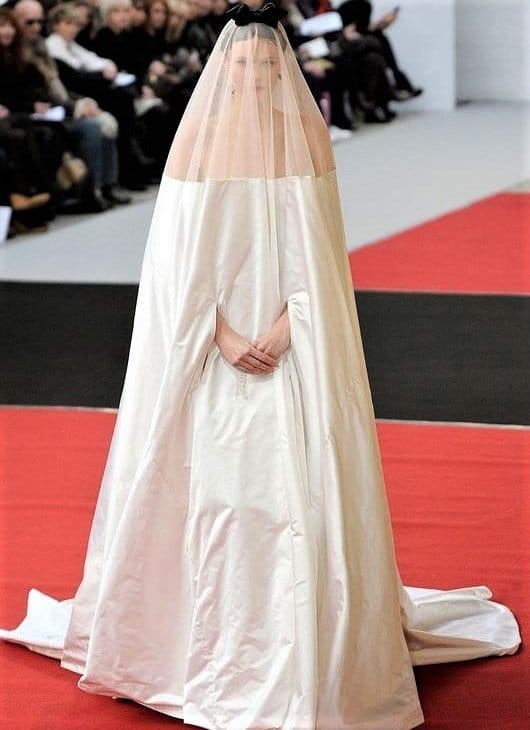 This one is not all that bad compared to other dresses on the list, but nonetheless, it seems like something only a runway model can wear. Like most other dresses on the list, it doesn't seem at all practical. But we already know that fashion isn't about being practical.
Barbie
Dreaming of being a princess is on our wedding day every girl's dream, but being a barbie is a first. However, it's your wedding day, and you can do whatever makes you happy – who's going to deny you?
Yes, you guessed it – this is another girl that was featured on the documentary show. It's interesting to learn what are the customs behind the dresses that make them so outrageous.
A fairy tale wedding
Shrek is the ultimate fairy tale, and so what's a better tribute to have at a fairy tale wedding? The message is clear – true beauty comes from within, and perhaps this bride wanted to send the same message to the guests at her wedding.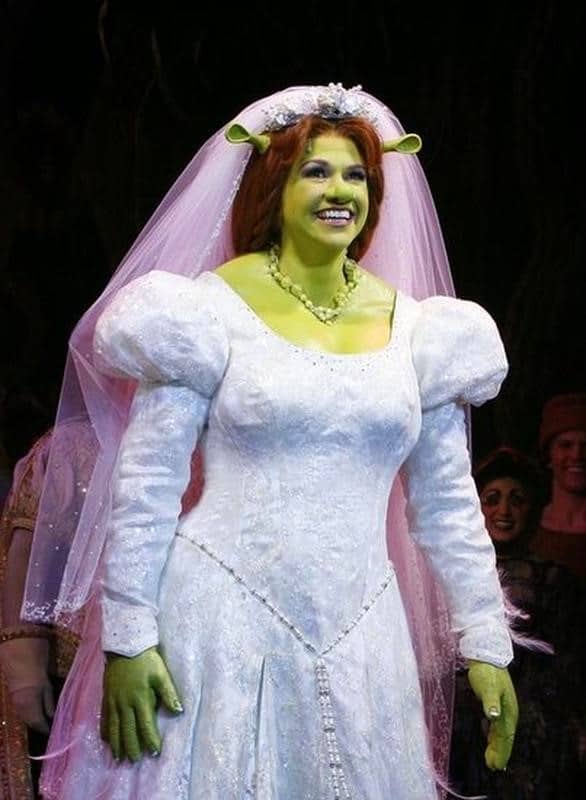 This dress makes perfect sense for Disney lovers, but that's pretty much it. Of course, you can't have the dress without the entire look – green body color and everything. Otherwise, you're not a real princess.
Layers
I'm not sure how many layers are on this dress, but it doesn't seem at all comfortable! Yet another Gypsy wedding dress – you can watch the show to learn what stands behind this dress and what made it the right one for this bride to be!
If we can learn something about the traditions of the Irish Travellers, it's that weddings are a major event for them, and it seems like their culture is abundant with wedding customs as this dress is in layers.
Costume party
Another high-fashion wedding dress, straight out of a fashion show. Without the added bunny-ears and gloves, this could have made for a beautiful wedding gown that wouldn't shame the best fashionistas around. But fashion has a way of making everything over the top.
Perhaps the contradiction between the delicate, classy gown and the black accessories is what gives it it's charm, but this seems like another dress for the runway rather than the altar!
Metallic
Another hot trend you should probably be familiar with is the futuristic wedding dress. In a weird way, after seeing the balloon dress, the desert dress, and a Disney-themed dress, this doesn't even seem that strange.
The futuristic wedding dress must be accompanied by matching futuristic (metallic) makeup and accessories – to complete the look. Futuristic wedding dresses come in different shapes and sizes, and they can also be glowing in the dark – a popular feature of the futuristic dress.
Couture
Last but not least on our list of high-fashion wedding dresses, just to really drive the point home, is this wedding dress. What is she hiding under there? It's a mystery – our guess is that it's the wedding cake.
This is another classic case of taking a beautiful, traditional wedding dress and making it over the top! And to be honest, even this model can't make the dress look reasonable. How will the first dance go with this barrier of fabric standing between the couple?
Pretty in pink
One last dress from My Big Fat American Gypsy Wedding – because they're all so outrageous! The most pressing question here is what's holding this dress so that it wouldn't fall?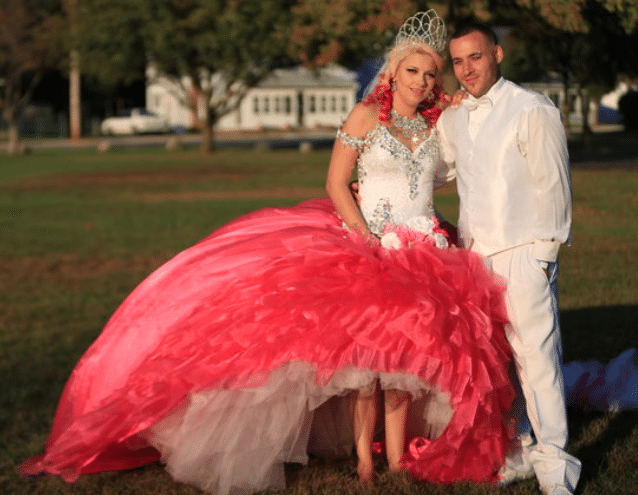 One thing is sure about the culture of Irish Travellers and the Romani-American: they are colorful people, and enjoy colorful wedding gowns. But joking aside, it's nice to see women take the freedom to be creative with their wedding dresses and enjoy their big day to the fullest.
She's one with nature
This is a camouflage dress – especially for brides who don;t want to attract too much attention on their wedding day. Some brides shy away from the spotlight, and if your wedding is held outdoors – this can bee a good choice of dress to keep you hidden from the crowd.
It's the exact opposite of a traditional wedding dress, and so is the bouquet this bride is holding. It's rather unclear whether the idea behind this dress was nature or perhaps a military design, but either way, it'll always be remembered as one of the most outrageous wedding gowns.