provided by constative.com
Hotel experiences really run the gamut. Some hotel stays are amazing and relaxing, while others can be awful experiences from the depths of the unknown. If you're looking to have the best hotel experience possible during your next vacation, there are some things to keep in mind. Hotel workers across the nation have taken to r/AskReddit to share the deepest, darkest secrets and hacks of the hotel industry. Some pieces of advice are nice common-sense reminders, while others are little-known facts that can help you hack your next hotel stay. Use these tips, tricks, and confessions to improve your next trip.
#1: Breakfast for Champions
We kick this list off with tips from a former hotel kitchen staff worker. They let us know first-hand the feelings of most hotel staff towards guests. They also gave us some advice on how to get better service. First, being polite to waiters increases your chances of getting better service and items you request a lot faster. This seems like a no-brainer, but evidently, not everyone knows the Golden Rule of treating others as you'd want to be treated.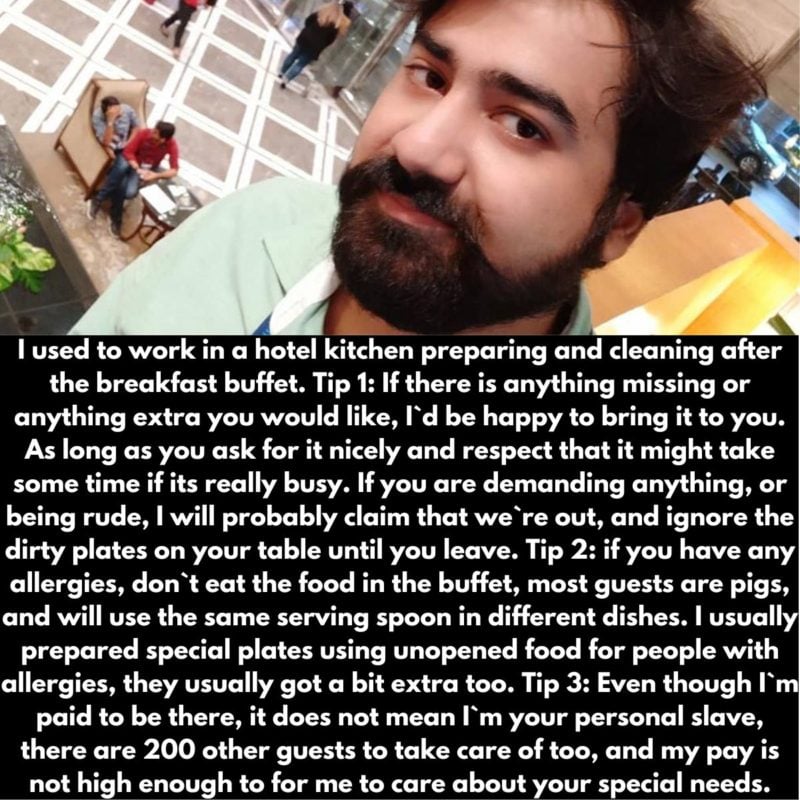 provided by constative.com
Another tip they share is to never eat from the buffet if you have serious allergies. Guests swap serving spoons all the time, and chances of contamination are high. Staff is always happy to make something for you if you let them know of any food allergies. Lastly, they reiterate that even though the staff is there to help guests, they are not personal assistants. They're people, just like you and me, and they're trying to do their job.