Top ten Nigerian foods and their ingredients, as we all know Nigeria is a country blessed with different types of ethnic groups with their different cultures and their different ways of preparing foods that will make you salivate anytime any day. A woman who can cook very well in Nigeria is considered to be a great home keeper.
This list of top 10 Nigerian foods that we are about to present to you are foods that you will want to try out at home, these foods are highly nutritious and will keep salivating until you get a taste of it.
List of Top 10 Nigerian Foods
10.  Ekpang Nkukwo (Coco Yam Porridge)
Coco yam porridge also known as Ekpang Nkukwo is special delicacy mostly eaten by the Efik from South South Eastern Nigeria. This food is a highly nutritious food, time consuming and expensive to prepare that is why is rarely been prepared  mainly for special occasions.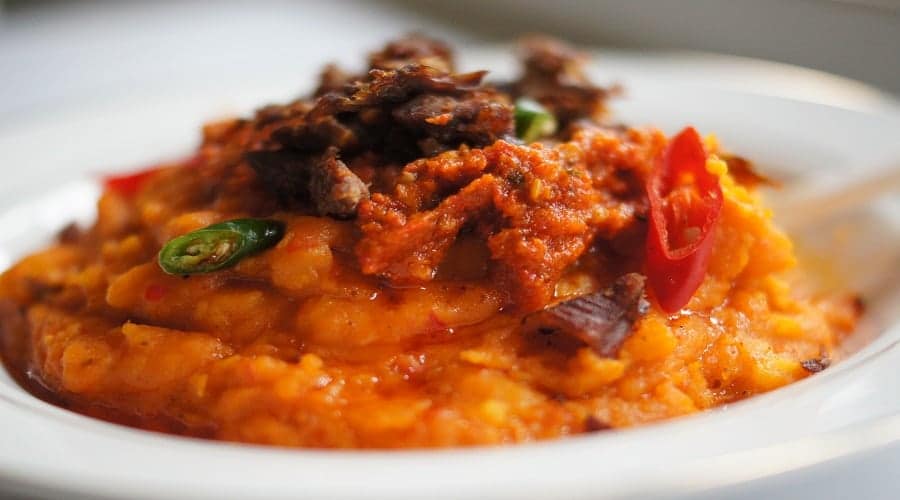 Ingredients for Coco yam porridge is dried fish, Beef, periwinkles, pepper , palm oil, dried crushed bitter leaves, crayfish,  shrimps and it can be wrapped with the coco yam leaves.
9.  Assorted Cow Meat Pepper Soup
Assorted meat pepper soup is a recipe widely accepted in Nigeria because of it mouth watering aroma, pepperish taste, easy to prepare, assorted cow meat and it is health beneficial.
Ingredients for assorted cow meat pepper soup water, dried pepper, crayfish, onions, scent leave, uziza seeds, assorted meat and salt to taste
8.   Ikokore – Water Yam Porridge
Water yam porridge is a native food of the Ijebu's from western Nigeria which is popularly called Ikokore. Water yam porridge is a yummy food that is rich in carbohydrate and protein and is usually eaten in the afternoon.
The food is prepared with grated water yam, salmon fish, fresh pepper, tomato, prawns, vegetable, crayfish, iru woro, palm oil, maggi and salt to taste.
7.   Ofada Rice With Assorted Meat Pepper Stew
Ofada rice with assorted meat pepper stew is food that is originated from the Yoruba's but is widely enjoyed by many tribes in Nigeria and some West Africa countries such as Benin Republic, Togo, Ghana especially for it unique taste. The stew is so tasty and pepperish and is best enjoyed while it is hot. This food will surely make you salivate.
Ingredients for Ofada stew are: unripe habanero pepper, tatashe pepper, locust bean seasoning (iru or ogiri), palm oil, 1 big onion, crayfish, and assorted meat.
6.  Porridge Yam With Mashed Titus Fish
Porridge yam with a mashed Titus fish is a delicious Nigerian food that can be enjoyed anytime any day, this meal is accepted by every tribe in Nigeria and it yummy look will make you salivate each time you set your eyes on it.
Porridge yam is not an expensive nor time consuming food to prepare and can be enjoyed by the young or old people. Ingredients for yam porridge are: Yam, pepper, tomato, crayfish, palm oil and Titus fish onion and salt to taste.
5.  Mashed Beans And Plantain
Mashed Beans and plantain is a nourishing and delicious food you wouldn't ignored when is ready to eat. This food is one of the most popular Nigerian foods and very nutritious.
The food is very easy to prepare the ingredients are beans, plantain, pepper, onion, crayfish, palm oil, salt to taste.
4. Yam Pepper Soup With Chicken
Yam pepper soup with chicken is a spicy, delicious and medicinal food which is very good for your stomach. This Nigerian food is a mouth watering food because of it hot spices and aroma and is easy to prepare.
The ingredients are: yam, scent leave, pepper, chicken, grounded uziza seed, grounded crayfish and salt to taste.
3.  Eba And Okro Soup
Okro soup is a delicious  soup which can be taken with eba, pounded yam wheat or semovita and very good for your body. This is one of the Nigerian foods that can be prepared in so many ways, easy to prepare and loved by many in Nigeria.
Okro soup is prepared with okro, pumpkin leave, dried or fresh fish, meat, palm oil, onion, crayfish, pepper and salt to taste.
2. Roasted Plantain With Fried Fish And Pepper
Roasted Plantain with fried fish and pepper is a very tasty food and very appealing to the eyes. This is one of Nigerian foods will make you want to eat more and more once you taste it.
Roasted plantain ingredients are: fresh pepper, fish, onion, plantain, palm oil and salt.
1. Pounded Yam With Egusi Soup
Pounded yam and egusi soup is a food that Nigerians cherishes so much and are proud to mention it in  any part of the world that they visit. This food is our no 1 spot in the list because is very expensive, energy and time consuming to prepare. To prepare this food you must be sure the ingredients are complete in order to make it rich and very tasty.
The ingredients are: egusi, stock fish, meat, cow leg, shrimps, dried fish, palm oil, pepper, crayfish, pumpkin or bitter leave, Maggi and salt to taste. Pounded yam and egusi soup is definitely on top of the best Nigerian foods.