[two_third]
Meghan Markle was bound to cause some controversy when she married the most eligible bachelor in the world, Prince Harry. This modern mix-raced, feminist and former actress is nothing like the Royals have ever seen before. Some may argue that Meghan is a breath of fresh air, whilst other say that she is breaking all of the rules!
Royal Family Drama!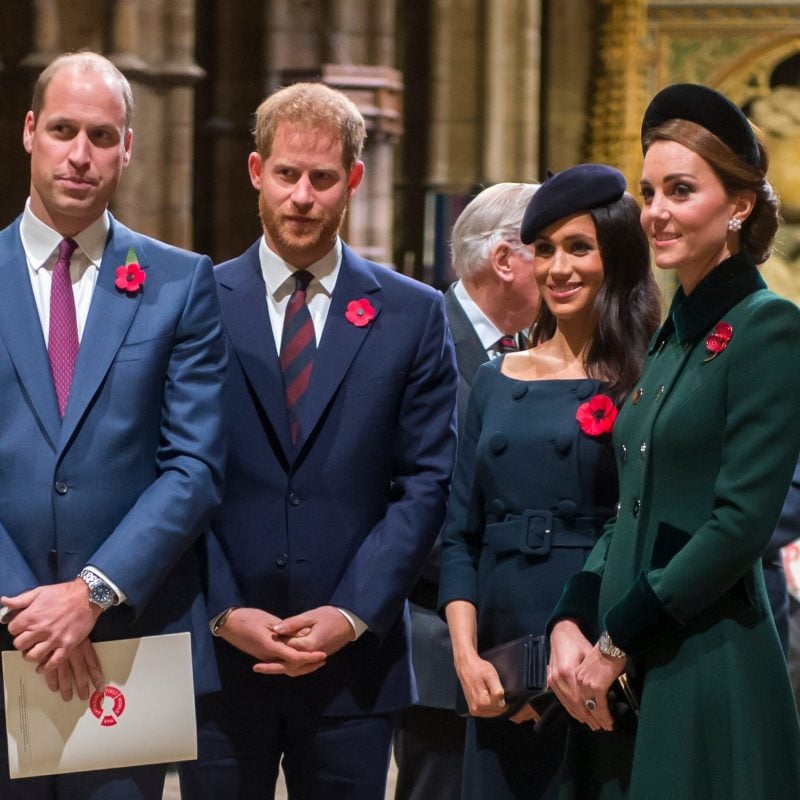 Over the last week or two, it has been reported that tensions have been growing between the Duchess of Sussex and the Duchess of Cambridge (for the commoners Meghan and Kate). However, these rumors could easily all have been fabricated and it has been stated that Meghan is finding it increasingly difficult to not be able to address the press directly. The rumors about her and Kate not getting along have slowed down considerably, however, are still upsetting this new Royal.
Meghan is Frustrated!
Meghan has become the world's most photographed woman in the space of six short months. The world seems to be watching everything she does, including every rule she may break. For example, there is a royal rule about colored nail polish, which states that Royal women are only allowed to wear pink/nude colors. However, Meghan recently broke this rule by wearing a dark black shade on her nails at the British Fashion Awards. This not only reportedly upset the Queen, but also her sister-in-law Kate. It was stated that Kate is not a fan for rule breaking and is sick of being compared to new-comer Meghan.
Kensington Palace Drama
There's been a lot of speculation when it comes to Kensington Palace and the royal living situation. A bit of background: Kensington Palace is not really a palace, its a collection of apartments (which are basically houses) where various Royal family members live, including William and Kate, Meghan and Harry and now Princess Eugenie and Jack. Meghan and Harry are reportedly leaving the confines of Kensington to move into the countryside once their child is born. Bring in the rumor mill. Once it was reported that Meghan and Harry plan on leaving, sources started to speculate that this was due to drama between the Duchesses. However, we can clearly argue that it is because Meghan and Harry wish to bring up their new child out of the hustle-bustle of London and somewhere more private and quiet… or so they say.
Breaking Down the Rumors
Kate Middleton "in tears." This rumor comes from an article in the British Newspaper the 'Daily Telegraph' It was reported by two sources that "Kate was left in tears following a bridesmaids dress fitting for Princess Charlotte" leading up to Markle's May wedding. However, the article never says why Middleton cried—just that she was "emotional" and had "just given birth to Prince Louis." So it's possible something or someone else besides Markle was responsible for these tears if they even happened.
Christmas at Sandringham
Christmas at Sandringham is like a modern-day Downtown Abbey and we're not joking. Sandringham is a Castle in England where the Royal family have always celebrated Christmas. There are lots of grounds, numerous rooms and of course plenty of servants to aid all of the royals. This will be the Duchess of Sussex first Royal Christmas, and thus should be a happy occasion. However, the rumor mill keeps on spinning as it was reported that due to the feud between Meghan and Kate, William, Kate, and their beautiful three children would be celebrating Christmas with the Middletons' (Kate's family), however, we now know this to be untrue. First of all, if Kate wanted to celebrate the holidays with her parents and siblings this would not be too outrageous. Secondly, this would also never happen as we are pretty sure that there's no choice when it comes to the Queen's Royal festivities. Her Majesty is expecting a full house this year, despite previous claims that the Duke and Duchess of Cambridge would swerve the celebrations in favor of spending Christmas Day with Kate's family.