Every successful man has a woman behind him, we all know that – and as it turns out, even big men like America's greatest wrestlers. Everybody needs a support system, even men that seem tough and unaffected. Those women deserve recognition, because it very well may be that without them, their husbands wouldn't have come so far. Some of these couples will surprise you, because they might seem extremely incompatible, but this just goes to show that love knows no limits (we're talking about height limits, yes?)
Big Show and Bess Katramados
The seven times world champion Paul Donald Wight aka Big Show currently works with WWE. After a failed marriage that ended in 2000, two years later he married his second (and current) wife Bess Katramados.
Katramados is a former model, but her career jumped only after marrying Big Show. She might seem incredibly small next to her husband, but Bess actually has an impressive height for a woman! At the height of 5'8, there's a reason why she made it in the modeling world.
Cody Rhodes and Brandi Rhodes
Here's something you don't see every day: Cody and Brandi Rhodes are both professional wrestlers. I've heard of couples choosing the same career path, but wrestling seems quite unusual. Their mutual career path is what brought the two together, and they married in 2013.
On top of being a professional wrestler, Brandi is a business woman and a television personality – talk about being better than your husband. Brandi was into sports since childhood, when she was a competitive figure skater.
Triple H. and Stephanie McMahon
In 2003, Triple H. and Stephanie McMahon, two of the biggest names in the wrestling industry, got married. McMahon isn't a wrestler herself, but an important personality in the wrestling world; she is the chief brand officer of WWE and an on-screen figure.
You can say that this career path was chosen for Stephanie, as her father, Vince McMahon, is a legend in the wrestling world. She entered the industry in her teens as the "innocent and friendly daughter" of the superstar wrestler.
John Cena and Nikki Bella
The professional wrestler John Cena had some turmoils in his dating life. He was married for three years between 2009 and 2012, and later that year, after his divorce was finalize, he started dating his current girlfriend, fellow wrestler Nikki Bella.
Nikki and John are both wrestlers, and both have a soft spot for the sport, and so it seemed like the perfect place to pop the question was the 33rd annual WrestleMania! Doesn't sound too romantic to us.
CM Punk and AJ Lee
CM Punk and AJ Lee are another couple of wrestlers – turns out it's not as uncommon as we thought! The couple married five years ago, and they're going strong since.
AJ Lee (real name April Jeanette Mandez), CM Punks' better half, is also a published author. In 2015, after an impressive career, she retired from wrestling to focus on writing, and in 2017 her memoir Crazy is My Superpower became a bestseller.
Chris Jericho and Jessica Lockheart
Chris Jericho (born Christopher Irvine), one of America's most noted wrestlers, married his wife Jessica Lockheart almost twenty years ago, back in 2000, and they've been happily married since.
Though it seems like people in the show business and wrestlers in particular have a habit of marrying multiple times, Chris Jericho is an exception to the rule – he has been happily married to Jessica Lockheart since 2000, and the couple has three kids. There must be something about Lockheart that soothes his nature.
Shawn Michaels and Rebecca Curci
The wrestler and the dancer: Rebecca Curci, the woman behind the wrestler, was also in the wrestling business. Rebecca wasn't a wrestler, though, but a dancer in the notorious Nito Girls.
The Nitro Girls were a dance team in the World Championship Wrestling, mainly meant to entertain the massive crowds during commercial break in competitions. As befitting a superstar couple, Rebecca and Michaels married in 1999 in a Vegas wedding, where only an Elvis impersonator was present.
Mike Kanellis and Maria Kenellis
The multi-talent Maria Kanellis, wife of professional wrestler Mike Kanellis, is a professional wrestler, wrestling manager, actress, model and singer. The superstar couple dated since 2011 and tied the knot in 2014. Today, her main focus is managing her husband's career.
What's interesting about the two is that Maria didn't only take Mike's name after their marriage, but she adopted his ring name as well. Nike Kanellis is the wrestler's ring name, and Maria adopted this as her ring name as well, to be fully committed to the marriage.
Bray Wyatt and Samantha Rotunda
Bray Wyatt (originally Rotunda) and Samantha Rotunda are high school sweethearts! They dated since high school and tied the knot in 2012. Unfortunately, the couple recently divorced, after Samantha learned of an affair Wyatt was having with a coworker, a WWE ring announcer.
Their love story is truly a story of the woman behind the man, since when the couple had first met in their teens, Bray had nothing. Samantha was his muse and encouraged him to become the self-made legend that he is today.
Daniel Bryan and Brie Bella
Remember Nikki Bella, John Cena's girlfriend and an acclaimed wrestler? Meet her twin sister Brie! The sisters chose the same career path, and Brie is a professional wrestler, just like her twin sisters. Seeing twin sisters in the wrestling industry is quite uncommon, so it brought the sisters great fame.
Earlier this year though, Brie, a former WWE Divas champion, announced she was retiring from wrestling. Brie and Daniel Bryan got married in 2014, and today they have one daughter. You might find this surprising, but the couple are leading a vegetarian lifestyle.
Christian Cage and Denise Hartmann
Denise Hartman, the woman behind the wrestler, is a German model. The two met when they were both touring in London; they married in 2001 and are happily married since, living in their Tampa home.
Talk about being at the right place at the right time. Denise caught the wrestler's eye the minute he spotted her through the crowd in a crowded London street, and ever since, the couple has been going strong. She is truly the inspiration behind his success.
The Undertaker and Michelle McCool
Michelle McCool is The Undertaker's third wife, and so far it seems like third time's the charm for the couple. Michelle is a professional wrestler herself, and not just any wrestler, but a two-time WWE Divas champion.
Before she joined the wrestling world in 2004, Michelle worked as a middle grade teacher – that's quite a drastic change of career paths, I would say. Mark Calaway (aka The Undertaker) is her second husband, and the two are married since 2010.
Tyson Kidd and Natalya Neidhart
Natalya Neidhart, the two-time Women's champion in WWE, is the successful woman behind the renowned wrestler Tyson Kidd. In addition to being a professional wrestler, Natalya is a journalist, with two regular columns dealing with her life and career as a wrestler.
Natalya comes from a long legacy of wrestlers, being the first third-generation female in the world. The couple's relationship created a buzz in the wrestling world, and since they started dating in 2001, their relationship was featured on the reality show Total Divas.
Jack Swagger and Catalina White
The legendary wrestler is somewhat of a cliche – he fell head over heels with the model Catalina White, and they've been inseparable ever since. His wife, Catalina, is an a-list model, having been featured in magazines such as Maxim, FHM and more.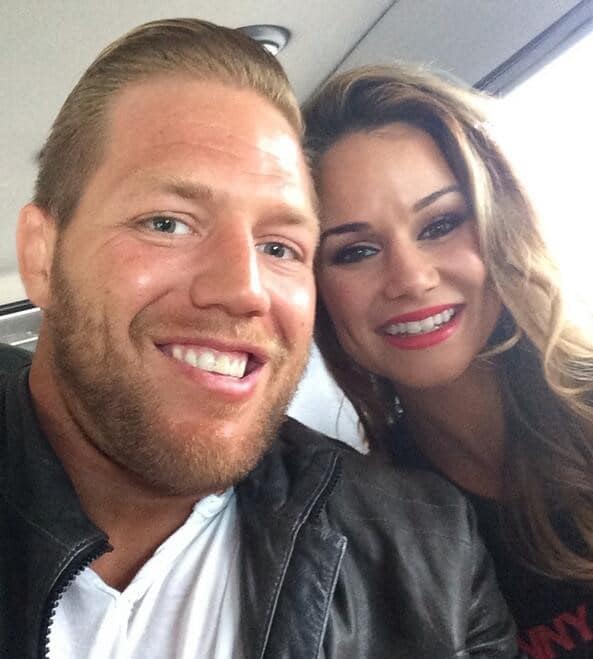 These days, however, she shies away from the camera, and leaves the fame to her husband. Her modeling gigs have become significantly less scandalous, and she made her Instagram account private.
Zack Ryder and Chelsea Green
Professional wrestler Zack Ryder (born Matthew Cardona) didn't find the love of his life until he met fellow wrestler Chelsea Green, who goes by the ring name Laurel Van Ness. The two have been dating since 2017, and recently Ryder popped the question!
Chelsea Green only had her inaugural appearance in 2016, while her fiance Zack Ryder entered the industry in 2004. But there's no rivalry between the two, since both are acclaimed wrestlers in their fields.
Rusev and Lana
Another multi-talent wife, Lana is the better half of this relationship. Catherine Joy Perry (aka Lana) is a professional wrestler, wrestling manager, model, actor, singer and dancer. As a child, her dream was becoming a dancer, and eventually she became so much more than that.
Her wrestling career took off in 2013, the same year she met her husband Rusev. Three years later, and a lot of drama in between, the couple tied the knot.
Charlie Haas and Jackie Gayda
The wrestling sensations Jackie Gayda and Charlie Haas married in 2005, and fulfilled their dream of having a big family – they now have their very own team of wrestlers, as the couple has four children.
Both of them being wrestlers and athletes, they pay great significance to fitness and a healthy lifestyle. That's why they opened the store "Custom Muscle Nutrition and Smoothie Shop" which they co-own, and that is their main focus these days. Being in such great shape as they are, Jackie and Charlie also perform as the ambassadors of their brand.
Randy Orton and Kimberly Kessler
Third-generation professional wrestler Randy Orton married his second wife Kimberly Kessler in 2015. Though Orton is relatively young and he has a long career ahead of him, he's already conquered some impressive accomplishments, such as becoming the youngest World Heavyweight Champion in WWE history.
Orton and his wife Kimberly met at a WWE event she attended, being a fan of wrestling. Kimberly and Randy have matching tattoos to celebrate their love and marriage.
Jimmy Uso and Naomi
Naomi and Jimmy Uso are a famous duo in the wrestling world, though each of the wrestlers have made a name for himself. Naomi is a gifted wrestler, most known for starring in the renowned reality Total Divas.
Before his marriage to Naomi, Jimmy Uso was part of the wrestling tag team The Usos with his brother Jey. However, after marrying the wrestling sensation Naomi, the two became the hottest duo on stage and replaced Jimmy's partnership with his brother.
Jeff Jarrett and Karen Jarrett
Karen Jarrett, the impressive woman behind the wrestler, is a big name in the wrestling industry; you can say she's the one controlling the operation. In her past, she was the vice president of the Impact Knockout Division, and today she's an important personality in the business.
Before tying the knot with wrestling legend Jeff Jarrett, Karen was married to Olympic gold medalist Kurt Angle, and they have two children together. While their marriage ended in 2008, two years later Karen and Jeff announced their engagement.
Dean Ambrose and Renee Young
Renee Young, much like her wrestler husband Dean Ambrose, is in the wrestling world – however, she's not a wrestler (as her small physique tells), but a sports broadcaster. Currently, she's an on-air personality of WWE.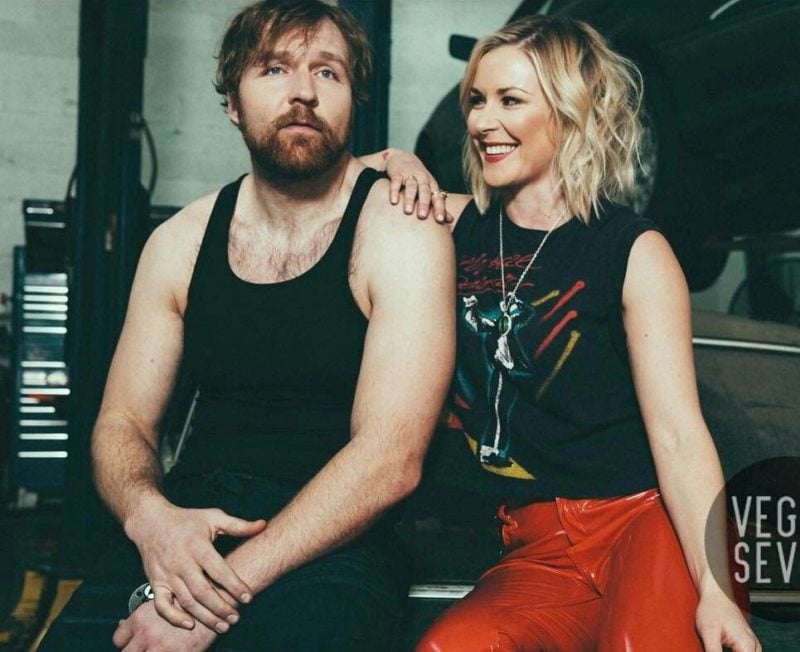 As an important personality and a known face in the wrestling industry, Renee didn't go unnoticed by Ambrose! But as she shared in an interview, he was very shy and gentle in his courting, and that's what eventually caught her attention.
Edge and Beth Phoenix
Whoever said opposites attract? Seems like the other way around – the superstar wrestler and his superstar wife Beth Phoenix are both professional wrestlers, yet another couple that chose the exact same profession.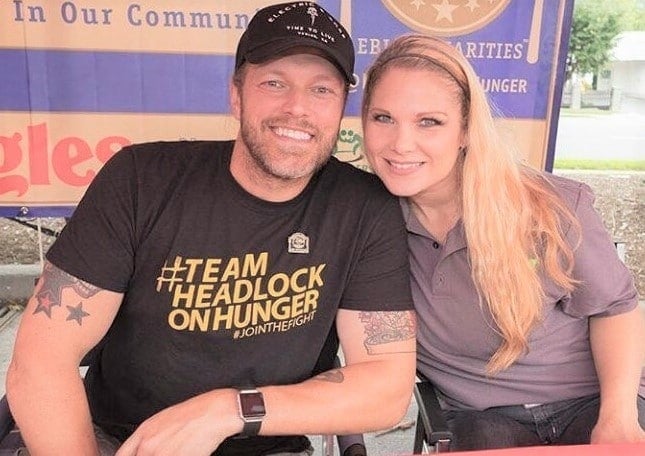 As any professional wrestler, Beth Phoenix is her ring name, while she was born Elizabeth Copeland. Phoenix is currently the commentator of the NXT Brand, but in her wrestling glory days, she was the winner of multiple championships. Before her marriage to Adam Copland (aka Edge), she was married to wrestler Joey Knight.
Kurt Angle and Giovanna Yannotti
You might be familiar with the name Kurt Angle, an Olympic gold medalist (yes, the former husband of Karen Jarrett) – but what about his current wife Giovanna Yannotti?
Perhaps her name doesn't ring a bell, but her face will – Yannotti is an accomplished actress, model and stunt woman. The couple got married in 2012 and have four children together, one of them adopted.
The Rock and Lauren Hashian
This is a rather new marriage, but it seems like they're in for the long run! You might not know this, but before Dwayne Johnson (better known as The Rock) embarked on a successful acting career, he was a professional wrestler for WWE. Lauren Hashian is his second wife, and the two only tied the knot this year.
The couple may have only tied the knot a couple of months ago, but they have been hot and heavy since 2006! Hashian is a fellow actress, and the two met on the set of the film The Game Plan.
Kofi Kingston and Kori Campfield
Unlike most wrestlers who enjoy being in the spotlight, Kori Camplief, the woman behind the wrestler, shies away from the camera and keeps to herself. She is a rather secretive person, as much as one can be when your husband is a superstar wrestler.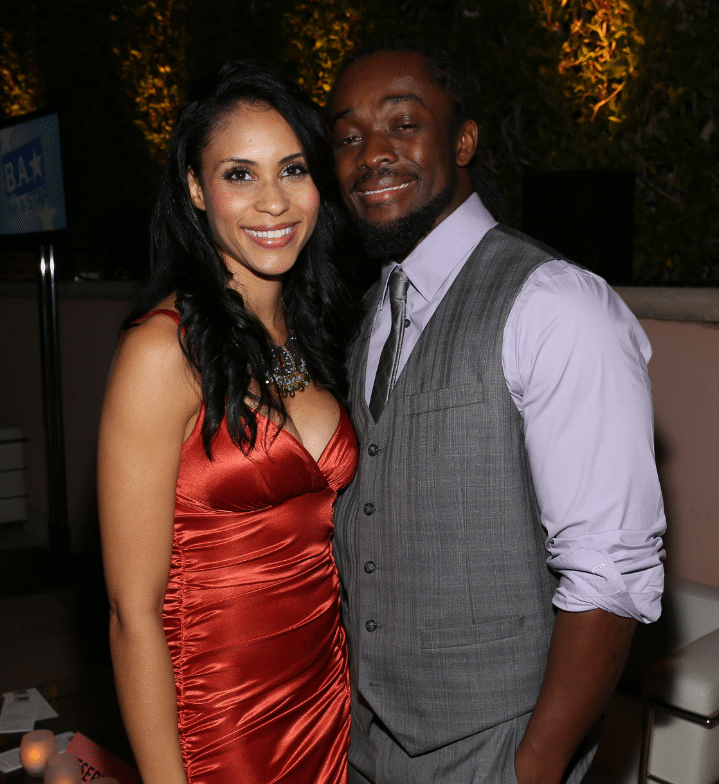 Kori is not your usual wrestler's wife, the kind that circulates around him and is known around the wrestling scene. She's so secretive, she doesn't have any social media profiles, which is rather unusual in our days. You can say she is the mystery wife of the wrestling world.
Roman Reigns and Galina Becker
Though it's hard to outshine her husband's wrestling career, Galina Becker does a pretty good job! She's not just the woman behind the success of her husband, but also a renowned fitness model.
Much like her husband, she's extremely athletic and flexible, but she took her talent to quite a different direction than her husband. Quite surprisingly, the couple didn't meet as part of their mutual interest in sports, but rather on the campus of Georgia Institute of Technology, where they both majored in Management.
John Layfield and Meredith Whitney
It's safe to say that in this relationship, Meredith Whitney is the successful woman behind the man. Meredith Whitney's success as a business woman granted her the name "The Oracle of Wall Street."
Whitney was listed among the "50 Most Powerful Women in Business" and the New York Post's "50 Most Powerful Women in New York City." With a record like this, Whitney is not just "the wife of professional wrestler John Layfield," but the other way around.
Kevin Owens and Karina Lamer
Professional Canadian wrestler Kevin Owens started his career in his teens, at the age of 16. Watching WWE in his childhood and teens is how Owens learned to speak English, and what got him interested in a becoming a wrestler.
Owen's wife is not in the wrestling business, and so she's the calmer half of their relationship. They were married in 2007 and have two children; they named their son Owen, after the Canadian wrestler Owen Hart, who inspired Owens to pursue this career.
Matt Hardy and Reby Sky
The couple met during their mutual time with WWE, when Hardy was Rebecca's trainer. Later, they got married in 2013. The sensational couple was involved in many dramas in the industry, including romantic dramas.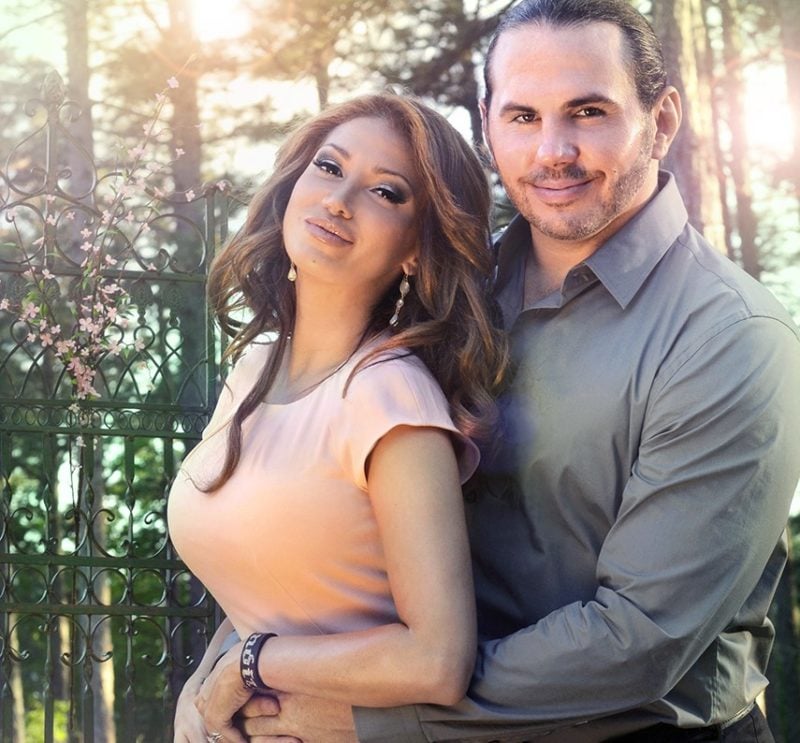 Since they both have a flare for the dramatic, it shouldn't come as a surprise that Reby Sky, in addition to being a professional wrestler, is an actress, most known for her multiple performances in reality shows.
Bo Dallas and Sarah Backman
As sweet and angelic as she looks, Sarah Backman is not someone you want to mess with! She's a fellow wrestler, arm wrestler, and most intimidating – a real estate broker. Despite her many talents, her arm wrestling career is what brought her to fame.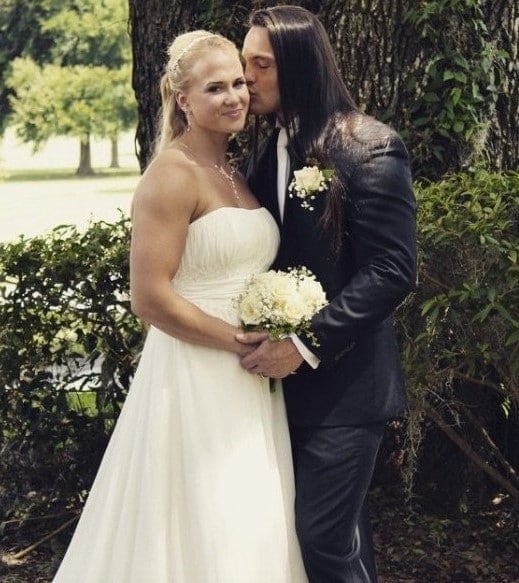 Unlike her arm wrestling career, which started when she was merely 14-years-old, Backman's career as a real estate broker is rather new, and perhaps it was something that her husband encouraged.
Stone Cold Steve Austin and Kristin Feres
Steve Austin, better known in the wrestling world as "Stone Cold Steve Austin" or sometimes "Stunning Steve Austin" (he goes by many names), was born Steve Williams. He legally changed his name to his wrestling name Austin in 2007.
Austin's current wife Kristin, pictured above, is the wrestler's fourth wife. Before marrying her in 2009, he had three failed marriages. His most memorable one, though, was with third wife Debra Marshall, an American actress. Their marriage ended sourly, and since 2009 he is happily married to Kristine.