Once you see these pictures you will never want to fly anything but first class again. From chauffeur-driven limousines to private lounges, from gourmet meals to luxury linen, if you must travel then this is the only way to do it. Start saving for your trip right now though because, depending on your destination, you'll pay anywhere from 5K to 64K. Get ready to be wowed by the most expensive airplane seats in the world.
Qantas A380: Melbourne to LA, 14h 25m
Fear of flying? No worries, book an appointment at the airline's lounge spa for a pre-flight massage. Your first class seat comes with extra privacy, as the reclining chairs are tucked away. You'll sink into a fully reclining touch controlled pad bed with a sheepskin mattress. Touch screen entertainment systems and a wide selection of champagne and wine are yours for the choosing. Renowned chef Neil Perry's selection of a la carte dishes is a major attraction. Only $9,800 for this first class experience.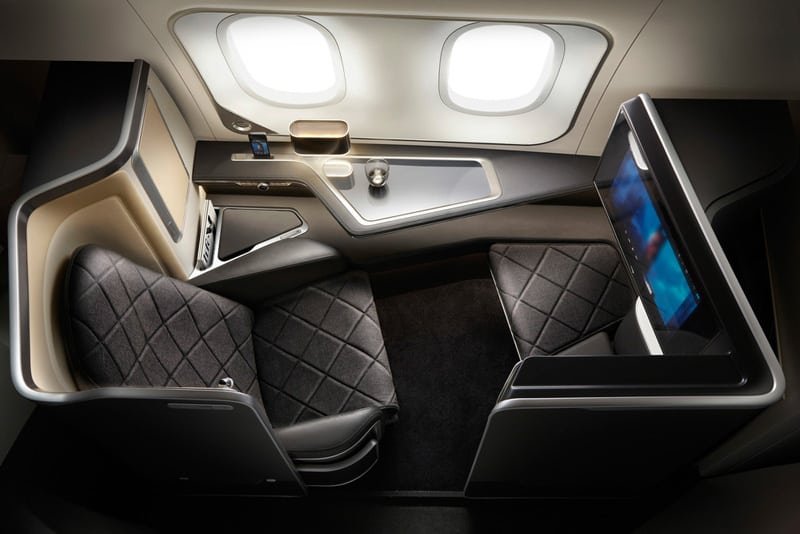 British Airways 787-9 Dreamliner: London to Hong Kong, 12h
British Airways first-class cabins provide passengers with an aura of understated elegance. You'll relax in a fully flat bed with a mattress and a duvet. Enjoy a 23-inch display screen with a touchscreen remote control. Indulge in gourmet meals with a wide choice of fine Champagnes and wines. Get access to luxurious lounges and spa treatments. A one-way first-class trip from London to Hong Kong will set you back approximately $16,000.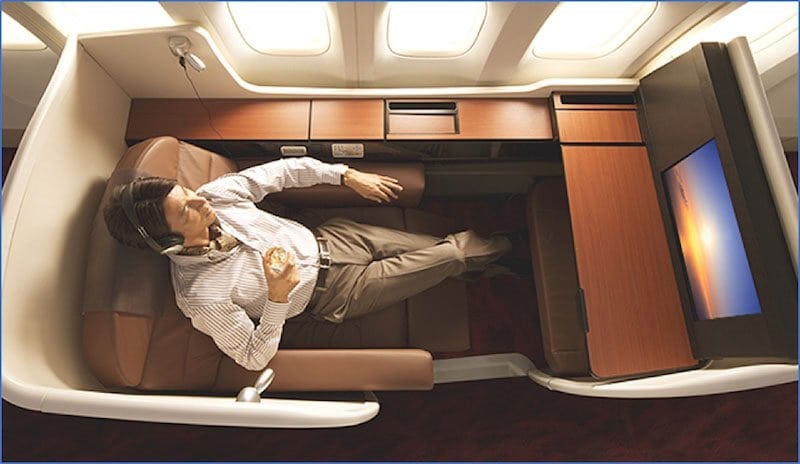 Japan Airline Sky Suite 777: Tokyo to New York, 13h
Sit back and relax in your own private space that feels like a private room. The seat transforms to a fully-flat bed made of an Airweave mattress that provides plenty of legroom. The woodgrain enclosed space is closed off from the rest of the plane for added privacy. Your suite includes a 23-inch LCD monitor, a large swivel table and storage space beneath the ottoman and aisle access. This one-way trip will cost you $12,000.
Qatar Airways: Doha to Paris, 7h
Sink into an ultra-comfortable lie-flat bed with Frette linen and a duvet or indulge in meals created by world-renowned chefs. With an on-demand menu service, luxurious table linen, and fancy silverware you'll feel like you're dining in an upscale restaurant. Turn your space into an office with a desk, laptop power, USB plug, and onboard Wi-Fi. Sick of work? Relax with up to 4,000 entertainment options on your entertainment system. A first-class ticket costs $5,000.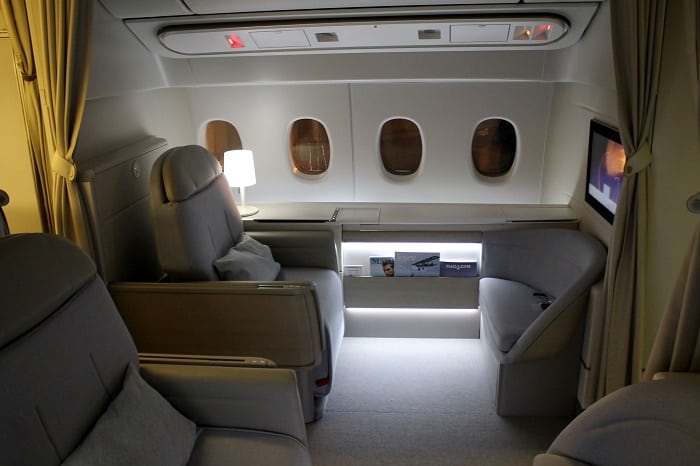 AirFrance La Première: Paris to New York, 8h 15m
Your plush seat reclines to a flatbed 78 inches long and 30 inches wide. The bed is made of a futon mattress, a large pillow, and a Sofitel My Bed Duvet. Each seat has a 24-inch HD in-flight entertainment system, and you will be treated to a menu made up of France's most famous chefs. Get access to the separate first-class lounge, where meals are created by Alain Ducasse. La Première is $9,500 one way.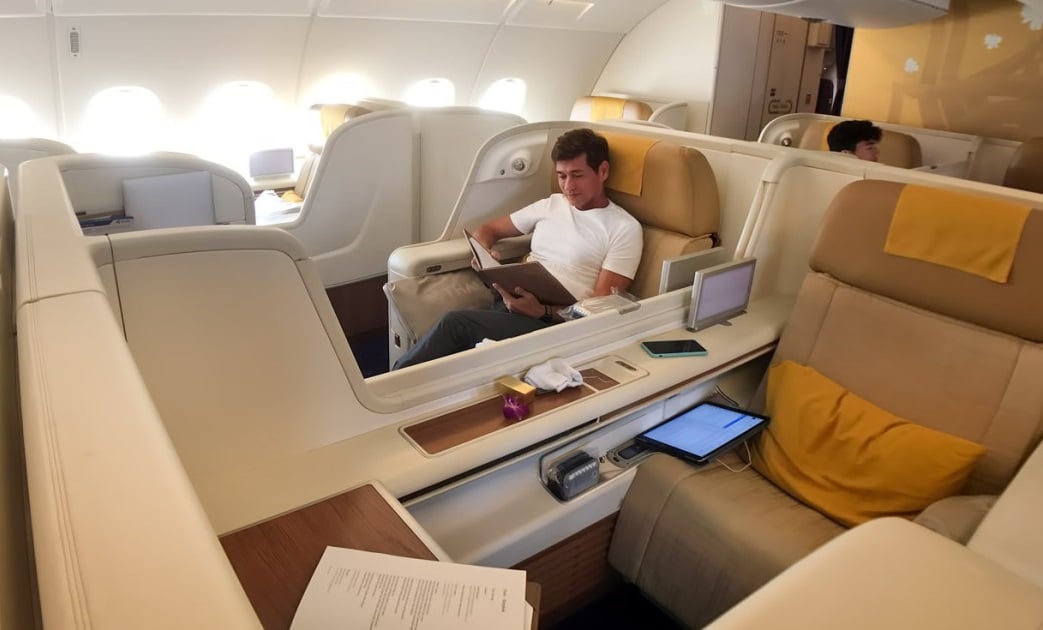 Thai Airways A380: Bangkok to Paris, 12h
You're treated like royalty in the Thai Airways A380 first class section with only 12 suites. There are no garish colors just the refined luxury of a modern cream-white color scheme. Each seat is 26.5 inches wide with an 83-inch pitch. You enjoy a 23-inch flat screen TV with a fantastic entertainment system, a crisp HD resolution and loaded with on-demand shows and games. Plenty of storage space too. A round-trip ticket costs about $5,500.
Swiss 777-300ER: Zurich to LA, 12h 15m
Get priority boarding, higher limits for your baggage and quick handling. Easily transform your first class seat into a private suite. It has a beautiful wood finish and the seat is comfortable in all positions. The huge 32″ screen offers superb entertainment. The flight assistants are friendly and efficient. After take off you get rosemary-covered cashews followed by a hot towel. The gourmet dining menu is paired with fine wines. You'll pay $14,600 one-way.
Emirates: Dubai to New York, 14h
Shortly after takeoff, the crew brings champaign, hot towels, and then Arabic coffee and dates. If that's not enough, simply choose what you want from your own mini bar. Your food table has plenty of room for all the food that you order. The bathroom has a selection of Bvlgari toiletries and Timeless Spa products. The crew hands out pajamas, slippers, eyeshades and a purse to hold all the goodies. It's $8,000 for a one-way ticket.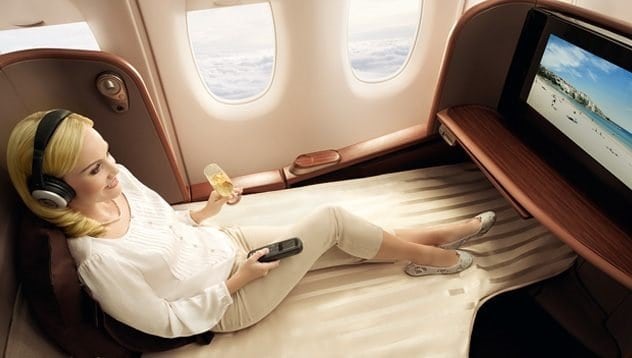 Singapore Airlines: Frankfurt to Singapore, 12h 20m
The first class bed on Singapore Airlines may actually be better than most at-home mattresses. When transformed it extends to 80 inches. Intense to cool reading lights can be set to your preference for reading, working or enjoying TV. The seat is a generous 35 inches wide, upholstered in the finest grade full-grain leather with mahogany trimmings so you can sit comfortably in any position. A one-way ticket is $9,000.
Oman Air: Oman to London, 7h 40m
Oman Air's first class offers lie-flat seats, direct aisle access, and a la carte meals served on unique, bespoke china. With only six seats in the first class cabin, along with a luxurious lounge area, the experience is like flying in an exclusive private jet. Your 25.5-inch wide seat includes a built-in eight point massage system and a huge 23-inch video monitor. Use Wi-Fi for the duration of your flight. A one-way ticket is $5,000.
American Airlines, LA to Hong Kong, 14h 50m
Speed through security and boarding at the airport and get your checked bags first when you land. Enjoy a gourmet meal inside a private lounge before you board your flight so you can get to sleep sooner. American's first-class flat-bed seats measure six feet in length and are 30 inches wide. You get two comforters and a blanket when you want to sleep. Breakfast includes a smoothie and is one of the best airline breakfasts around. You'll pay $13,000 for a one-way ticket.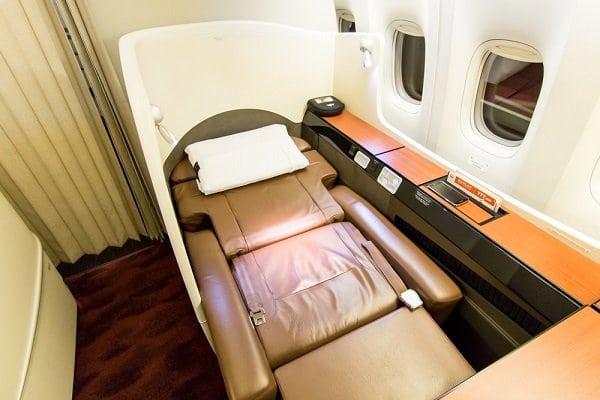 Japan Airlines: LA to Tokyo, 11h 10m
Japan Airlines new first class suites include a partitioned space with leather upholstery and a reclining mattress. You'll be entertained by a 23-inch flat screen TV, and have plenty of storage thanks to the private concealed storage spaces. The gourmet menu features an a la carte selection of Western dishes and Japanese sushi plates. There is also a comprehensive wine list including a high-end array of sake rice wines. It's $11,000 for a one-way ticket.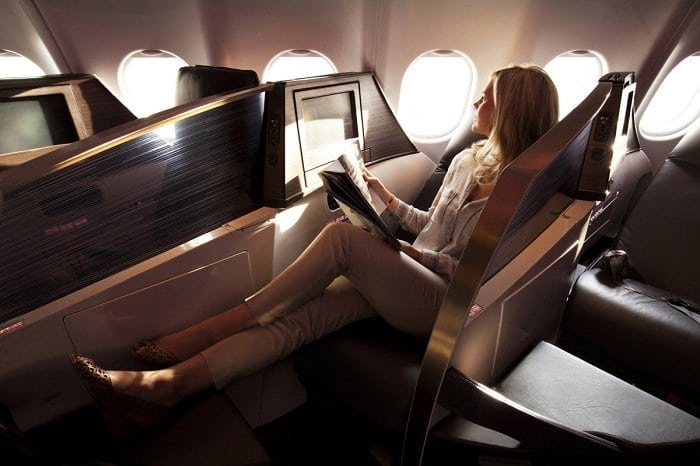 Virgin Atlantic Upper Class: New York to London, 7h 25m
Travel like a boss with a chauffeur car service, which will take you to and from the airport in style. Upper-class seats include privacy screens so you enjoy a sleek and private trip through the skies. The seats are 22-inches wide but lie back completely with the touch of a button, transforming it into a 6-foot bed. Choose from 300 hours of films, games, and TV on your private entertainment screen. A one-way ticket will cost you $6,400.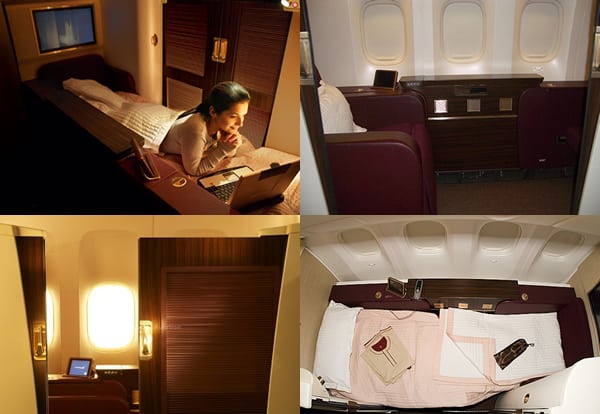 Jet Airways: Mumbai to London, 9h 35m
With dual sliding doors, night sky mood lighting, and five-course meals, this is serious first-class travel. Choose from a collection of award-winning wines or try a handpicked whiskey. Slip on your Bose noise-canceling headphones and switch on your 23-inch flat screen TV to watch blockbusters from Hollywood to Bollywood, listen to music on the Jukebox, or pick an award-winning TV show all while sipping on a glass of Bollinger La Grande Année. Only $4,000 one-way.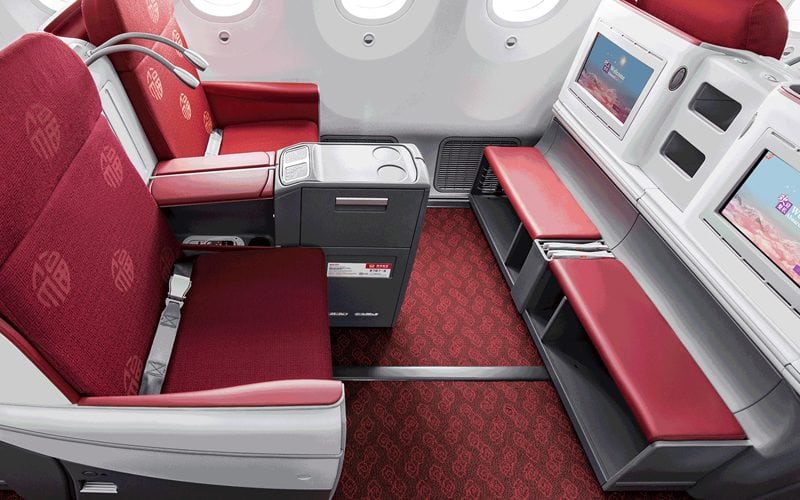 Hainan Airlines: Seattle to Beijing, 11h 35m
Based out of China, Hainan uses a red color scheme because the Chinese people associate it with happiness, success, and good fortune. Your trip starts with authentic Chinese food prepared from fresh ingredients. Your seat has USB ports and convenient reading lights so you can work and read comfortably. Enjoy a luxury Bvlgari Amenity Kit and an entertainment system with Bose noise-canceling earphones. Tired? Curl up on the 80-degree lie-flat bed. It's $11,000 for a one-way ticket.
Cathay Pacific: Hong Kong to New York, 16h
This flight boasts award-winning first class service. Wine and caviar are frequent breakfast items. Enjoy your personal entertainment system and an LCD touchscreen that lets you control the lights and adjust the seat with the touch of a button. First class bedding has a 500 thread count cotton fabrics for the duvets, pillows, cushions and thick bed mattresses giving a soft, luxurious feel. 100% organic cotton pajamas complete the relaxing atmosphere. A one-way ticket is $17,000.
Korean Air: New York to Seoul, 14h 20m
A seat in the Kosmo Suites on Korean Air includes a 180-degree full flat seat with touchpad controls, individual space with privacy and a 23 inch high-resolution LCD monitor. At 26.5 inches wide, the seat is 5.9 inches wider than a regular first-class seat. The 79-inch-long one-piece, jointless seat mat ensures maximum comfort. A thick partition separates passengers. The food service won the Mercury Award for best in-flight food. A one-way ticket is $9,800.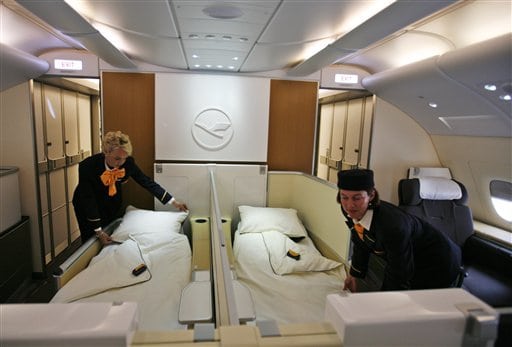 Lufthansa: Munich to Hong Kong, 11h
This no-nonsense German airline provides personal assistants, luxury toiletry kits, a Michelin-starred culinary menu and a five star Skytrax rating. You get preferential boarding, limousine service, and plenty of storage. Your airline attendant will transform your seat into a six-foot-long bed with a mattress topper and temperature-regulating duvet. Your bar includes three different types of water, a fine china cheese platter, high-quality silverware and an award-winning wine selection. You'll pay $9,500 for a one-way ticket.
ANA: New York to Tokyo, 14h
The smart design of the square cabin provides privacy, comfort, and your own space. The high-panel walls are made of wood tones. Watch the latest blockbusters or your favorite indie film with digital noise-canceling headphones. Chill out with Japanese rice wine (sake) or shochu (a traditional Japanese distilled spirit). Seats are 33 inches wide and the bed length is 76 inches long. The pajamas are soft and very comfortable. It's $14,000 for a one-way ticket.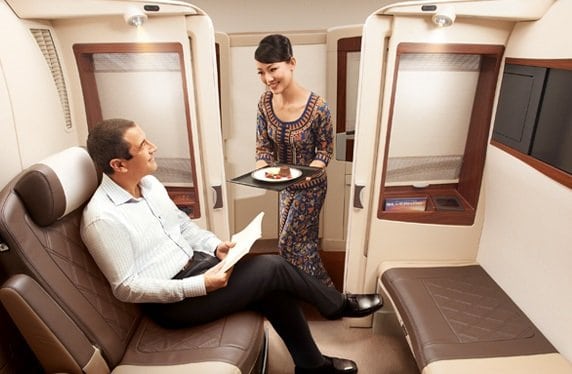 Singapore Airlines Suites Class: Singapore to New York, 23h 15m
What's better than first class? Suites Class! You'll get gourmet dining, private cabins and a seat that transforms into a very cozy bed. In the lounge, you will enjoy a three-course dinner. Spacious ornate bathrooms, luxury pajamas, and high-end coffee are just a few of the decadent amenities passengers of this class receive. The suite includes a dining table and a 23 inch LCD entertainment system. The wine list is superb. The cost: $18,400 round trip.
Etihad Airways Residence, New York to Abu Dhabi, 13h and 10m
This is your three-room "penthouse in the sky" with 125 sq ft at your disposal. You will have your own butler who will provide you with everything you need. The Chef will make anything you want to eat. The cabin has its own bathroom with luxury amenities and a shower. Sleep in a double bed on Egyptian cotton sheets. Eat breakfast in bed and watch a 32-inch flat screen TV. This is the most expensive flight in the world at $64,000.