Tacos on my mind
Raise your hand if you ever had the same thought – we all love tacos, perhaps not as much as Texans, but this sign is easy to relate with. Say what you like about Texans, but they are honest and they have a healthy sense of humor. Judging by these signs, it seems like our next trip should be to El Arroyo, Texas, because these people know how to have a good time.
Some of these signs make you wonder whether or not they are real, but the only way to find out is go to Texas! Either way, they are all based on Texans stereotypes, and even if they aren't real, they're pretty funny nonetheless, and they reflect something about the great Southern state.
Call it like it is
Texans like tacos and beer, we've established that already. But what about burritos? Why not, throw them in the mix as well – the more the merrier. This could be the new state's motto, replacing the good old "the larger the better." Actually, both of these phrases seem to apply when it comes to burritos and salsa, don't you think?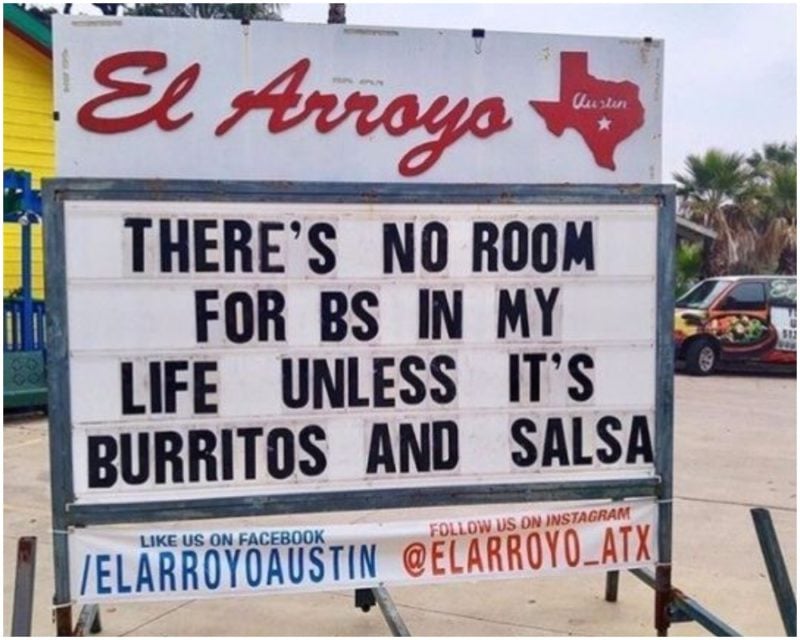 This is a good sign, and perhaps you can find it only in Texas, but there's no shame in that. Is there anyone here who can argue with this message? If Texans are known for one thing (well, Texas is known for many things, but if we had to pick one), it would be the Texas pride, which is as big as the state itself, if not bigger.