Pregnant Duchess of Cambridge, Kate Middleton was in attendance of a fundraising campaign to help East Anglia Children's Hospices (of which she is a royal patron) where a £10 million facility was built in Norfolk
Duchess of Cambridge who met with a mother that lost her daughter, 33yrs old Leigh Smith, whose baby daughter Beatrice was three month old when she died of a rare heart condition.
Speaking about her experience with her daughter during the last weeks before she died in the care of East Anglia Chlidren's Hospices she said "the duchess of Cambridge Kate sought me out and gave me a hug just before she left". Mrs Smith added "I was getting quite teary-eyed, she had tears in her eyes and she just said to me: "You're a very brave lady and again, I'm just so, so sorry".'
Earlier, the Duchess was all smiles as a little girl swept her a cheeky curtsey before presenting her with a bunch of flowers as she arrived at the event, which was held on behalf of the East Anglia Children's Hospices Appeal.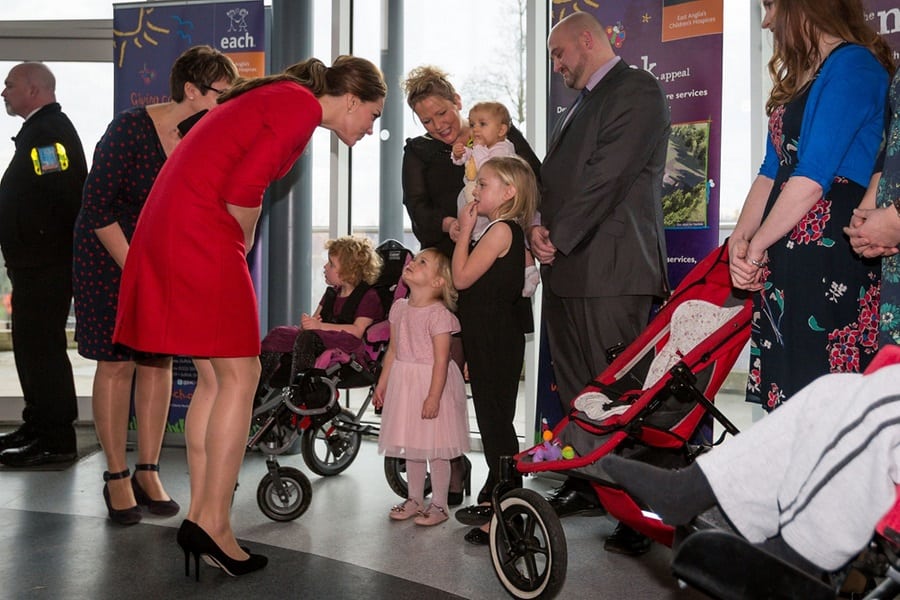 Cerys Emeeith-Burley, seven, and Caitlyn Brazier, eight, are both pupils at the local Queen's Hill primary school and said they had been practicing for their big moment for weeks. 'She said "are you missing school for this?" and we told her we had been practicing curtsying at school,' revealed a delighted Cerys.
With the Duchess's help, EACH is spearheading a £10 million fundraising appeal to build and equip a new children's hospice for families in Norfolk. Its current hospice in Quidenham is one of the oldest in the UK is described by the charity as being 'extremely restricted' in its facilities and development.
Should the fundraising drive prove successful, a new hospice named The Nook will be built on a woodland plot near the village of Framingham Earl.
Kate has played an active role in the campaign and introduced ceramics manufacturer Emma Bridgewater to EACH and suggested a range of mugs could be designed to support the fundraising campaign.
As she was shown the designs for the first time during the event and handed a giant teapot, Kate, who was wearing a Katherine Hooker dress and Jimmy Choo shoes, quipped: 'I'll probably drop it'.
She also crouched down to meet Jack Cottis, six, from Colchester, who suffered a brain haemorrhage in the womb and has a range of associated conditions, including blindness. His sister died from the same undiagnosed genetic condition at the age of three.