A groom named Usman Ali is now in a huge debt after he crashed Ferrari 458 Spider worth £240,000 in the wall in Burnley. Fortunately the groom and his bride Sakina Parveen came out from the car unhurt.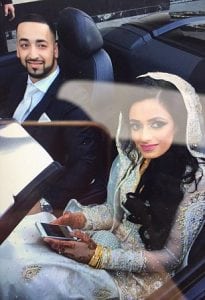 A friend of the groom told Dailymail UK that he was a car fanatic who owns a Golf GTI, and rented the super car for his wedding.
He said: 'He's a good lad and he works hard, but I don't think he had enough experience driving this sort of car.
'It's a rear-wheel drive and has 500 or so horsepower, so it's not easy to get the hang of straight away.
'He'd put a £5,000 deposit on it and there's going to be a hefty excess to pay. He lives in a large Muslim community and they always seem to rent fancy cars for big events.
'I went to one and they'd rented out a stretch limo and two Bentleys. Luckily they didn't crash any of those.'
This unfortunate accident could cost Mr Ali around £25,000 – with £5,000 lost on the deposit and a £20,000 excess.