What Life Is Like in Tromso, Norway
While most people in the Western hemisphere equate Alaska with the Land of the Midnight Sun, one lovely and often overlooked jewel of the North is the tiny island of Tromso, Norway. 200 miles north of the Arctic Circle and with a population of only 70,000, Tromso's Polar Night season — between November and January each winter — is a thing of beauty.
But with the well-known effects of continuous darkness on the human psyche, you would expect Tromso to be a place of somber depressives continuously affected by SAD (seasonal affective disorder). Instead, you'll find a community of vibrant, bright people in love with the shadows of a window, who can change your perspective on how you think of night and what it means to live in the dark.
Dark Days, Bright Atmosphere
The first thing you'll notice about Tromso is the generally positive atmosphere. Even when shrouded in darkness, the city is as bright as can be. Residents treat the night no different from the day and go about their business with high energy and good cheer. This behavior completely defies assumptions about seasonal disorders and the effect of winter weather and polar darkness, yet after spending time in Tromso it's not hard to see how easy it is to maintain good cheer.
Celebrate the Night
One reason for Tromso's festive atmosphere is the nearly continuous litany of cultural celebrations, events, and festivals. Rather than shutting down for the winter, Tromso turns the night into a reason for celebration. Events swing through the night, with vibrant music and wonderful opportunities to sample Tromso's culture, tradition, food, pubs, and nightlife.
Local Cure-Alls

If you ask the locals just how they fight the dark, they're just as likely to shrug and smile as anything else. Some, though, swear by age-old folk remedies. Some make use of sun lamps that simulate the cycles of day and night found elsewhere in the world by automatically adjusting varying degrees of darkness and light. Others keep up their spirits up by visiting local attractions as there are plenty of things to do and see in Tromso. Some favorite activities are dog sledding, skiing, snowshoeing, whale watching, and reindeer sledding!
Gorgeous Views
If anything can brighten your day, it's the views in Tromso. Whether you're gazing over the glittering waters surrounding the island by night beneath the stars or enjoying hours of brilliant sunset and sunrise colors splashed across the sky, the views in Tromso can bring a peace and harmony found nowhere else. It's hard to give in to winter depression when winter brings such beauty.
Additionally, it's important to point out that Tromso is the perfect place to see the Northern Lights a.k.a. Aurora Borealis which are brilliant natural light shows. These are actually collisions between electrically charged particles from the sun that enter the earth's atmosphere. The lights are seen above the magnetic poles of the northern and southern hemispheres. Auroral displays appear in a variety of colors including pale green, red, yellow, green, blue, and violet. The lights appear in many forms from patches or scattered clouds of light to streamers, arcs, rippling curtains or shooting rays that light up the sky with an unusual glow.
The Winter People
More than anything, the people of  Tromso are winter people. That's the surprise you'll find when you ask them how they feel about dealing with winter; they aren't actually "dealing." To Tromo's natives, winter is something to be enjoyed and anticipated, a far cry from how many people over the world feel.
When the long winter night is their natural environment, they have no reason to feel as though the nights are somehow a detriment or something to be endured. When they aren't enjoying nature, they spend time going to a pub with friends or staying home with family. Either way, they make the best of it.
The Psychology of Perspective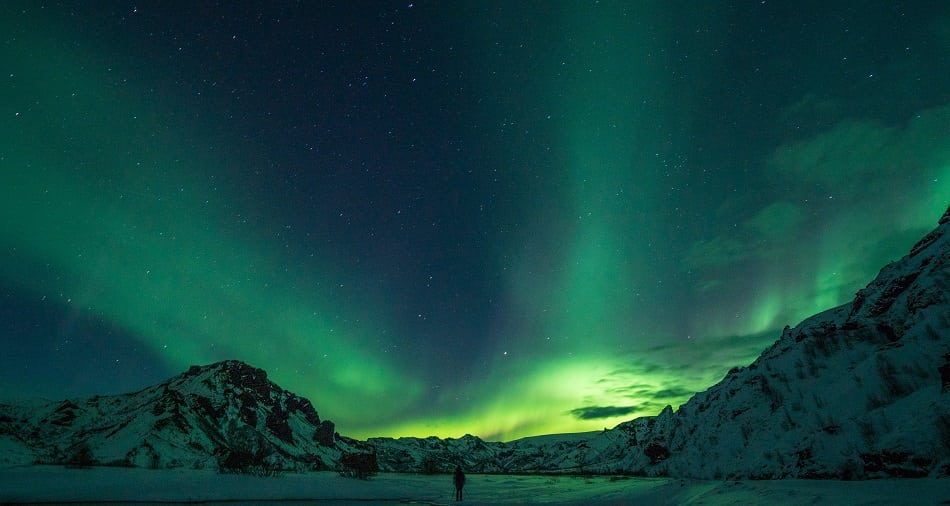 Believe it or not, Norway is ranked as the happiest country in the world, on criteria as freedom, honesty, welfare, good health, and generosity.
Therefore, appreciating Tromso is understanding the change in perspective that comes with adopting the local mindset. It's not just an adaptation. It's a completely different aspect of psychology and culture that approaches life in the Land of the Midnight Sun from the perspective of people who have never known anything else as normal. Learning from the people of Tromso can change your perspective on "good" and "bad," and open your mind to a deeper appreciation of different life experiences, lifestyles, and mindsets.
Want to learn more about exotic and remote travel destinations? Check out our list of destinations you'll never be able to visit and the reasons why.