While your wedding day is one of the happiest moments of your life, it can also be a very stressful day. A lot can go wrong during this event, and you want to make sure that everything is perfect. Some brides obsess over their dress, others are more concerned with the venue, the music or the guest list, and others yet dream of the perfect first dance, the traditional "first dance" between husband and wife.
This newly wed couple prepared to have a perfect first dance, but at the moment of truth it seemed like everything has gone horribly wrong. That's what the bride thought before she knew of the surprise her husband had in store for her.
Love at first sight
Brad and Melissa Hewitt met in college, in Melissa's hometown Ohio, and it was love at first sight. However, the couple's background was quite different, since when the two met, Melissa was working as a model.
She was a gymnast and a model and worked with worldwide brands such as Abercrombie & Fitch and Sports Illustrated. Brad, on the other hand, was a simple, nature-loving guy.
Country love
That being said, the couple fit together like two pieces of a puzzle. They had many shared interests and hobbies, as they both loved being outdoors. Another thing that brought them together was their shared love for country music.
The couple went to countless of live country concerts, and during their road trips they would blast the radio with country songs.
Meant to be
That's why when the happy couple finally tied the knot, it was clear to both of them that the song accompanying their first dance should be one of their favorite country songs.
Melissa was willing to give up her glamorous lifestyle as a model to settle down with Brad and start a family with him. She knew from the very first moment that he was the right guy for her.
She said yes
The feelings were mutual, and soon Brad and Melissa were engaged. The happy couple were over the moon with excitement, and they soon began to plan the happiest day of their lives.
One thing the couple knew for sure – was the song for their first dance. The rest took months of planning. Finally, the big day arrived.
The big day
Everything was planned to the smallest detail and the big day went perfectly. The guests were awed by Melissa's beauty, the touching ceremony, and the impressive venue.
Melissa and Brad decided they wanted to have the DJ play their first dance, rather than the more traditional choice of bringing a band.
Their first dance
For Melissa Hewitt, the first dance was supposed to be the happiest moment of her wedding day. They chose the song they would dance to months in advance and planned it all to the smallest detail.
When the moment of truth finally came, though, it seemed like it had all gone wrong. However, that was only part of Brad's big surprise for his new wife.
An untimely surprise
Brad wanted to have some fun with his wife on their wedding day, after month of intense and stressful planning. But he didn't settle for just surprising her – he hired a cameraman to video the whole thing and post it on YouTube.
Some would call this a mean prank, but knowing his future wife, Brad knew she'd appreciate the surprise and having a memory of it later.
A dream come true
When the big moment arrived, the DJ announced that Melissa and Brad chose for their first dance a song by their favorite artists. The crowd immediately recognized the country song.
It started just as the couple imagined, and the bride couldn't be happier. They were surrounded by the people they loved, dancing to one of their favorite songs, which held many sweet memories for them.
Melissa's moment of horror
It all went smoothly until suddenly the song stopped playing. Melissa had a face of bewilderment, and she panicked, asking her husband what was going on.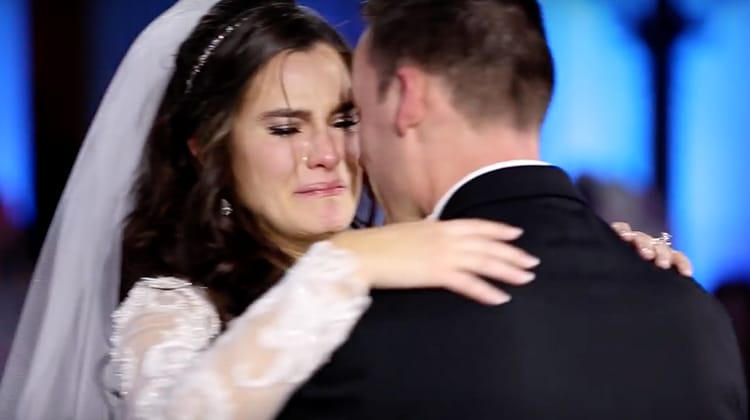 Though the initial reaction of many brides would be yelling at the DJ for answers, Melissa tried to keep her cool. She had tears in her eyes, but didn't lash out at anyone.
The DJ to the rescue
The DJ, trying to save the day in a heroic act, announced that the show must go on, and called a keyboardist from the crowd to continue playing the song.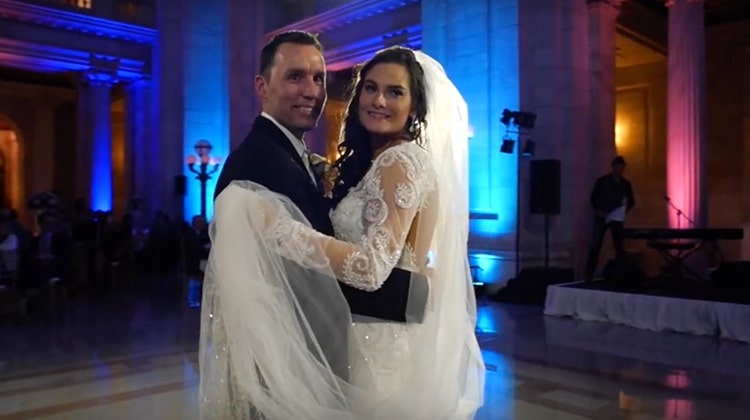 The keyboardist took it from the beginning, and the crowd was again clapping for the song. The bride wasn't happy with the situation, but tried to make the best out of it.
Back to normal
Brad was swaying his new wife slowly, making sure she didn't get a glimpse of the stage before the right moment.
The couple danced to their song and it seemed as if everything was back to normal, and the crisis was averted. Little did Melissa know that a big surprise was awaiting her.
Brad's secret
Just then, the groom turned his new wife around to the stage, and there she saw standing no other than Mark Wills himself – the original singer and songwriter of the song that was playing as the couple's first dance.
Seeing her favorite country artist on the stage was a complete shock for the bride. How Brad managed to keep this surprise a secret all this time was beyond Melissa's wildest guess.
In on the surprise
That was the best surprise she could've hoped for, to make a perfect day even better – her favorite country artist singing the song for their first dance.
This was of course a surprise only for Melissa, and so the crowd, knowing what was coming, was silent throughout the dance in anticipation for the big moment and anxious to see Melissa's face.
Act surprised
Though Brad had planned this months in advance, he had to act the part so as not to ruin the surprise. that's why when the song suddenly stopped, he looked just as surprised as Melissa did.
He wanted to make this day as special as he could for Melissa, and he knew that having Mark Wills play their first dance would be the greatest gift he could give her.
Overwhelmed with emotion
Melissa was overwhelmed with emotion. She couldn't believe that her new husband had arranged all of this behind her back.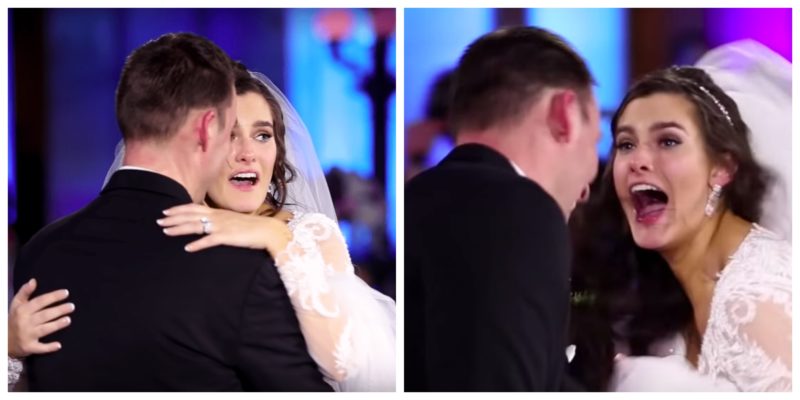 At the moment, she couldn't stop crying and could hardly contain her amazement, and Brad had arranged that it would all be videotaped, so that later she could see her surprised reaction.
Nailed it
Brad and Mark had a whole surprise planned for Melissa, and they weren't done with just one song. When the first dance ended, the wedding turned into a country show, as the artist kept performing for another hour, having all the guests on their feet.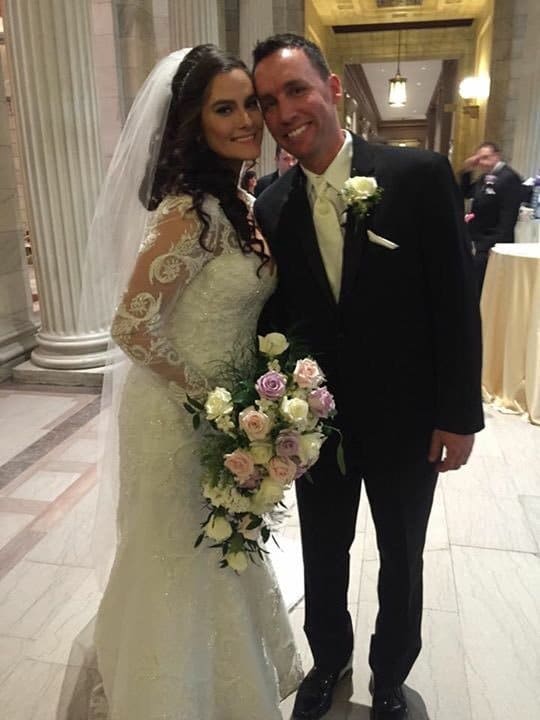 While every first dance is special in its own way, you can safely say that Melissa and Brad's first dance is one that the guests will remember for a long time.
A moment to remember
And as promised, this would be a moment that no one could ever forget, including Melissa, thanks to Brad's idea to record the whole thing.
The Selective Sound Entertainment cameraman that recorded this special moment, later posted it on YouTube. Naturally, the video of the bride going crazy during her first dance was a big hit on the internet and social media.
Social media sensation
Since then, the video received over 27 million views, with thousands of reactions. Anonymous users were moved by this gesture just as the people attending the wedding.
One user commented, "that husband is a keeper." I'm sure that Melissa would agree. If she weren't sure about it before, now she had no doubts whatsoever.
Meeting her idol
The fun wasn't over, though. As soon as the artist finished his performance, Melissa took her chance and approached him with tears in her eyes.
Melissa wanted to thank him for the surprise, and maybe ask for a photograph. After all, how many chances like that do you get?
Another surprise
Melissa thought this was the biggest surprise she could ever have, but only a few months after their dream wedding, came another surprise. This time, Brad didn't plan it, and he was just as surprised and excited as Melissa was on their wedding day.
The couple was in for a bigger surprise – Melissa was pregnant with their first child. Since having their first son, Melissa and Brad are now expecting their first daughter.
Happily ever after
Mark Wills performing the song for their first dance was the opening for a perfect marriage for Brad and Melissa. She later posted on social media what this surprise meant for her.
Since then, the couple is active on social media, posting pictures of their happy family. This is one surprise that's hard to beat, but no one knows what the future has in store for this couple.