Choosing a name for your baby is one of the hardest decisions parents are faced with. After all, your name is the first thing people learn about you, and it accompanies you throughout your entire life (or at least until you're old enough to change it). For some pople, it constitutes a big part of who they are. Having a unique name usually affects the person and makes him accordingly special, almost as if you have to stand up to the expectations that come with your name. McKinli Hatch, growing up with a unique name, understands the importance of giving your baby the perfect name – that's why when she was pregnant with her first child, she excitedly shared on Instagram a chalkboard with all the options and the name they decided to go with. When she did this again with her daughter, the internet couldn't sit quietly anymore and someone had to say something; because for some people, naming your child Lakynn seems like an absolute crime.
An opportunity for creativity
Choosing the perfect name for your child is not always an easy task, but it can be a lot of fun when you're as creative as McKinli Hatch. And in an era when you share everything online, what can be more fun than sharing the exciting process of naming your firstborn?
McKinli and Devan wanted their son to have a special name and to stick out, rather than having the same name half the kindergarten or class has. The last thing they wanted was for their son to have a boring name.
Taylee or Nayvie?
In 2012 McKinli came up with this creative idea, that later turned into a tradition – posting on Instagram a list of the optional names for her baby. She was pregnant with her first son and wanted to share this process with all her loved ones in a creative way.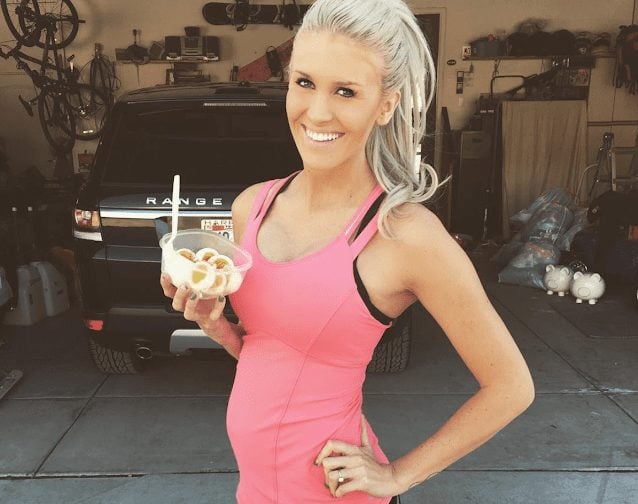 She posted a photo of her baby bump standing next to a chalkboard listing the optional names and the chosen one – Titan. Things got interesting when McKinli was pregnant with her daughter and decided to use the chalkboard method once again – that's when people started to get worried.
A tough choice
Some of the possible names (if you can call them that, because it seems like she invented all of them) included Taylee, Nayvie, McKarty and Lakynn. Is this giving your baby an original name, or preventing them from having a social life in school?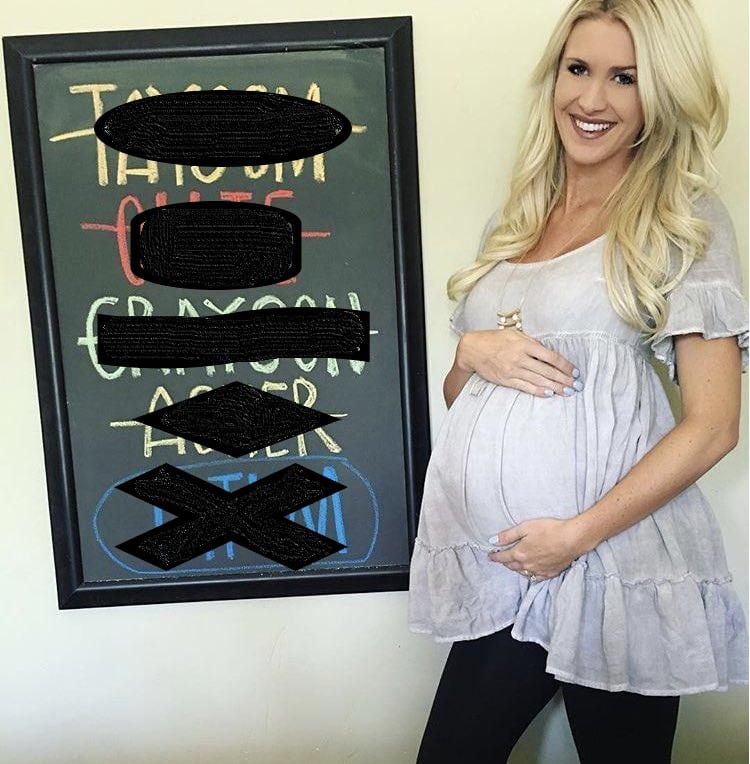 Taylee was their first option, but when the couple realized the name was actually more common than they initially thought, they decided to go with another one.
Congratulations, it's a girl
The winner was Lakynn, full name Lakynn Kay Hatch. Surprisingly enough, it's not just McKinli and Devan, but these days more and more parents choose to give their babies untraditional names. Today it's a lot more common to see girls named Kaia or Naya, than, say, Susan.
This trend is even more hardcore among celebrities, with Kim Kardashian naming her children North and Saint, and Beyonce's naming her daughter Blue Ivy.
A hall of fame for weird names
Of course, this only meant for McKinli and Devan that their job of finding the most unique name was that much harder. When they excitedly shared the news on Instagram, though, they didn't expect the reaction it would stir.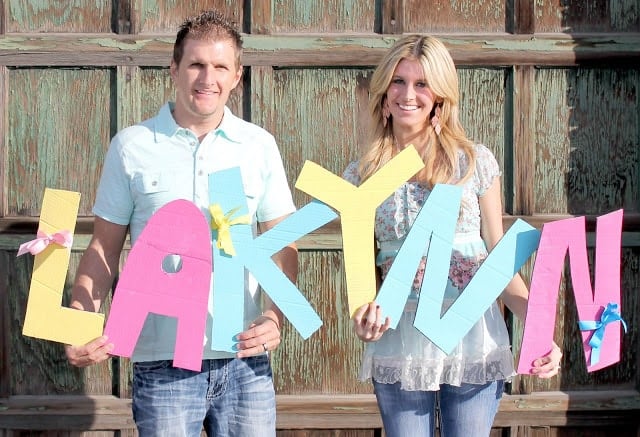 Since the trend of untraditional baby names is out of control these days, McKinli was expecting to receive only support for finding a special name they both loved. However, not everyone is on board with this trend, and some people still like to keep it traditional.
An influencer
McKinli's Instagram page was gaining followers, as she turned it into a professional blog and uploaded pictures related to her business and lifestyle.
As she was gaining more followers and more attention, so did her tradition of the chalkboard and the unusual baby names. While McKinli originally intended for her family and friends to share the experience with her, it became viral, with thousands of people following her baby names obsession.
The return of the chalkboard
After having Titan and Lakynn, McKinli was blessed with another child, and the chalkboard was back in business. The blogger and her husband labored on the task of finding the perfect name once again.
She was having another boy, and she had to give him a unique name to fit in with his siblings. Two viable options were Taysom or Grayson.
What goes with Lakynn?
The happy parents eventually settled on the name Tatum, not before following the tradition and posting another chalkboard-baby bump photo.
Having done this for the third time, after accumulating a reputation on social media, this time people couldn't keep their thoughts to themselves about McKinli's strange obsession.
Getting into her business
One follower was particularly intrigued by McKinli's process of baby naming. He had been following her process from the first child, and recently, after the third chalkboard photo appeared, he decided to speak up.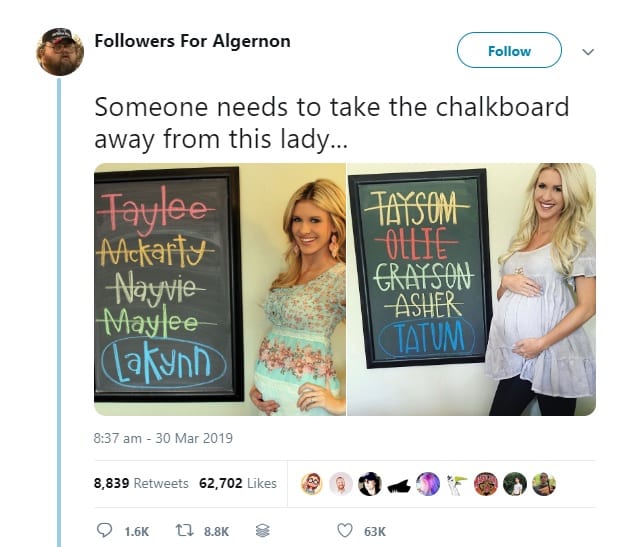 He reposted on Twitter two oh McKinli's chalkboard photos with the caption, "someone needs to take the chalkboard away from this lady…" naturally, the tweet has gone viral.
Mocking her
In our days, social media allows people to share their thoughts anonymously, and people enjoy the advantages of it. They usually write whatever is on their mind without sugar-coating it, and it was no different this time.
Comments to this tweet included mostly people making suggestions for McKinli's next child, including made-up names such as Badjurry and Brexxxytte, obviously making fun of her baby naming.
No filter
Another user commented he had never seen so many names with the letter "y", while another one made a whole list of unique names for McKinli, such as Candle, Cardigan and Vaseline.
Though it seems like people were just being nasty, as people on social media often enjoy, some were seriously concerned for the children – many claimed that growing up with names like these would only make their lives harder.
Going against the stream
Some people who are against this modern phenomenon argue that parents name their children wacky names for their just to toy around with this task and get some amusement out of it, without considering the consequences.
That was the nature of the comments on McKinli's story, coming from people who struggle with this recent trend. Let's be honest, it takes some time getting used to.
"Blame my parents, not me"
As the tweet had gone viral and reached thousands of people, it was only a matter of time until someone with a wacky name, the kind of name McKinli would give her baby, would see the post.
Soon enough it happened, and in reaction to making fun of her name, Jayci commented – "make fun of my parents, not me" – at least she can laugh about it.
In her defense
She was also one of the few people who stepped up for McKinli's defense, saying that naming babies is a challenging task and they shouldn't be so hard on her.
Although the majority of the comments were mocking the unusual names, there were others who said it was none of their business, and they shouldn't be so hard on the mother.
Not going to change
When you share your personal life on social media, you must be aware of the consequences – strangers sharing nasty opinions that you didn't ask for. Sadly, that's just how it works.
Luckily, McKinli didn't seem to be bothered by the tweet and the thousands of mocking comments. She loved growing up with a unique name and wanted her kids to have the same experience.
The show must go on
She paid no attention to the haters, and when McKinli was pregnant with her fourth child, she needed to find another unique name. Except, she was running out of original ideas.
This time it was even harder, since the parents wanted some mystery and decided not to learn the gender of the baby. How do you decide on a name like that? Luckily for them, their extraordinary name options usually for both genders.
Help wanted
McKinli and Devan decided they would choose two names, one for a girl and the other for a boy, and worst case, they'll have a name ready in stock for their next child.
This time they didn't have a chalkboard of ideas, but they announced the pregnancy on social media and asked their followers for help in finding the perfect name. McKinli wrote she was interested in hearing unique ideas, as if it needs to be mentioned.
What will it be?
After the tweet that went viral, a lot more people were now following McKinli's baby naming process. Her followers were anxious to see what the couple had up their sleeve after Titan, Lakynn and Tatum.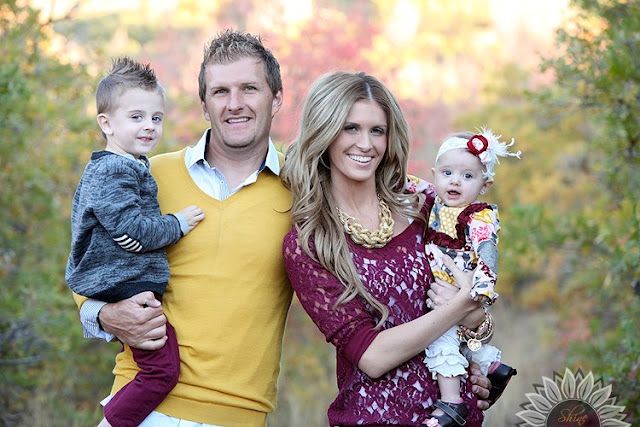 You'd be disappointed, or maybe relieved, to hear that her fourth baby boy was actually given a rather normal name (that is, compared to her other kids) – they named him Madden.
Baby Hatch
Since the name was probably a lot worse than most of her followers had expected, they were supportive of McKinli's choice. The blogger received many positive comments for the name and congratulations on her newborn baby.
People also admitted that they were inspired by McKinli and would name their children Madden, they loved the name so much. While it sounds more common than Titan or Lakynn, Madden is still a pretty untraditional name.
It can be worse
If you thought McKinli's naming process was bad, you'd be surprised to know that it can be worse. A mother from Texas once got in a heated argument with an airline official, when the latter made fun of her daughter's name on her passport.
While the mother has every right to be upset with this kind of behavior, we can't blame the airline officials, either. Her daughter's name is abcde. Yes, like the alphabet. The mother claims it's pronounced like "ab-si-dee," which doesn't really make it any better.
It's only a name
At the end of the day, the only thing that really matters is whether her children like their names or not, and that's something only time will tell. To judge by Mckinli's own success, her children would grow into their names, just as she did.
McKinli keeps sharing on her Instagram page photos of her beautiful family, her smiling and happy kids and the adventures they take together.
Not the only one
The trend of unique names keeps getting more and more absurd. It doesn't seem like it's going to change anytime soon, and although people commented to McKinli's story with mockery, others agree with her that their special kids deserve special names.
Understandably or not, baby-names are a big issue for new parents, and the stress is building up to be creative as names such as Lakynn are becoming more popular.
GOT mania
Another popular option for people seeking to name their babies in 2019 is choosing names from popular TV shows. Why struggle so hard to come up with an original name, when there's a whole pool of unique names in shows like Games of Thrones?
That's right – since the show was released, an increasing number of people are naming their babies Arya, Daenerys or Theon, depending on their favorite character, presumably.
One of a kind
It's safe to assume that this phenomenon has something to do with the fact that the new parents naming their children crazy names are the millennials – who grew up learning values of individuality.
That's why they want their children to stand out and not be like everyone else, and what's a better way to achieve this than giving them a one-of-a-kind name?