What is happening to our world?! This is rather some kinds of rhetorical questions emanating from different communities around the globe. From coffee farmers in Uganda to fishermen in Galicia and on to the Pacific and Islands of the seas because of disappearing islands and many more. Climate changes is real and here!
The world communities at large are hoping for imminent actions because these has become an evil wind that blows no body any good. Below are the sad tales around the world of what people are going through as the results of climate change.
From Austria comes this report that the country has seen higher than average temperature rise of close to two centuries with half of that witnessed since 1980 leading to unpredictable changes with mountain glaciers. Researchers from Austria say that weather/climate changes is costing the country some €1bn – which could rise to €5bn by the middle of the 21st century. A 71-year-old Mountain guide, H. Matzka says that the glaciers are the real witnesses of climate change for him. He went further to say "Even 50 years ago, the highest mountains in the Alps were covered with thick snow and ice and the glaciers were in some of the valleys of Tyrol, almost close enough to touch. Nature changes with the retreat of glaciers.
"If the permafrost thaws, rocks will lose their grip and mountaineering will become unsafe."
These age-old natural wonders as he puts it, changes in some  dramatic ways.
This other report coming from Vietnam farmer and his wife Mr. Van Nguyen who had been farming for some 18-years in Vietnam's Mekong Delta. He narrates:
"About 10 years ago we started shrimp farming to take advantage of the salty water in dry season, along with everyone else in the commune.
"Shrimp farming is more profitable than rice but you can only do one season each year.
"In wet season the rain washes away the salt so we can grow rice in fresh water. I think my rice is poorer quality now because of the increased salinity but we can still grow enough to eat and to sell.
"In the past you could predict the weather but about seven years ago the seasonal patterns changed and now it's almost impossible to forecast.
"The heat is more intense and the rain is heavier, which can damage production on the farm. I'm concerned that there may be more big storms and cyclones that could hurt the house and farm."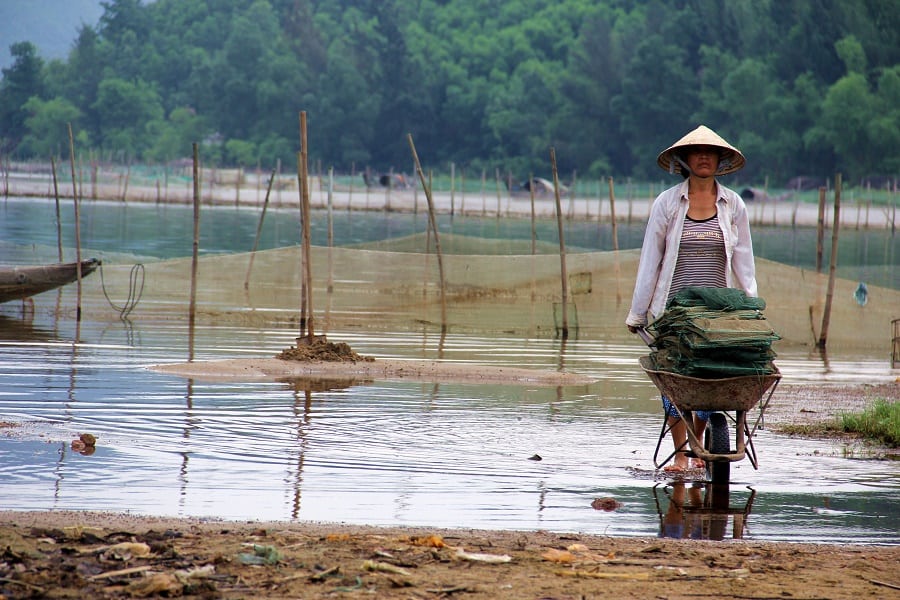 This is to further buttress the disturbing fact that people living in Vietnam's southern Ca Mau province are not having it easy with the climate change as their farming lands continue to disappear and also becoming less productive because of rising sea level which is getting worst each year.
Farmers in Laos are not in any way different from the common problems as they are equally vulnerable to the changes in the weather which had recently become worst due to the changes in rain patterns coupled with stronger winds and storms that have left their crops with nothing to show for their hard works. Crops like rice, bamboo, together with mangoes in some villages in Laos has been badly affected by the bad weather. A farmer, Mrs Inthavong, has this to say:
"I've been a farmer since I was young. The weather now is much hotter than it used to be. This year we planted the rice in the usual conditions but then the rains didn't come on time. And in July there was a big storm that damaged the crops. There are more strong storms now.
"The weather is not normal. It has changed. It's difficult to know what each year will be like. I'm worried about the future because the weather really affects farmers. You plan to plant, you invest, and then if it is too hot or the heavy rains come you lose."
Kiribati on its own is said to be sitting on a gun powder as about 1.7m people in the Pacific has been said to be likely displaced or forced to leave the area by 2050 since they are on the front line of climate change. Just in October last year, representatives of Kiribati and other low-lying Pacific and Indian Ocean nations met to discuss how they might relocate their populations together with where the money could come from.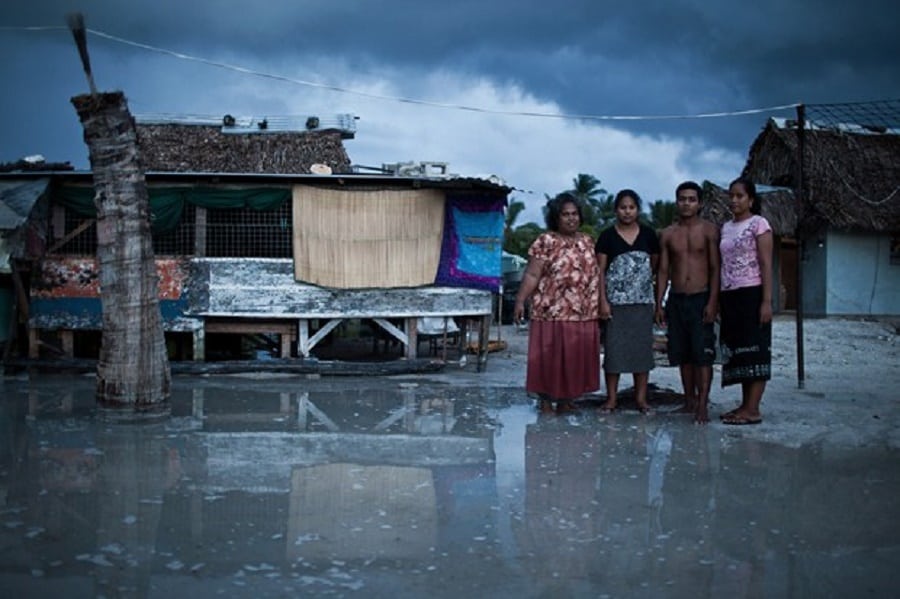 As it is now and as a precaution, the country with a population of just 100,000, has bought land in Fiji, more than a thousand miles away for $8m just in case anything has happens.
"We would hope not to put everyone on one piece of land, but if it became absolutely necessary, yes, we could do it … it's basically going to be a matter of survival," Kiribati's President Anote Tong said last year.
The situation in Spain is not different as fishermen there are also in fear of rising sea level. Hear what a fisherman, Jose Augustin Perez has to say: "Our biggest problem is the warm sea, there are less fish.
"What we're noticing is that tropical fish are appearing – mostly trigger fish and ocean sunfish, species that are not from here.
"First, they break our nets, on top of not being a commercial species and second we are afraid they will chase away the commercial varieties we have here."
They are of the fear that the species of the fish they depend on for their livelihood could be driven out of their region by tropical fish which have appeared in increasing numbers as sea temperatures have risen.
Honduras too, and  according to the experts is one of the countries in the world that is mostly prone and highly vulnerable to climate change. Erosion and more frequent floods mixed with droughts are on the highest in the region.
More than half of the country's coffee plantations have been badly hit by coffee rust otherwise known as La Roya. The worst of this case is that many farmers don't even know how to combat the rust. One of those whom the poor farming conditions had almost left destitute says:
"I worry a lot for my children. That's why my house is the way it is, we have no toilet, no proper garden for growing.
"I can't spend time making the house better, I just have to work to get enough money for them to eat. My daughter can't walk, she is 11 and has something wrong with her legs.
"I once went to the doctors and they told me that if she had an operation she would be able to walk.
"She was offered a free operation by a charity but the bus fare to get her there was 20 lempiras each (59p) and we just didn't have the money to get her there."
Pests, diseases, and intense rain that erodes the fertile lands because of the climate changes is also faced in Uganda, a country already laid bare by warfare! For instance, the Nyamwamba River which the farmers depend on for irrigating their crops has dropped significantly due to climate change which the experts say could disappear altogether in two decades from now, possibly by 2025.
Luka Kinyere, a farmer in the area bemoans the situation saying that his harvest has been delayed as the result of climate change. Even when he dug trenches to conserve water when it rains, it barely serve any useful purpose if the dry seasons last for too long as it often does. He don't even have enough money to take care of his family not to talk of affording herbicides for his crops because of invading diseases. He says: "We are in trouble now – the sun is disturbing the crop."
The statistics are indeed disturbing and as the world leaders gather in Paris to discuss this worldwide problem, let's wait and hope they come up with a lasting solution to this imminent danger in the world.