It might come as a surprise, but at protests you can find the most hilarious signs – and the more pressing the topic of the protest – the funnier the signs. More often than you think, people happen to stumble to protests, and it seems like they don't belong there – but those are the people that make the protests funny, the nail of the party if you will. Some of these signs almost seem like people are purposefully trying to be funny, perhaps make the protest a little less intense and more enjoyable. Whether they happen to be there by accident or not, you can argue that the cause of those people is to put a smile on our face!
You can't eat the cake
This sign was spotted at the 2011 Occupy Boston Protest, but it's not so original. At almost every protest you can see someone showing up with a sign like this one, and not just protests, but different kinds of social events.
Cake doesn't have anything to do with the cause of the protest, naturally, but Marry Antoinette was the one to say "let them eat cake" at one of the very first protests in history – so this guy has a point.
Some things never change
This photo was taken four years ago at the 2015 Climate Change Conference in Vancouver, but it just the same might have been from any other climate change conference, according to her sing. But you have to applaud her for the persistence!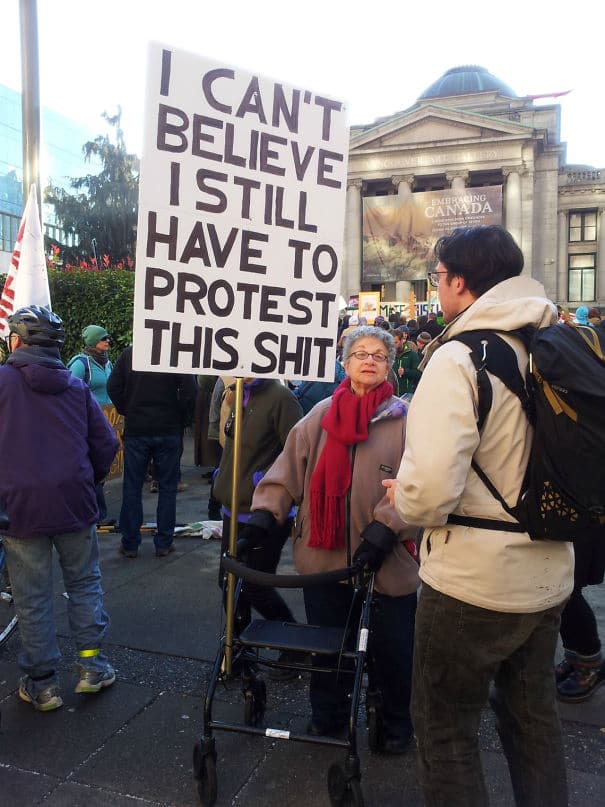 This is a cause that has been around for the past few years and is only growing in awareness, so unfortunately it seems like this woman will keep protesting this for a few more years – but hopefully not too many!
I'm down
This might strike you like another innocent sign, but this slogan has a rich, fascinating history to it. The popular slogan first appeared in an episode of an Irish sitcom, in an ironic scene where a frustrated priest reluctantly demonstrated for something he couldn't care less about.
Since then, the slogan that started off as a joke has become a huge hit in protests around Britain and Ireland. Commenting on the unexpected success of his sign, one of the show's creators said, "I don't think we gave it much thought at all."
Enough is enough
This photo was taken five years ago, in 2014, at the campus of UC Santa Barbara, when students were tired of the early Christmas decorating and decided to embark on a protest for the important cause.
As you can see, they are all wearing t-shirts, which means the Christmas decorations were really put on way too early in the year! But what this really means is that students at Santa Barbara have it going so good, they can't find anything else to protest about.
Moderation
You probably know that the biggest stereotype about Canadians is that they are "too nice" – well, this sign is here to prove it right! This photo was taken as a protest in Canada, verifying that even during protests, when they are most upset, Canadians can't avoid being polite.
People say that the most-used word in Canada is "sorry" and the runner up is "please." This sign, spotted in a riot in Canada, demonstrates how nice and polite Canadians really are. Turns out not all stereotypes are wrong.
Don't mess with grandma
This photo was taken during the 2011 Wisconsin protests. This Grandma showed up solo at this protest and made this sign by herself. Honestly, we can't think of a better slogan for protests – we know better than to mess with grandma – any grandma!
It's nice to see her standing up to what she believes in. Though in the past protests were organized and attended by mostly middle-aged people, today it's becoming a young man's game. Mastering enough motivation to leave the house and attend a protest (in the cold, no less) means you really believe in the cause.
Not a sign guy
This photo was taken at a protest in New York in 2016. Much like the grandma sign, it is pretty convincing – the guy took the time to make a sign and attend this rally, though he is clearly not a sign guy, and we don't even need the sign to tell us that! Just loo at his expression.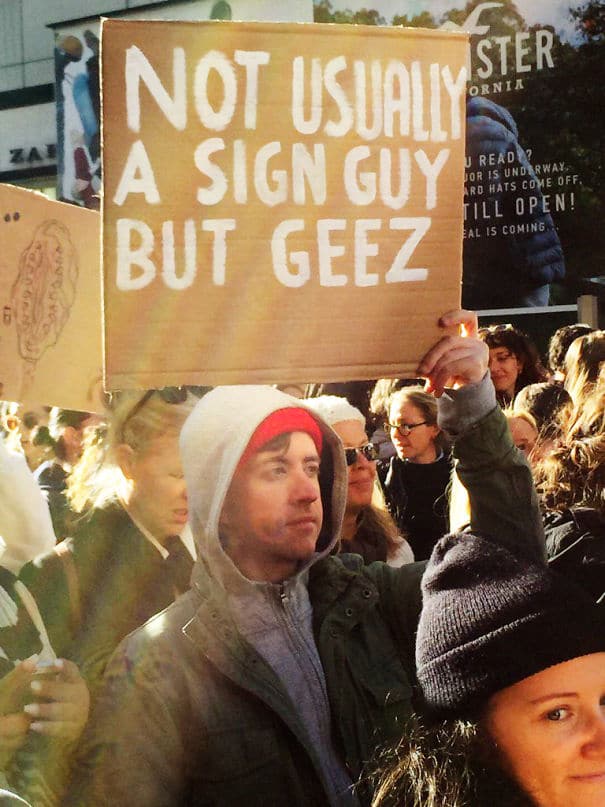 It took a big protest on fifth avenue to get this to make a sign, but when something is important to you – you'll do the extra effort. But perhaps what's even more curious, though, is the sign the woman behind him is holding.
Time travel
This sign is perhaps the most recent one on the list – it was spotted at the San Francisco protest this September. Seems like this guy wasn't too concerned about the social issue, though, as he had a different pressing matter on his mind – time travel.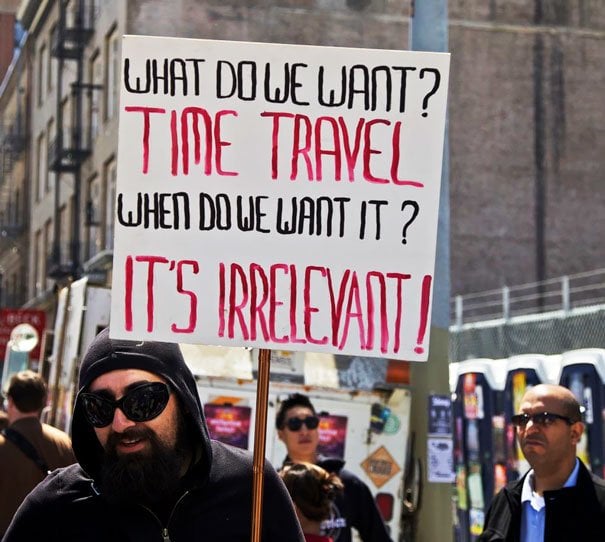 In case you need an explanation of the joke – when referring to time travel, it's irrelevant to mention a specific period, since you can travel to any time you want. This is a very pressing matter for more people than you might have thought.
What?
This photo of the somewhat bored protesters was taken at one of the Westboro Baptist Church counter protests. Seems like every one of those people prepared to go to a different event, yet somehow, they found the way to each other and ended up creating the most random project.
These are all very important causes, from the God loves kittens movement, to the matter of building prisons and the moon, and of course the most pressing question that has been harassing us for years now – where's Waldo?
Tired
This photo was taken at the March for Our Lives protest in March 2018. The students-held march attracted thousands to it, but as you can see, some were not quite as devoted to the cause as others. Nonetheless, the core slogan of every protest is "the more the merrier," so every one is welcome.
This guy, for example, seems to be more concerned with his arms getting tired after holding the sign for too long – does he even know what the protest is about? Or perhaps he's one of those people who are there to raise the morale! Not to belittle the cause, but a few good laughs are always necessary.
Seriously
Well, no one is forcing you to be here! But it's nice that the guy took the time to attend a protest, though he clearly has more important matters to attend to. This might also be his way of protesting – he's attending this protest though he doesn't have time for it, since the cause is important enough.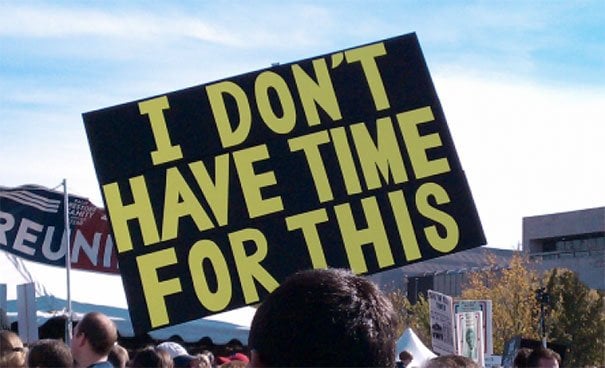 None of us really have time to attend protests, and we would all rather be doing something else, but protests are important since they are part of democracy and our right for free speech. So at least he took the time to attend to protest, even if he chose to declare that it is a major inconvenience for him.
Scrabble, anyone?
This is not an original sign, and you can probably spot one at any protest, but this photo was taken at the Rally to Restore Sanity and/or Fear in 2010 in Washington D.C. at least now you know that people who attend protests in the capital are interested in scrabble rather than violence!
No doubt, a protest is an appropriate place to find partners for scrabble – for one thing, if you're looking at a protest you support, then you know there wouldn't be any political conflicts or arguments during your scrabble game, since you're all on the same page!
Why not?
This photo was also taken at the Rally to Restore Sanity and/or Faith – they had some pretty good signs there. Even if you're not a big supporter of politics or social issues, seeing the hilarious signs is good enough a reason to attend a protest!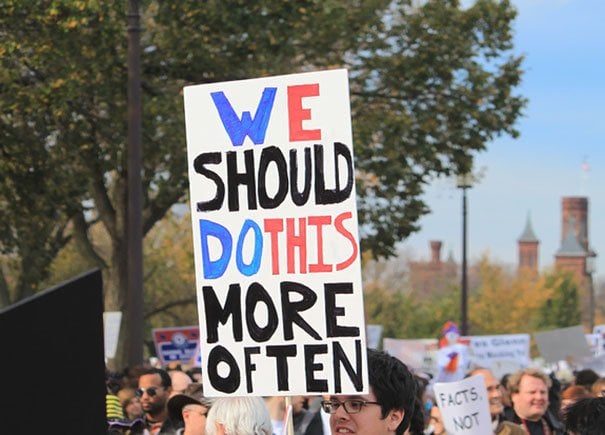 Seems like the guy holding the signs might be there just for fun, and if you have nothing better to do – why not actually? We're not here to judge. We can't see a lot of his face, but looks like the guy is enjoying himself. If he happens to be looking for an after-protest activity, we should match him with the scrabble lady.
Think harder
This is yet another sign from the notorious Rally to Restore Sanity, and he has a point. If your beliefs fit inside this tiny cardboard sign, perhaps they aren't fully formulated yet. Going to protests, however, might help you with the job.
We all know the capital can attract to it some of the most curious people, and when a pressing issue is at hand, people are bound to show up with funny signs. And the sign hiding behind this one almost slipped our attention! "I like turtles" – well, who doesn't? But I'm not sure the Rally to Restore Sanity is quite the right place for this declaration.
And not a minute later
Often when we attend protests it's because something is urgent – we can't tolerate the situation as it is a minute longer. However, this woman is protesting for patience in quite an ironic way. I suppose this lady has never heard of the phrase "practice what you preach."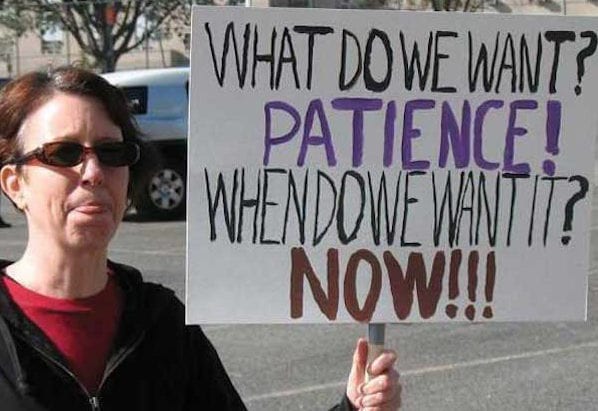 Or otherwise she's simply trying to be funny and make a point. Either way, protesting for patience is definitely something our society should consider – because it's not something you can buy at the store.
Hogwarts
Well, perhaps this wouldn't happen at Hogwarts, but they have enough going on there, and they shouldn't be envied. This sign is pretty common, and as it turns out – a lot of people out there wish they could be living in the magical world of Hogwarts.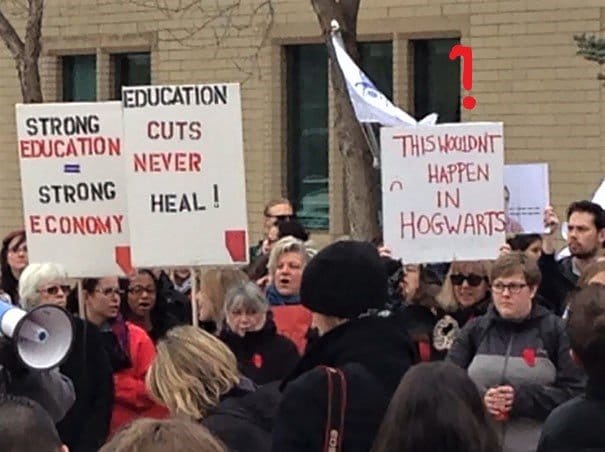 It always seems easy to escape to imaginary wizard worlds when the going gets tough, but it's not always the answer – sometimes we should fight to make things better here. That's why it makes perfect sense for these potter heads to attend a protest.
Water charge protest
This photo was taken at the 2015 water change protest in Ireland, one of the biggest marches held in the country in the past years. This explains the guy's sign – what he can't afford is water to clean his house, not the mop!
Either way, this is quite a clever way to protest about water charges, but unfortunately you can be as creative as you like, it usually doesn't make any difference. This guy seems very dedicate to the cause, as he is the only one who bothered to make a sign, and a witty one.
No, he wouldn't
Folks, we have another Potter head in the crowd! This photo was taken at an LGBT rights protest, but the sign applies to almost every social issues people complain about these days.
No, Dumbledore wouldn't let it happen, but he wouldn't let anything bad happen in Hogwarts, because he's the best, most kind-hearted character Hollywood has ever seen! Try to argue with that.
Serious matters
Unlike the gut protesting against the water charges claiming he can't afford to use a mop, it doesn't seem like this guy really know what he's objecting. Seems like the most urgent matter on his mind is that he couldn't afford an actual sing – or perhaps that's what he's protesting.
Too bad we don't know the origin of this photo – knowing what protest this was taken at would've helped to better understand this sign. Nonetheless, it's a pretty hilarious sign, and a creative way to get your message across.
That's a shame
Well then, what are you doing at a protest? I can't think of a more crowded place. Then again, perhaps he is so devoted to the cause, that he was willing to sacrifice himself and do the thing he hates most. That's what I call dedication!
This sign was spotted at a students' rally in California. This is another on of those signs you can see at almost every protest, and hopefully you don't have to be the one carrying it!
Opinion and stuff
This guy really went all the way and painted an image of himself on the sign! The only problem is, he went through all this trouble to attend a protest he doesn't even seem to know the cause for, let alone support it!
But his sign is surprisingly accurate – we tend to bash other people opinions without giving them a valid counter argument, but simply belittling their opinion and beliefs. Perhaps what this guy is trying to say, in his special way, is that we ought to be more attentive to other people's opinions.
Excuse me
This strike us as another protest sign only a Canadian could've written! Who else cares about being polite at a protest? Perhaps this lady believes that if she speaks calmly and politely, people will listen. Unfortunately, this couldn't be further from the truth! In our days, the louder you are – the more people listen to you.
Nonetheless, it's admirable that she doesn't give in to social pressure but stands behind what she believes. I just hope that she can change something holding a sign like this one. Unfortunately we don't know when this photo was taken, but seems like quite a peaceful protest – so perhaps this really is Canada!
Persistence
This 92 year-old mother (now grandmother as well) has been carrying the same sign in protests for over 30 years. She is fighting for equal rights for the LGBT community, which her daughter is a member of. Born and raised in New York, every year she attends the city's LGBT pride parade holding this sign proudly, and you can find around the internet photos of her from different parades. People should learn from this woman something about persistence!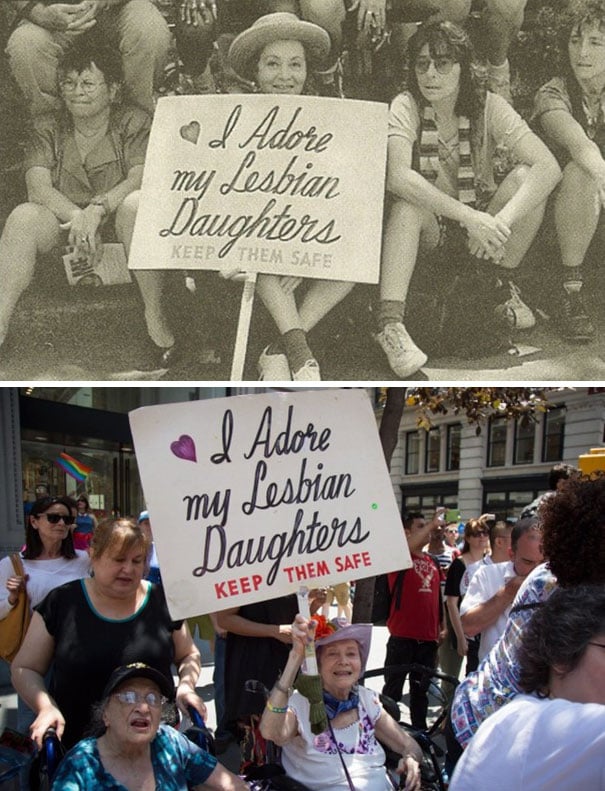 As admirable as this woman is, if she keeps attending the parade every year holding the same sign – it's not a good sign. It means that nothing really changes. Yes, the status of the LGBT community has improved greatly in the past few years, definitely since this woman held her sign for the first time, but there is still a long way to go! Nonetheless, more people like her are needed in this world – proud of who they are, and proud of their family.
Considerate
Seeing how considerate of the people around him he is, this guy found his right place! A protest is usually made for people concerned about other's feelings. On the other had – what did you expect? You're at a protest, not a movie theater! And it doesn't really matter if they can see or not, as there's not much to see anyway.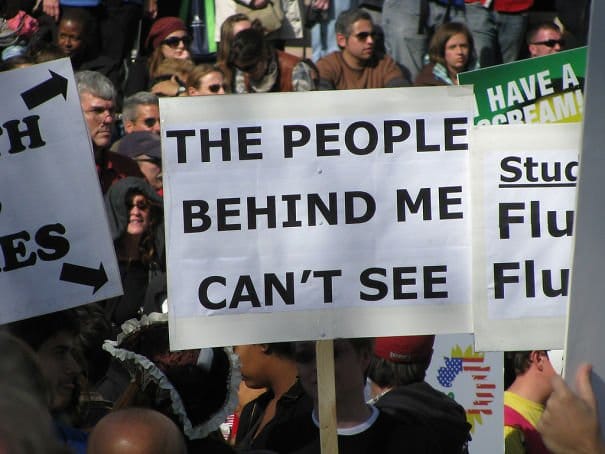 Some protest signs are clever, others are funny, but this one is just hard to explain. And can the person holding the sign even see anything? And what did he expect to see? So many questions are left unanswered.
Strong values
Stop saying that it isn't! Much like chocolate or ice cream for some people, and coffee for others, there are yet other people that bacon constitutes a guilty pleasure for them – so let them have it. Yes, it's not as healthy as other foods might be. Okay, it's not healthy at all. But I can't think of a more crucial cause than protesting about bacon, because we all need to treat ourselves sometimes.
I'm not sure which protest this sign was spotted at, but I see the word "vote" on the sign next to him – so it must be an important one. And still, this guy chose to fight his own fight, even if it means he's alone at this battle – and fight for bacon. You have to stand up for your beliefs, because no one else will.
The glass half full
Complaining about the bad things is just fine – there's nothing wrong with wanting to make out planet a better place, but it's important to take a minute to look at the glass half full and be thankful for the things we do have! That's what this girl is here for – to make sure we remember the good things, and that not all hope it lost.
A demonstration is often a place of high emotions, and most of them are negative – we are there to complain about how things can and should be better. This girl goes against the stream and reminds us that a lot of things are actually going pretty well. That's definitely in many areas in our lives, especially if we compare it to how things used to be in the past. Change is a slow progress, but we're on the way.
Are they?
Well, are they really? You often spot a sign like this one at an animal rights demonstration, saying that animals are people too. Of course this statement makes no sense, but they're trying to make a point that animals have feelings and shouldn't be treated as violently as they are. Also, this photo wasn't taken at a demonstration for animal rights, but at the Rally to Restore Sanity and/or Fear, so it makes no sense whatsoever.
However, a "Bears are people too" sign is one I've never seen before. And the addition of the bear mask really drives the point home (though it looks like a lion). What is he protesting? Wearing the bear mask may attract attention, but I can't imagine it helps him to gain more sympathy.
PLEASE
Yes, if there is something that can push people over the edge, is overuse of caps lock; I'm surprised we don't see a sign like this more often. This photo was also taken at the Rally to Restore Sanity and/or Fear, and of all the weird signs of this rally, this one seems perfectly legitimate.
It's time people learn how to properly use caps lock, because the sign of all big letters in a sentence is unbearable. People might think that if they're using capslock, much like shouting in a real-life confrontation, it'll help them make their point and get people's attention. But in reality, much like shouting, using caps lock only makes you lose point to your argument.
If it's not too much trouble
Are we in Canada? What's up will all these apologetic signs? At least this gut practices what he preaches – he asks for respectful discourse, in the most respectful way imaginable! Though he's at a protest – more often than not the opposite of anything that is polite or respectful – he maintains his manners.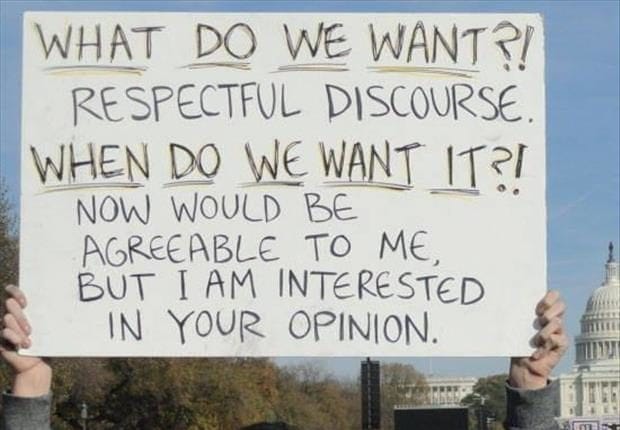 More people should learn from this person, because as a society, we could really learn something about respectful discourse. With today's social media that allows us to say whatever we want whenever we want without actual consequences (most of the time, at least) – people feel free to curse and use whatever language they want, and emotions are high on social media.
And the sooner the better
We all enjoyed Candy Crush when it was first released, and when it hit Facebook, the excitement was high. But as happens with anything that is new and exciting at the beginning, Candy Crush excitement began to ebb, and people abandoned the beloved game. It was replaced by other games, and then the games disappeared all together from out lives and minds.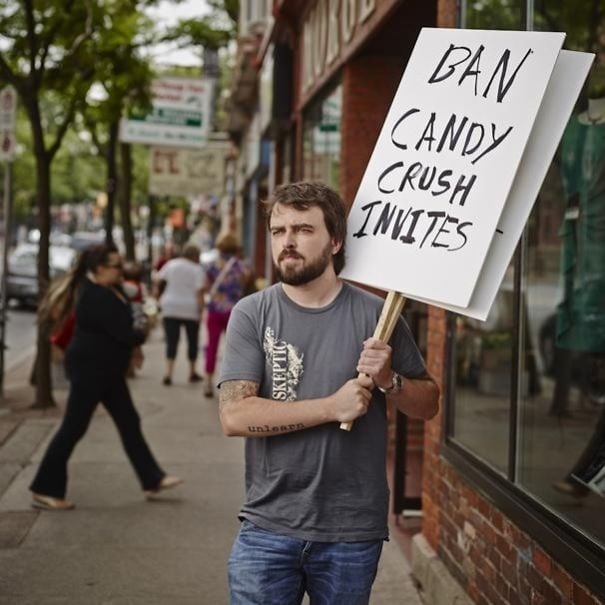 However, some people had a hard time letting go, and to this day they continue to send us invitations to play Candy Crush on Facebook! When it just started and our notification box was flooded by Candy Crush invitations it was annoying but somehow forgivable, but now it's simply intolerable! It's time to put an end to this, and I can't see a more justified cause.
Calm down
Whoa, this guy must be really upset if it got him as far as making a sign! This photo was taken at an Occupy Wall Street demonstration, so you can see what this guy was angry about. This seems like a person you don't want to mess with – beware, or else he might make another sign!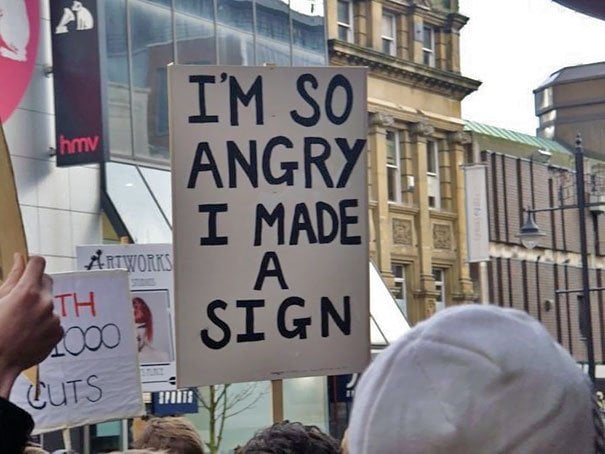 The fact that he took the time to make this sign and attend the protest is evidence enough of his anger, so perhaps that makes the sign a little unnecessary (talk about stating the obvious). Still, it's not the worst sign on this list (not to mention names, but I'm looking at all the "my arms are tired" signs).
At least he's honest
Finally, someone that is honest about his intentions. We see a lot of signs completely unrelated to the cause of the protests (well most, if not all of them), people that are just coming to these protests to be funny, and here stands a guy, proud and honest about his intentions.
This sign was spotted at a May Day demonstration – it doesn't really matter which one, as May Day demonstrations around the world and specifically in the U.S are known to be violent protests. So if this gut is indeed looking to see violence (no that we support or encourage it!), a May Day demonstration is the right place to look.
WWMD
When the going gets tough, we tend to ask ourselves – what would our heroes do? Some people ask "what would Captain Kirk do," others wonder "what would Google do," and as it turns out, others yet ask – what would Madonna do? And that is a solid question, because seems like Madonna always knows the right thing to do.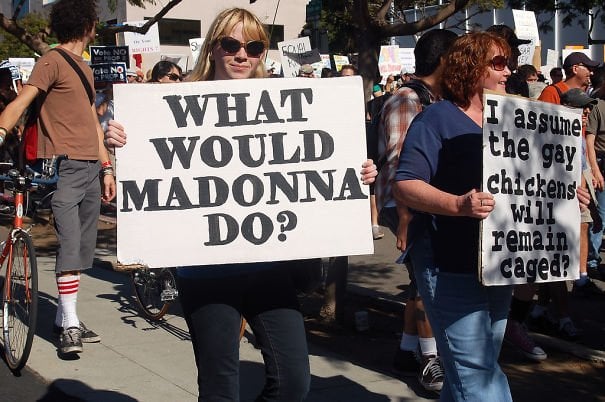 This is a demonstration sign you don't see everyday. Even more curious than the Madonna sign is the sign next to her – who are these chickens? Why are they caged? Is this a private joke? Protest signs can be weird!
And stuff
When you don't have something clever to write on your protest sign, this is the outcome. Some people are more creative and take these protests as an opportunity to unleash this creativity, but that's not necessarily what drives the point home. Even a simple sign like this one can seem pretty persuading.
Anyway, it's not the sign that makes the protest, but the people behind it – and these two girls seem enthusiastic enough! That's the spirit we need to make protests count, with or without a clever sing. Okay, so perhaps they don't even know what their protesting against, but at least they are into it!
Tired #2
This photo was taken during the Occupy Wall Street protests of 2011. It's amazing to see how many people are complaining about carrying those signs! And you can tell that he's had enough of the protest by that fact that he's sitting down – that doesn't seem normal. at least he has a sitting-buddy with him.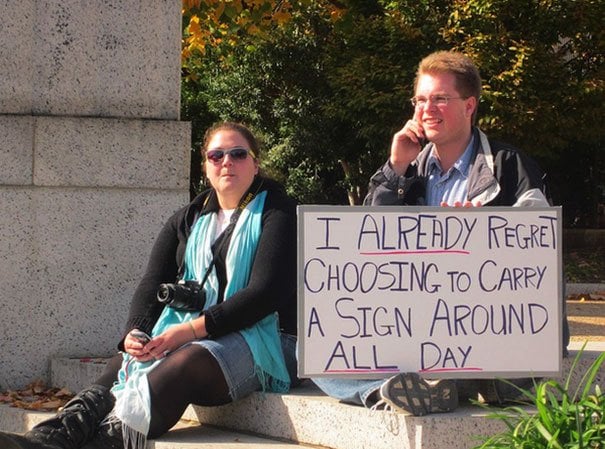 We appreciate that it might be tiring, but some causes are important enough to survive a day of holding up you arms. I think the problem here might be that this guy wasn't enthusiastic enough about this protest to begin with – after all, of all the signs in the world, this is the one he decided to bring to this rally.
Enough is enough #2
Okay, people are really tired of carrying signs. But as funny as this sign might seem, there's a hidden message behind it – what people are tired of is not carrying the signs (well, maybe that as well), but they are mostly tired of protesting, of having to protests every year for the same issues, since noting ever changes.
This guy found a clever way of saying enough is enough – something must change, because people are getting tired of protesting! This resembles the signs of the grandmas protesting against the same thing year after year. They don't get tired, however, but keep their hope and keep attending those protests with the same signs.
Por favor
This is an important cause to fight for, and speaking of restaurants – it's not just tortillas they're skimping on. It's time to arrange a protest about every side dish served in any restaurant – we want bigger tortillas, fries, nachos – bigger everything!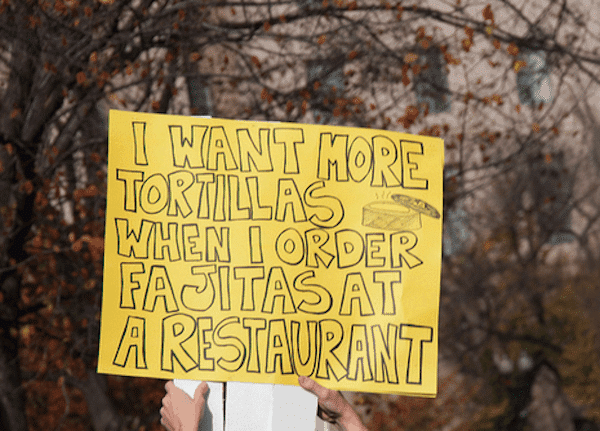 I wonder what protest he attended, though. I mean, what kind of protest would you feel okay contaminating with a mocking sign like this one? However important his cause may be, there's a time and place for everything, and a protest hardly seems like the right time to raise this issue.