The situation in Onitsha is far from abating as the pro-biafran protesters are busy causing all sorts of chaos in the state for the government to release their detained leader, Nnamdi Kanu.
The protesters are also agitating for freedom as a nation. The eastern gateway, River Niger was blocked for hours with no one allowed to enter or get out of the state by the Biafra protesters.
Several people who spoke with the newsmen has tales of woes on what they had missed because of the ongoing protest.
"We have been here for more than six hours now! This protest is getting out of hand, what is the federal government doing about this? Please we need a lasting solution to this problem"- A female passenger laments.
An inter-state bus driver bemoans "This is hell. I mean serious hell. We have been here for hours now. Funny enough, I don't even know where all my passengers are at the moment. I'm supposed to return to Lagos from Enugu today but all has been shattered now, all thanks to this protest," he said.
Another bus driver with his motor badly damaged, says:
"I thought it was a joke when it first started. (talking about the Biafra) I got here very early, the people were not much when I arrived. I met about 10 guys here, they stopped me but I refused and one of them angrily broke my left-hand side mirror. Honestly, the Biafra thing is out of hand and something must be done fast," the driver said.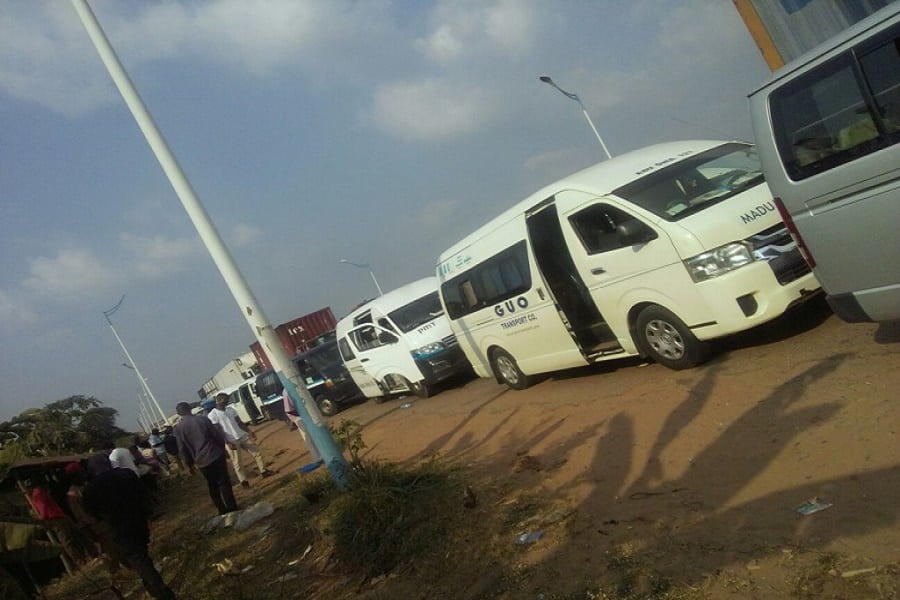 Some passengers who also lamented their ordeals, described those behind the protest as heartless. What apparently started as peaceful demonstrations is now turning into something else as many sad stories of what are going on in virtually all the eastern states in the country shows.
From the stranded passengers in Onitsha head bridge to loss of lives in Nnewi, Awka, Enugu, and Aba. The protesters  have changed their songs of freedom slogan to outright–"No Biafra, No peace".
Biafra has come to stay they clamor, those not in support should give way they reiterate.
National Coordinator of IPOB, Chidiebere Onwudiwe who spoke on behalf of the group said that the protest was as the result of the detention of Kanu and the continued marginalization of the South East and South South Geo-political zones by the federal government. He said "The protests will continue today in Onitsha and the soldiers, who are asking us to disperse are being funny because we are non-violent and cannot be intimidated."
Scenes of What Is Going On As A
Result of The Biafran Protests in Onitsha