If you're lacking some travel inspiration, it's guaranteed that the first thing you'd want to do after reading this article (if you're strong enough to stick around until the end) is drop everything and buy a one-way ticket to any one of these places.
This list of the world's most beautiful places captures the endless capabilities of mother nature. From green rice terraces to pink lagoons and colorful mountains, every one of these places is so unique and awe-inspiring, that you'd have a hard time believing they are real! But they are, and if you don't believe us – buy a plane ticket and see for yourself. It must be a thousand times more brilliant than the pictures.
Antelope Canyon, Arizona
The U.S. is known for its baseball, junk food and astonishing canyons. One of the best Canyons is without a doubt Antelope Canyon. What makes it so popular is not only the incredible beauty of the rock formations and the light that cracks through it, but the fact that it's also travel-friendly (as much as a canyon can be).
It's comprised of the Upper Antelope Canyon (the crack in its ceiling) and the Lower Antelope Canyon. If you want to pay a visit to this wonder, the Upper Canyon is the safer (meaning easier) choice for tourists, since it requires no climbing.
Cappadocia, Turkey
This might come as a surprise to you, but Turkey is probably one of the most beautiful countries in the world, and accordingly one of the most underrated countries.
Among its breathtaking views you'll find Cappadocia – a historical region in Turkey. As the picture shows, a famous attraction in Cappadocia is the hot air balloon ride, which gives you a view of the historic landscape.
Mount Fuji, Japan
As it turns out, Japan has more to offer than just Sushi (with all due respect to Sushi). Mount Fuji is a world wonder, and its name is misleading, since it's not simply a mountain, but a volcano.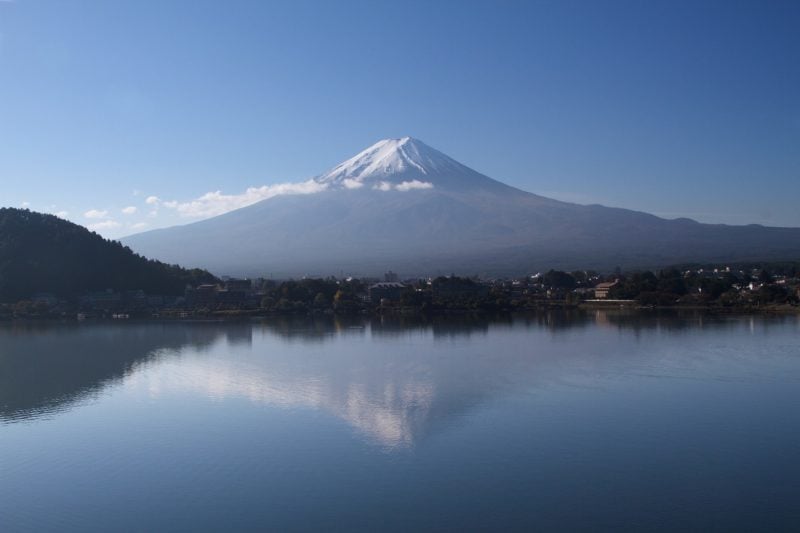 It's the highest volcano in Japan, the second highest in Asia, and seventh highest in the world. If you wish to travel there, you can let out your breath – it's a dormant volcano, so there's no (immediate) danger that it will erupt. But you never know.
Salar de Uyuni, Bolivia
The largest salt flats in the world, Salar de Uyuni is a must-have on every traveler's list of destinations. It's not only exceptionally beautiful, but also a one of a kind nature phenomenon.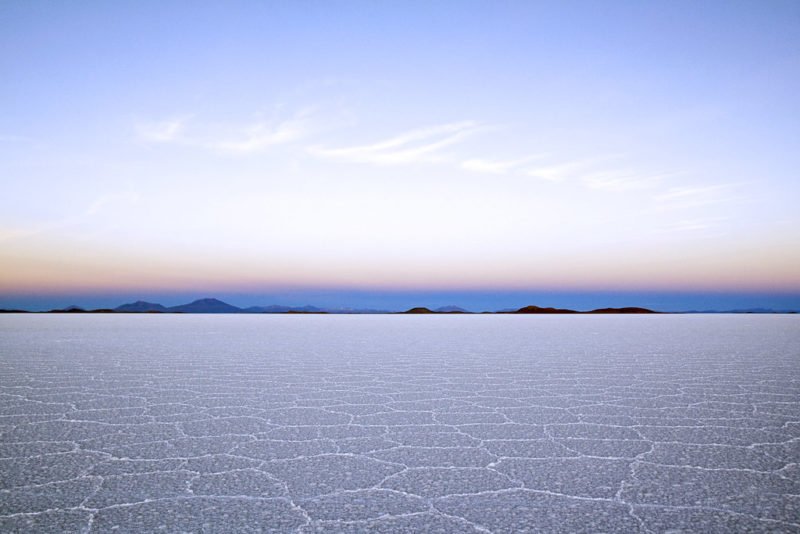 The desert was formed by a transformation of several prehistoric lakes. The coolest thing about it – after it rains, it transforms the salt ground into a giant mirror. I think it's worth a visit just for the picture if you don't want to hang around.
Las Coloradas, Mexico
When was the last time you swam in a pink lake? If the answer is never, you found your next destination – the pink lakes of Yucatan area, Mexico.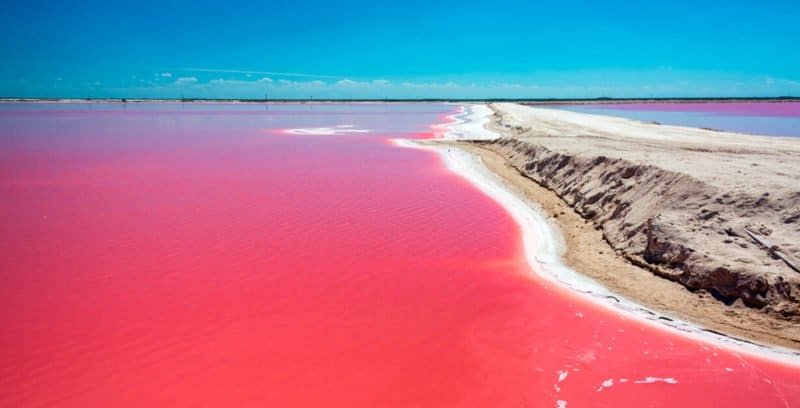 The rose-pink lakes, Laguna Rosa in the common tongue, are huge evaporation ponds, and their unique color is created by the micro organisms in it.
Bagan, Myanmar
You might have never heard of the ancient city of Bagan, but it was recently declared by UNESCO a World Heritage Site.
The city is most known for its astonishing number of temples and religious monuments. Bagan is the place for whoever wants to connect with their spirituality – it's characterized by its culture of meditation and Buddhist rituals.
Milford Sound, New Zealand
Norway is most widely known for its amazing fiords, but in fact one of the world's most beautiful fiord can be found in New Zealand, and that's Milford Sound.
Not for nothing it was named the most beautiful travel destination of New Zealand. If seeing the set of Lord of the Rings isn't enough reason to travel to New Zealand, this picture must do the job.
Isle of Skye, Scotland
If this picture doesn't make you want to pay a visit to Scotland, I don't know what will. Can you imagine standing on top of this mountain overlooking this view? With all due respect to pink lagoons and holy cities, it's hard to compete with that.
The largest of the Scotland islands, Isle of Skye must be the best thing about Scotland after Scotch.
Gobi Desert, Mongolia
'What's interesting about a desert?' you're probably wondering. But the Gobi Desert in Mongolia is not just another desert. It's one of the largest deserts in Asia and covers parts of China and Mongolia.
If you're looking for some peace and quiet, this would be the right place to get off the grid. We didn't check, but it's hard to believe this place gets a Wi-Fi connection.
Torres del Paine, Chile
Now there's another reason to visit Chile besides the food – Torres del Paine national park. If you're an aspiring photographer this place must be on your bucket list, and if you're not, well, this place is sure to inspire your hidden photography talent.
There are many incredible views in South America, and this is surely one of the best. There's a reason why this is the first stop for everyone traveling South America.
Trolltunga, Norway
Is it just me or does this cliff reminds you of the Pride Rock in The Lion King? Or have I been watching too much Disney lately? With all its impressive fiords, this cliff is one of Norway's most popular travel destinations.
Turns out the cliff observation wasn't completely wrong – the name Trolltunga actually means 'troll tongue'. It does kind of resemble a troll's tongue, doesn't it?
Seljalandsfoss waterfall, Iceland
Waterfalls are always a magnificent sight, but this one is like nothing you've seen before. I know, I know, it's hard to compete with the Niagara Falls and the Iguazu falls (that's why they're also on our list), but this scenery of Iceland looks like the place where fairytales are made.
Looks like the result of someone pouring sugar, spice and everything nice. Perhaps that's the reason this waterfall was featured in several movies as well as a Justin Bieber music video.
Cliffs of Moher, Ireland
Don't confuse the name with cliffs of mother, though it does seem like the mother of all cliffs. If they don't seem impressive enough to you, they rise 390 feet above the Atlantic Ocean and reach a maximum of 702 feet.
Cliffs of Moher are no regular cliffs, but celebrity cliffs. It was featured in several films including The Princess Bride (a personal favorite) and the Harry Potter franchise.
Banaue Rice Terraces, Philippines
The famous rice terraces of the Philippines are a lot more complicated than they seem. They maintain a system of physical environmental elements, as well as social, cultural and religious elements.
The green scenery is not uncommon to see in Asia, and you can find similar landscapes in Thailand, India and other places, but the view of the Banaue Rice Terraces is one of a kind.
Varanasi, India
On the banks of the river Ganges dwells the magical city of Varanasi. This is the second holiest destination on our list, after the temples of Bagan.
Varanasi is considered the holiest of the seven sacred cities in Hinduism. If you've been to India and haven't paid a visit to Varanasi, then you're doing something wrong. But the good news is, you get to travel to India again.
Arashiyama Bamboo Forest, Japan
Japan has so much to offer – interesting food, culture and people, but all that pales in comparison to this bamboo forest. If you plan a trip to Japan, make sure to include this unique forest and prepare to be awed.
This isn't like any other forest you've seen or heard of, because, well, it's comprised entirely out of bamboos. And it's completely natural. Mother nature does it again.
Zhangye National Geopark, China
If climbing a huge wall doesn't do it for you, don't worry, there are plenty of other things to do in china. One of them is visiting the Zhangye National Geopark, better known for its rightfully earned name 'rainbow mountains.'
The rocks aren't painted, though it seems like it, and this place is definitely proof that mother nature can create anything that we artificially make. You can add this to your list of colorful destinations after visiting the pink lakes of Mexico.
Santorini, Greece
Santorini doesn't really need an introduction. Not for naught it's one of the celebrities' favorite vacation destinations – it's so picturesque (but then again, which place on our list isn't?)
Something about the white, picturesque rock houses and the blue sea surrounding it makes Santorini one of Greek's most beautiful islands, and a seriously desirable destination for a vacation.
The fairy pools, Scotland
Yes, the fairy pools are a real place, and it's just as beautiful as it sounds. This is a waterfall phenomenon on the Isle of Skye (we already established that it's the most beautiful of the Scottish islands).
As if that's not enough, what makes this place even more magical are the inhabitants of the area, which include deer, rabbits, sheep and birds. This is starting to sound too much like a Disney fairytale.
Dubrovnik, Croatia
Also known as King's Landing. Dubrovnik has always been an attractive travel destination, but since Game of Thrones, where the city starred as King's Landing, its tourism went off the roof.
There's a reason why the production of GOT chose it as the best place to represent King's Landing – other than its majestic views and the unique streets of the city, it has a fascinating history.
Banff National Park, Canada
Oh, Canada. What else can you say standing in front of the beauty of this place? Canada's oldest national park, located in the Rocky Mountains, Banff includes a view of glaciers, ice fields, dense forests and an alpine landscape.
It's guaranteed that every picture you take of this place will look like a postcard. Even the worst photographers (you know who you are) cannot ruin the beauty of this place.
Plitvice Lakes, Croatia
Who knew that there's not one, but two travel-worthy destinations in Croatia? If you're not a GOT fan and crowded cities aren't your cup of tea, Plitvice Lakes National Park is the place for you in Croatia. It's so beautiful, that it's included on the UNESCO list of world heritage.
Combine the magical pools of the fairy pools of Scotland, with the greenery of Asia and the waterfalls of Ireland, and this is what you get.
Iguazu Falls, Argentina
It's as if the word sublime was invented to describe this place. The waterfalls of the river Iguazu on the border of Argentina and Brazil are a must-see in everyone's bucket list.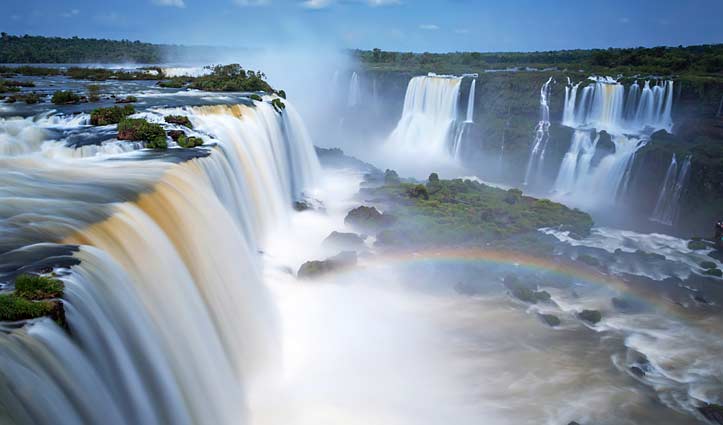 The secret is to catch it from both the Argentinian and Brazilian side, since one allows to see it from the highest point, and the other provides a panoramic view of the magnificent waterfalls.
Twelve Apostles, Australia
The Twelve Apostles refers to a collection of limestone stacks by the Great Ocean Road in Victoria, Australia. Weirdly enough, there are only seven stacks. I guess Twelve Apostles sounded better than Seven.
Australia is one of the most desirable travel destinations, and this is only one reason why. This place is so beautiful and majestic, that we can forgive them naming it Twelve Apostles when there are only seven.
Zhangjiajie National Forest, China
Here I was thinking that china was nothing but delicious eggrolls. If it seems strange to you that this scenery is in china, you're not completely wrong; the Zhangjiajie national forest was recognized as China's first national park in 1982.
It's not an easy task, but you better learn how to pronounce this name if you want to add it to your bucket list.
Great Barrier Reef, Australia
Australia does it again – this time with the Great Barrier Reef. This is the world's largest coral reef system, composed of 900 islands and over 2,900 reefs. It's so big, that it can be seen from outer space! Yes, even aliens can enjoy mother nature's creation.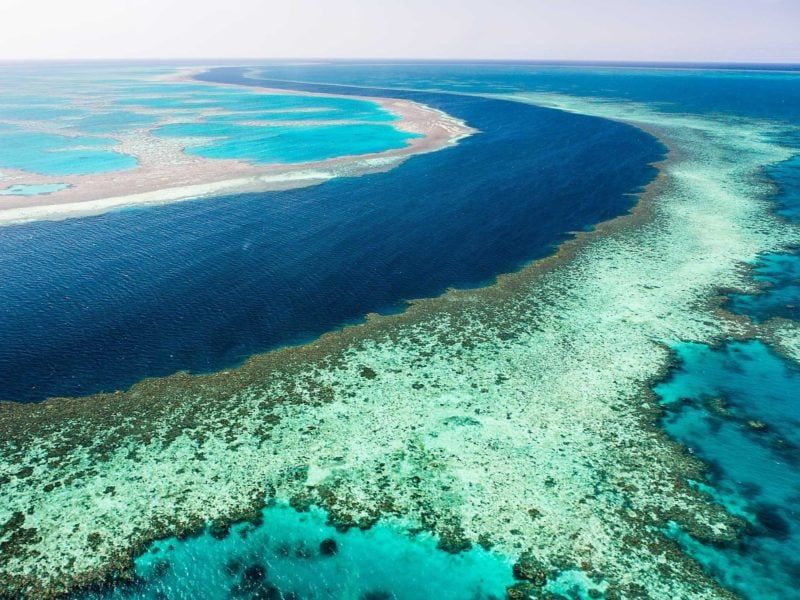 It doesn't stop there – the Great Barrier Reef is not only beautiful, but it's the home of many vulnerable or endangered species. It also houses whales, dolphins, and basically almost every kind of sea animal you can imagine.
Skeleton Coast, Namibia
Despite its spooky name, the Namibian coast is one of the more beautiful destinations on our list. the skeletons are of course not human, but refer to whale and seal bones, and more recently to the shipwreck of an English cargo liner that crushed on this coast. See? Not at all spooky.
This is one of the less-traveled destinations on the list, mostly for hardcore travelers. If you're frightened by its name, it means you're probably not ready to visit the place.
Victoria Falls, Zambia
This must be our third or fourth waterfall on the list, but we can't help it – it's just too beautiful. And the Victoria Falls are special, because unlike the previous ones we mentioned, you can enjoy a swim in them! (Be careful not to fall, though).
This one is for hardcore travelers, as Zambia isn't the obvious choice for anyone seeking a vacation. But it's worth the trip.
Galapagos island, Ecuador
If the name sounds familiar it's probably because this is the archipelago that's most known for its unique animal species and endemic species.
If strange animals are your thing, this is the place for you – you'll find there sea turtles, different kinds of birds, giant iguanas, crabs and even penguins.
Jasper National Park, Canada
Right next to the Banff national park lies this piece of heaven, which is no less awe-inspiring than Banff. Jasper is the largest national park in the Rocky Mountains, and without a doubt the most beautiful one (though it's a close competition).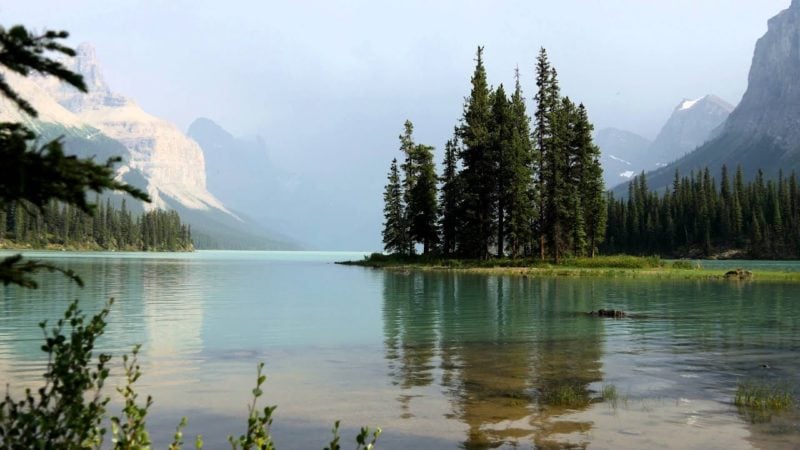 It was declared a World Heritage Site by UNESCO, along with several other parks in the area. If this place doesn't get a place of honor on your bucket list, I don't know what will.
Chocolate Hills, Philippines
Sounds tempting already. The chocolate hills, rightly named, are a geological formation in the Bohol province of the Philippines. They aren't covered in chocolate, since this isn't Willy Wonka's chocolate factory, but rather in grass that turns brown in dry seasons.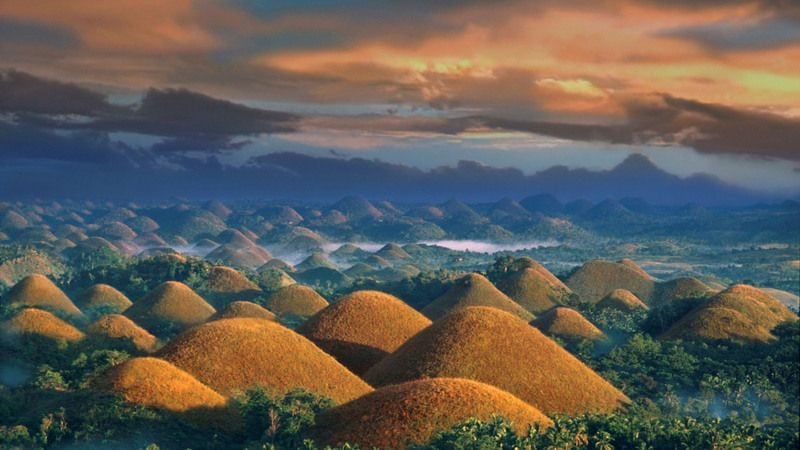 When you visit the rice terraces of the Philippines, pay a visit to this area, but make sure to do it during the dry season, to catch a view of the hills when they turn chocolaty.
Northern Lights, Iceland
We saved the best for last – this is truly a phenomenon worth applauding mother nature for. Also referred to as Aurora or Polar Lights, this phenomenon takes place near the North Pole.
The lights are seen better through a camera's lens than by a human eye, so if you go there – make sure you don't forget camera at home.