Africa as a developing and the second largest continent of the world, has gained popularity through tourism. And this has led to the investment of numerous airports over the last decades since the best and fastest way to explore the continent is by air.
To make your tour a memorable one, we have choose to list the Top Best 20 Airports in Africa based on cleanliness, comfort, conveniences, and customer service.
20. Julius Nyerere International Airport (Tanzania)
Julius Nyerere International Airport is the international airport of Dares Salaam the largest city in Tanzania. It was previously known as Dares Salaam International Airport and in 2006 was renamed in honour of Julius Nyerere the first president of Tanzania. The airport is located about 12kilometres (7.5mi) southeast of the city. The airport has flights to destinations in Africa, Europe and the middle east. The airport is operated by Tanzania Civil Aviation Authority.
In 2014, the airport handled 2.47 million passengers and 77,990 aircraft movements while handling 21.2 million tons of cargo.
The airport has two passenger terminals. Terminal 1 offers general aviation and charter services, while terminal 2 provides international and domestic flight services. The terminal feature both international and domestic departure and arrival lounges. The passenger facilities at the terminal include a post office, bank, bureau de change, restaurants and cafeterias. The terminal also feature a VIP lounge, duty-free shop, chemist, gift shop,travel agency and a tourist help desk. The airport offers a convenient public bus transport with the bust stops located near the terminal (offering more than 150 short-term and 50 long term parking spaces). Julius Nyerere is a modern and beautiful airport with pleasant staff.
19. Monastir Habib Bourguiba International Airport (Tunisia)
Monasir Habib Bourguiba International Airport is an airport serving Monastir in Tunisia. The management of the airport was awarded to TAV Airport holding in March 2007 by the Civil Aviation and Airport Authority. It is named after the former president Habib Bourguiba  was born in Monastir. The airport has much activities, it has tne highest traffic in the country with 4,279,802 passengers in 2007 due to the movement of tourist to visit Monastir, sousse and the surrounding resorts.
The airport operates all week days, its user friendly and efficient terminal operations, large variety of shopping and catering facilities and easy access by all transport means. It provides comfort to passengers and the privilege they expect during their journey, starting from their homes to the hotel they will stay including  airport security passes, personal transfers within the airport ground, duty-free shopping and hospitality.
18. Murtala Muhammed International Airport (Nigeria)
This Airport is originally known as Lagos Airport, it was renamed in the mid 1970s, after a former Nigeria military head of state Murtala Muhammed, during the construction of the new international terminal which was modeled after Amsterdam Airport Shiphol. The new terminal opened officially on 15 march 1979. It is the main base for Nigeria flag carrier airlines, Aero contractor and Arik.
In resent years there have been improvements to security and infrastructure providing passengers with the necessary facilities like, bank, ATM and a bureau the charge are available  in the terminal. There is also free Wi-fi internet access for passengers waiting to board their flight, medical facilities, limited choice of restaurants  and bars inside the terminal and duty shopping free is also available.
17. Seychelles International Airport (Seychelles)
This airport is locally known as Aerport dela pointe larue, it is located on the island of Mehe, Seychelles near the capital city of Victoria. It was opened on the 20 march 1972 by Her Majesty Queen Elizabeth ll.
The airport is 11km southeast of the capital and is accessibly by the Victoria-providence Highway. There is frequent service from the bus station in Victoria with taxi ranks outside the terminal available to all locations on Mahe Island and several tour operator's coach service- namely Creole Travel Service and Mason'stravel-which also links passengers to the ferry terminal at old port (Vieux port) for inter-Island ferry services and to the new port(Nouveau port) for cruise holidays.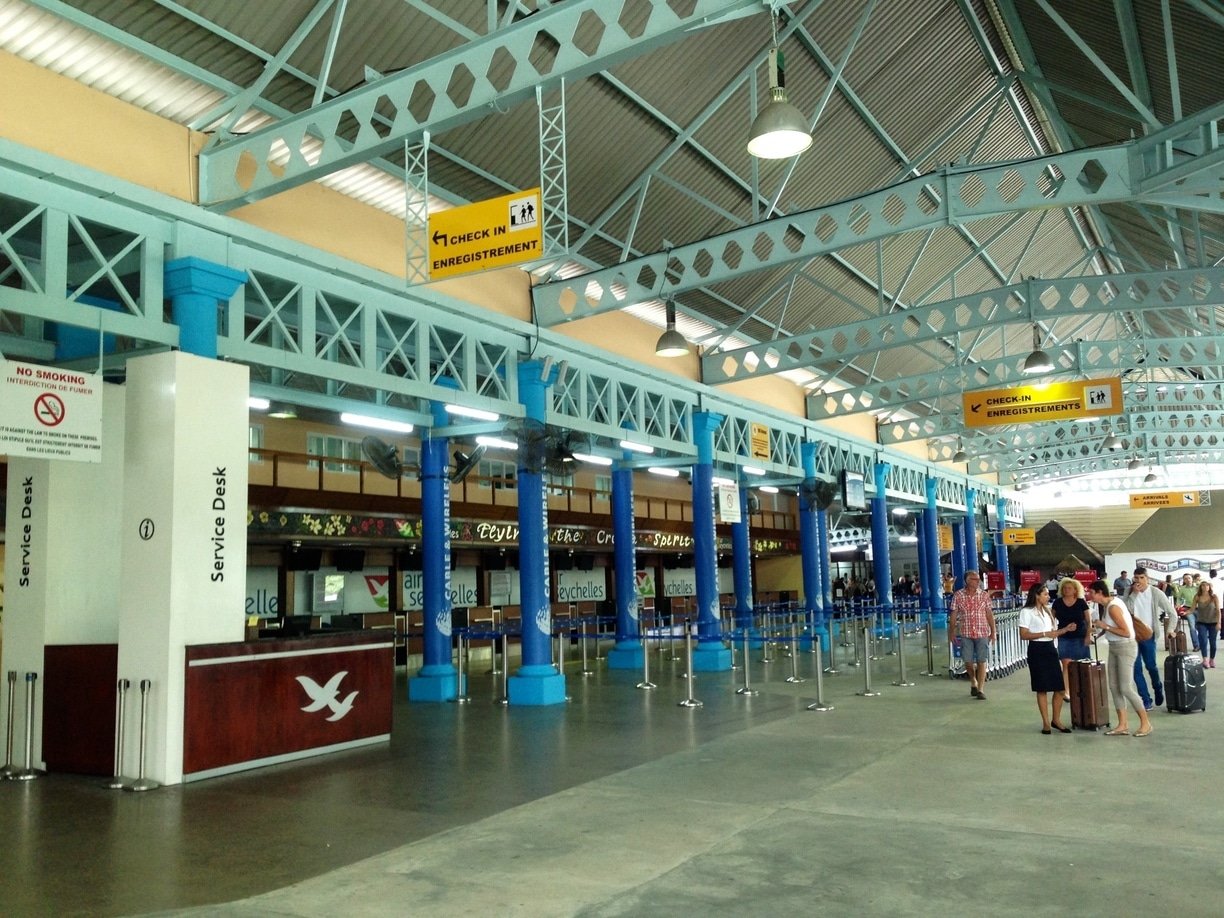 Construction works for the substandard Expansion of the airport started in July 1980. Due to the continuous increase  in passenger traffic, a terminal building was built that could cater for 400 more arriving and 400 more departing passengers at any time.
The airport has the head office of Seychelles.
16. Mohammed V International Airport (Morocco)
Mohammed V International Airport is an airport serving Casablanca, Morocco, located in Nouaceur a suburb 30km South-east of Casablanca. It is operated by ONDA.
The airport is named after the late Sultan Mohammed V of Morocco.
It is the largest and busiest airport in Morocco and the fourth busiest in Africa with approximately 8million passengers passing through the airport each year. In 2014 7,97 Million passengers used the airport. It has a network of about 100 destinations served by 23 airlines, being Africa the continent with more connections. The airport serves as hub for Morocco flag carrier Royal Air Maroc, Jetairfly, Air Arabic Maroc and Ram Express.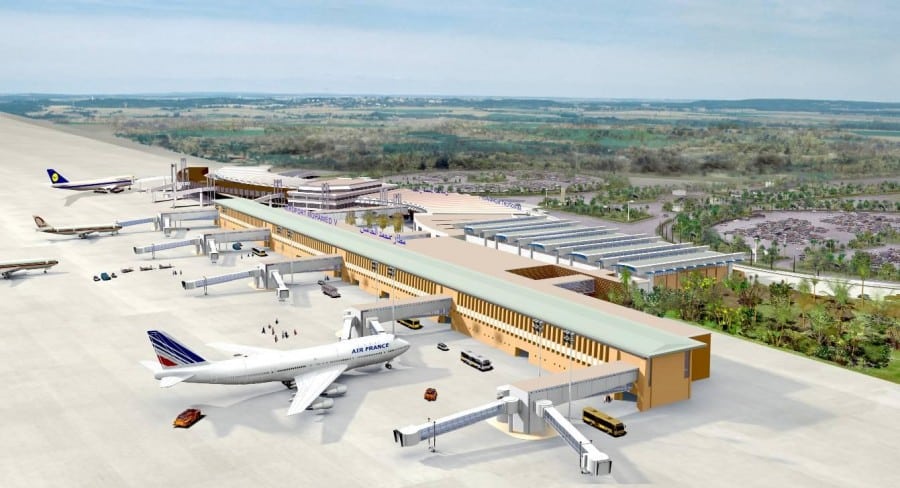 Mohammed V airport is a modern looking airport with efficient terminal facilities. there are comfortable places to rest if you are on a long transit, with friendly, helpful and attentive staff. It is one of the six airport in Morocco where ONDA offers its special VIP services salon convives de merque
15. Jomo Kenyatta International Airport (Kenya)
Jomo Kenyatta Airport is an international airport in Nairobi the capital of the largest  city in Kenya, located in the Embakas 15 kilometers (9mi) southeast of Nairobi's central business district. It is named after Jomo Kenyatt, Kenya's first president and prime minister.

The  airport has scheduled flights to destinations in over 50 countries. In 2011 the airport served 5,803,635 passengers, making it the ninth-busiest airport in Africa. It is the hub for flag carrier Kenya Airway, FLY540 and African Express Airway.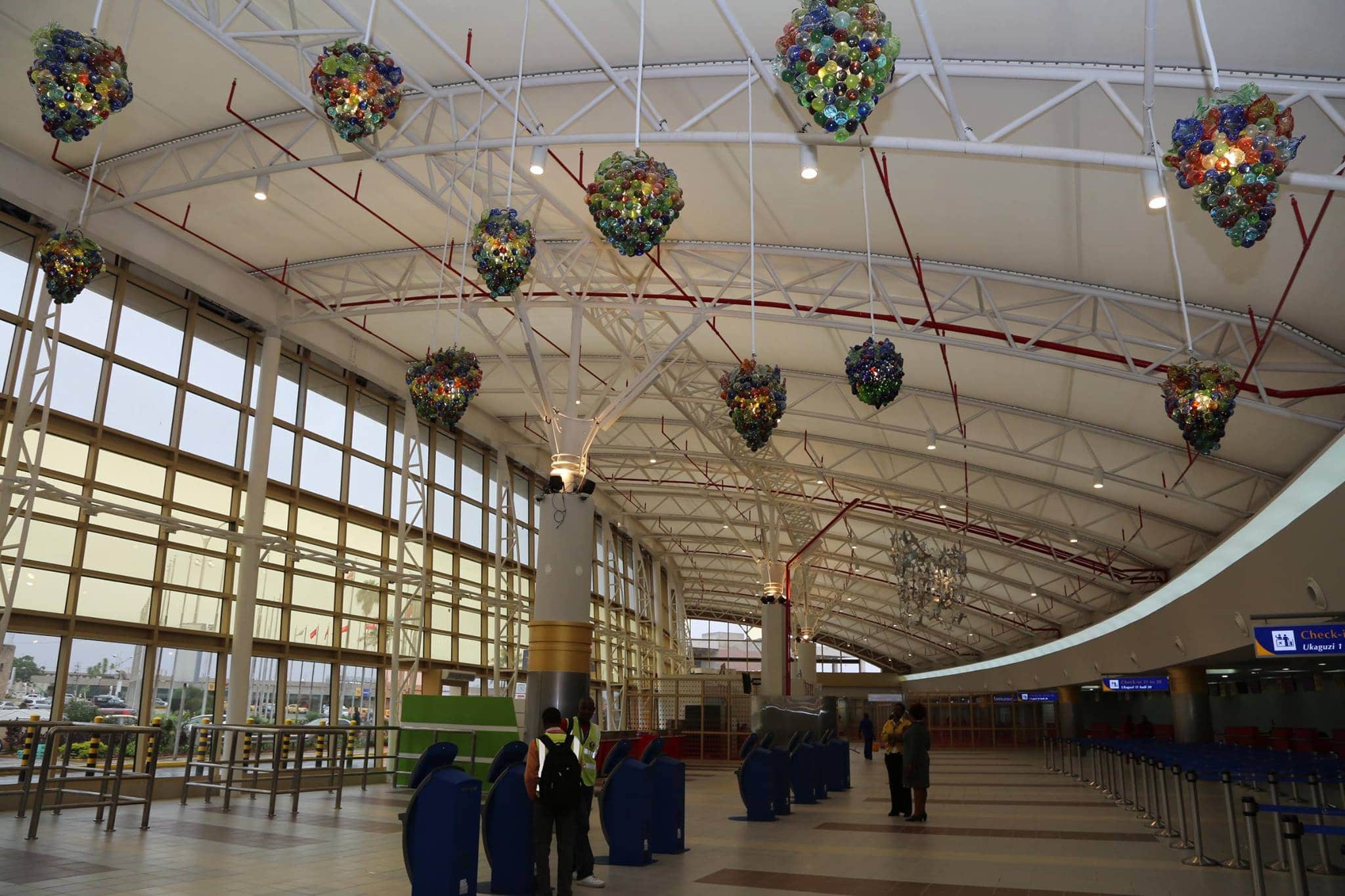 There have been latest improvement of facilities at it's Nairobi hub at the Jomo Kenyatta International Airport, which are aimed at improving comfort of arriving, connecting and departing passengers. The airport is safe with facilities in place to facilitate seamless processing of transfers.
14. Sir Seretse Khama International Airport (Botswana)
Located 15kilometres (9mi) north of Gaborone, is the main international airport of Bostwana. The airport is named after sir Seretse Khama, the first president of Bostwana. It was commissioned in 1984 and offers large capacity to handle regional and international traffic.
The airport has a new terminal that will be able to handle 900 passengers in an hour when complete. The terminal elements include; a bank, post office, ATMs and a left luggage facility. Passengers have access to craft shop, book shop, while the international lounge house is free. The airport has one of the best security; each entry point has facilities to screen passengers, baggage and cargo.
13. Marrakesh Menara Airport (Morocco)
This is an international airport serving Marrakesh the capital city of Marrakesh- Transift-El Haouz region. in Morocco. It is an international facility that receives several European flights including flight from Casablanca and of the Arab world nation. The airport, in year 2014 served over 4 million passengers.
Terminal -T1 and T2 span area 42,00 square meters and are designed to accommodate 3 million passengers. Currently the third terminal is being built to comfortably serve more passengers all year round. Once you get in Marrakesh airport, you will find everything you need. The airport terminals offer many facilities for travelers such as cafes, restaurants, pastry shop, a book shop and tobacco store.
12. Hurghada International Airport (Egypt)
This international airport is located in Hurghada, Egypt. It is located inland, 5km (3.5 miles) Southwest of the El Darhar the downtown of Hurghada. It is the second busiest airport in Egypt after Cairo. It serves Hurghada, the center of Red Sea Government of Egypt, Seaport city safaga a lot of amazing Red Sea beach and aquatic sports resorts; Al Quseir, Sharm El Naga, El Gouna, Al-Mahmya, Soma Bay and Makadi Bay.
The airport is currently served by two terminals. The construction of the second new terminal cost $335 Million, which was mainly financed by the Arab Fund for Economic Development. The project was inaugurated by on December 17, 2014 by president Abdel Fattah El-sis. The new terminal has a total area of 92,000 square meters on 3 levels. In the terminal there are various infrastructure necessary for satisfaction of requirements of taking off and arriving passengers.
11. Port Elizabeth International Airport (South Africa)
This is also known as "ten minutes airport" it's situated within five minutes drive from central business district and beach front and not more than ten minutes from other important area of the city.  The airport is serving Port Elizabeth, a city in the Eastern cape province in South Africa. It was formerly known as H. F. Verwoerd Airport. The airport is known and operated by the Airport  company South Africa which also operates nine other airports around South Africa. It is the 4th busiest airport in south Africa.
Continue to "Top 10 International Airports In Africa"