How do you even begin to describe Joe Exotic? "Gay, gun-toting cowboy with a mullet" – Joe's typical description of himself – is a good place to start, but it doesn't embody half of his story and flamboyant personality. The owner of the GW Zoo, Oklahoma gubernatorial candidate and star of the Joe Exotic TV YouTube channel, Joseph Maldonado-Passage became the biggest name in America since the release of the new Netflix docuseries, Tiger King: Murder, Mayhem, and Madness.
He is the most colorful personality on our TV screens at the moment, but that's not the only reason why Joe Exotic has become a household name around the country. The undisputed Tiger King has an unsettling life story that reveals how he started one of the biggest exotic-animals empires in the country, how he's become Joe Exotic, and why he seems to be the country's most beloved celebrity at the moment.
Meet Joe Schreibvogel
Joe Exotic – the Tiger King – was born Joseph Schreibvogel, in Park City, Kansas. He grew up on a farm with his four siblings, who were all raised as farm workers. Joe had an orientation to the farm, and more specifically, to farm animals, and he saw this as his future. Little did he know what was waiting for him down the line.
Growing up, Schreibvogel, the youngest of five siblings, had a close relationship with only one of his siblings, Garold Wayne, who went by the nickname G.W. The family moved often, until they finally settled in Texas when Joe was in his teens. Joe and his brother, Garold, shared a great love for animals (although that's not how Carole Baskin would put it).
Joe, chief of police
It took some time before Joe found his destiny, and his passion – the exotic animal park – but eventually, he would get there through a great loss. Upon his graduation from high school, he went on to join the police force, and joined the Eastvale, Texas police department. It was small and rather uneventful town (and police department), and Joe quickly became the chief of the department.
Schreibvogel struggled with his sexuality, and at this point, only his siblings knew about his sexual orientation. According to him, when one of his siblings outed him in front of his parents, his father denounced him. He made him shake his hand and promise he wouldn't attend his funeral.
Struggling with his identity
This incident with his father took its toll on young Joe, who was heartbroken by his father's reaction and disapproval of his son. One day – following this day, where his father said he was no longer his son – while he was still chief of police, he drove his police cruiser off a bridge in an attempt to take his own life.
Joe survived this car crash, but he was left with severe injuries and was forced to spend the next few months in traction and rehabilitation. This terminated his three-year career as a police officer, but in a way, it was what allowed Joe to find his true calling – the animal park.
His first love
It was at a dance bar in Texas that Joe met his first boyfriend, Brian Rhyne – although he had a girlfriend at the time; he was still coming to terms with his sexuality. Brian was the first partner Joe truly cared for, and the two tied the knot – in an unofficial ceremony, since same-sex marriage wasn't legal at the time – after several months of dating.
As portrayed on the docuseries, after his first marriage to Brian, Joe was rather reckless when it came to relationships. After his first marriage to Brian, Joe was married twice more, and it was suggested on the show that the two zoo workers Joe was involved with – and married to – didn't exactly share his feelings. It seems as if Brian was his first (and perhaps last) real relationship.
A blessing in disguise?
Following his accident, Joe and Brian moved to West Palm Beach, Florida, where Joe underwent treatments and rehabilitation. During this time, Joe found employment at a pet store – this wasn't his first time working with animals, but his first time working at a pet store – which later inspired him to open one with his brother.
Florida was the place where Joe discovered his interest in exotic animals. His neighbor worked at a nearby exotic animal park, and often he'd bring back from the park monkeys, baby lions and other small animals, which he allowed Joe to play with and bottle-feed.
He was hooked
As frequently described on the show, spending time with exotic animals such as lions, tigers and monkeys can be addictive. It is a feeling that's hard to describe, and as portrayed on the show, it's an intoxicating feeling, one that exotic animal owners share only with each other.
In a way, although they refuse to see it, Joe Exotic and Carole Baskin have a lot in common; aside from their love for big cats, they both have a flamboyant, questionable style. Of course, Carole would say she's in the big cat business from the goodness of her heart, while Joe is in for the money, but we're getting ahead of ourselves.
Back together
After two months of rehabilitation and physical therapy in Florida, Joe moved back to Texas with the intention of opening his very own pet store. Joe and his brother, Garold, had a mutual affection for animals, and as kids, they had a mutual dream of opening a pet store together. When he left Florida for Texas, Joe finally opened the pet store in Arlington with his husband and brother.
For the first couple of years, they sold reptiles, fish and birds. As time went on, the brothers found new and creative ways of making money, which they used to purchase small exotic animals for the store. Things were going as good as they could've hoped, and the Schreibvogel brothers were content with their small business for a while.
Super Pets
Much like with his animal park a couple of years later, while running the pet shop with his brother and husband, Joe was the face of the shop, the "gun-toting cowboy with a mullet," who lured the crowed, while his husband, who was Joe's opposite in many ways, was in charge of finances and the "boring" side of business.
Garold was married as well, and had two children. Joe and Brian lived and worked together, and if you've watched the show, you probably noticed this kind of relationship seems like a pattern for Joe Exotic, since it was the case with this other two marriages as well.
Joe's tragedy
Tragedy struck Joe – for the second time in Texas – in 1997. His brother Garold was involved in a car accident outside Dallas; his car was hit by a drunk driver. A week later, he died in the hospital. Joe was grief-stricken. The pet store wasn't the same without Garold – it was their mutual dream and effort that was put into it – and Joe desperately needed a change of scenery.
The Schreibvogel family won a large sum of money from a lawsuit related to Garold's death, and they wanted to use the money to commemorate their beloved son and brother. It was Joe's idea to use this money to open the exotic animal park – a long lost dream of Garold, who had a passion for wild animals. Garold even shared with Joe at one point his dream to travel to Africa and live with the animals in the wild, in their natural habitat.
GW Zoo
This is how the GW Zoo was created: Joe used the money to purchase sixteen acres of land in Oklahoma, and opened the Garold Wayne Exotic Animal Memorial Park – better known today as GW Zoo – exactly two years after losing his brother.
If you watched the show, you know that at one point, Joe had close to 200 tigers living in the park, excluding all other exotic animals, including lions, monkeys and alligators. He got to this astonishing number with the help of people around the country.
An unwanted-pets sanctuary
Word spread about Joe's exotic animal sanctuary, and little by little, people who owned tigers and other exotic animals they no longer wanted decided to give them away and dropped them off at Joe's hands. After Michael Jackson's Neverland Ranch closed, the exotic pets that lived in the property were given to Joe Exotic, the notorious exotic animal park owner.
People would buy a tiger and abandon it when they realized it was more than they could handle, and so whenever Joe received reports about abandoned tigers, he took them in to his park. In no time, the park became home for the animals as well as for Joe. He lived within its confines, and he rarely left it. he put all his time and energy in the park and its animals – particularly the tigers – and the only times he left the zoo were business endeavors, meaning getting more animals, or road shows.
Becoming Joe Exotic
Joe Schreibvogel became Joe Exotic at the beginning of the 2000's, when he embarked on his exotic animals road show. At the time, Joe collaborated with a magician named Johnny Magic, who operated a similar road show performing magic tricks, and Joe provided animals for these magic shows.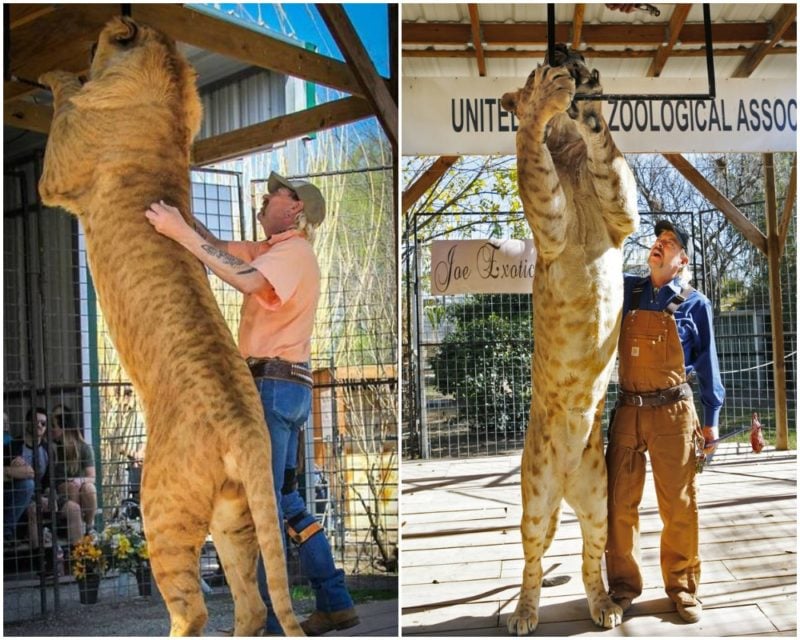 Evidently, when the two performers split ways, Joe copied some of Johnny's magic acts, and continued to perform with them on his own. He moved on with his animal-magic show to perform at shopping malls, and was a big hit for a while, until Carole Baskin came along, but more on that later.
Trouble in paradise
With owners dropping off their animals at Joe's zoo, the park has become everything Joe has dreamed of back when he was running the shop in Texas. However, not everyone were happy about Joe's success. His siblings claim he had used the memory of his brother in order to realize his own dream, and that they have never heard Garold talk about living with wild animals in Africa, as Joe claims.
While Joe's parents wanted to use the money from the lawsuit to open a soccer field in Garold's memory, it was Joe that convinced them Garold would have wanted this money to be used otherwise, to fulfill their dream of opening the wild animal sanctuary.
A brand name
As the park, as well as Joe's magic shows, gained popularity, Joe officially became Joe Exotic, and he turned himself into a brand. He put his face as the park's logo, and his name on different eclectic merchandise sold at the park's gift shop (including under garments with Joe's face on them).
While the park started as a sanctuary for unwanted exotic animals, Joe soon realized he had to find a way to enlarge his profits, in order to pay for the zoo's expenses. Raising wild animals is a lot more expensive than you might have thought; big cats and lions' diet consists of meat, and a lot of it. As Joe Exotic, and Doc Antle – who runs the Myrtle Beach Safari – shared they could spend thousands of dollars a month to feed the big cats.
An expensive business
Making a brand of his name and selling the gift shop merchandise wasn't enough to finance the expenses of the zoo, and that's when Joe started breeding his tigers. The park provided its visitors with an experience of a lifetime – petting the cub tigers and taking a photo with them. This attraction was a great hit at the zoo, but it meant Joe had to keep breeding cubs.
For people to be able to pet the cubs safely, they must small enough, and after the age of 6 months, they become too dangerous to put around children and people who have no experience with the wild animals. Breeding became one of Joe's main endeavors.
Tragedy strikes again
Around the time when things were picking up for Joe, tragedy struck again. As the zoo continued to grow, Brian's health deteriorated. His husband, Brian Rhyne, suffered from illness complications, and he had passed away in 2001. Brian's funeral was held at the zoo. However, it didn't take long before Joe has found a new love.
Joe found love with a 24-year old events planner, J.C., and with his help (meaning, his equipment), pushed forward his roadshow. He visited shopping malls where he would charge children and families a fee for petting the tiger cubs.
Breeding business
All the while, his petting business at the zoo continued to grow, and the breeding expanded. Breeding big cats was one thing, but Joe became notorious for breeding hybrids of ligers – the offspring of a lion and a tiger – of different kinds. At the same time, the Tiger King was involved in buying and selling of tigers. Inbreeding tigers can cause birth defects and health issues, but unfortunately, it's a common practice among big cat owners around the world.
Due to breeding and exotic animal trafficking, there are currently more tigers living in backyards across the U.S. than in the wild. That's where organizations like PETA, or individuals – like Carole Baskin – come into the picture. Although many would claim, after watching the show, that what Baskin does ins't much different than Joe's business, she begs to differ.
A wasted talent?
If you watched the show, you probably marveled at Joe's beautiful voice, ad wondered how come he'd waste his musical talent on these random music videos, filmed at the zoo and about the zoo, instead of pursuing a career as a country singer. We sure did.
The answer is simple – Joe isn't the one singing on those videos. Throughout the docuseries, we get short bits of music videos Joe produced – his amateur music career – mostly singing about big cats and other animal or zoo related topics. As it turns out, Joe isn't the one singing in these videos, as he claims, but he had payed two country singers to record these songs for him, telling them they'd receive in return credit and fame. Of course, that never came.
America's Most Dangerous Pets, indeed
You can imagine that a person like Joe would attract great public attention – not just that of the authorities and animal-rights organizations, but the attention of the entertainment industry as well. If you ask Joe, he'd probably tell you he was a born entertainer.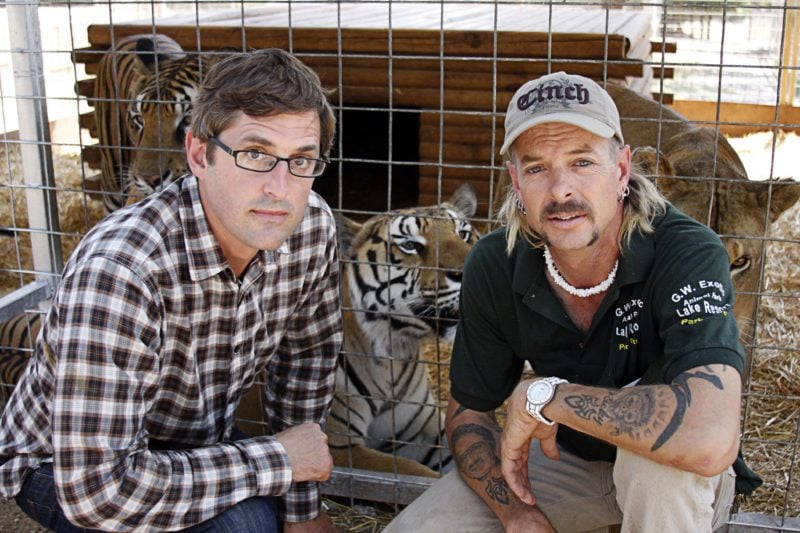 Tiger King isn't the first documentary Joe has been a part of; in 2011, the British-American filmmaker Louis Theroux filmed a documentary in the U.S. about individuals raising exotic animals including bears, big cats and other dangerous, and endangered, primates. Naturally, Joe Exotic was featured on Theroux's show, America's Most Dangerous Pets.
A new love
Joe and J.C. had ended their relationship on bad terms, to say the least – they didn't see eye to eye about Joe's business and the way he was running the park, and it ended with J.C. being escorted from the park by police officers, never to return. Along came John Finlay, a young guy of 19 who came to the park looking for employment.
Joe took Finlay with him on road shows, and the two became close. Within a month, they had developed a romantic relationship – Joe's first romance with one of the zoo's employees, and his first boyfriend to appear in the docuseries.
Wedding bells
It wasn't long before Travis Maldonado appeared at the zoo looking for work, and much like with John Finlay, Joe took an immediate liking to him. They became an unstoppable trio, with Travis and John being Joe's second (and third) hand. Joe suggested the three of them should get married.
The ceremony was held at a venue across the street from the animal park – Joe's life revolved around this park, he'd never get too far away from it – and the three grooms wore matching suits, with a tiger-shaped cake. A year later, Finlay had left this relationship for one of the park's workers – a woman with whom he had a baby.
Along came Carole
Trouble ensued when Carloe Baskin put Joe on her sight. Baskin is the owner of Big Cat Rescue – an exotic animal sanctuary just outside Tampa, Florida. Carole claims her sole aim is to save tigers and other big cats around the country, which are being mistreated by private individuals and parks – like the one Joe Exotic runs – but in effect, her sanctuary isn't all that different from Joe's park.
Baskin operates public tours in her sanctuary, charging people to see the animals, pet them and take a picture with them – much like the tours Joe offers in his zoo. She claims that the animals at Joe's zoo are living in inappropriate conditions, but, as seen on the show, her animal cages aren't that much bigger than the ones over at Joe's zoo.
His first strike
Nonetheless, Carole was determined to put an end to Joe's operation. You can imagine the "gun-toting cowboy with a mullet," former chief of police in Eastvale, Texas, didn't care for Carloe poking her nose in his business.
Joe's first mistake was using Carol's Big Cat Rescue logo to promote his magic traveling shows. At this point, Carol already had a solid reputation, which came with quite a large fan base. Carol and her husband sued Joe for copyrights of the name and logo, and after a long battle, they had won.
Don't mess with Carole
Tragedy never stopped following Joe, and in 2017, his husband Travis Maldonado, evidently took his own life at the zoo. Joe wasn't present at the moment; he was informed of the incident when he returned to the zoo, and insisted this was an accident. To this day it remains unclear whether or not it was an attempt to take his own life or simply an unfortunate mistake.
After losing someone he loves for the third time, it was the last straw for Joe. As zoo workers indicated, Joe was never the same again after this incident. Not that he was ever a calm, rational man, but it's safe to say that after this incident, Joe has really lost all inhibitions.
Joe's spell
However, once again, it wasn't long before Joe had found a new love. Only a couple of months after Travis' tragic death, Joe was marrying his new boyfriend (of two months), Dillon Passage.
According to the zoo staff, who had all wondered at some point what those young boys (John, Travis and later Dillon – all in their early twenties) were doing with Joe, there was one explanation: he bought them anything they wanted, pertaining mostly to cars and guns, and let them roam the zoo free, as if it was their kingdom. With not much waiting for them back home, Joe had a certain spell on them.
A messy business
Joe's hatred for Carole didn't subside with time, but the other way around, and we can't say we blame him for that. Her main goal was closing down his zoo – his life's work – and take away his animals. A man like Joe wasn't going to sit by and watch that happen. Carole had accused Joe and the like of him, pretty much every owner of wild cats in the country, of animal abuse.
Is she really the only saint? If you ask Joe, they way she treats the big cats in her sanctuary isn't much different than his zoo. It's hard to say why – perhaps because he was the only one who has stood up to her, taunted her and threatened her – Joe had become Carole's biggest enemy, and vice versa.
Joe's guardian angel
With Carole's law suit, Joe couldn't afford the zoo's expenses, and money was dwindling. Jeff Lowe showed up just in time – Joe's guardian angel – or so he'd thought. Jeff owned his own small zoo in Vegas, and he'd made an immediate impression on Joe with his expensive, exotic cars. Like Joe, Jeff was no stranger to the entertainment business.
He'd convinced Joe to put the park under his name, as a way to keep it alive, as Joe could no longer afford holding it – he could barely afford to pay for food – and Joe agreed to become the parks' "entertainment director," instead of its owner.
Strike two
Lowe had taken complete ownership of the park and changed its name to Greater Wynnewood Exotic Animal Park, keeping the GW initials, since the signs were already up along the highway leading to the park. Things took a turn for the worst when Jeff and Joe had gotten into an ugly dispute.
Not long before Joe had left the park for Yukon (or was driven out of the park), he talked with some people about potentially eliminating his biggest enemy, Carole Baskin. He shared with Jeff Lowe his ideas of how to implement this elimination, since he'd thought the latter was on his side, and that he could find the right person for the job.
Not taking any chances
An employee of the park called Carole and informed her of Joe's plans – she wasn't sure if he had any intentions of following through, or whether this was a twisted fantasy, but she didn't want to wait around to find out. The message was forwarded to the FBI by Carole's lawyer.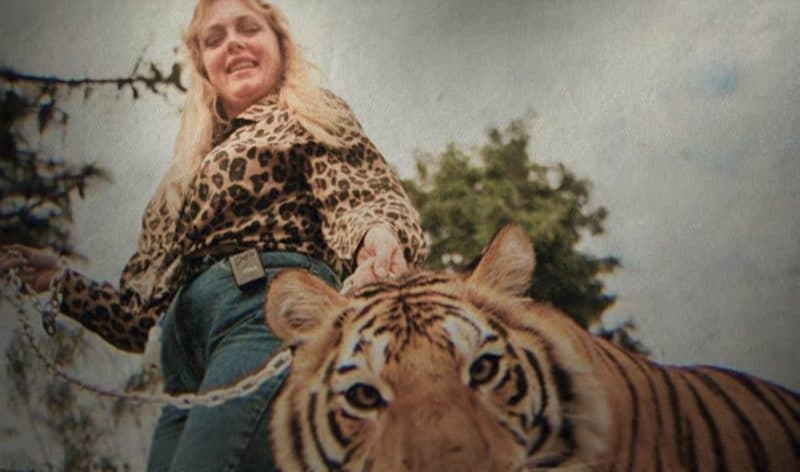 At the same time, Joe had sold a few cubs – for money – packed his dogs and left with his husband, Dillon, to Yukon, Oklahoma, hoping to start anew and never be found. It wasn't far enough, apparently, as Joe received threats from Lowe, and the couple once again packed up and left for Florida, suggesting on social media they were in Belize.
The fall of an empire
Three months after Joe had left the park, he was arrested by the FBI for plotting and paying someone to kill Carole Baskin. Although his plan never took place, they had enough evidence suggesting he had plotted against her and even paid someone to complete the job (the same person – who was an acquaintance of Jeff Lowe – never planned on going through with this).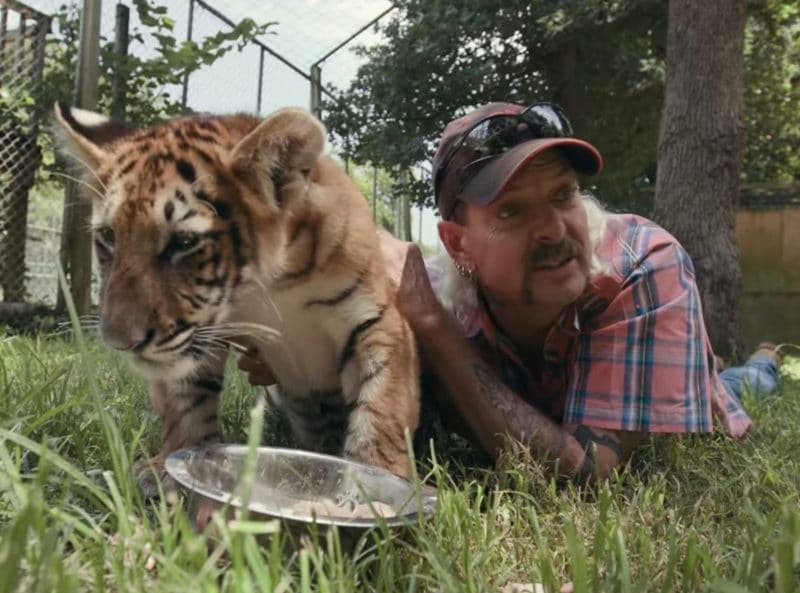 Joe was convicted for the murder-for-hire plot as well as for his illegal animal trafficking, breeding and selling. The GW Zoo, under Jeff Lowe's care, was deteriorating, and looked worse than ever. Jeff had plans of closing the park and reopening a much larger zoo at a different location with a different name, to shake off Joe's stain.