Did you ever spot something strange and ludicrous on the New York subway? You're not alone! What hasn't been said about the NYC subway by now? It somehow became a convention that New York's most bizarre people (and there are plenty of those) are all attracted to the subway like a moth to a flame, and so, more often than not, riding the NYC subway can be a strange experience! New Yorkers are somewhat familiar with this phenomenon by now, and so they don't even notice it anymore, but out-of-town visitors riding the subway might feel as if they reached a parallel universe, where anything is possible. These photos capture some of the most bizarre moments spotted on the NYC subway, and are ought to make you want to take a trip to the Big Apple.
Pet stroller
We know how much New Yorkers love their pets, but this person took the phrase "a dog is a man's best friend" to the next level. When dogs are only allowed on the subway provided they are inside any form of a bag, people find creative ways to commute their pets in the most comfortable way – both for them and for the dog. People get creative when they have to improvise – and perhaps this person doesn't even consider his sweet baby as a dog, but acknowledges him for what he really is – his baby.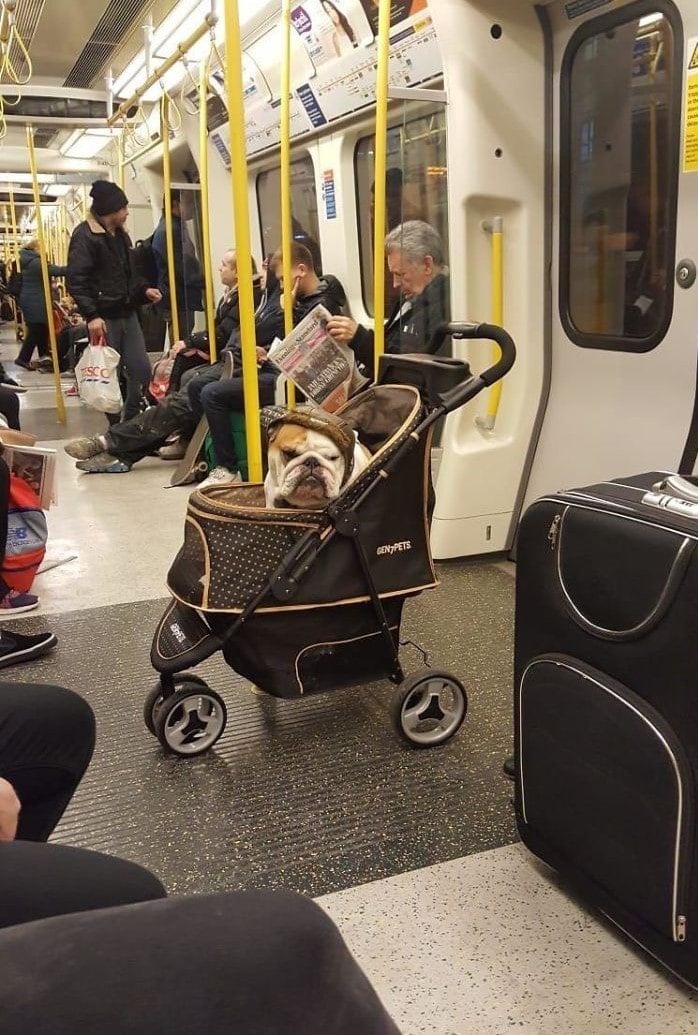 One way or another, this is a sight you would never see on a subway in Europe, or probably anywhere else in the world. Dogs in strollers is something you can see only on the New York subway, and as you can see in the picture – most of the people on the train (except for the person who took the photo, obviously) are completely oblivious in the face of this sight, as if this is something completely normal, seen on a daily basis on the New York subway.
Wait, what?
Is it possible IKEA started selling dogs and we didn't get the memo? Doesn't seem likely. This girl took the "no dogs allowed unless they are inside any form of bag" too literally, and simply put her dog inside a giant shopping bag. She's standing there completely nonchalantly with her dog inside an IKEA bag, and everyone is completely fine with it, because this is the NYC subway – where anything goes.
Nothing really beats the dog in the stroller (he had a matching baby outfit, in case you didn't notice!), but this is quite an unusual sight. I wonder if she takes the bag off when they leave the subway, or whether this is just how she walks her dog around. This photo left us speechless – we can't tell what this girl was thinking putting her dog inside this bag; if anyone has any idea what this might mean, we'd be happy to hear your thoughts!