Again with the dogs?
What's up with all these dogs in the subway? We need to figure this thing once and for all. Perhaps the city should just accept its faith and allow pets on the subway not inside a bag, since this rule seem to create too many confusing moments. At least this time the dog fits in the bag, and he looks surprisingly at ease. Again, no one around even seems to acknowledge that there's a man carrying a (large!) dog in a bag on his shoulder, as if this is a perfectly normal thing to do.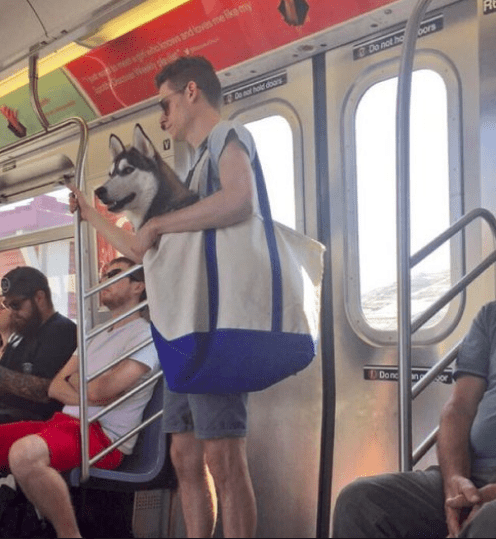 And perhaps it is? I admit, it has been a while since my last trip to New York (and boy, do I miss it!), but I don't remember seeing so many dogs on the subway last time I was there. Anyway, he seems like a pretty heavy dog, and so I'm not sure carrying him around on one shoulder is too healthy, not for him or his owner. But we've already seen that when it comes to pets, New Yorkers would stop at nothing.