Did you ever spot something strange and ludicrous on the New York subway? You're not alone! What hasn't been said about the NYC subway by now? It somehow became a convention that New York's most bizarre people (and there are plenty of those) are all attracted to the subway like a moth to a flame, and so riding the NYC subway can be a real strange experience sometimes! New Yorkers are somewhat familiar with this phenomenon by now, and so they don't even notice it anymore, but out-of-town visitors riding the subway might feel as if they reached a parallel universe, where anything is possible. These photos capture some of the most bizarre moments spotted on the NYC subway, and are ought to make you want to take a trip to the Big Apple.
Pet stroller
We know how much New Yorkers love their pets, but this person took the phrase "a dog is a man's best friend" to the next level. Well, when dogs aren't allowed on the train, people find creative ways to get them there – people get creative when they have to improvise – and perhaps this person doesn't even consider his sweet baby as a dog, but acknowledges his for what he really is – his baby.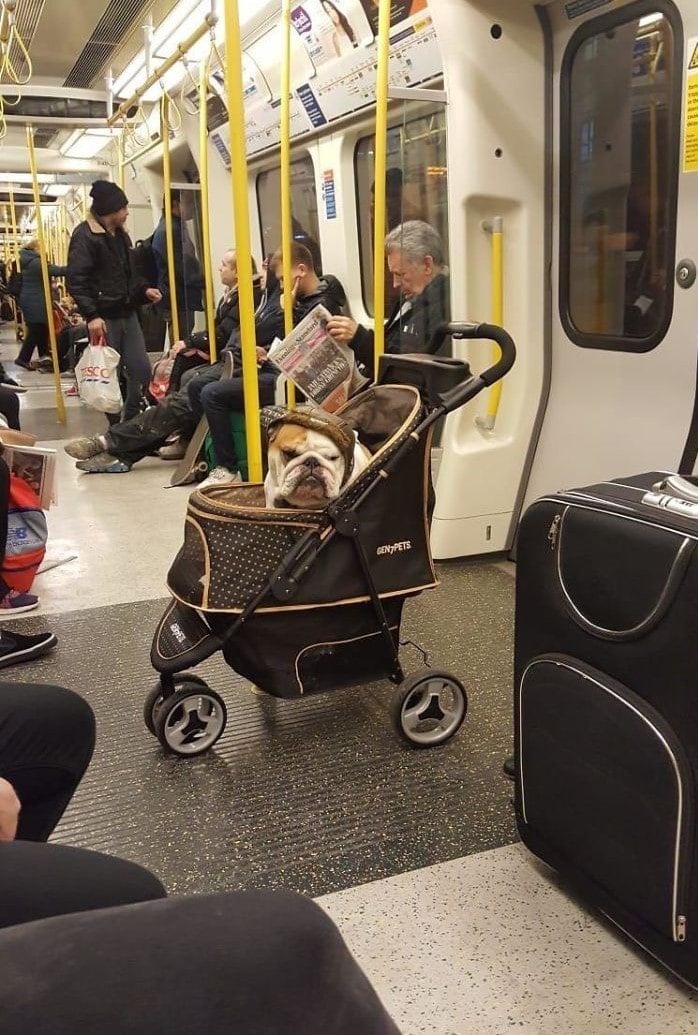 One way or another, this is a sight you would never see on a subway in Europe, or probably anywhere else in the world. Dogs in strollers is something you can see only on the New York subway, and as you can see in the picture – most of the people on the train (except for the person who took the photo, obviously) are completely oblivious in the face of this sight, as if this is something completely normal, seen on a daily basis on the New York subway.
Wait, what?
Is it possible IKEA started selling dogs and we had no idea about this? Doesn't seem likely. Seems like this girl tried the same trick, only she put a lot less effort into it! She probably figured that dogs weren't allowed, but there's no rule saying shopping bags aren't allowed on the train – and this is the outcome. She's standing there completely nonchalantly with her dog inside an IKEA bag, and everyone is completely fine with it, because this is the NYC subway – where anything goes.
Nothing really beats the dog in the stroller (he had a matching baby outfit, in case you didn't notice!), but this is quite an unusual sight. I wonder if she takes the bag off when they leave the subway, or whether this is just how she walks her dog around. This photo left us speechless – we can't tell what this girl was thinking putting her dog inside this bag, if anyone has any idea what this might mean, we'd be happy to hear your thoughts!
Knight in shining armor
For all the girls out there waiting patiently for their knights in shining armors – your search is over! Turns out New York knights ride the subway, and so all you need to do is ride the train daily, and perhaps one day you'll meet him. Although, we're not sure this is a sight often seen on the subway, as people are eyeing him pretty blatantly. Good thing he has his helmet on, and he can't see their mocking gazes!
Or maybe this knight lost his horse, and that's why he rides the subway? Whatever the reason, this guy looks as if he's on the way to a very important rescue mission, or else he's on his way back from one – could be either one. It doesn't seem to be Halloween, since he's the only one wearing a costume, and it seems pretty elaborate to be a Halloween costume, so the knight theory stands!
Flexibility
This doesn't seem comfortable in any way, but we all know how desperate people can get when all the seats in the subway are taken! However, only extremely creative people would come up with a solution like this one. He's also enjoying a book while hanging from the air, and maybe this guy is just a show-off, trying to show everyone how cool he is. Well, seems like people around aren't impressed, and perhaps he's not as original as he thinks – after all, it is the NY subway.
Perhaps when you've lived in New York long enough, you become indifferent to these bizarre moments, and you just accept them for what they are – part of the New York lifestyle. We all know that New Yorkers are free spirited and flexible, but this is taking it to the next level. However, if it makes him happy, we're not here to judge.
Dog's life
What did we have so far? We've seen a dog in a stroller, a dog inside an IKEA bag, and now this – a dog inside a backpack, or maybe the dog is the backpack? Either way – the dog doesn't seem to fit in the bag, but it doesn't seem to bother neither him nor the person carrying him! That is yet another very imaginative way to take your dog on the subway, and we're wondering – when will people stop trying to go around the rules, and just accept it that pets aren't allowed on the subway? When it comes to New York, the answer is probably never.
The guy is very casually tying is shoe, with a giant Husky on his back! And the people around also seem pretty casual, so this is probably not the first time he does this, or the first time people have seen things like this (and stranger things) on the subway.
Spiderman's secret gig
Being a superhero doesn't pay out, as we can only guess by this photo, and so Spiderman hit the subway to earn some extra cash. It's a known fact that people struggle to make a living in New York, and someone like Spiderman probably has a nice place to afford, perhaps a loft on the Upper East Side, so he uses his secret talent (who knew Spiderman plays the saxophone?) and took out to the streets.
We know that Spiderman lives in the Big Apple, so this option is very viable, but perhaps it's just someone who figured people couldn't refuse to spare a few dollars for Spiderman – after all, it's not everyday you see a superhero playing the saxophone in the subway – and so this is just a marketing trick.
Power Rangers
Did Halloween arrive early this year and no one told me? Or perhaps in New York it's Halloween all year round? It's probably the second option. What I like about this gang of power rangers, though, is their harmony – how they all sit the same way with their palms crossed, looking very patient and polite, but not exactly how you'd expect real power rangers to act!
They also seem kind of bored, and is it just me, or are two of them sleeping? You can say a lot of things about the New York subway, but the last thing you can say about it is that it's boring! Then again, these power rangers are the interesting phenomenon of the day,
Again with the dogs?
What's up with all these dogs in the subway? We need to figure this thing once and for all. Perhaps the city should just accept its faith and allow pets on the subway, seeing as people are bringing them on anyway. At least this time the dog fits in the bag, and he looks surprisingly at ease. Again, no one around even seems to acknowledge that there's a man carrying a (large!) dog in a bag on his shoulder, as if this is a perfectly normal thing to do.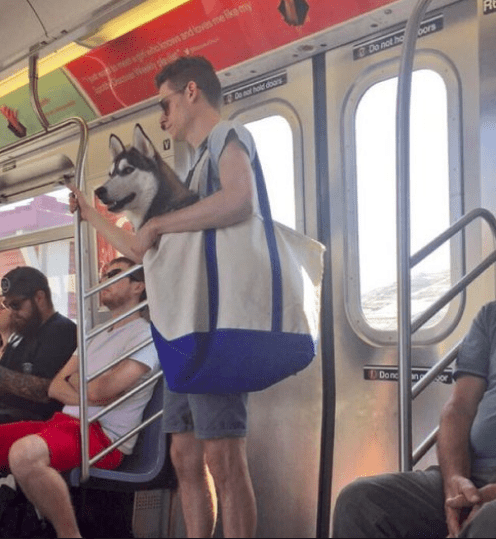 And perhaps it is? I admit, it's been a while since my last trip to New York (and boy, do I miss it!), but I don't remember seeing so many dogs on the subway last time I was there. Anyway, he seems like a pretty heavy dog, and so I'm not sure carrying him around on one shoulder is too healthy, not for him or his owner. But we've already seen that when it comes to pets, New Yorkers would stop at nothing.
A sight for sour eyes
This is a heartwarming picture, don't you think? Here's something you don't see everyday, and proof that people can always surprise you: the toughest guy on the New York subway, helping a lady carry her packages (did you notice the beer bottle in his pants pocket?) It's nice to see that chivalry isn't dead! Forget the knight in shining armor we saw earlier, or your Spiderman rocking the saxophone – here is New York's real knight.
But joking aside, it's nice to see that in a big, often estranged city like New York, people still have values of companionship and helping each other, particularly when it comes from the last person you'd expect. Though, this is usually the case – help often comes from the place we'd least expect, don't you think? Either way, this is something you can see only on the New York subway! (Alright, maybe not just the subway, but the streets of New York).
What?
Okay, so we've had dogs in shoulder bags, dogs in IKEA bags, dogs in strollers – did I forget anything? – and now this. I don't even know how to explain this. Did someone bring his dog a toy to sit on in the subway? Is that what's going on in this photo? And why is no one doing anything about this? People are simply ignoring this! What's going on here? This is weird, even for New York!
In a weird way, the dog seems to be enjoying himself, but this doesn't change anything, and this is still one of the weirdest things we've seen – not just on a subway! Yes, it somehow makes it even more strange that this is on the subway, but even on the street – a dog shouldn't be sitting on a doll horse. This is not normal or natural in any way.
Art at its finest
This person probably didn't realize that when he taped this banana peal to the subway wall, but he is an artist ahead of his time! Today, this banana peal would cost millions, exhibited in an art show in the fanciest gallery in town. This goes to show that in New York, every piece of garbage can be considered as art, and you can find art in any corner.
We've already established that New Yorkers are creative, and here's another proof! Whether you find this artistic or offensive, you must admit taping the banana peel to the wall is better than throwing it on the floor (given that there's no garbage bin anywhere around, that is) – there's nothing we hate more than littering, and that way – no one can slip on this banana peel!
The balloon bandit
Have you heard of the mysterious balloon artist of the New York subway? There's a guy who makes these balloon animals, hangs them on the subway poled, and goes about his day. Why does he do it? How does he do it? No one knows, and to this day it's one of the biggest mysteries the city has seen. Okay, so this is somewhat exaggerating it, but it is a mystery.
This is another one of those things you can only see in the New York subway – no one anywhere else would have the creativity, the audacity or the unique quality it takes to do something like this – because really, why would someone hang pink balloon animals in the NY subway? It simply makes no sense.
Meat, anyone?
Alright, everybody stop everything. Just when we thought we've seen everything – someone goes and turns the subway into a butcher shop! A butcher shop! I have to say it to believe it. So many questions come to mind – how? And why? And again – how? And did anyone report this person? Or did people use this opportunity to do some of their shopping while riding the subway?
We've said it about previous photos on the list, but this time we truly mean it – this photo leaves us without words. What do you say when you see something like this? How do you react? The only word that comes to mind when we see this photo is 'bizarre.'
Just… why?
The longer we scroll through those photos, the more we think the NY subway is simply the strangest place in the world. This is yet another unexplained photo – who put the bed there? How did they get it there? And the most pressing question – why? Why would anyone put a bed in the middle of the already-crowded New York subway? Nothing about this photo makes sense.
Is it just me or is there a person sleeping in this bed, in the middle of the subway platform? Yes, I'm pretty sure there is. Well, it makes sense – I mean, why would anyone go through all the trouble of carrying this bed down the subway platform and not use it? But perhaps the even more disturbing thing about the photo – aside for the bed in the middle of the subway – is that the platform is utterly empty! Did you ever see the NY subway empty of people?
If it fit – I sit
This person has been living in New York for so long, that he already knows how things work in this city – if you don't bring you own chair, you don't get a seat. People in New York aren't playing games, folks! It seems like a lot of trouble to carry a chair around all day just to get a seat on the subway. But then again, after everything we've already seen – we can't say that we're surprised by this.
But actually there's something really upsetting behind this photo – because if this person knows he has to bring his own chair to have a seat on the subway, it means people don't give up their chair for him – which doesn't say something too positive about the society we live in.
Penguins on board
Hear ye, hear ye! You are here by invited to the great Penguin Convention of the NY subway. This mist be it – how else would you explain this photo? There are so many of them, and they are all so fancy! Can you imagine seeing something like this anywhere else in the U.S but New York?
After seeing all these photos, I must admit, I'm somewhat hesitant to visit New York ever again. We know that the New York subway can be a jungle, but this only makes the photo more puzzling – what are penguins doing in a jungle? But seriously, this seems like a mess that's uncharacteristic even to the NY subway, and this a record that's hard to beat!
No need to state the obvious
This is good advice. Out of town visitors might not be familiar with the New York state of mind, but people in the Big Apple, or in any big, metropolitan city, for that matter, value their solitude and their privacy. Perhaps it's because that's all they know, or that they're used to it, whatever the reason – when visiting New York, keep this in mind – in New York, it's considered impolite to maintain any eye contact with another person or acknowledge them in any way.
New Yorkers don't need this reminder, so this is obviously meant for tourists. Perhaps in rural areas of the U.S, or in other countries in the world, it's accepted to smile at the passers by, hold doors for them, or pay them a tipping of the hat, simply to acknowledge them, but in New York it's the opposite – it's considered rude, and an invasion of their privacy. New Yorkers, go figure.
Toy soldiers
You know these human statues decorating Times Square? There's the silver space man, the famous Naked Cowboy, and now the New York subway presents: the Soldier. I appreciate that this is (probably) a person dressed as a toy soldier, painted in green body paint, but I must say – this is eerily similar to the actual toy soldiers we all enjoyed playing with in our childhood – the uniform, the color, everything is just spot on.
So perhaps this is a giant plastic toy soldier? But where would anyone get a human-sized toy soldier? And what for? Just to take up a precious seat on the NY subway? These photos leave us with so many questions, the only possible answer would be visiting the NY subway and seeing for ourselves.
This is too much
Alright… this is too much. That does it. Enough is enough. What is this person wearing? What was he thinking? Why is no one saying anything? The guy next to him just sits there, reading his book, paying no attention to the person wearing a huge plant on his head. This seems like too much, even for New York.
I mean, this isn't even a costume. It's just someone casually riding on the subway, minding his own business, with a giant plant on his head. Perhaps he's trying to hide from someone, in which case, we must say, bravo – this is a very creative way to do so! But otherwise, we can't think of any other explanation for this. Can you? Please share and enlighten us!
Books
I don't know who they think they might be fooling, but this is certainly not a book. I wonder if apart from this one bird, the rest of the box actually contains books, or whether it contains more birds! And why put birds in a box labeled books? Is it another one of the tricks to harbor pets on the subway? But why birds?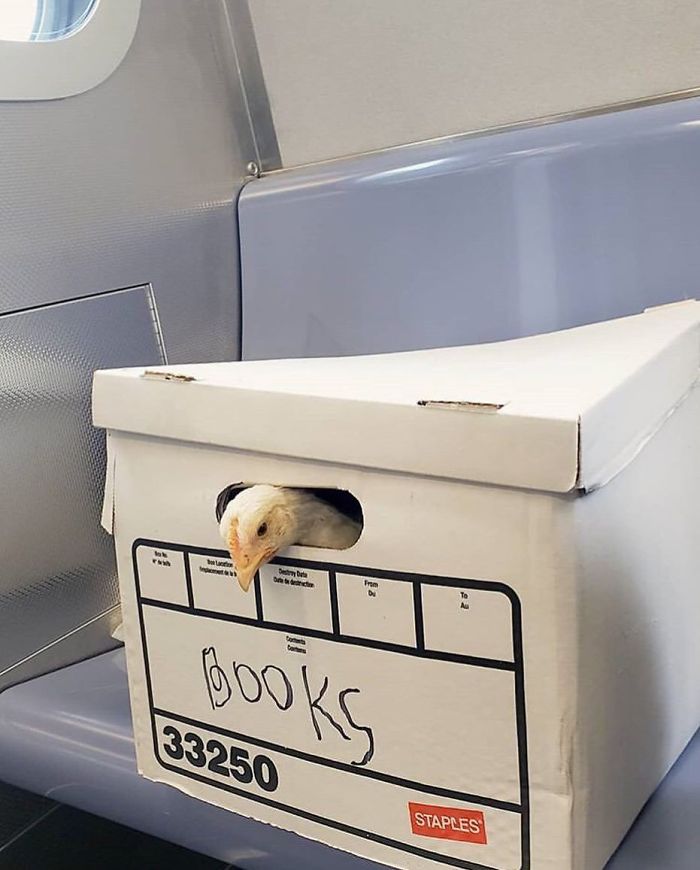 And more importantly – what kind of bird is that? It's hard to tell, sine he's inside the box and all that, but it seems like this might be some kind of a farm bird, which raises so much more questions than the ones we already had! Mostly, why would anyone living in a New York apartment carry around a farm bird? Either way, I hope the bird was not harmed during this journey – because the NY subway can be a jungle!
Chucky
This is one subway train I would not like to be caught in! Looks like it's either headed towards a horror film, or it just came out of one! This is by far the creepiest thing I can imagine seeing on the subway. Are those human-sized dolls or real people with really successful costumes? I'm not sure I want to know the answer.
And the more puzzling question – what is the person sitting next to them still doing there? Hopefully, right after the picture was taken he moved as far away as possible. Not to hurt anyone's feelings, but you should take under consideration that when boarding the train dressed like this, people will be scared of you! And isn't that the purpose of such a costume, really?
Forgive me?
Forget about chocolates and flowers, in today's world, the best way to apologize to someone, is pizza! Or does that apply only to New York? If you ask New Yorkers, chocolates and flowers are outdated. The new apology gift is pizza – because if you think about it – you can't go wrong with pizza. Who doesn't love pizza? The only thing wrong with this photo, really, is opening the carton on the subway. And perhaps writing inside it; it might spoil the pizza.
Some people might mistakenly think the pizza capital of the world is Rome (or any other Italian city, for that matter) but real New Yorkers know that it's Brooklyn. Bring anyone a slice of the famous Brooklyn pizza, and all your sins would be forgiven. Take it from this guy – he looks like a guy who knows what he's doing!
Plants, anyone?
This guy takes his gardening seriously! I wonder if these are all apology flowers, and if they are – his girlfriend is one lucky girl. If they aren't, well, we all know how having plants around the house makes the place a lot more homey. So this guy decided to take it to the next level, because after all, why not? We've already seen stranger things on the subway. A few plants are a child's game.
The orchids in the bag I understand, but I'm wondering what's up with the tree hitting the car's ceiling. This looks like one heavy plant! How did he get it there? Did he have any help? The New York subway photos are some of the most puzzling photos I've ever seen.
Seems about right
Okay, let's be honest – this kind of logic we can see anywhere in the U.S (and in the world, for that matter). A closed subway entrance, yup, seems like your typical day in NY. I wonder how long it takes until someone bothers to do something about it – if the station is closed, it's not that hard taking down the sign. But why bother changing it when you can leave it like that? At least we get a couple of laughs out of it.
The real question here is whether or not the stairs leading up to this exit are still there – imagine climbing up all those subway stairs just to find out the exit id closed! New Yorkers probably know their way around the subway, but what about the poor, puzzled tourists?
Halloween much?
To be fair, this doesn't look like a normal day at the New York subway (or does it? After everything we've seen, nothing would surprise me!) – I'd like to believe this photo was taken on Halloween. When one person is dressed up – that's a normal sight on the NY subway, but when it's the entire car, it probably means it's Halloween!
So perhaps on Halloween all subways around the world look this colorful, but still something about this photo seems unique to New York. After all, even on Halloween, not everyone dress up. But in New York, people they take their Halloween business seriously. People don't mess around in New York when it comes to their pets, and when it comes to Halloween!
No need to show off
For some reason, people seem to think the New York subway is their own private stage. All right, so you're extremely talented and you can do his thing that probably no one else on the train can – no need to show off! And above all, he seems perfectly comfortable in this position – listening to some music and playing on his phone, while he's basically hanging up from the air.
But by this stage of the gallery, it takes more than that to impress us! we've already seen cooler things than this, haven't we? Only on the NY subway would you see a person hanging up like this, and while people around to seem to stare in wonderment, I wonder if anyone told him anything. Then again, if he's not bothering anyone (though I can't imagine how), why stop him from enjoying himself?
This makes sense
We've seen a lot of different costumes on the NY subway, some are better, some are worse, and some just plain weird. But this something we can't even explain. Is this person a street performer? And if so, what is he supposed to be? Our best guess – something to do with either cartoons, Alice in Wonderland, or something to do with optical illusions. Either way, we've been looking at him for too long and it starts to give us a headache!
And again, we're left wondering: how can people be so indifferent to these crazy things on the subway? They must be incredibly polite, as they remember how their parents taught them that staring is rude. And we're no here to say otherwise, but come on, how can you not stare at a costume like this one? It's as if this person is asking to be stared at. And they say that New Yorkers are after attention, but this seems a bit much.
Ladies and gentlemen, we have a winner
It seems as if there's a constant costume party going on in the New York subway, that only specific people know about! Whatever it is, at least we get to witness this craziness, and we can act as the judges of the longest, craziest and most elaborate costume contest the city has seen. If you ask us, this person (there's absolutely no way to tell whether it's a he or a she, but it doesn't really matter) – takes first place.
Out of all the costumes we've seen so far, and we've seen a lot, this one is by far the weirdest. Even more so than the red, optical-illusion costume. Don't you think? And don't think the creepy mask he's holding slipped our attention! As if the mask on his head isn't creepy or strange enough, this person brought with him an extra mask, just to be on the safe side. Seriously, can someone tell me once and for all what kind of shenanigans are happening on this subway?
Carton-heads
we'd like to think they're headed to yet another costume party, but nothing but the giant cartons on their heads suggests this. They are casually dresses, standing and waiting casually for the train to arrive. So what's happening in this photo? Only in New York will you ever be lucky enough to catch a sight like this one!
But what are they supposed to be? Some sort of computer-heads? That's not really what a computer looks like, last time I checked; but that's my best guess. What's really funny about this photo is how they stand there, completely nonchalantly, waiting for the train like every other passenger, as if they don't have a giant carton on their heads!
Oops
Dancing on a moving subway while holding a drink – don't try this at home! What was this girl thinking? Unlike all other passengers on the train, this man doesn't seem to be entertained! And we can't say we blame him. What was she even doing dancing in the subway? Was she practicing the latest move from her pole-dancing class? Doesn't seem like the most appropriate place to do so.
We didn't think anything could surprise us after seeing all the previous photos, but New York keeps coming up with the weirdest people, doing the weirdest things on the subway. At least time people in the background acknowledge that it's weird, instead of ignoring it! Can you imagine something like this happening anywhere else in the world?
Bon appetite
If hewing a gum, eating an orange, or any other food that smells, in public is considered rude, what would you say about this guy? I get that you're hungry, but there's always the option of eating a sandwich, or an apple, or really anything that doesn't take up so much space, in an already-crowded subway! And why go through all the trouble of carrying this table around all day, just so he could eat on the subway?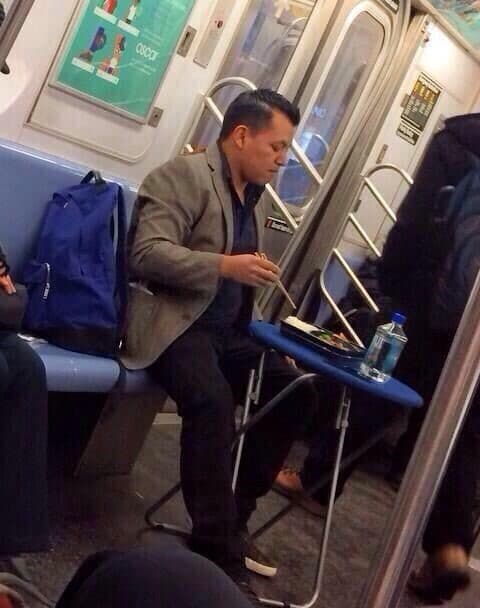 In a way, this guy is completing the girls with the couch – together, they can make up a proper house on the subway. I wonder how many stops he's riding and whether it really gives his enough time to set up the table and finish his meal in quiet. What would you have done if you saw anything like this on the subway?
Contemporary art
Art is in the eyes of the beholder (is that how the saying goes?), and perhaps this girl finds it really unique. Or perhaps she doesn't even know what's happening on her back – and she never will, because how can you see your back? I wonder how long she's been walking around like this without anyone telling her.
This is part of the urban alienation we've been talking about – only in the big city, when you see someone walking around like this (probably without her knowledge), you don't say anything. This is unfortunate to watch, but then again, when it comes to New York, it could very well be intended. I guess we'll never know.
The big league
Remember the person who brought his own chair to the subway? These girls took it to the next level – what New Yorkers do best. Bringing a chair to the subway is a child's game for them – they brought an entire couch! We've seen a bed in the subway, a chair and now a couch. What's next? A kitchen? Something to eat, perhaps? Did the rent in New York become so unbearable, that people will start building their houses inside the subway?
What more can we say? These girls figured out life. The only question that remains, really, is how did they manage to fit a couch inside a moving subway car. They must be very talented!