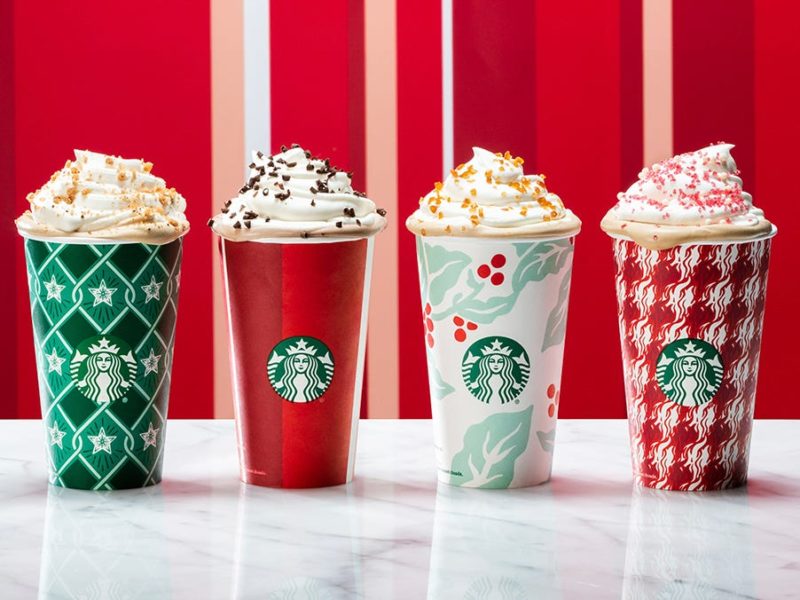 'Tis the season to be jolly – and drink a lot of Starbucks hot beverages! Let's be honest, one of the things we expect most in Christmas is the hot Starbucks Christmas drinks, which are both festive and jolly, and comforting in the cold Christmas weather. With a cup of Starbucks eggnog latte, we can really be heedless of the wind and weather! The two things we love most about winter is the exciting new drinks Starbucks releases every year, and of course our favorite holiday. With Christmas just around the corner, we can't think of a better time to examine all the best Starbucks winter drinks throughout the year, and this year's new releases.
Eggnog Latte
The first drink on this list can't be any other than the iconic eggnog latte – the perfect combination between Starbucks and Christmas. There's nothing Starbucks does better than lattes, such as their famous pumpkin latte – but that's more of a Thanksgiving drink. Every holiday has its unique drinks, and for Christmas it's of course our good old friend eggnog. This Christmas classic is best served with a Christmas movie, such as Home Alone or Die Hard.
Gingerbread Latte
Another Christmas classic is the gingerbread, and of course, Starbucks have created a gingerbread latte drink that has become with the years one of the most iconic Christmas beverages. However, we have some bad news: this Christmas classic won't make a comeback this holiday season, as Starbucks recently announced to disappointed fans. however, not all is lost, as you can easily make the beloved beverage at home (Starbucks who? We don't need them), or for hardcore fans – there's still the option of travelling to Canada, as Starbucks Canada will be offering this Christmas favorite.
Fudge Hot Chocolate
Caramel Apple Spice
There's nothing better than staying home on Christmas day (or evening), watching a Christmas classic, opening presents or enjoying the company of our friends and family, sharing Christmas tales and of course – drinking a hot cup of cider. Starbucks' Caramel Apple Spice offers you a taste of Christmas in every sip, with the cinnamon aroma, the apple cider and their signature caramel topping. Be careful not to get addicted, though, as it contains quite a high amount of sugar (well, like most, if not all, Starbucks Christmas drinks).
Peppermint Mocha
The tradition of peppermint treats at Christmas is as old as times. For some reason, peppermint has become one of the Christmas symbols, after eggnog and gingerbread, of course; but it still holds a place of honor on the list. This Christmas you will find at your nearest Starbucks store a Peppermint mocha drink – the good old Starbucks mocha topped with peppermint-flavored syrup – for those who like to keep it fresh.