We like to think we know everything about our football idols – where they grew up, where they attended college and the biggest achievements of their career – but how much do we know about their love lives? Do NFL stars change their partners as often as they change socks, like most people seem to believe? While some NFL stars are in long-term relationships, others are married to their career, and fans were surprised to see the women who stand behind the biggest NFL stars.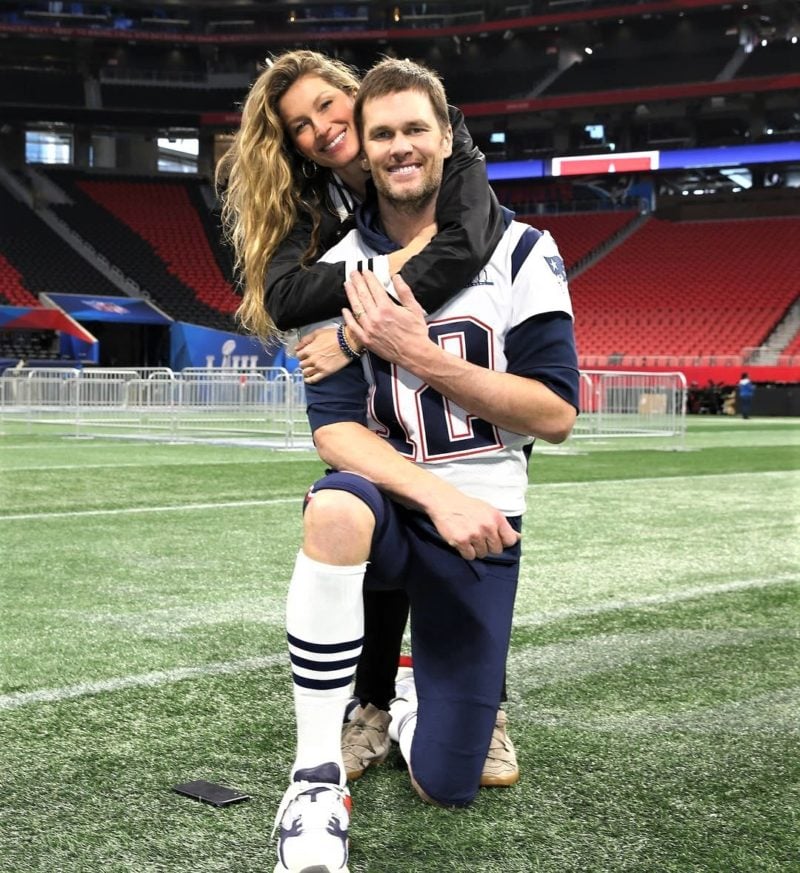 34. Joe Montana and Jennifer Wallace
Joe Montana and Jennifer Wallace's love story can make for a great romantic comedy: he was a rising star quarterback, she was an actress and a model, and the two met in the early 80s on the set of a commercial. Legendary quarterback Joe Montana wished to try his luck in another field after winning his very first Super Bowl in 1982. Luck had it that American actress Jennifer Wallace was his co-star in a Schick razor commercial, where Jennifer played the sheriff of a fictional Western town.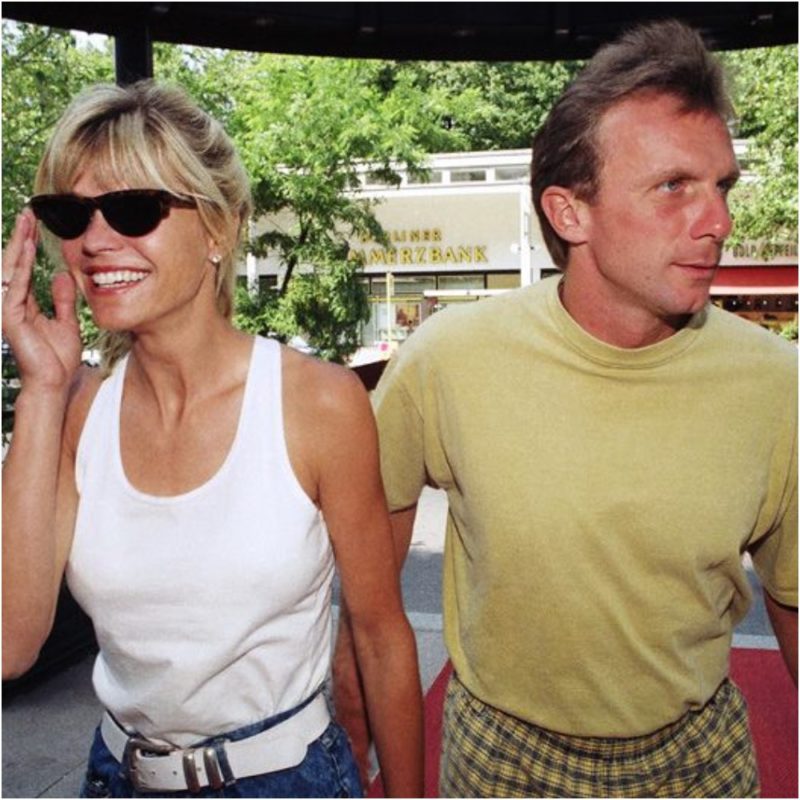 Although Jennifer had no idea her co-star is one of America's most promising football players, she found him charming, despite his shyness. As the shooting of the commercial was nearing its end, Joe finally mustered the courage to ask out his beautiful, if somewhat intimidating, co-star. Joe didn't waste time, and six months after they started dating, he popped the question. This was Montana's third marriage, and it was third time's a charm for him, since the two have been together ever since; this year, they will celebrate their 35th marriage anniversary. They have two daughters and two sons, both of them football players.
33. Jerry Rice and Latisha Pelayo
From a marriage of 35 years, we move to a rather recent marriage. Jerry Rice, the greatest wide receiver in NFL history, and his girlfriend Latisha Pelayo tied the knot only short months ago, after a ten-year relationship. While it took Joe Montana only six months to propose, his teammate of the San Francisco 49ers needed a decade to muster the courage to propose and finally settle down.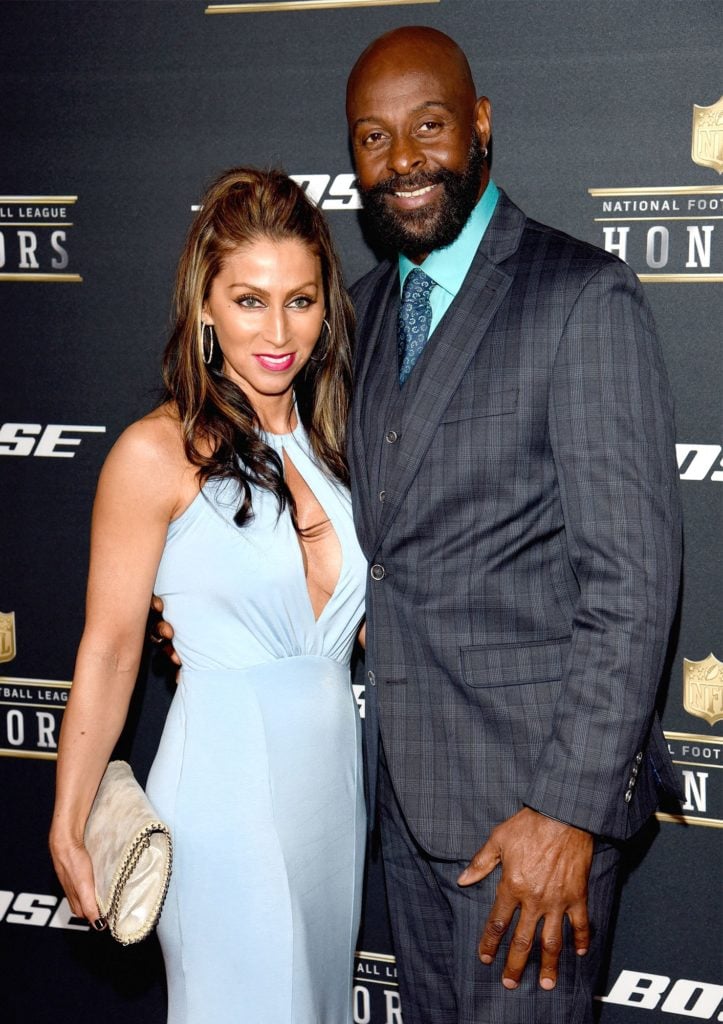 This is the second marriage of the NFL star, and hopefully his last. The love story of Rice and Pelayo can inspire anyone out there thinking all hope is lost: their first meeting wasn't romantic or special in any way; the hall of fame wide receiver and his wife met at a local gym – very appropriate for two athletes, but not romantic in any way. However, this was right after Rice and his first wife separated, and so it seems as if fate did have something to do with their meeting.
32. Peyton Manning and Ashley Thompson
One of the greatest quarterbacks in the history of the NFL, Peyton Manning met his wife Ashley during his freshman year in college. It's no coincidence that Ashley seems like the ultimate girl next door, since in this case, she was actually introduced to Manning by her parents' next-door neighbor. The two tied the knot in 2001 and have twins, a son and a daughter. His son is only nine years old, so it's early to say what the future holds in store for him, but judging by his family legacy of football players, it's safe to assume he will go in his father's footsteps.
Ashley Manning's career is rather different that her husband's, which isn't necessarily a bad thing. Ashley is a businesswoman, and although it's hard to compete with her husband's success in the NFL, she is very accomplished in her field of work. For her work as a businesswoman and a real estate developer, she received the nickname the "Business Mogul."
31. Tom Brady and Gisele Bündchen
One of the hottest couples in the world of sports, superstar quarterback Tom Brady and supermodel Gisele Bündchen met on a blind date fourteen years ago. The couple was set up by a mutual friend, and the supermodel shared this was love at first sight. However, their relationship had a few drawbacks, starting with the fact that Brady was dating another woman when he met Gisele.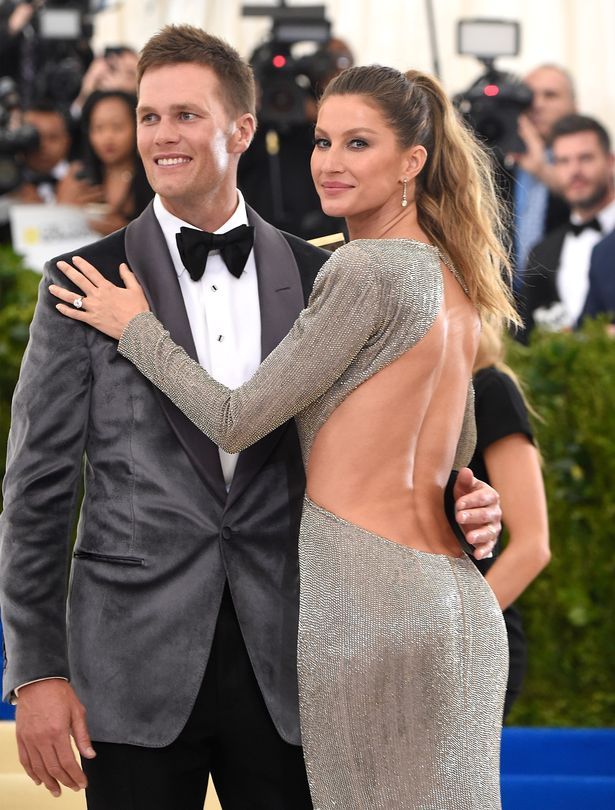 He ended his relationship with actress Bridget Moynahan, but several months later, came another complication, when Bridget informed him she was pregnant. This was intimidating for Giselse, but ultimately, she decided her love for Brady was strong enough and the two stayed together. Today, they have two children together, and she considers his son from his previous relationship as her third kid.
30. Rob Gronkowski and Camille Kostek
The former tight end of the New England Patriots and swimsuit model Camille Kostek seem like another couple taken out of a Hollywood movie. The Sports Illustrated model and the football player have been dating since 2015, and they met when Kostek was working as a cheerleader for the Patriots. Since it is frowned upon (not to say forbidden) for team members and cheerleaders to be involved romantically, the two only started dating after she had left the team.
Maintaining their relationship was not easier. A football superstar and a model, both have busy schedules, but these couples are here to show that love is all you need to maintain a relationship. The two have been going strong since 2015 (although they had to face rumors of a short breakup during 2017), and they seem to overcome the occasional distance required by their jobs. Perhaps now that Gronk has stepped off the field, he'll be ready to pop the question and settle down.
29. Drew Brees and Brittany Dudchenko
Drew Brees, the talented quarterback for the New Orleans Saints, met his wife in college. However, unlike most couples we've seen so far, this wasn't love at first sight – not for Brittany, that is. The two attended Purdue University, and one night, at a college bar, Brees approached Brittany after having too much to drink and she turned him down. Before you judge him, it was his birthday, so what's a guy to do? Brittany never revealed his pickup line, but she only said it was a "typical football player cheesy line." Clearly, she wasn't impressed.
However, much like in his career, Brees was determined when it came to his love life as well; he wasn't about to give up the woman who seemed to be "the woman of his dreams" (according to him). A few months after their initial encounter, Drew learned from a friend about a party Brittany might attend, where he asked her out on a proper date, and the rest, as they say, is history. Ever since then, Brittany has been by his side through thick and thin, and she is even part of his pre-game ritual for good luck: Brees never steps on the field without talking to his wife on the phone.
28. Eric Johnson and Jessica Simpson
Former football player Eric Johnson and country singer Jessica Simpson met in 2010. Although they got engaged several months into their relationship, it took the couple four years to finally tie the knot. It seems as if Simpson has a type, since Johnson isn't the first NFL player she's dated. Shortly before she met Johnson, her two-year relationship with Dallas Cowboys quarterback Tony Romo ended. For a while, their relationship seemed promising, but Romo broke it off one day, to Jessica's surprise and dismay.
Perhaps the scar of that relationship is the reason why it took her four years to tie the knot with Johnson. Dating an NFL star has its benefits, but it also has a lot of downsides, as Jessica's relationship with Romo demonstrates; the latter put his career before his relationship, and blamed Jessica for his failures on the field as well as the Cowboys' loss to the Giants in the 2008 Super Bowl. However, it seems as if this time around, with Johnson, their loving relationship makes up for her past, failed relationships.
27. Patrick Mahomes and Brittany Matthews
Kansas City Chiefs quarterback Patrick Mahomes and Brittany Matthews are high school sweethearts. Perhaps the reason why the two were attracted to each other in high school is since they have so much in common, most importantly, their love for sports. Matthews isn't just an NFL fan, but she's a soccer player and the proud owner of a fitness company. The two were accepted to the same college on a sports scholarship, and the first time they separated was after Mahomes started his career with the Chiefs and Brittany traveled to Iceland in pursuit of her soccer career.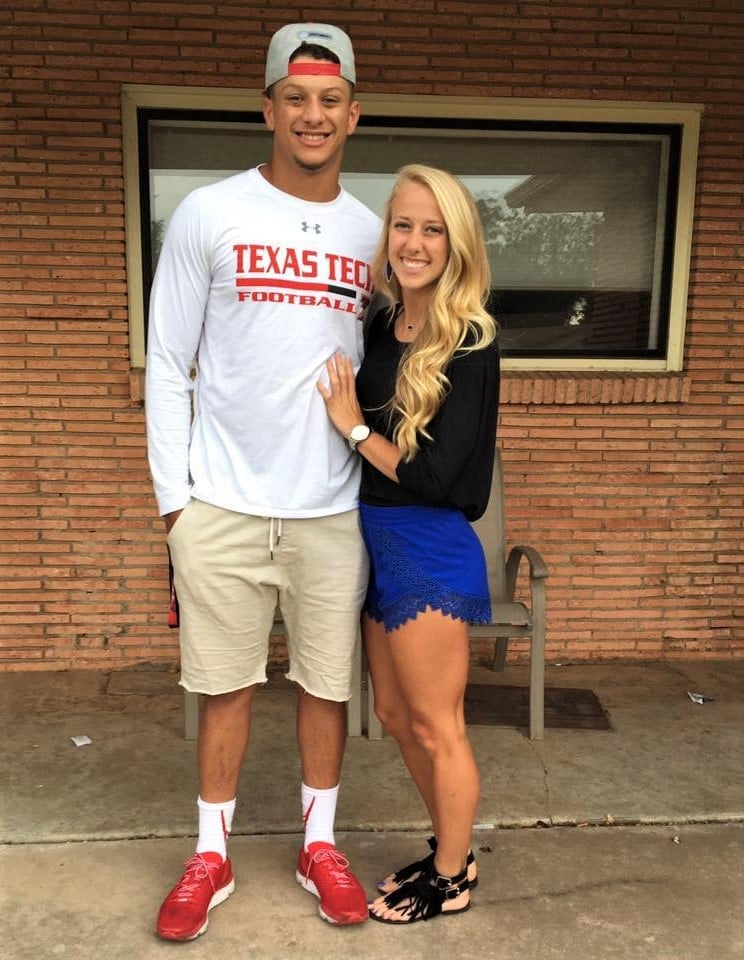 Back in the U.S., the couple is going stronger than ever. Brittany has been by Patrick's side since childhood, and although he has a long career ahead of him, he seems to be a natural talent; last year, in his second year playing in the NFL, he won the league's desired title of MVP for the season. Brittany, on her end, neglected soccer but not sports; she went on to open her own fitness company and now works as a trainer.
26. Todd Gurley and Olivia Davison
While some celebrity couples enjoy being in the limelight, others try to keep their personal lives as personal as their fame allows. The Los Angeles Rams running back and his long-time girlfriend Olivia Davidson are among those couples. The two were first seen together in 2014; since then, however, aside for an occasional photo on social media or a public outing, to our disappointment, we haven't seen a lot of the young couple. Rumor has it they are still going strong, but trying to keep their relationship out of the spotlight.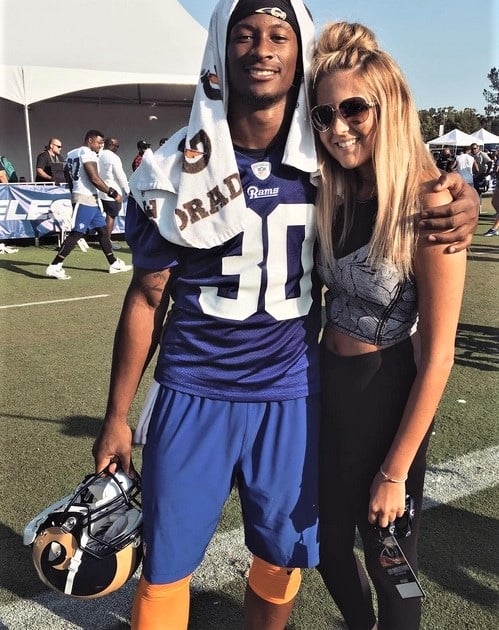 With the 2020 Super Bowl right around the corner, it's no surprise we haven't seen much of the couple lately, since Gurley probably never leaves the field these days. The running back met his mystery girlfriend back in college, when they both attended University of Georgia. Davidson isn't just "the girlfriend of the NFL star," but she runs her own business – an online retail store.
25. Aaron Rodgers and Danica Patrick
The famous Green Bay Packers quarterback, Aaron Rodgers, and the professional racing driver, Danica Patrick, are among the hottest couples in the sports world these days. Although the two sport legends met in back in 2012, they started out as friends, and only in 2018 did they announce they were officially dating. There's no need to compare the two, since they are both accomplished in their line of work, but Danica has secured impressive achievements in her career, which marked her as the most successful woman in the history of American open-wheel racing.
While in most of these relationships it's the woman who cheers her man from the sidelines, for Danica and Aaron, it is mutual: he attends every one of her contests, cheering her from the sidelines. Their first public appearance as a couple was at Danica's NASCAR race. Although Danica grew up in Illinois as a devoted Chicago Bears fan, she quickly neglected her team and now supports the Packers, naturally.
24. Jay Cutler and Kristin Cavallari
You might recognize Kristin Cavallari from the popular reality show "The Hills" or MTV's reality "Laguna Beach: The Real Orange County," but did you know she was dating the Chicago Bears quarterback Jay Cutler? Perhaps, if you're a big fan of the show. What you probably didn't know is that the two almost never got a chance to meet. It was the NFL star who courted after the reality star, and the first time he asked her out, she turned him down.
How does one turn down an NFL superstar, you ask? At the time, Cavallari didn't even know Cutler was an NFL player. She was busy shooting "The Hills," and so moving to Chicago wasn't an option for the aspiring actress. It was another year before Cavallari traveled to Chicago with her mother and remembered Cutler's offer. This time, she attended a Bears game, later calling up Cutler and accepting his invitation, only 12-months after he'd made it. Fortunately for her, Cutler was still single, and his ego didn't stand in his way of getting the girl.
23. A. J. Green and Miranda Brooke
Wide receiver for the Cincinnati Bengals, A.J. Green, and singer Miranda Brooke tied the knot in 2015 in a lavish Atlanta ceremony, one that was followed by football fans and non-football fans alike. The two have been going out since 2010, and though most football players, by the nature of their jobs and status, tend to have unstable relationships, their ten-year relationship seems steady and stronger than ever.
Recently, the happy couple welcomed to the world their first son. Miranda isn't just the wife of the NFL star, but she has a career as a singer. Although her husband's fame outshines hers (to say the least), there's no resentment in their marriage, nor has there ever been any throughout their relationship, and they support each other's professional endeavors as much as they can.
22. Philip Rivers and Tiffany Rivers
Los Angeles Chargers quarterback Philip Rivers and his wife Tiffany Rivers have been named the NFL's Mom and Dad. This isn't a cute nickname capturing the maternal, caring nature of the couple, but it was given to them since the two have nine children (and counting), aged nine months to sixteen. The two are high school sweethearts, dating since middle school, and they tied the knot right after Rivers' freshman year in college.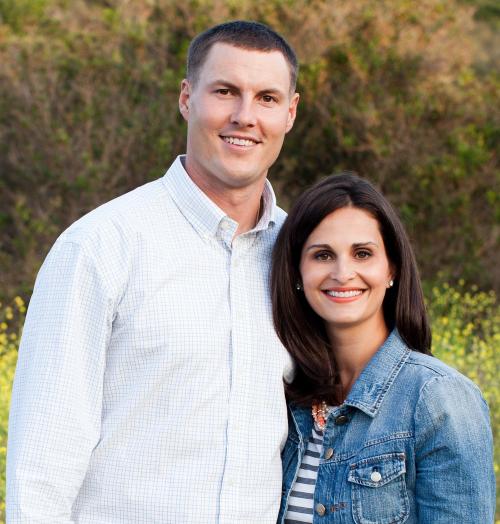 When you're an accomplished NFL quarterback and you have nine kids, you should be prepared for the media to have a field day at your expense. When the Chargers excitedly announced the birth of Rivers' ninth kid (and seventh daughter), people in social media had a lot to say; the general spirit of it was along the lines of, "Philip Rivers is about to fill up the Chargers stadium all on his own." That's how Philip and Tiffany received the title of NFL Mom and Dad, but luckily for him, his team is supportive of his family life and his frequent absence.
21. Saquon Barkley and Anna Congdon
The young New York Giants running back (22) met his girlfriend, Anna Congdon, during college, when the two attended Penn State University. Congdon is an athlete herself, so she takes interest in her husband's profession, and although she doesn't pursue it today, in high school, she was a member of the basketball team. They have been dating since 2017, and in April 2018, they welcomed to the world their first baby girl.
Although Barkley has a lot to be thankful for career-wise, what he's mostly thankful for these days is the birth of his first baby girl. They say that stars like to live on the edge, and this statement is probably true for Barkley and Congdon, who didn't want the gender of their baby revealed until after the birth. Secretly, we believe Barkley was hoping for a baby boy that could continue his football legacy come the day, but today, he couldn't be more thankful for his daughter.
20. Andrew Luck and Nicole Pechanec
The Indianapolis Colts quarterback tied the knot with his girlfriend Nicole Pechanec last year in Prague. The couple didn't share a lot about their wedding, and so we can only assume they chose Prague as their wedding location since Pechanec has a special connection to the beautiful city. Born in New Jersey, Pechanec trained as a gymnast from a young age. Her mother was a former-gymnast, and she encouraged her daughter to pursue the same path.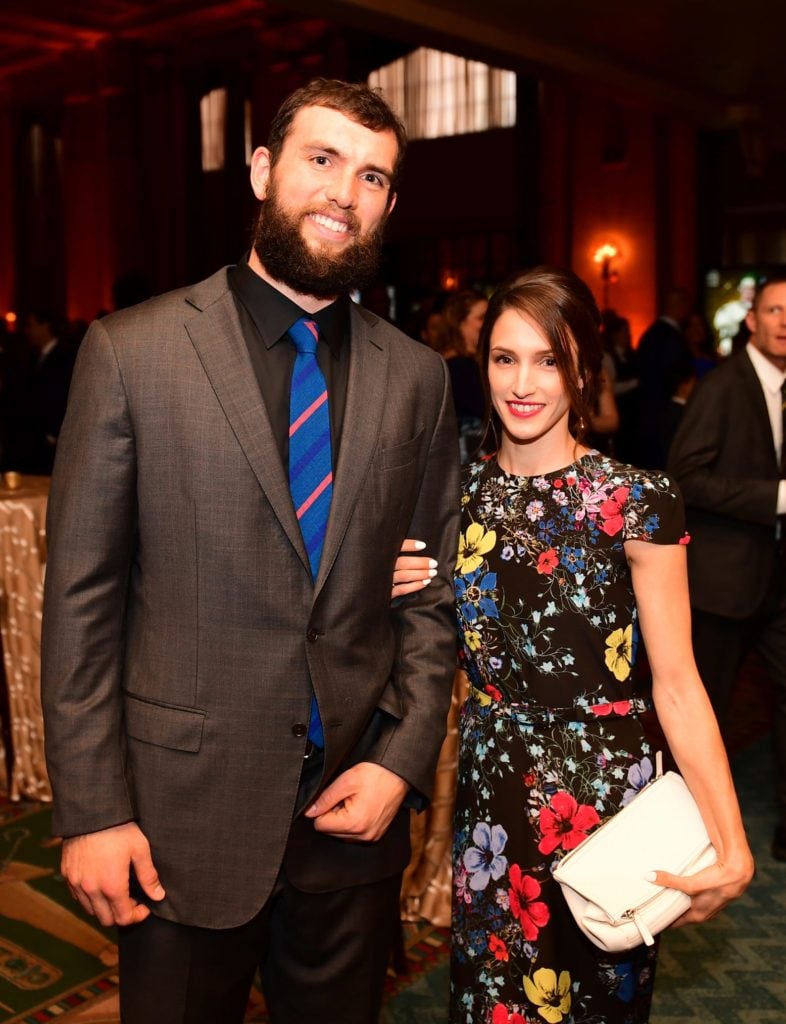 At the age of fifteen, after practicing gymnastics for almost ten years, Pechanec was already an accomplished athlete. She moved to the Czech Republic to promote her career and train with the national team and later represented the country in the World Games and European Championships. Back in the U.S., Pechanec attended Stanford on a sports scholarship, and that's where she met her future husband – NFL star Andrew Luck.
19. Russell Wilson and Ciara
In this relationship, it's hard to determine who's the most famous one – is it singer Ciara, or the Seattle Seahawks quarterback? Probably depends who you ask. When they say every ending is a start of something new, they're probably referring to Ciara and Wilson's relationship. In 2014, Wilson filed for a divorce from his wife of two years, and Ciara broke off her engagement with her boyfriend at the time, rapper Future.
In 2015, however, things turned around when the two found each other – and everything they've been looking for. They haven't revealed the details of their initial encounter, but their first public outing was at a formal dinner at the White House in 2015. By the end of 2016 the couple was married, and in 2017, they welcomed their daughter to the world. This is Ciara's second child, as she has another boy from her previous relationship with Future.
18. Jalen Ramsey and Monica Giavanna
The most recent relationship on our list, and the most scandalous one, the Los Angeles Rams corner back made headlines revealing his new girlfriend, Monica Giavanna, on Instagram recently. However, their new relationship didn't receive a warm welcome in the world of football, since the NFL star recently broke up with Breanna Tate, the sister of the Giants' wide receiver, Golden Tate, and he found the worst possible time to do so – during Tate's pregnancy with their second child.
It was a year full of changes for the corner back; he transferred to a new team, leaving the Jacksonville Jaguars who drafted him after college, his first baby girl was born, he broke up with his girlfriend while she was carrying their second child, and last but not least, announced a new relationship with American model and dancer, Monica Giavanna. Ramsey's love life created a buzz in the sports world, with his team's rival, Golden Tate, commenting that he's very unhappy with the disrespect Ramsey has shown towards his sister.
17. Jared Goff and Christen Harper
Los Angeles Rams quarterback, Jared Goff, is the kind of person who puts his career first. Perhaps prioritizing his career is what it takes to become one of the best players in the competitive NFL. After losing the 2019 Super Bowl, the Los Angeles Rams quarterback is more determined than ever to win the upcoming Super Bowl, but his these days his attention is divided between the NFL and his new girlfriend – American model and actress Christen Harper.
Harper is the first serious relationship Goff has had since embarking on his NFL career, so there must be something special about her if she managed to make him finally allow some time for his personal life. The football player also admitted he found it hard to have a dating life in L.A., and although he didn't specify what he meant by that, we can only assume he was referring to the constant chase and social pressure of dating.
16. Adam Thielen and Caitlin Thielen
The star wide receiver of the Minnesota Vikings married his girlfriend, Caitlin Thielen, in 2015. The two met at Minnesota State University, Mankato, where Adam played for the football team and his wife, Caitlin, majored in communication disorders and speech pathology. The college sweethearts have plenty in common, including their kind heart. That's why the couple started together the Thielen Foundation, an organization aimed at creating programs to educate and equip children to realize their full potential.
Naturally, Caitlin is an avid Vikings fan and never misses a game. She isn't just an avid football fan, but an athlete, among other talents she possess. In college, she was a member of the soccer team. However, Caitlin decided not to pursue soccer as a career, but rather a hobby, and today she is a mother of two children and maintains a very successful lifestyle blog.
15. Zach Ertz and Julie Ertz
This is what it looks like when two professional athletes are married. Julie Ertz, the wife of the Philadelphia Eagles tight end, is a professional soccer player for the Chicago Red Stars, who are part of the National Women's Soccer League. Dating a football legend has its difficulties, as does dating a soccer star; that's why a significant part of the couple's relationship is on the phone. However, despite the distance, the pressure and the busy schedules of both athletes, they manage to make it work and constitute an inspiration for couples around the world.
Besides being the most athletic celebrity couple, Zach and Julie Ertz are on of the sweetest couples of the sports world, and the hottest couple of Philly sports. The two met back in their college days eight years ago, at Stanford University, where Zach played football and Julie visited and catch a Stanford baseball game. Their athletic professions didn't come up in the first few dates, but rather, Julie was attracted to his shyness and humility, while Zach was attracted to Julie's kind heart and her caring nature.
14. Jordan Cameron and Elin Nordegren
You might be familiar with Elin Nordegren's name from her past relationship with renowned golfer Tiger Woods. After their relationship ended in 2010, following the scandalous cheating story of the professional golfer. At the time of their dramatic breakup, Woods and Nordgren had one child together, and Elin was carrying their second child. Since the scandalous breakup ebbed from the headlines, Elin managed to keep herself away from media attention. That is, until her relationship with former NFL star Jordan Cameron.
Cameron started his career as a tight end for the Cleveland Browns and he played two seasons for he Miami Dolphins before retiring in 2017, at the age of 29. Although he had a promising career ahead, Cameron was concerned for his health, since he suffered many head injuries during his time in the NFL. Thus, after grave considerations, he decided to put his health first and leave football behind. Reportedly, Elin and Cameron met sometime during 2018, and in 2019 she was spotted with a baby bump. In October 2019 Cameron and Elin welcomed to the world a bundle of joy.
13. J.J. Watt and Kealia Ohai
The defensive end for the Huston Texans, J.J. Watt, and the professional soccer player, Kealia Ohai, met through Watt's teammate, who's married to Ohai's older sister. This was a match made in heaven, and the two have been dating for three years before tying the knot in 2019. When the two first started dating, Watt was playing for the Huston Texans and Ohai was playing for the Houston Dash, and so distance was one less obstacle the two athletes had to face.
However, Ohai recently transferred to the Chicago Red Stars who play in the National Women's Soccer League – an offer she couldn't refuse. The only challenge of dating another accomplished athlete, according to Watt, is that they're both dangerously competitive. The football player shared in an interview that during a birthday trip to Mexico, "the whole weekend was a competition," spending the time playing ping pong, lifting weights and whatnot.
12. Matt Stafford and Kelly Hall
When Matt Stafford, today the star quarterback for the Detroit Lions, started his college football career at the University of Georgia, Kelly Hall was a cheerleader. It was the classic story of boy meets girl, quarterback meets cheerleader, and the two have been dating since then. In 2015, they tied the knot in Atlanta – Kelly's home town – surrounded by their nearest and dearest.
Kelly was a leading cheerleader in college, and in 2016, she was asked to put together a cheerleading team for the Detroit Lions. Although she also qualified to be a nurse, it seems as if she is yet to engage in the profession, and her real passion is dancing. That's why she teaches dance, leads dance groups and does what she loves most – cheering.
11. Josh Allen and Brittany Williams
The young quarterback of the Buffalo Bills and his girlfriend Brittany Williams are childhood friends. The two grew up in Firebaugh, California and knew each other as kids, but their romantic relationship only started in 2017, when the two were in college. In an Instagram post, Brittany called Allen her "8 year old crush," and we can relate. Although Brittany attended Fresno State – Allen's dream school – and Allen attended University of Wyoming – where he could be recruited on a football scholarship – the two managed to maintain a relationship.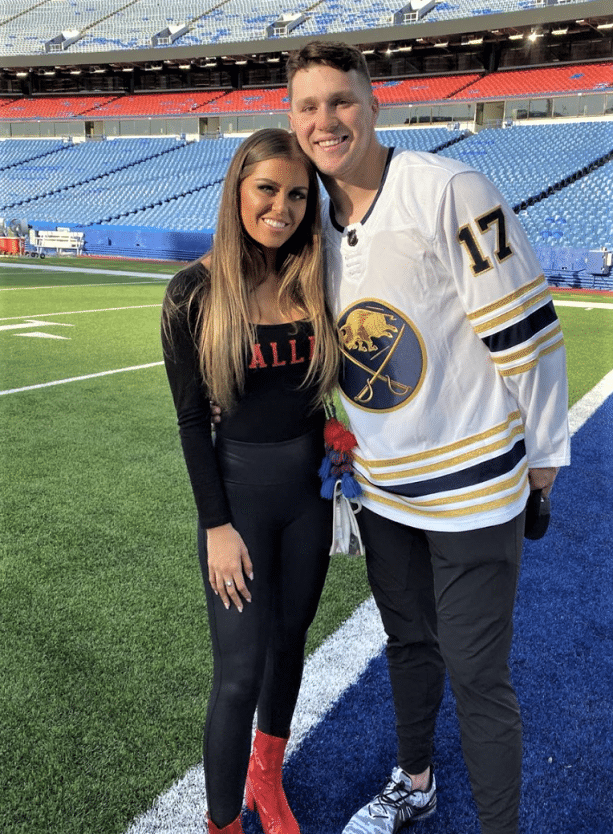 While every wife or girlfriend is an avid fan of her partner's team, naturally, to show their support, Brittany Williams is a cheerleader in nature, and so she's become a regular face in Bills' games and among Bills fans. From showing up to every Bills game wearing a Bills jersey, to posting adorable photos of her boyfriend on social media, she might just be more loved by Bills fans than her boyfriend.
10. Carson Wentz and Madison Oberg
The Philadelphia Eagles quarterback married his girlfriend of two years in 2019. Unfortunately, the two haven't shared the juicy details about their first meeting, but Madison Oberg made a debut appearance on the quarterback's Instagram in 2017, and it seems as if they've been inseparable ever since. While the 2020 Super Bowl is right around the corner, it seems as if Wentz will have his hands, or his mind, occupied with something else – his wife's pregnancy.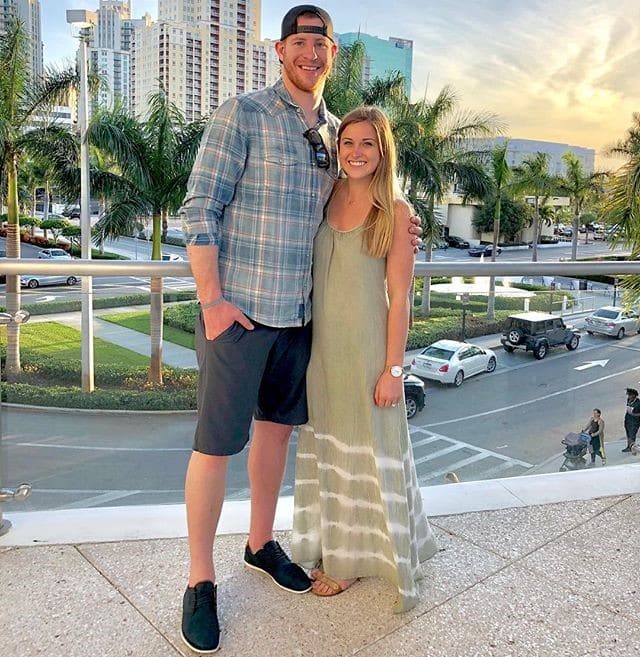 On December 2019, a little more than a year after the couple tied the knot, they happily announced they were expecting their first child. While many expecting parents prefer to keep the gender of their baby as a surprise, Carson and Madison couldn't wait for nine months to find out, and they shared with the world that they are having a girl.
9. Golden Tate and Elise Pollard
Elise Pollard, the wife of New York Giants wide receiver Golden Tate, is a director of business development working for the IT recruitment company Harvey Nash. The Super Bowl winner and the businesswoman seem to make a perfect match, as they are both high-achievers; Tate admitted in an interview that they are very similar, something that allowed them to connect and feel like close friends from their very first date.
How did they meet, you ask? The two met in college, while out one night with friends at a college bar. It was a night like any other, until Tate noticed Elise from across the room, and from that moment he was determined to take her out on a date. Shortly after, Golden was recruited to the Seattle Seahawks, where Elise had worked and attended college. In 2017, they tied the knot in Mexico in front of 250 guests.
8. Alex Smith and Elizabeth Barry
The Washington Redskins quarterback and the former cheerleader met back in 2007 and tied the knot two years later. Before they met each other, Smith and Barry were sworn enemies without even knowing; Barry was a cheerleader for the Oakland Raiders, while Smith played for the Kansas City Chiefs and then for the San Francisco 49ers.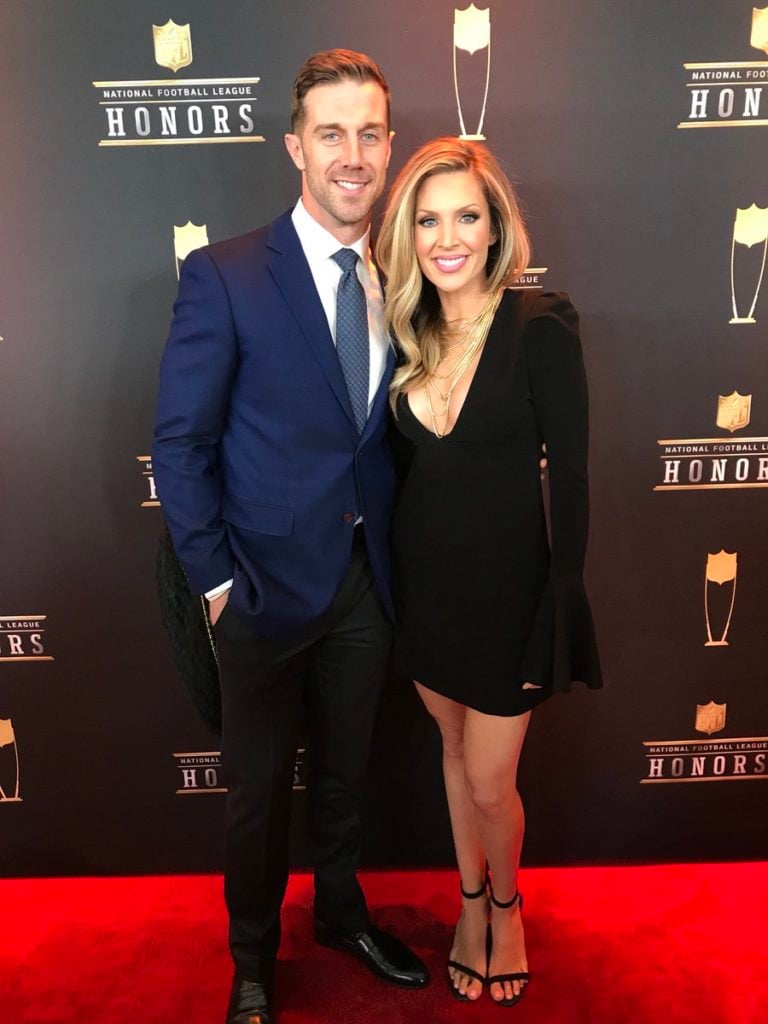 Barry values her privacy, and so her profession remains a secret. The one thing we do know is that she's the mother of three children, she's an avid fan of football (and supports the Washington Redskins, naturally) and she's active in her husband's charity organization, the Alex Smith Foundation. The Organization creates and offers mentoring, education and housing and different support and advocacy programs for foster teens.
7. Tony Romo and Candice Crawford
The former quarterback of the Dallas Cowboys asked his wife out on a date back when she was an aspiring journalist, still living with her parents, who happen to be huge Cowboys fans. That's why she was hesitant about him picking her up from home – for his sake – worried they would make him feel uncomfortable. Romo was a perfect gentleman and invited Crawford out for a dinner and a movie, and of course, insisted on picking her up.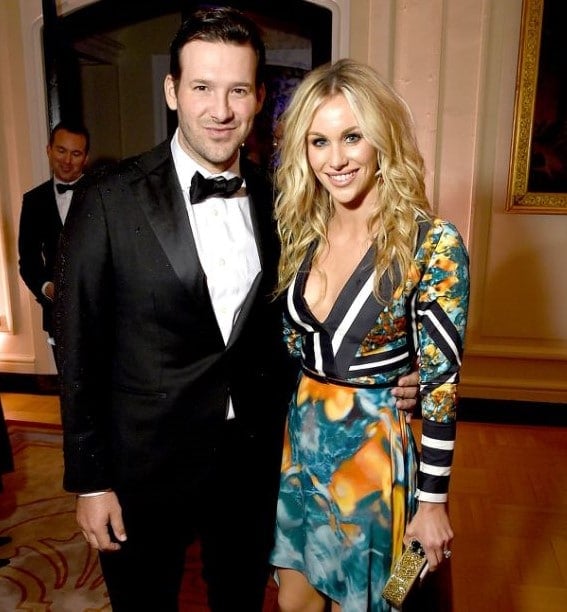 Her parents didn't get to meet their idol that night, but fortunately for everyone involved, the date went well, and two years later, the couple tied the knot in front of a whopping number of 600 guests, including their family and friends as well as colleagues from the NFL and other circles. The quarterback's previous relationships were with country singer Carrie Underwood and singer Jessica Simpson, and so his relationship with the news broadcaster, though it was just as intriguing, was kept out of the limelight.
6. Eli Manning and Abby McGrew
Eli Manning is another member of the royal family of football – the Manning family, that it. His father, Archie Manning is a football legend and his brother, as well as him, are former quarterbacks. The former New York Giants quarterback met his wife Abbey in College, when he was a junior and she was a in her freshman year. In Ole Miss, Abbey majored in family and consumer sciences while Eli was a quarterback only starting his legendary career.
Upon graduation, Abby moved to New York to pursue her dream career in fashion (and what better place to pursue fashion than New York?), while Eli was drafted to the New York Giants and moved to NYC as well. They tied the knot six years later, in 2008, in a lavish wedding in Mexico. Today, they have four children (three girls and a boy) and the couple is very active in charity, donating to hospitals and other causes in New York and Mississippi.
5. Mike Evans and Ashli Dotson
The uprising star Mike Evans, currently playing wide receiver for the Tampa Bay Buccaneers, was just as lucky in his personal life as he was in his career. The two met in college in 2013 when he was attending Texas A&M and she was attending Blinn Junior College. As cliche as it sounds, according to Ashli, when the two locked eyes for the first time, it was love at first sight. Well, perhaps not when the locked eyes, but this is certainly something they realized during their first conversation.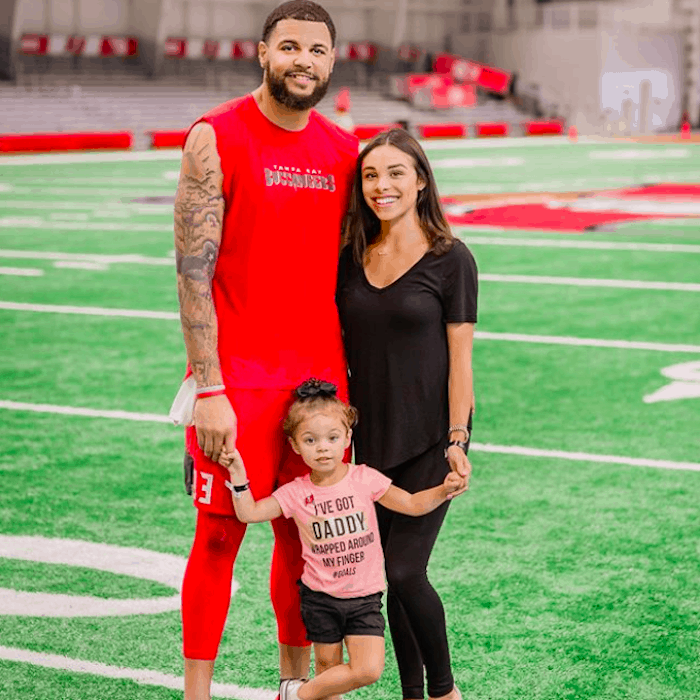 A year later, Evan's college football career was over, and he entered the big league: he was drafted by the Buccs in 2014. Two years later, the couple tied the knot and welcomed to the world their first child together. Ashli maintains a successful lifestyle blog as a full-time job, where she mostly shared tips about fashion and makeup and sells clothing and home accessories.
4. Jack Cichy and Mekenzie Steffen
Mekenzie Steffen, the Tampa Bay Buccaneers linebacker's girlfriend, is perhaps the more athletic part in this relationship. Jack Chichy and Mekenzie Steffen met in college, where they both played sports. Cichy started out his college football career with the Wisconsin Badgers, while Steffen played for the Wisconsin Badgers hockey team.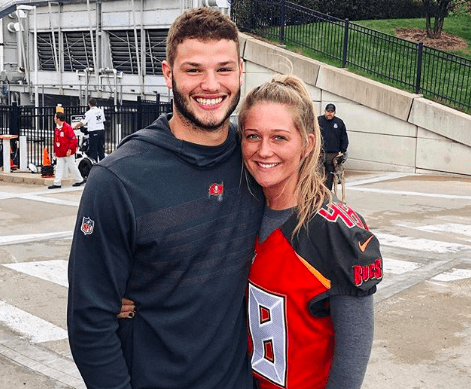 Today, while Jack moved to Florida to play for the Tampa Bay Buccs, Mekenzie stayed in Wisconsin, where she still plays hockey for the University of Wisconsin. She's a valuable player who won several titles during her short college career, and so we expect it should be no time until she gets snatched by another team, but in the meantime, the couple maintain a long-distance relationship. While they avoid the limelight and share almost nothing about their relationship, and try to support the other's career and attend every game.
3. Tony Gonzalez and October Gonzalez
Tony Gonzalez, the legendary tight end of the Atlanta Falcons, met his wife one day out at a bar, when he was still in the prime of his career. October was a waitress at the bar and she had a boyfriend at the time, so when Gonzalez advanced the beautiful waitress, she turned him down. Tony tried his luck with the girl a year later, showing how committed (and smitten) he was. fortunately for him, October was now single, and she agreed to give it a chance.
Things quickly became serious between the two, and they dated for four years before Toni bent the knee and proposed. However, the two decided not to get married, but have a commitment ceremony. The ceremony was held by Tony Richardson, former Kansas City Chief's fullback. While October was a waitress when she first met Tony, today she works in the media as a T.V personality; she appeared on episodes of The Fab Life and Play it Forward as well as two reality shows and briefly hosted Entertainment Tonight.
2. Danny Amendola and Olivia Culpo
Wide Receiver for the Detroit Lions And Amanda Olivia bumped into each other a street corner on Hollywood, and that's how their romance began. Culpo wasn't unfamiliar with the spotlight, on the contrary – she was a model and an aspiring actress, and her previous two relationships included singer Nick Jonas and baseball player Tim Tebow, and so she didn't find it in any way intimidating going out with the Detroit Lions' star Danny Amendola.
On the contrary – while the model who dreamed of making it to Sports Illustrated enjoyed having her name and her face in the limelight, the football star wanted to stay away from it. That was their main difference, and the main strain on their relationship, which started in 2016 and reportedly ended a few months back. According to Amendola, he is a private person, and it was for him to feel as if their relationship, and his life, is always under the curious eye of the public. This isn't the first time the couple splits because of their differences on social media attention, and we expect they would be back together.
1. A.J. McCarron and Katherine Webb
Houston Texans quarterback A.J. McCarron is married to the American model Katherine Webb. the 2012 Miss Alabama met on social media, though not through a dating app. The two met through Twitter (have you ever heard of such a thing?) when a mutual friend tagged the both of them on the same post. That's how they started following each other and texting until they finally decided to meet – a modern times Romeo and Juliet story.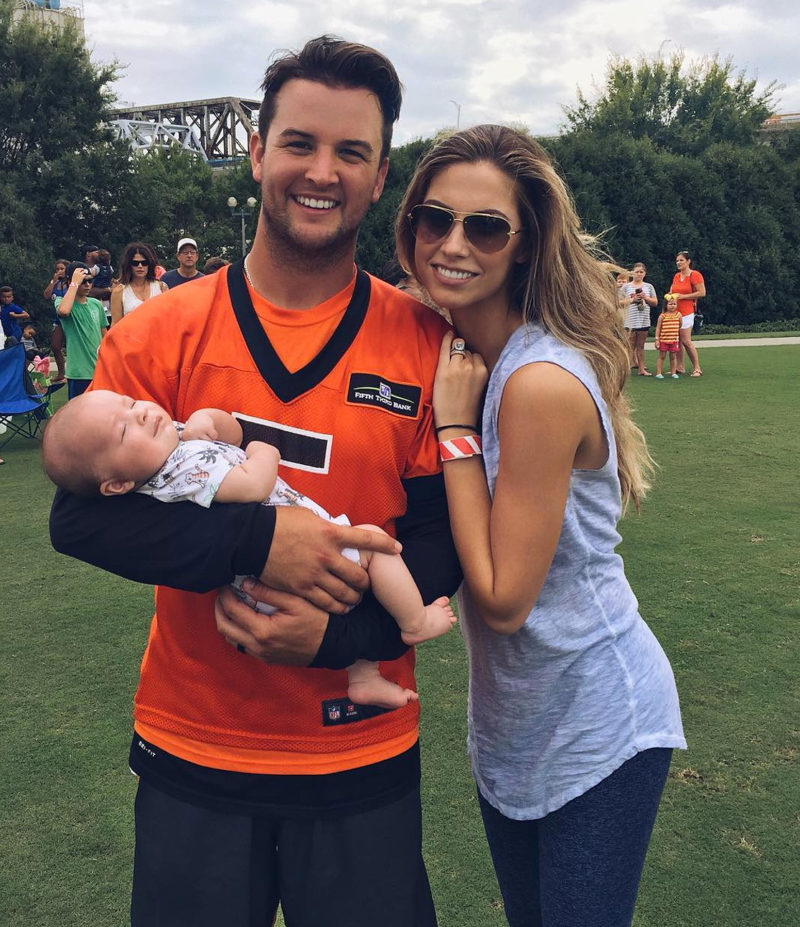 The successful model, who won the title of Miss Alabama USA in 2012 and appeared in the Sports Illustrated swimsuit edition – the dream of every swimsuit model – admitted she didn't enjoy the fame, she hated having her personal life under the spotlight, and so recently, she declared she's decided to "quit Hollywood." Her Instagram announcement came on the seventh-year anniversary from the day she burst into fame and included footage of the highlights of her career. According to her, she was giving up the glamorous Hollywood life in order to lead a quiet life with her quarterback husband and growing family.