Marriage is a good thing and it makes a whole lot of difference to be really prepared before embarking on anything that is worthwhile in this life such as traditional marriages. When I say this, a very important matter comes to my mind and that is the topic under consideration, traditional marriage in Yoruba. Here is the list of traditional marriage requirements in Yoruba land.
This post concerns everyone but more especially those planning to marry any of those beautiful girls from the Nigerian tribe of Yoruba who are known to be liberal in their choices of marriage.
For those who have the intentions of marrying a Yoruba woman, the least thing that comes to their mind is nothing more than the basic requirements of what it takes to ask a Yoruba lady's hand in marriage. To be properly stated, how does the list of Yoruba traditional marriage look like?
SEE ALSO: List Of Traditional Marriage Requirements In Igbo Land
What is it that is expected from the groom? Another good thing about this very post is that it went beyond mere researches from different resources around the World-Wide-Web and some books gathering dusts in shelves to a one-on-one discussions of the basic requirements in Yoruba traditional marriage.
This work is actually made up of real life tips from the real Yoruba people, both newly married and those way down in ages in their marriages. What that means is that you are in for some helpful tips with regards to Yoruba cultures on traditional marriage.
Relax and read along as I take you through the interesting but basic requirements of what it takes to make a Yoruba lady your legally and traditionally married wife!
List Of Items To Buy

1. Aso-oke, Yoruba traditional cloth
2. Bible if she is from a Christian family or Koran if she is a Muslim. This is to tell you that religion play significant roles in Yoruba traditional marriage.
3. She-Goat
4. Sugar Cane
5. Palm oil and vegetable oil, 25litres and above
6. Engagement Ring
7. Kola Nut
8. Bottle of honey
9. Alligator pepper-about 40 pieces
10. Bag of rice *
11. Box/Suitcase of clothes
12. Maize/corn plus different types of fruits and so on.
The items below are also needed but in any quantities of your choice.
Things like, Salt, Soft drinks, cash for some customary rites but the bride price of #5,000 is a must that the groom must pay to the parents of the girl he intends to marry.
SEE ALSO: Traditional Marriage Requirements In Hausa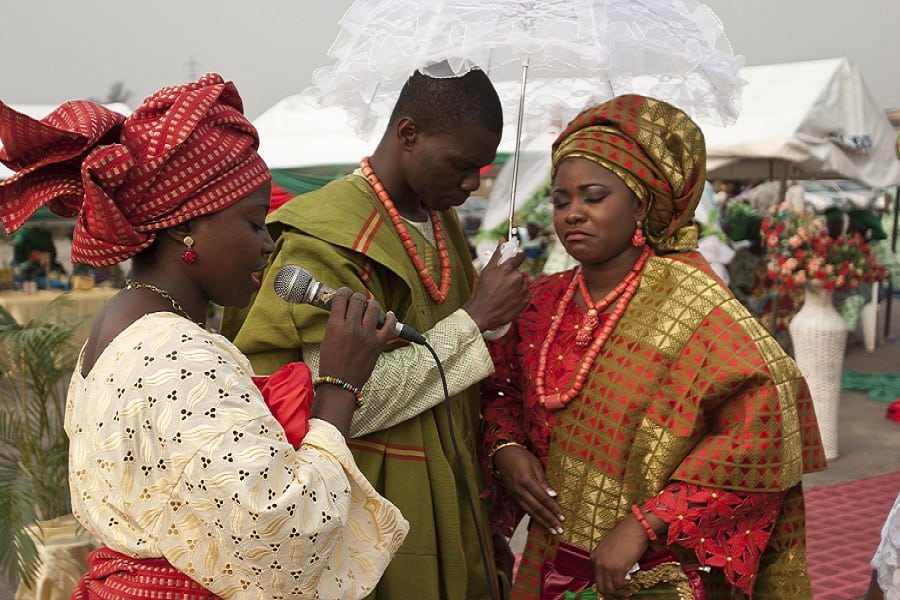 It is worthy to note that Yoruba people doesn't play with the religious roles in their traditional marriages as the above picture attests.
Most of the items on the list of Yoruba traditional marriage comes with meanings. For instance, the umbrella signifies the ability of the husband to provide shelter for their daughter and children.
The fruits in the list which are mostly perishable, on its own reminds the husband of the need to constantly be ready to replace some valuable things at home because what is admired today may not be the same for some times in the future just like the perishable fruits.
Generally, traditions in Yoruba land dictates that several provisions and engagement customs are strictly followed. The basic rules about getting things properly done as long as Yoruba traditional marriage list is concerned is for the man to start early as soon as he understands what is expected of him.
Engagement rites in Yoruba land varies according to the status of each family and ethnic groups. Even in some traditional marriages in Yoruba land, cake is usually shared among the guests and it's equally a common sight to see a woman MC or a man in a woman's attire handling the microphone just for the fun of the occasion.
Once again, getting the knowledge of what is required in the traditional marriage of the Yoruba goes a long way in reducing the stress. Just be ready to put enough cash down for a big party for Yoruba tribes hate dullness in their occasions especially if its a marriage.
Yoruba traditional marriage is usually a fun filled occasions for both of the families as they contributes maximally to have the occasion to be reckon with and to be the talk of the town!.
It is an also fine opportunities to see old friends and catch up with some happenings in their lives and so on.  An affluent Yoruba family would give anything to have their traditional marriage ceremony spread around as far as possible because of the second to none colorful attires which the tribe is known for.
SEE ALSO: Urhobo Traditional Marriage Lists And Requirements