If you can dream it, you can make it…with 3d printing. From tech to games, from fun to practical, check out these awesome gifts for yourself, your family and your friends. If you aren't in the mood to design it yourself, you can buy ready-made 3D items that will surprise, delight and even wow.
Earbud Holder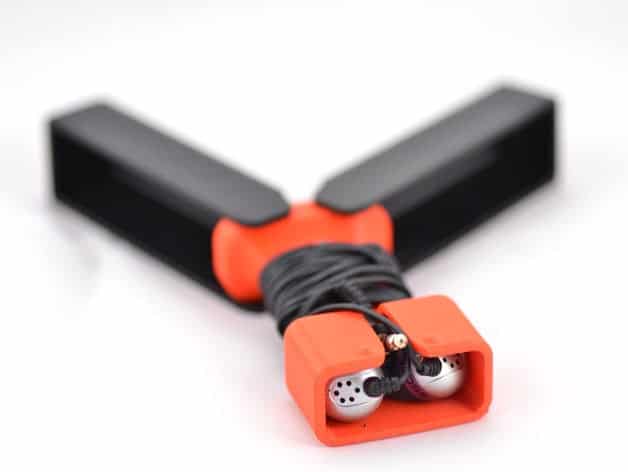 Source: Thingiverse
Keep your earbuds safe! You spend a small fortune on your earphones that allow you to listen to music on the move, but not enough to protect them when not in use. Securely store those buds in this 3D printed earbud holder.
Secret Shelf

Source: Thingiverse
Keep your precious documents or currency close to you but hidden from sight in this secret shelf stash.
Articulated Lamp

Source: Myminifactory
This is a modular, articulating lamp. It is composed of 6 basic pieces, bottom, trunk and top pieces which encase an LED Tap Light. Body pieces can be added to make the lamp as long as you like. The lamp is easy to assemble and can be rotated in all directions and turns on and off with an easy click.
Name Plate Pen Holder

Source: Thingiverse
For the guy or girl who has everything why not try this personalized Pen/Pencil/Tool holder? It's friendly, fun and practical.
Survival Whistle

Source: All3dp
The 3D printed whistle has a simple and elegant design, with a loop at the back for a keyring or lanyard, and the model is quickly printable in one piece. Before going on a hike, be sure to take this baby along as it can be a lifesaver if you need to whistle really loudly.
Headphone Stand

Source: All3dp
Headphones are a crucial office accessory today. But when they're not in use, do you just keep them lying around? A headphone stand is a smart and elegant solution. Plus, putting your cans on display (when they're not clamped around your ears) becomes a personal statement. Check out the variety of designs. One does not fit all.
Self-Watering Planter

Source: Thingiverse
No green thumb, no problem. This Self-Watering Planter is exactly the thing you need to keep your office or kitchen plants thriving. It's super easy to use: just plant your favorite herb or other water-intensive plants, add water, and you're all set. The Self-Watering Planter was designed to be 3D printed, easy to setup, use and clean; while at the same time allow for customization through mixing and matching different colors for the pot and reservoir.
Scalable Universal Kitchen Containers

Source: Thingiverse
This was designed as a spice jar you could fill with your favorite spice and stick on your refrigerator or freezer. In addition to setting the size and tilt, the customizer lets you add holes for magnets, add a label to the jar or lid, or add holes in the lid to use it as a salt/pepper shaker.
Measuring Cups

Source: Thingiverse
5 Measuring Cups: 1, 3/4, 1/2, 1/3, 1/4. Adds a touch of whimsy to your baking routine.
Butter Holder

Source: Thingiverse
When you need a slice of butter are you tired of having to get out a knife, peel back the wrapper, throw away the wrapper, and wash the knife, every time you need a slice of sweet, creamy butter? So much work! There has to be a "butter" way! Introducing the butter holder…
Chess Set

Source: Shapeways
According to the designer, this chess set was created to be a bit different from the standard, traditional chess piece design, but still maintains easily recognizable pieces and sturdy construction. This set is scaled to a one-inch pawn and a two-inch king.
On the opposite end of the spectrum are these super expensive gold gifts that are fun to wind0w shop.