Brides all over the world want to make their wedding dress exceptionally unique to make their wedding day memorable, and some brides are ready to do all lengths. Choosing a distinctive wedding dress is usually an excellent idea if you want to look like a star on your big day. As a result, wedding gown designers are having a great deal of fun creating custom-made dresses for brides who don't want to follow the pack.
The choice of a wedding dress is not something we would typically pass judgment on, but these are not normal circumstances. There was no fear among this group of brides in experimenting with unconventional elements such as color schemes (think orange, black, and foil), materials (balloons, shredded paper, disposable cutlery), or even the very definition of what constitutes a wedding gown. One illustration of the renaissance of wedding customs is the bride's clothing. You may truly express yourself on your wedding day by wearing a wedding gown that is out of the ordinary. From a star-covered skirt to a bridal jumpsuit, everyone may find a look they love. You don't need to stick to the traditional white color scheme, too.
Clearly, they are head over heels in love with each other.
In most cases, when we see a bride in her wedding attire, we automatically think of her as "beautiful, breath-taking, and bluish." As a result of her ombre orange gown, we have a different set of adjectives to describe this bride's overall appearance. Fanta, Orange Crush, Sunkist, and Orangina are just a few of the names that come to mind.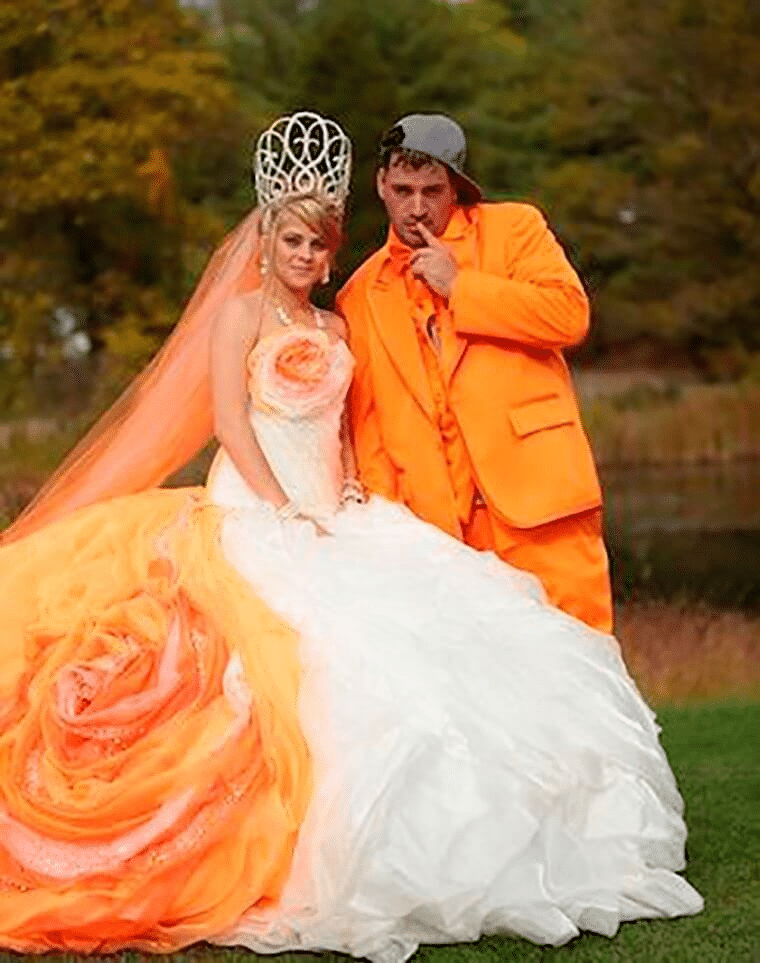 Furthermore, although orange is the color of happiness, we do not experience happiness when we see this dress. However, Ultimately, what truly matters is that the bride and groom are content, and don't you think they appear to be? The groom, in particular, appears to be enthused about the wedding.