Kate Middleton has now become an established member of the royal family after marrying Prince William back in 2011. With the whole worlds eyes on her since becoming the Duchess of Cambridge, not everything has gone over easily for the royal couple, with rumors constantly being spread by around the clock media attention. Although the media does its job in creating headlines which could potentially hurt the royal couple, Middleton does a good job at maintaining her composure, even with the never ending media surveillance. Let's explore how Kate Middleton made her way up to becoming the Duchess of Cambridge.
Change In Scenery
Kate Middleton was raised in a family of three, having a younger sister named Pippa, and brother named James. The relationship in the family has changed drastically since Kate married Prince William, mostly due to the constant media attention.
The media attention surrounding the Duchess prevents the family from living a normal life, barely being able to socialize in public. The constant media attention has made Kate more wary regarding what her siblings do, one example being that she didn't approve of Pippa's choice for a fiance, former racing car driver James Mathews. All of this has combined to alter the relationship in the Middleton family.
Struggles Of Parenthood
You can imagine the struggles of being a parent while also being the next King of England. This makes it more difficult to raise your kids in a more normal way, with the couple obviously having many nannies to help them out.
Although they clearly have access to these nannies, its not like the royal couple don't want to be involved in raising their children. The Duchess claims that there are indeed struggles in raising the kids, but not anything out of the ordinary. Although the struggle is different coming from the royal family, it still resembles that of a normal parenthood.
Royal Family Vs. The Media
At the beginning of their relationship, Queen Elizabeth had qualms regarding Kate Middleton, but that began to change due to the media. A French photographer captured a picture of Middleton sunbathing topless, which got posted in the news.
This led to the Queen having a change of opinion on Middleton, who she felt sympathetic for due to the unfortunate passing of Princess Diana, who died in a car crash while trying to getaway from the media. The royal family wound up suing the tabloid, although it was already too late.
Earning Her Place In Honoring Princess Diana
In stunning fashion, Middleton honored Prince Williams late mother, Princess Diana, at Prince Harry and Meghan Markle's sons christening. She wore the same earrings that Princess Diana wore to her son Harry's christening.
Even though Diana wasn't able to be there for her grandchild's christening, her two sons got to remember their mother in a way through the Duchess's outfit.
Family Feud?
Ever since reports have been spread regarding Prince Harry and Megan Markle's move to Frogmore Cottage, there have been rumors about a rift in the relationship between Middleton and Markle.
It has been noted that the two are extremely different people, but try to put that aside in an attempt to get along. Although these rumors have been spread, the apparent issues are between the two brothers, not their wives.
Giving It A Try
Although negative rumors have been spread regarding Middleton's and Markle's relationship, their are indications that the members of the royal family at least try to get along.
Having become a newest member of the royal family, Middleton has helped guide Markle on how to live life as female royalty. Additionally, friendly relations began when Markle traveled 100 miles to attend Kate's sister, Pippa's wedding.
Sister Struggles
One major issue between Kate and her sister Pippa occurred at the Duchess's wedding, which Pippa was the made of honor for. Many believed that the neckline of the dress Pippa chose to wear to the wedding was too low, which stole the show from Kate at her own wedding.
Kate returned the favor at Pippa's wedding by wearing a dress with a lower cut neckline. This was clearly done on purpose due to Pippa's dress at Kate's wedding, trying to show her sister what its like to have the show stolen from her at her own wedding.
A Guiding Hand
With all of the media attention and pressure surrounding being a member of the royal family, Kate has done her best to help Meghan Markle adjust to this major change in lifestyle.
A source close to the royal family has been quoted as saying that "Kate has taken Meghan under her wing and has offered her support and the promise of plenty of advice to help her adjust to her new life. Kate knows better than anyone how overwhelming and challenging it can be to make the transition into being a member of the royal family, and she's vowed to assist Meghan in any way she can."
Reason For Concern
Originally, Queen Elizabeth was concerned over William's choice to begin dating Kate seriously. The Queen felt that a member of the royal family needed to have a job and identity to earn her place in the family.
Queen Elizabeth is well known as one of the hardest working royals, so for her to have seen someone that didn't put in the same amount of hard work that she had was troubling for the Queen.
Queen Elizabeth and Kate Middleton
As stated before, Queen Elizabeth wasn't so fond of the Duchess when she first started dating Prince William. She was unsure about Kate due to her lack of employment prior to dating William, even though she actually worked for a clothing store called Jigsaw, and her dad's company.
Middleton learned valuable skills while working, such as marketing, how to run production, to go along with photography. Although Kate did indeed work before marrying Prince William, this is not what turned Queen Elizabeth to be in her favor of marrying the prince.
Relationship Takes A Turn
Kate was able to change the opinion of the Queen in showing her that she is indeed ready and fit to be a member, and mother of the royal family, something the Queen was unsure about. The Queen wanted to make sure Kate was ready for whats in store when being a member of the royal family.
The Duchess was ultimately able to alter the Queen's opinion due to her involvement in charity, which has made the two members of the royal family grow close as time went on.
Behind Closed Curtains
Although rumors swirled that the royal wives, Middleton and Markle weren't getting along, they met in private countless times before Prince Harry and the Duchess of Sussex made their move to Frogmore.
These meetings were most likely regarding helping Meghan adjust to the royal lifestyle, while also helping them become closer, with Markle describing Kate as "wonderful" in helping her make this tough transition.
The Duchess's Impact On Fashion
As Kate has learned throughout the years, being a royal means that you need to appear as positively in public as possible, no matter what you are going through. A part of appearing as positive is the way one dresses, and Kate takes advantage of this by constantly stunning people with her outfits.
The Duchess of Cambridge has a major impact on the fashion industry, with most outfits she wears in public getting sold out in stores shortly after. This can also now be seen with her sister-in-law Meghan Markle, and the industry calls this phenomena the Duchess, or Meghan effect.
Royalty Turns Regular
Even though they are royalty, Prince William and Kate are actually the ones who care for their kids if something happens in the middle of the night, with Prince William claiming that they are just like regular parents.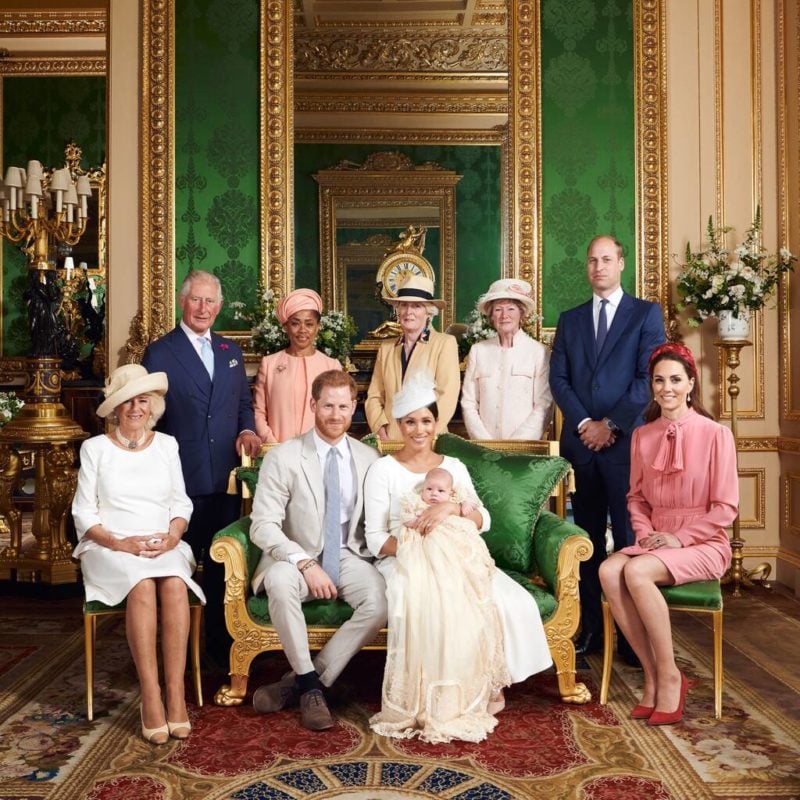 This was confirmed following the birth of Prince William's son, Archie, to which Prince William joked that "I'm very pleased and glad to welcome my own brother into the sleep deprivation society that is parenting."
Kate's Upbringing
Kate was raised by a wealthy family, with her mother being a flight attendant who met her husband, a flight dispatcher at the time, but went on to become a successful businessman. Kate is the oldest of her siblings James, who is an entrepreneur, and and Pippa who is an author.
Due to her parents work situations, Kate was constantly moving around when she was younger, having lived in places like Jordan, and Amman before being sent to boarding school.
Kate's First Royal Encounter
Kate met her future husband when they were both attending St. Andrew's University. The story apparently goes that she curtsies to the prince, who followed by spilling his drink all over himself. This was a cute beginning to a great relationship.
The Duchess admits to having been nervous when meeting the prince, having been quotes saying that she "actually went bright red when I met you and scuttled off feeling very shy about meeting you."
The Beginning
Kate claims that William wasn't around very often at the start of college, so it took a little bit more time to really get to know each other. Although he wasn't around that often, they still were able to become close friends pretty early on in their college experience.
Their relationship started in 2003, with nothing having officially been confirmed. The couple apparently shared an apartment with two other friends in their second year at St. Andrew's.
Royal Troubles
In 2007, Kate and William ended their relationship, mostly due to media harassment targeting Kate. She actually had to get her attorney involved in the situation to see what was best for her, showing how poorly the media was treating the royal girlfriend.
This led to both sides' attorneys getting involved with the media, and Prince William switching army units, distancing the two lovers even further. Even with this all going down, the two got back together after being apart for two months, showing how true their love is.
Current Issues
It has been reported that Middleton has cut off her tied with friend Rose Hanbury, which people are reading into as Kate and William having some marital issues.
A source has come out and said there are no problems between William and Kate, but just between the two friends. The source claims that "Kate and Rose have had a terrible falling out. They used to be close but that is not the case any more. William wants to play peacemaker so the two couples can remain friends, given they live so close to each other and share many mutual friends. But Kate has been clear that she doesn't want to see them anymore and wants William to phase them out, despite their social status."
Rumors and Speculation
The speculation as to why Kate ended her relationship with Hanbury is due to the possibility of adultery between Prince William and her longtime friend. Although this made her extremely upset, both Kate and William have confidence that their marriage will survive this rough patch.
A source comments on the royal relationship, stating that "It forced her (Kate) and William to sit back and examine their relationship, which they realized they should have been doing more often." Another source continues this point, stating that they are "determined to pull through it and are doing a great job at getting their marriage back on track again."
Ultimately Still Going Strong
As stated earlier, although they are a royal couple, they are still normal humans, which is why it is no surprise that they have gone through some rough patches in their almost 10 year marriage.
The royal couple is still going strong despite all of these rumors swirling around the media. The two still love each other and their kids obviously hold a very special place in each of their hearts. It's good that these struggles are occurring while their kids are at a young age and don't really recognize what's going on, but according to sources Kate is upset and hurt that her kids will be able to read all of these rumors about their parents' relationship one day.