This new reality that we're facing isn't only strange and confusing for us, but for our pets as well. Our pets aren't used to having us home all day, and whether they like this new situation or not, it's a new reality they are facing. While our dogs probably enjoy our constant companion and attention, our cats – who usually appreciate their privacy – are having a harder time coping with this situation. If you don't believe us – take a look at these photos people share of their cats and the funny, random things they do.
Home office
Laptop – check, desk – check, comfortable chair – check, cat – check. These are all the essentials you need for a comfortable, accommodating home office. It seems like the cat wanted to help, and he arranged himself a comfortable spot next to his owner, so he could stay by his side all day.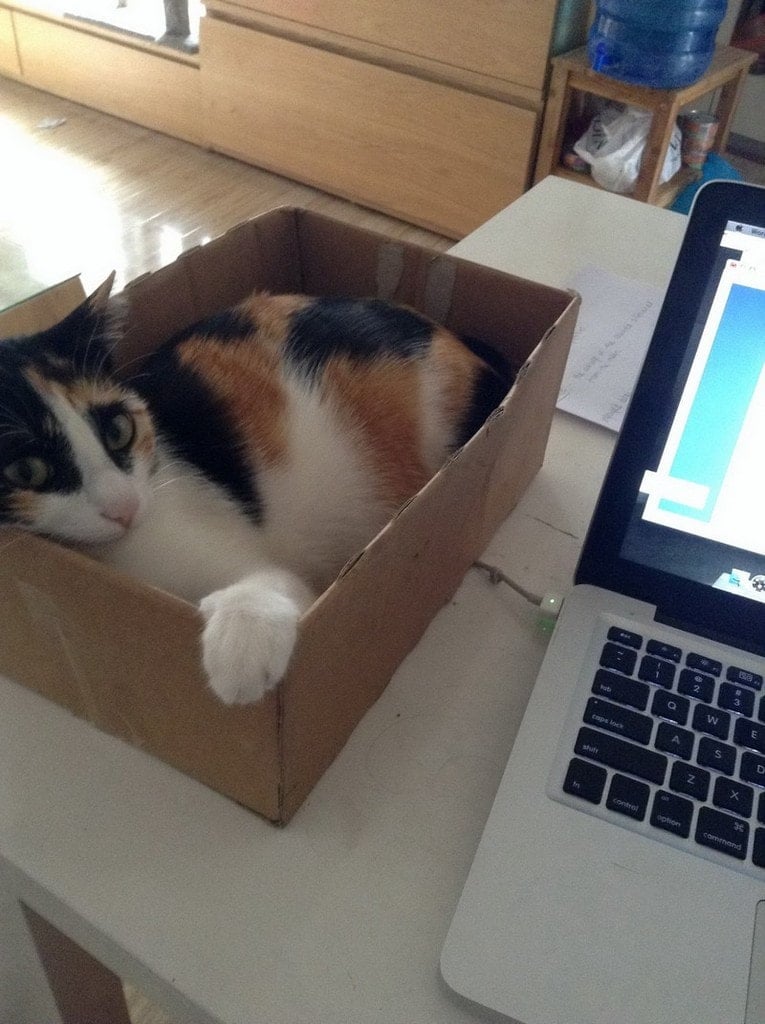 Now that we're home all day, every day, this is an opportunity for our cats to finally spend some quality time with us. We didn't know cats required or wanted this time, but while some cats are loners, others are different, and they can be just as friendly and dependent as dogs.
Me time
Now that we're home all the time, our pets probably expect our constant and undivided attention; what they don't realize, however, is that some of us still have to work from home, and except for being home, nothing really changes about our routine.
This cat had enough with his owner working all day and paying him no attention, and that was his way of expressing his displeasure. Cats can be very assertive if they want, and if they aren't happy about something, they'll make sure you know it! It might sound like we have something against cats, but it's the other way around – we appreciate them for standing their ground.
Cat meeting
Thanks to the wonders of technology, our time in isolation becomes a lot more bearable. As hard as the current situation is, we can be thankful we live in the modern world with technology that allows us to stay connected to the people we love and even see them, almost as if nothing has changed.
It could have been a lot harder passing the time in this unprecedented, seemingly endless isolation if it wasn't for video calls, video games and Netflix. These cats have learned something from their humans, and they have adapted to the times as well. Now the owners have to divide their laptop time with their cats.
I might be going crazy
We are all affected by this period in different ways; whether it's our routine, our mental health or our physical health that's affected, these are strange, uncertain times, and we're all in this boat together. That's why we can't blame this guy, who seems to be losing his cool.
The cats are obviously not plotting anything against him, because they're cats, but after four weeks in isolation, we start getting crazy ideas in our head. Perhaps having three cats in the house wasn't the best idea, and although they keep him company, when they gather around like this, it does look like they have some very important, unfinished business to discuss.
Desperate times
Desperate times call for desperate measures, and the cat has resorted to befriend the dog. Well, sort of. Clearly, it looks like the dog is the one who's forcing his affection on the cat, while the cat just sits there, quietly accepting his bitter fate.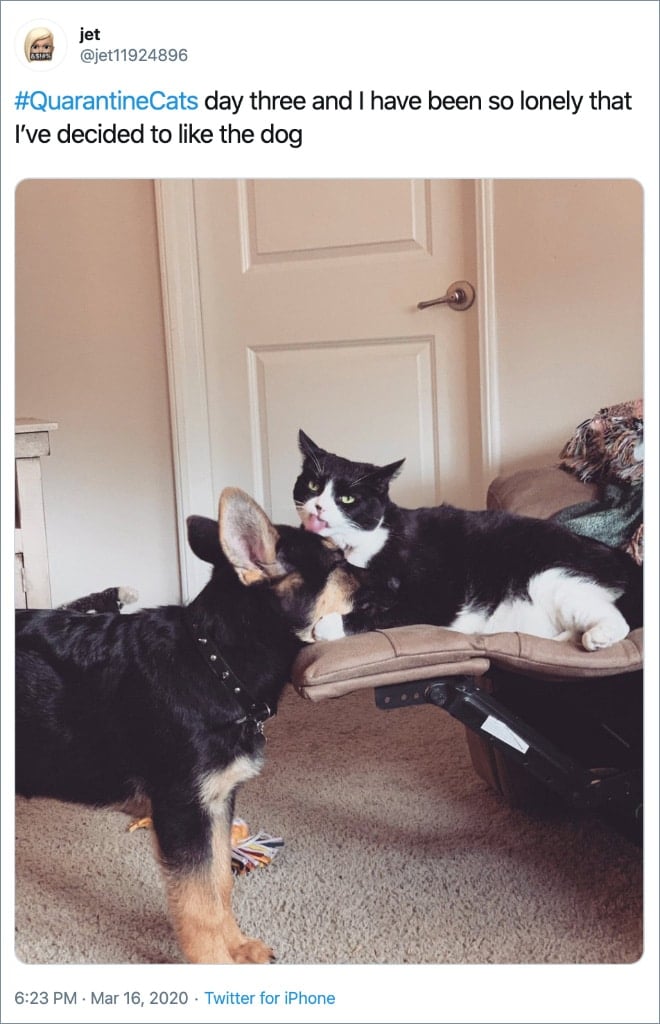 Apparently, even cats, who are notorious loners, can get lonely. Dogs are known as friendly creatures, and so if there's any creature that can befriend a cat, no matter how much the cat resents it, it's a dog. This photo shows that if those two can become friends, then perhaps something good can grow out of these difficult times.
You're not going anywhere
This cat took on himself the very important task of ensuring his owner doesn't leave the house. Now that he finally has her home all day, he's not willing to give that up. The longer we stay inside, the bigger the urge to get out grows. We might start to think that going out for a jog or a short walk isn't going to do any harm, but luckily for this woman, she has her cat to remind her otherwise.
The look on this cat's face proves he's doing this out of love, and this picture makes us rethink everything we've known about cats until now. This is a look of pure love and genuine concern, and this goes to show that dogs aren't men's only friends, but cats can be pretty loyal friends as well.
Busted
Now that we're home all day, we finally have a chance to find out what our pets are up to whenever we leave the house. Apparently, some cats might have this dangerous habit of chewing dollar bills. We thought pets only chew slippers, but apparently, they chew valuable possessions as well. If there's a lesson to be learned here, it's that you should never leave unattended money around the house.
We all get bored after staying home for a long time with nothing to do, but we never realized our cats might get bored as well. We don't have any other explanation for this. It's either that he was bored out of his mind, or that he knew very well what he was doing, and he was doing it out of spite.
Chilling
Nothing to see here, just a cat trying to chill in the pool. We're not the only ones who stress out during these uncertain times; these are confusing times for our pets as well, who must sense there's something out of the ordinary going on, and they need to relax as well.
Chilling in the pool seems like a great way to take the stress off, but this cat doesn't seem to be relaxed at all; on the contrary – he seems more stressed than he probably was before. His owner probably forgot there's nothing cats hate more than water, and that being surrounded by water can certainly be stressful for a cat.
Hello there
If you thought working from home sounds like a piece of cake, your cat probably thinks otherwise. Now that we're home all day, we might realize our pets demand a lot more attention than we might have thought. This cat, for example, found a way to remind his owner that he's there, even when he shouldn't be.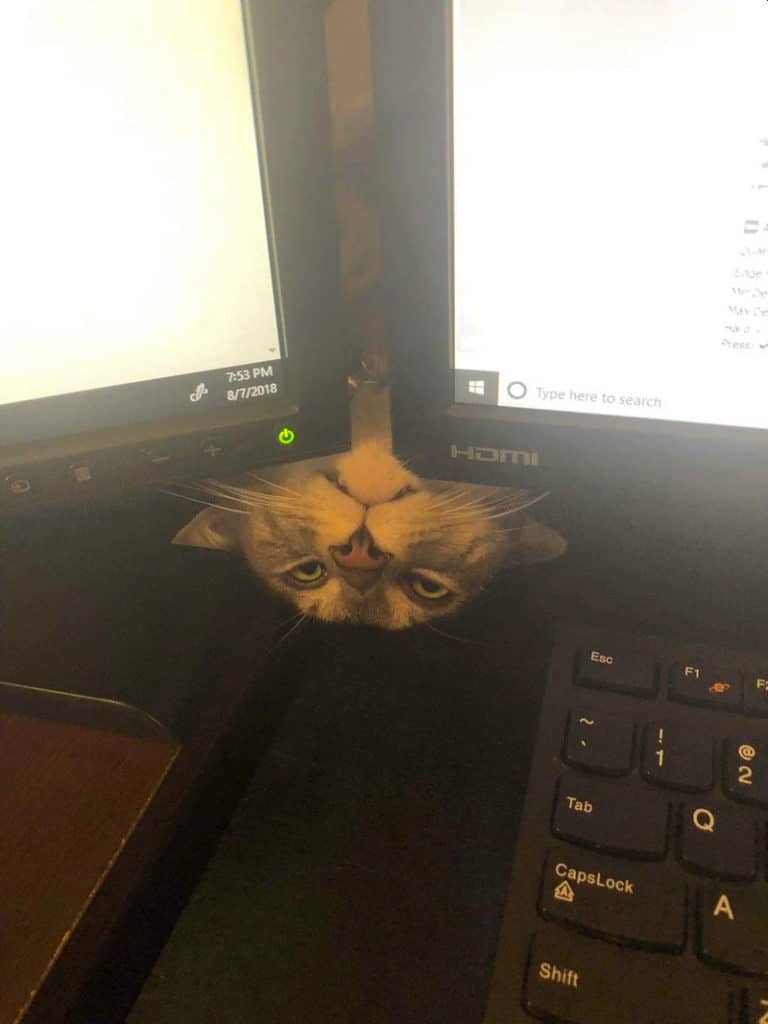 While we have plenty of distractions at the office, they never involve a cat peeping through our screens. This makes us wonder what makes a better work environment, and while we thought the answer was obvious when we just started this lockdown, three weeks into it, things start to look a little bit different.
Be like Meredith
These days, many celebrities are recruited to the very important mission of reminding everyone the importance of saying home. Through the different social media platforms, celebrities are sending us reassuring messages that everything will be okay if we just stay home.
America's favorite pop star, Taylor Swift, has joined in on this cause, and she uses her cat, Meredith, to send this very important message. For her cat – she's not that special, that's how all the cats feel – social distancing is a way of life. We'd appreciate the photo and the message behind it even if it didn't come from Taylor Swift, but it certainly can't hurt.
She's not the only one
After three weeks without leaving the house, we can all relate to this feeling. However, if we want to stay protected, and keep our loved ones protected, we must stay strong and stay inside. Rogue sure seems ready to go back to the office and see all her cat friends, and hopefully it won't be long before she does.
This cat embodies what we all feel at the moment – after a month of working from home, we start experiencing something we've never thought we'd feel: we actually miss human contact and our peers at the office. We even miss public transportation. Here, we said it. Rogue feels the same, but unfortunately it seems as is it might be a little longer until we can get out of our sweatpants.
Where do you think you're going?
This ginger cat looks like he's got some very serious unresolved business with his owner. It's almost as if he's sitting there, at the head of the table, to make sure his owner doesn't try to break the rules and leave his house or invite friends over. No words are needed, his judgmental look says it all.
We could all use a cat like this one, giving us judgmental looks whenever we do something wrong. It would be even better if he was there to quietly but effectively judge us when we're skipping workout, opening the fridge for the ninth time or doing anything we shouldn't do, but we're not strong enough to avoid.
Mommy and me
This cat got used to having his mommy around, that he's gotten too dependent on her. Whenever she leaves the room, he must join her, and he's found the perfect way to ensure they never separate, even when she just steps off to the other room.
Getting back to normal and out of this isolation is going to be just as hard as it was going in: adjusting to life at home was hard on all of us (including our pets, probably), and after spending all this time home, readjusting to our normal lives and routine is going to be just as hard. This picture suggests it might be extra challenging for some pets, who enjoy having their owners home all day.
Spot on
This cat has a pretty impressive home office: a room of his own, with light, a cup of coffee and a laptop – everything you need to work from home and communicate with the outside world successfully.
While this cat isn't actually communicating with anyone, but merely sitting on top of this laptop, she sets a great example for us to keep our heads up and remember that even if we can't leave the house, it doesn't mean we can't mingle with our friends and the outside world during this lockdown. We don't have to be alone, since technology allows us to pass this time (virtually) with the people we love.
Good for you, Mylo
To be honest, Mylo looks like he's just woken up from his winter sleep, that's began long before this self-isolation thing started, and he has no idea what's going on out there (that is, outside this closet). Nonetheless, he does set a good example for self-isolation methods, and we can all learn something from him.
Evidently, cats don't need much to be happy: much like humans, all they need is food and water, some affection and sleep. Mylo doesn't seem to be happy with his human waking him from his nap, and he looks as if he's ready to crawl back to his comfortable spot and have another several months of undisturbed sleep.
Fitness
One of the biggest challenges of the current isolation is staying i shape. Gyms are closed, as well as public pools, fitness classes and any other place where we usually exercise, and jogging is no longer an option. Exercise options are significantly limited, and what's even worse, we can't seem to find the motivation to do anything.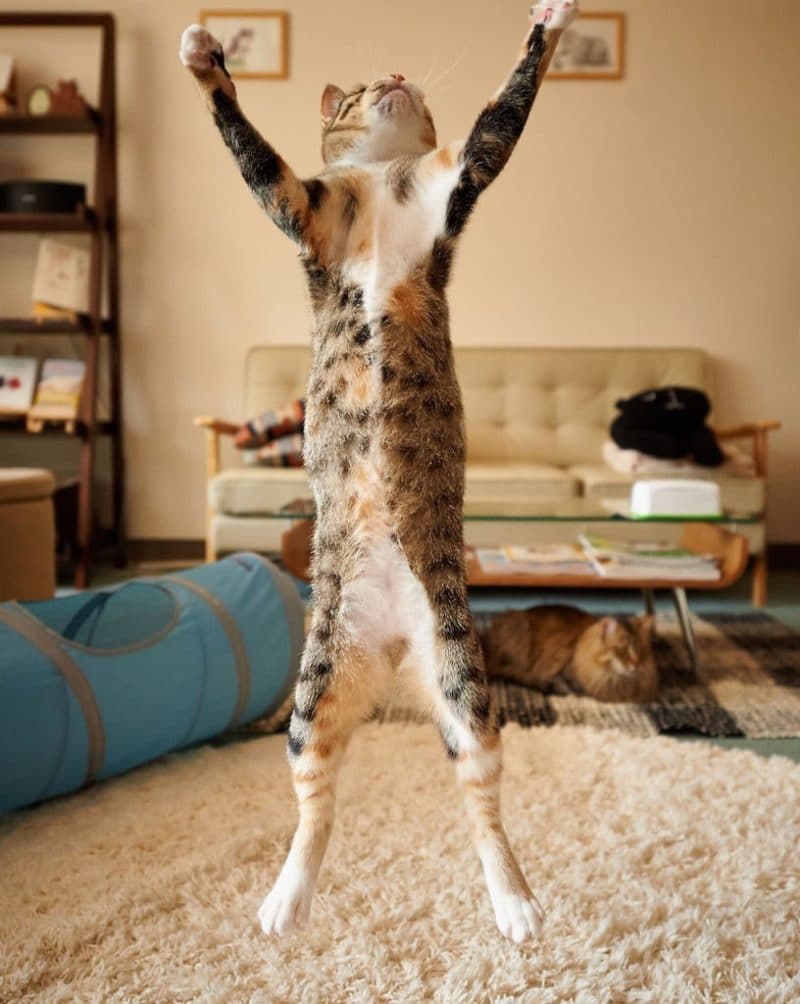 This cat, however, was tired of sleeping all day, and he needed to move his body. He sets a great example and inspiration for staying in shape during these difficult times, as he's here to show us we don't need a gym or even any special equipment to have a successful workout – all we need is to move our bodies. It's even more impressive when you notice the second cat, behind him, who's lying around doing nothing.
Cats knew it well before we did
We've always known that cats know a thing or two about social distancing, and now we can all learn from our furry friends. As this picture demonstrates, cats have never been big on showing affection, not towards us humans and not towards each other.
They even went as far as putting this pillow between them to as a dividing object, so that neither of them gets any ideas in his head. This is how you practice self isolation, and even after this whole thing is finally over and behind us, we can learn from Ripley and Cassie how to be together and yet keep a safe distance from one another.
If it fits, I sits
This cats is looking at us as if this picture is perfectly normal, and there's nothing unnatural about him sitting inside the bread basket. After all, he fits perfectly in there, and so he was probably happy about finally finding a place where he's comfortable, and he's also the spotlight during dinner.
We all feel like we need attention these days, since being locked inside the house all day affects us in ways we don't even realize. This cat is no different, and he wanted to be included in dinner and get the attention he deserves. This new spot is the best in the house, and it doesn't seem like he'd be willing to give it up any time soon.
How did he get there?
The look on this cat's face says he's not even sure what he's doing there or how he got there, but we can tell he looks busted. Perhaps he wanted to sneak a taste of dinner before everyone else. We all get hungry when we cook, and the smell that covers the house during the preparations for dinner is hard to resist; and it doesn't pass over our friends on four.
Or perhaps he just wanted to help his human friend with the cooking and preparations; it might be that cats are starting to get bored as well, and they're looking for new adventures around the house. Either way, it's important to be careful around cats – since they can fit in places you'd never imagine.
I could use a hand
Anyone who owns a cat knows how territorial they can get, and whenever a bee, a mosquito or god forbid – a mouse – dares to fly inside the house, the cat needs to eliminate them, as if it was his life's mission. They'd go to surprising lengths to do so, and we can only assume that's what got this cat in this bind (or blind).
There's a reason why they say the curiosity killed the cat, and this picture is here to prove there's a basis behind this time-old sentence. The lengths that cats are willing to go to fulfill their curiosity can be pretty dangerous from them, and pretty amusing for us.
I'm staying put
We've already seen that cats can fit at odd places, including bread baskets and cooking pans, but in case you needed further proof of their flexibility, take a look at this kitten, who's found a new home inside this UGG boot. It's a good thing those shoes won't be needed anytime in the near future.
Imagine wanting to put on your shoes and discovering this seconds before putting your feet inside! This seems like a dangerous place to take a nap, but it's another great way to ensure his owners don't leave the house when they aren't supposed to.
The perks of working from home
When your cat takes interest in what you do, or comes every now and then asking for some attention it's cute, but after three weeks of this, it can get rather irritating, and we know there's a fine line between cute and annoying. Working from home is hard enough as it is, without even considering the distractions our pets might create.
Anything our pets do seem incredibly cute the first few times, but when we need to buckle down and get some work done, it doesn't seem so cute anymore, and I'm sure cat owners in the crowd can relate. This is the thing about cats – they think that everything belongs to them and they can get away with anything, including sitting on the keyboard when you're trying to work.
Protection
These days it's advised to leave the house only with a face mask, to try and stay protected from germs. These plastic cones are usually used after a cat or dog goes through some sort of medical procedure and must avoid licking their faces, and these days we're advised to avoid touching our faces as much as possible.
It may well be that this cat has found a new means of protection when he wants to step outside and get some fresh air, or otherwise that he's adopting a new cat fashion for these new times. Whichever it is, judging by the look on his face, he seems very serious about it.
Mission impawssible
It was only a matter of time until our cats learn how to use technology. After all, they've been the stars of social media for years now, and they want to see what's all the fuss about. They see us using our smartphones all day, and they want to be part of the fun.
This cat has finally got his paws on the prize, and nothing can stop him now from seeing all the photos of him his owner has been posting on Instagram and Twitter. He's the real star of the house, and he deserves to enjoy his fame, so why not let him play with the smartphone? What's the worse that could happen?
Regression
After a month in isolation, we've seen how this new reality we're facing is affecting different people in different ways. Some of us try to make the best out of the situation, and try to stay connected to people as much as possible, while others experience regression and embrace the loneliness.
This cat, for example, seems to experience the worst kind of regression, so much so, he doesn't want to be part of society anymore. All he wants is the comfort of his mother's belly, something that he could never get back. At times we feel like we could sympathize with him, but mostly we're trying to keep our head up and stay optimistic.
You're almost there
Cats are notorious for their sense of self-importance, and we've already seen some harsh examples of cats taking hold of the house and keeping their owners from cooking, working and whatnot. The bathroom, apparently, is another one of the places that cats have conquered, and these days, when we're instructed to wash our hands every hour or so, it might pose a problem.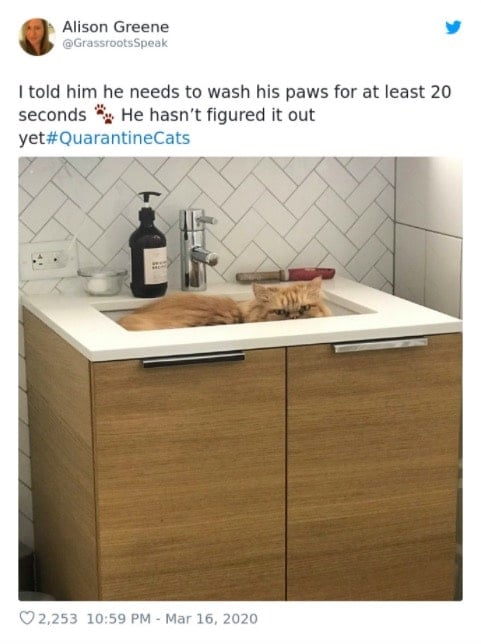 Judging by the angry look at this cat's face, it doesn't seem as if he's willing to give up his favorite spot; and we all know how much cats hate water – so you see the problem. Now that we can't leave the house, we need to learn how to share this space with the people we live with, whether it is our family or roommates, and apparently, our pets as well.
Seems legit
Some of us take the new health regulations and instructions more seriously than others, and some even take it as far as putting their cats in isolation after they sneeze. The World Health Organization said that our pets can't catch the virus and that they aren't contagious, but since then there has been a lot of contrasting information regarding this matter, and we don't know what to believe anymore.
The old saying is now relevant more than ever – better safe than sorry. As if things aren't strange enough for our pets as it is – having to adjust themselves with us and our constant presence, instead of having the house for themselves for most of the day – now they have to put up with our eccentricities.
Staying in shape
If you have a garden these days, you're considered incredibly lucky, since you can go out and enjoy the fresh air without actually having to leave the comfort and safety of your house. This cat took advantage of it and decided to have his daily workout outside, under the sun.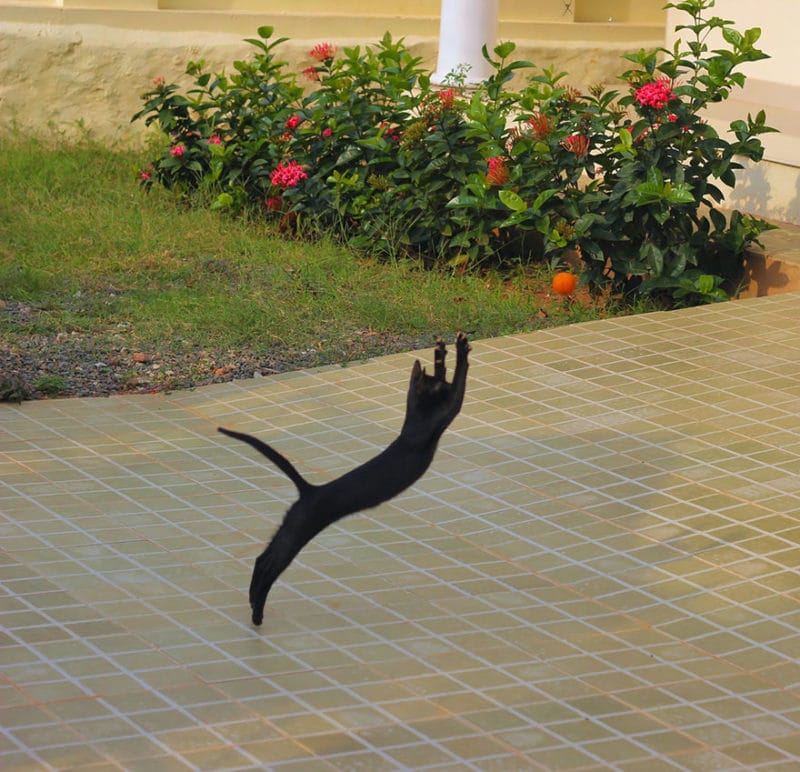 We can learn a lot from cats about self-isolation, but they can also teach us a lot about staying in shape. it might seem as if all cats do all day is sleep in different corners of the house, but truth is, they are a lot more active than we are, especially during this time of lockdown.
No complaints
Some of us have a hard time coping with this new reality of self-isolation, while others manage to see the bright sides of it – such as getting to spend the entire day in our sweatpants and finally getting enough sleep (not to say, too much sleep).
Clearly, Ollie the cat is having a hard time coping with this lockdown, and we almost feel sorry for him. Joking aside, we wish we were able to be a little more like Ollie, and instead of spending our days worrying over things we have no control of, we could just relax and try to enjoy this time.
Breaking the cat stigma
Okay, we've seen how crazy cats get during this lockdown, but we never expected to see anything like this. While cats can be very unpredictable, the one thing we thought we knew about them is that there's nothing they hate more than getting wet.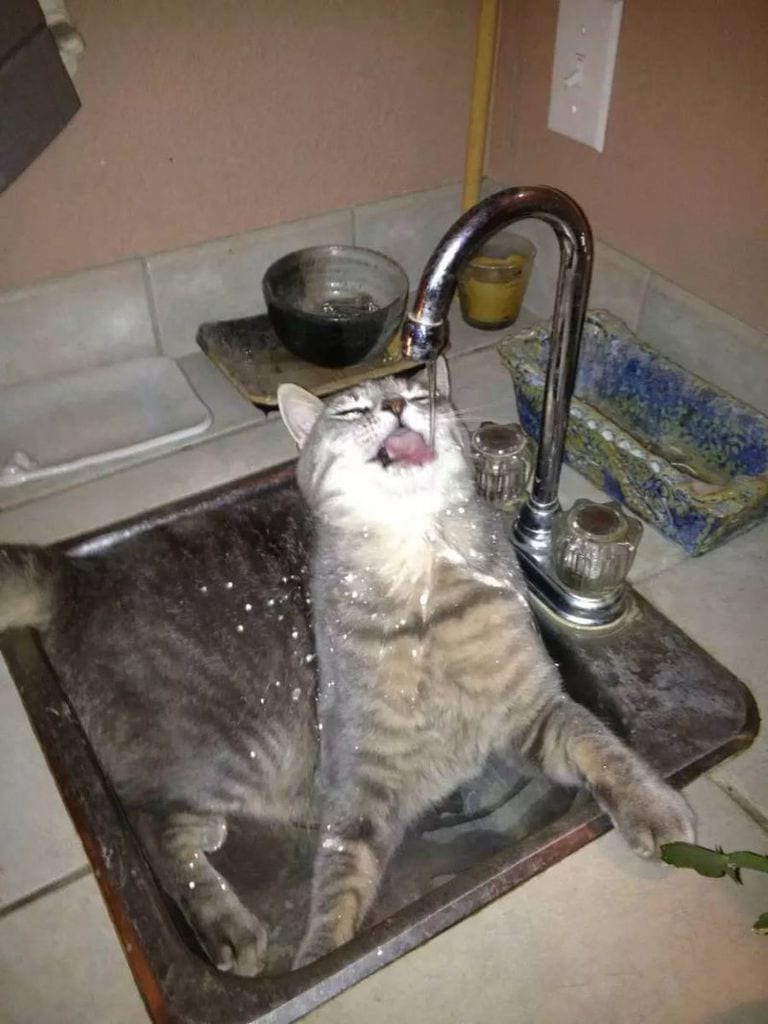 This cat proves us wrong, and once again teaches us we still have so much to learn about these mysterious creatures. Or maybe he's just an exception that doesn't mean anything about the rule, since we know every rule has an exception – we'd go with this option.
The cat's out of the bag
After so much time in isolation, even our cats get bored from sitting on the couch binge-watching Netflix all day, and they're here for us. This cat decided to play hide and seek with his human, and by the look on his face, we think the human didn't get the memo, and the cat was left waiting in this bag longer than he'd hoped.
However, this isn't a very creative hiding place, since every cat owner is familiar with his cat's unexplained fondness of bags. Most of the time, the real challenge is getting the cat out of the bag. We wonder if this has anything to do with the old saying, and why did they choose a cat for the metaphor.
If it fits
Cats like to sit anywhere they fit, and even if they don't fit, they sit. While their flexibility can be a source of envy for us inferior humans, it seems as if this cat had trouble fitting in this box despite his flexibility, since he was hindered by his fur.
Either way, he didn't let it stop him, and he managed to squeeze in as much fur as he could, and sit in the box, trying to implement self-isolation. We all know how hard it can be to find some peace and quiet in a crowded house, and the longer we're locked in, the smaller the house seems to get. This cat was looking for a refuge, and he found one in the shape of a cardboard box.
It's practically the same
After binge-watching Tiger King on Netflix (if you haven't already, now is just the time), we start to imagine seeing tigers everywhere around us, although we live in the city and we haven't really left the house in the past two weeks. Nevertheless, we're suddenly suspicious of our innocent cats being tigers.
You say bobcat, we say big cat, there's really not much difference. Hopefully, this show didn't get ideas into people's heads, because the next thing we know, they might want to adopt this cat and start their own shelter, reality TV show and everything that comes with it.
Surprise!
Cats have a habit of leaving the house and going for walks out of nowhere, and it might take them up to a week to come back. Imagine the surprise of these people when they thought their cat went missing, only to find him emerge out of the couch one bright day.
This picture is just the pick-up we needed during this time, when our mood is somewhat affected by staying home all day and losing all purpose, and it makes us want to march to the closest animal shelter and adopt a cat.
They have a point
Cats have figured out the secret to life way before we did, and as we now know – this secret is to stay away from people. This shouldn't be a problem for cats, who spent their entire lives getting ready for this day, and this is their moment to shine.
We know that cats can be somewhat self-centered, and so they probably think that what's good for them is good for us as well, so they raise a valid question: why would you choose to leave the house when you can stay home all day and cuddle with them?
Not the toilet paper
As every cat owner knows, cats have a very particular and peculiar obsession with toilet paper. For some reason, they enjoy playing with it and pulling on it. While in the past we had no problem with this innocent game, today toilet paper has become as precious as diamonds, and we can't afford wasting it.
Toilet paper has become the product of the hour – for some curious reason no one can explain – and it's no longer cute when cats play with it. On the contrary – it becomes annoying and unacceptable. However, we can't leave them hanging (the cats, not the toilet paper) and we need to provide them with a different source of amusement to replace the good old toilet paper.
Shower time
Every one who has ever owned a pet knows how much they resent showers. It gets even worse when it comes to cats, who, for some reason, fear water as if they were made of sugar. This explains why this cat looks very unhappy. However, we all have to make sacrifices for the people we love, and this is probably the biggest sacrifice cats have to make.
Now that we're home all day, and some of us aren't employed, we have all this extra time to take care of things around the house we might have neglected, including our pets. While they probably enjoy our attention most of the time, one thing they surely don't appreciate is the grooming.
Is it me you're looking for?
when you open the fridge late at night (we've all been there – we're not here to judge) and you find you're cat inside, it can only mean one thing – you've had enough of this isolation, and so did your cat. More often than not, we open the fridge simply out of boredom (you're not hungry, you're bored, we all know that), and if your cat is there, it means he's having a hard time as well.
Perhaps that's what our cats been doing this whole time whenever we left the house – raid the fridge. We've all seen The Secret Life of Pets, but until seeing this picture, we thought it was nothing but a nonsense movie.
And how was your day?
The streets are mostly empty these days, and this is the time for stray cats to shine. And yet, although they have the streets for themselves, this stray cat still preferred the comfort of the dog's crate. This situation is always an incontinence, even more so during a time like this, when you can't leave the house.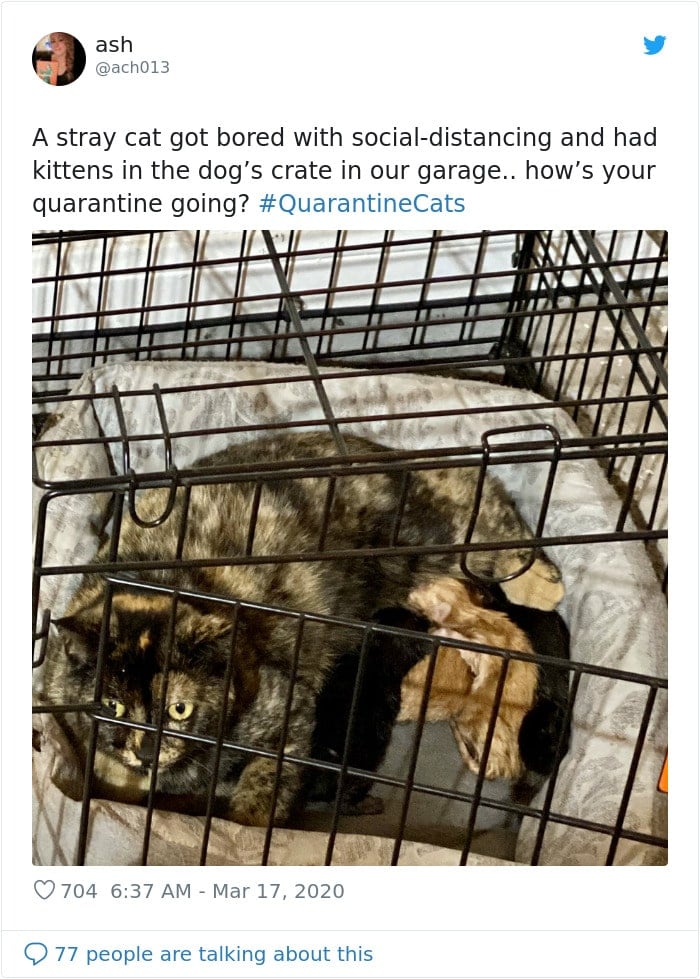 This cat sure found a comfortable spot for herself – the best in the neighborhood – but what we'd like to know is how did the dog react to this surprising, unpleasant sight. He couldn't have been happy about it, but perhaps during a time like this we need to open our hearts and learn to be more accepting.