These days, in light of the new reality we're facing, fathers are getting the chance to spend time home with the kids, and suddenly we learn they don't really know what they're doing! Despite their best efforts, some fathers are completely clueless when it comes to taking care of children, and perhaps now is a good opportunity for them to finally learn how to behave around babies and master the skill of parenthood! In the meantime, we can laugh along with them at some of the unfortunate mistakes they make.
Bon apetite
I'm no expert when it comes to parenting, but even I can tell you with certainty that a medium-rare steak isn't an adequate meal for a three-year old kid. There's a reason why young children have a very specific diet, and that's because their teeth are only starting to grow, and they're not yet strong enough to chew certain foods, steak among them.
This father probably figured that if he's enjoying steaks for dinner, there's no reason why his kid shouldn't enjoy the same meal. He probably felt as if his kid was mature enough and deserved to enjoy a proper meal. Dads can be like that sometimes – thinking their young kids are mature and ready to give up baby food, when clearly, they aren't.
Father of the year
Juggling between work and parenting commitments is always a challenge, and as it turns out, so is juggling between parenting and video games time. Now that we have all this free time at home, men enjoy this opportunity to catch up on some long-forgotten video games, but they also need to step up and help their wife with the kids every now and then.
This dad found a way to combine both things – spending time with his baby, and with his other baby – the video games.
That's how you learn
Fathers have a different approach to kids than mothers; while mothers tend to be more protective (some people would even say over-protective), fathers are more allowing and forgiving. They trust their children to learn things by themselves and allow them to spread their wings.
While we appreciate this girl for trying, obviously she wasn't prepared to drink from this big bottle without any help, and the father realized it a few seconds too late. That's how kids are – if you take your eyes off them for even a minute, you never know what's going to happen. Hopefully, this dad learned from his mistake.
Everything's under control
We don't know his this happened, and we're not sure we want to know, but all we can say is that the father seems proud and contented, if somewhat clueless, trying to convey business as usual. It's hard to keep track of all the accessories babies require when leaving the house, from the pacifier, to the bottle and the baby wipes, it's easy to forget something behind.
Somehow mothers are always prepared for every scenario, but fathers, on the other hand, are more likely to find themselves in such unfortunate situations. Next time he takes the kid out, I'm sure, this father won't forget the most important thing – bibs and burp blankets.
Watch out!
Playing catch with your kids is always a good idea, especially during this time, when leaving the house is not an option – playing with the little ones is a great way to move your body and stay in shape – both for the kids and for the parents.
However, it seems as if this dad haven't played catch in so long, he forgot he's not supposed to let the kid catch the ball, certainly not while he's holding him up in the air. This is what happens when dads are left alone with the kids without adult supervision, but perhaps this was a good lesson for him, and he needed to learn this the hard way. Too bad the kid was the one who payed the price.
Dad clothes
There are dad jokes, dad sayings, dad recipes, dad rules and dad clothes; we're all familiar with them and we all love them (when we're in the right mood). Dads have a certain perception of life that applies only to them, as if they can make their own rules and live by them.
Apparently, those rules also apply during their kid's wedding. Everyone has to dress appropriately, except for the father who gets to stay in his favorite pair of shorts and sandals. It might be awkward and tiring at times, but we wouldn't love them as much if they were any other way – we love them for their quirkiness.
Seems a bit overkill
If it seems like an overkill, it's because it is. When this wife left her husband alone with the baby to go grocery shopping, she thought he could hold down the fort alone for an hour or so. All it took was one message to let her know she was sadly mistaken. Even when they're given orders, fathers can still be clueless.
This mother it was obvious she meant size four diapers – who would put four diapers on a baby? – but she learned the hard way that nothing is obvious, and everything needs explanation. At least this long period of self-isolation provides fathers around the world the chance to spend time with the children and finally learn those basic things.
Dad methods
Fathers have special methods when it comes to cleaning, house chores and care giving, that they never apply around mothers, but only when left on their own. Some of these methods include eating off the floor (i.e. the three seconds rule, which sometimes become the three minutes rule) and eating expired products (expiration date is nothing but a recommendation).
We're all familiar with these questionable rules a little too well, aren't we? Another one of those dad rules is that licking your baby is a perfectly reasonable way to clean him. Of course, he shouldn't have eaten this burger over his baby's face to begin with, but fathers have their own logic.
A tiny accident
Potty-training is one of the hardest challenges with babies – knowing when is the right time to abandon those diapers, giving the kids the right training, and adjusting to the new reality – on both ends. Perhaps this father gave his daughter a little too much credit and thought she was ready to leave the diapers behind a little to early.
He was probably eager to see his daughter take this first step, but he paid the price for this poor judgment. At least he was home when this accident happened and he could take a shower right after, but this has taught him an important lesson that accidents can happen during potty-training, and the piggy-backs can wait.
Swim diaper, swim
The swim diapers, like many other baby accessories, are meant to make life just a bit easier for parents who are only beginning to learn the secrets of parenthood. The swim diapers are designed for those hot days when you want to take your kids for a dip in the pool.
It's too bad this father forgot about the magical swim diapers and used a regular one instead when he decided to take his kid for a swim. During those isolation days when we're home all day, spending some time under the sun in the backyard is a great option – just make sure you don't forget about the swim diapers.
Bath time
Every parent out there can sympathize with the look on this father's face. When he drew this bubble bath to his kids he never thought he'd end up with this mess. We can learn something from every one of these photos, as if these fathers had to go through these mistakes for the benefit of the greater good.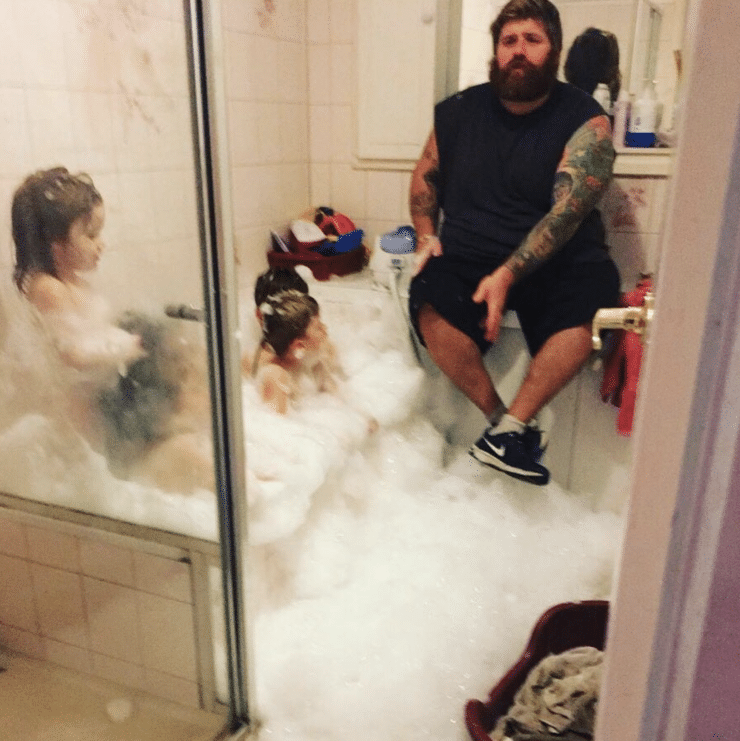 Perhaps the biggest lesson we can learn from this photo is that bubbles and kids don't mix – next time you want to give your children a bath, leave out the bubbles. Judging by the desperate look on his face, this father is probably thinking about cleaning this mess, wondering what he did to deserve this.
Nailed it
This father found the perfect way to play video games without being disturbed, utilizing his kid's playpen for his own benefit – if this isn't thinking outside the box, I don't know what is. Of course, the kid should be the one playing with his toys inside the playpen, and not the other way around.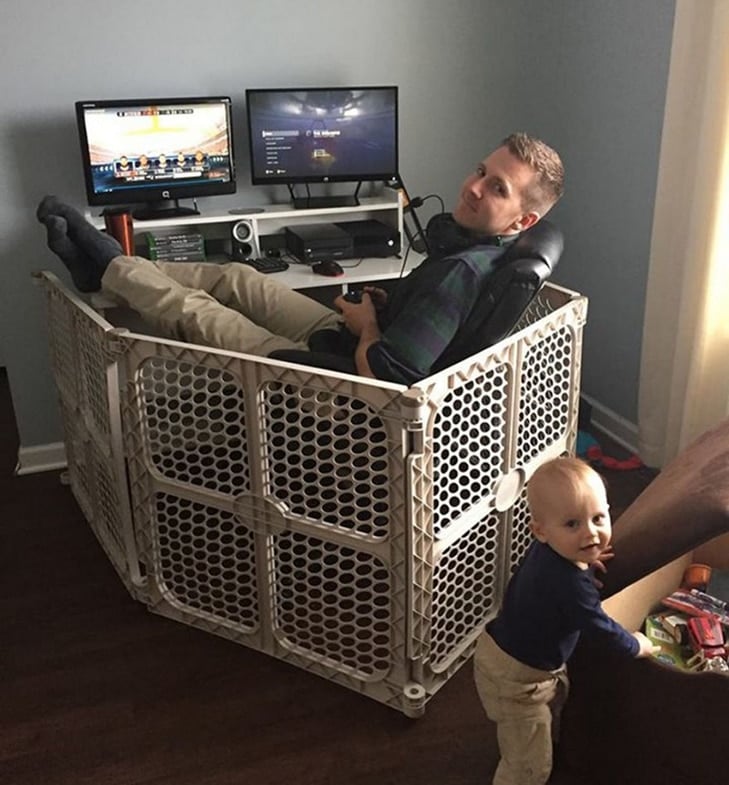 Both of them seem pleased with the situation, although I'm not sure what the mother might say when she comes home. The kid has freedom to play with whatever toy he pleases, and the father can enjoy his video games in peace. It almost looks like the kid is watching over the father, and not the other way around.
Overalls
They're called overalls because you can put them over the clothes – over all – and this is not a recommendation, but an instruction. But we've already seen how fathers make up their own rules, even when it comes to clothing their babies. Hey, this fashion might catch on some day, when fathers will be in charge for a change.
When the kindergarten teacher saw Olivia dressed in overalls and nothing else, she immediately knew her father was responsible for this. Overalls are a great item of clothing for babies – they're comfortable and they look incredibly cute in them – but knowing that they're supposed to come on top of a shirt is basic knowledge.
What's in the bag?
You'd never catch a parent leaving the house without a diaper bag, and this father figured out the best way to never leave this bag behind – put the baby in it! We've already established the importance of this bag, and since parents have so many things to take with them, it's easy to leave something behind.
This is a smart solution on so many levels: with the baby inside the bags ensures you never forget it (the bag, not the baby) and it also saves valuable space. why carry the baby separately when you can put him inside the bag? If you ask me, he looks comfortable enough, and it looks as if the father is think, "why not?"
Laundry
The different house chores are always divided between the mother and the father, and it's almost as if there's an unwritten rule that says fathers are responsible for washing the dishes and mothers are responsible for the laundry. When it comes to cleanliness and order, women know better, while men know their way around the dirty dishes.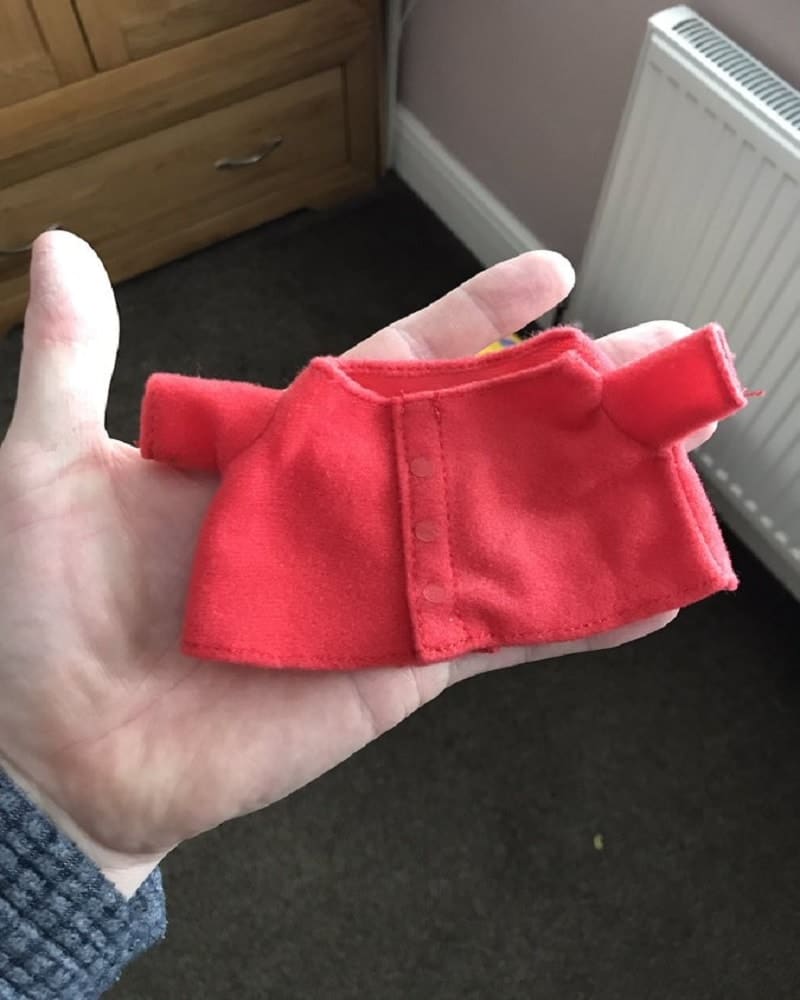 Now that fathers are spending all this time home, they figured it might be an opportunity to help take some of the load off the moms, and learn how to handle the laundry. However, this is what happened on his first try, and I doubt it if this mother will ever allow her husband to touch the laundry again.
Hold on tight
It seems like this was a bad idea to begin with, and this accident was inevitable. never mind the girl is covering her father's eyes and he can't really see what he's doing, but it seems like this rope wasn't meant to hold two people, and certainly not an adult, who's probably way too heavy for this.
Mothers would never try to play this game with their kids, but they'd sit aside and watch as their kids play safely. Dads, on the other hand, like to play with the kids and be goofy, proving that age is nothing but a number, and they are still young on the inside. We appreciate this and we love them for their adventurous spirit, until someone gets hurt.
Collateral damage
When schools and day cares are out and you spend the whole day at home with the kids, accidents of this kind are bound to happen. We carry our phones everywhere we go, and as valuable as they are, those smartphones are also very fragile.
When you spend all day, every day with young kids, your phone might get caught in the mess and serve as collateral damage. Kids have very little sensitivity to their environment, and when they're playing and running around the house, you should be prepared to have something (of not many things) broken.
Stroller
A stroller can be two things – a baby stroller and a supermarket stroller – this is the kind of life hack only fathers can come up with. This father was already carrying the baby stroller, and he's only got two hands, so this seemed like the obvious solution.
His daughter probably doesn't care much for this arrangement, and hopefully for her, he doesn't have many things to get. Women are known for their ability to multi-task, while men can only get one job done at any given moment moment; that's why when he's grocery-shopping, that's all his mind is set out to do.
Haircut inspiration
These days shopping malls and barber shops are closed, and so we need to discover our creative side – we've all got one – and do things by ourselves. However, it seems as if in this case, the mother should've cut the kid's hair, instead of leaving the job for the father.
When a man watches too many reruns of The Simpsons, you know it's going to end in a disaster one way or another. Luckily, it probably doesn't matter that much to the kid, having this or that haircut, but I can't imagine the look on his mother's face when she saw this fiasco.
Let them have cake
This seems like a shaky situation, and whether it'll be the cake or the baby that ends up getting hurt, this will end in tears. Getting them to fall asleep isn't a simple task, but once it's done, babies can sleep soundlessly, so that must be the reason why this father didn't hesitate to use his kid as a mobile table for his cake.
Pregnant women get to use their giant bellies as mobile tables, so why shouldn't dads get to have their mobile tables as well? If you thought leaving the kids alone with the father was a good idea – you've been warned – this is the kind of brilliant ideas fathers come up with. We said you need to unleash your creative side during this isolation period, but this is not what we had in mind.
Charlie Brown
This father probably saw this Charlie Brown pullover and just couldn't resist the temptation, and to be honest, we would've probably done the same; the resemblance is uncanny!
This would make a great Halloween costume, and even though the holidays are behind us, during these times of boredom and uncertainty, we could all use some entertainment!
Luke, I am your father
When your home with the kid all day during this endless isolation, you get bored and you start to improvise. Keeping the kids entertained at home all day without a structure and without leaving the house is a challenge we never thought we'd have to face, and desperate times call for desperate deeds.
We're not sure if this is the lockdown talking, but we actually find this pretty funny. This father is obviously a Star Wars fan, and his first order of business during the isolation was to watch the franchise again, which is probably what gave him this idea.
All bundled up
Swaddling is a practice as old as times that's meant to keep babies warm and secured from the outside world. It takes years to master this skill, and few people ever manage to get it right. This father decided to break the convention and give it chance, hoping to prove to the world than man know how to swaddle.
He took his own unique approach to it, and the result is something else entirely, but we salute him for the effort. If you look closely, all this dad really did was pull the pants up to the baby's shoulders, but the thought is what counts, and as long as the baby is warm, we encourage this kind of creativity.
The picture says it all
If there's one thing we've learned from this list is that mothers and fathers have a different approach to parenting, and that's okay – we need this balance, since mothers can get over-protective sometimes.
This picture perfectly demonstrates the different approach of mothers and fathers: while mothers are protective, feeling as if they need to hold the kid's hand through every step he takes in life, fathers are more relaxed, not necessarily in a bad way.
Safety measures
Babies are extremely delicate, yet they're also extremely evasive, and they require all eyes to be on them constantly. When this father was left to watch the kid by himself, he found the perfect way to make sure the baby doesn't go anywhere while he attends to other matters.
It's tricky when you're watching a baby alone but you also need to prepare dinner, and it'll always be a mystery how mothers manage to do it. We don't mean to bash every dad out there – they're certainly doing their best, it's only that their methods are somewhat unorthodox, to put it nicely.
Bubble trouble
This father wanted to have some fun with his baby – like all fathers want, really – and decided that if he's going to bath him, he might as well have some fun with it. Since his baby has no hair yet, he had the freedom to create whichever kind of hairstyle he could think of, and w'ere spotting Elvis Presley and Santa Claus among the designs.
Not every baby likes to take baths, but it seems as if this baby is enjoying himself, and this is all that matters. Just like us, the baby sees the funny side to this. However, we're not sure how the mother reacted when she saw those photos.
Toy store shenanigans
We don't even know how to react to this one, and we certainly can't explain it. Although it seems as if the baby is laughing, we think this father has gone one step too far trying to have fun with his baby. He's supposed to have fun with him, not on his expense.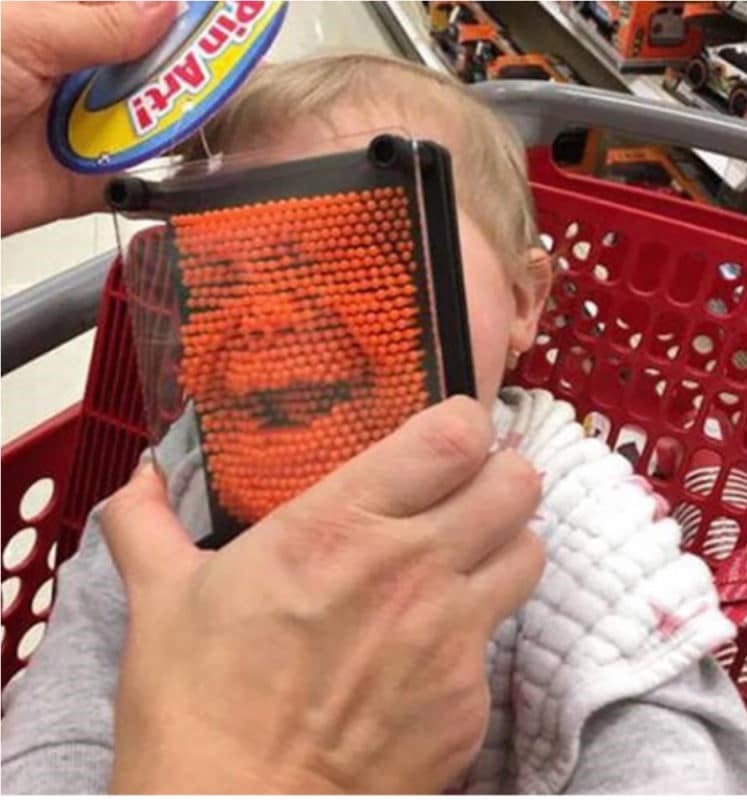 Perhaps he just wanted to see if his baby's face is small enough to fit in this pin and needles toy, and now we've all got the answer. During those confusing and uncertain times, when we're all required to stay home, we do whatever we can to keep ourselves entertained, even if our kids don't approve of it – this father is not asking for anyone's permission.
Keep cool
We all get tired and distracted when spending the day with the kids, and when we're distracted, we often misplace things and find them in odd places. This is probably what happened to this dad when he finished repairing his kid's toy and put the WD-40 back in the fridge, where it doesn't belong.
Imagine the surprise on his wife's face when she opened the fridge to find this. To be honest, though, we shouldn't be too hard on dads for this honest mistake, since this kind of mistake can happen to mothers just as easily – after all, we all misplace things such as phones and glasses when our mind is elsewhere.
Fun with dad
This is yet another example for the kind of irresponsible games dads play with their kids. We get it, and we're not here to judge – staying home all day with the kids for an unprecedented and unknown period of time can get pretty boring pretty fast, and this father was probably just trying to have some fun and entertain his children during these uncertain time.
We appreciate his effort, but this is yet another reason why fathers shouldn't be left alone with the kids. If you're looking for activities to do around the house during this self-isolation, consider DIY projects, online museum tours, learning a new hobby, learning a new language and so on and so forth.
Congratulations
Coming home from the hospital with your newborn baby is always an exciting moment, and there's not much that can ruin this wholesome moment. At least, that's what this couple thought before realizing the husband and new father left his keys home.
He's only been a dad for a couple of days, and already he's practicing his dad fails and acing it. Today it was the house keys, tomorrow it might be the bibs or anything else. There's never a good time to forget the house keys, but this seems like something only a very excited, overwhelmed dad can do.
That's not right
Now that every day is Saturday, there's nothing like opening each morning with some nice pancakes, to start the day off right. This is a great opportunity for fathers out there to finally familiarize themselves with the kitchen and learn some new recipes.
This dad is obviously a newbie in the kitchen, since confusing curry and cinnamon is a rookie mistake! We can understand his confusion, though, since these small jars do look surprisingly similar, and yet, if he hadn't caught on to his mistake in time, this could've made for a very unpleasant breakfast.
A hot mess
If the previous photo wasn't enough proof that fathers and kitchens don't always mix together, this one is ought to send the message. Now that movie theaters are closed, we try to have the next best thing at home: movie night on the couch with a hot bowl of popcorn. However, this dad has somehow managed to ruin this simple task.
Perhaps he should've gone with the ready-made popcorn instead of trying to experiment with this uncharted territory. Really, there's no way to ruin a bag of popcorn – all you need to do is put it in the microwave. Then again, making mistakes is how you learn! Good luck cleaning this up.
"Let dad handle it"
All this girl wanted was to get her hair out of her face, so she could run around and play with her brother and sister. When she approached her mom for help, she was sent to her dad, who was completely clueless as to what's supposed to hold the little girl's hair. We can't be too hard to him for this one, since, to be fair, he never had long hair and so he doesn't have as much experience in this field.
What he does know about is repair work, and so he used an item he was familiar with – a zip tie. Every sensible person out there can tell this isn't right, and the zip tie doesn't belong there – that's what hair ties are for – but this dad did what he could in the face of this challenge.
Happy birthday!
As children, our parents used to ask us what kind of cake we want for our birthdays. Some of the popular choices today include an Elsa cake or a football cake; a running-nose cake is something we've never heard of before. We thought that cakes are always appetizing, no matter the shape, but this one makes us want to look away.
Even if this is what the kid has asked for, only dads are capable of executing such an unappetizing cake. It's a great project to work on together with the kids, but it seems as if a normal cake, cookies or any other kind of baked good would have been just as much fun to prepare, and a lot more pleasant to eat.
Going for a walk
At this point of the list we realize that fathers have a weak spot when it comes to leaving things behind – whether it's the house keys, the burp blankets or the diaper bag. However, this precaution measure to make sure he doesn't leave his kid behind seems like an overkill.
We get the idea behind this – he wants to make sure his daughter stays safe and close to him even if he looks away momentarily, but we don't approve of this execution. To begin with, his daughter looks a bit too old for this safety measure, and besides – she's not a dog!
Something smells
If you're going to use a diaper disposal, the first thing to remember is to put a bag inside, so as to avoid touching the dirty diapers. Chancing the touching dirty diapers is a task every parent has to learn how to handle, and at some point, when parents get used to it, they don't even mind it anymore.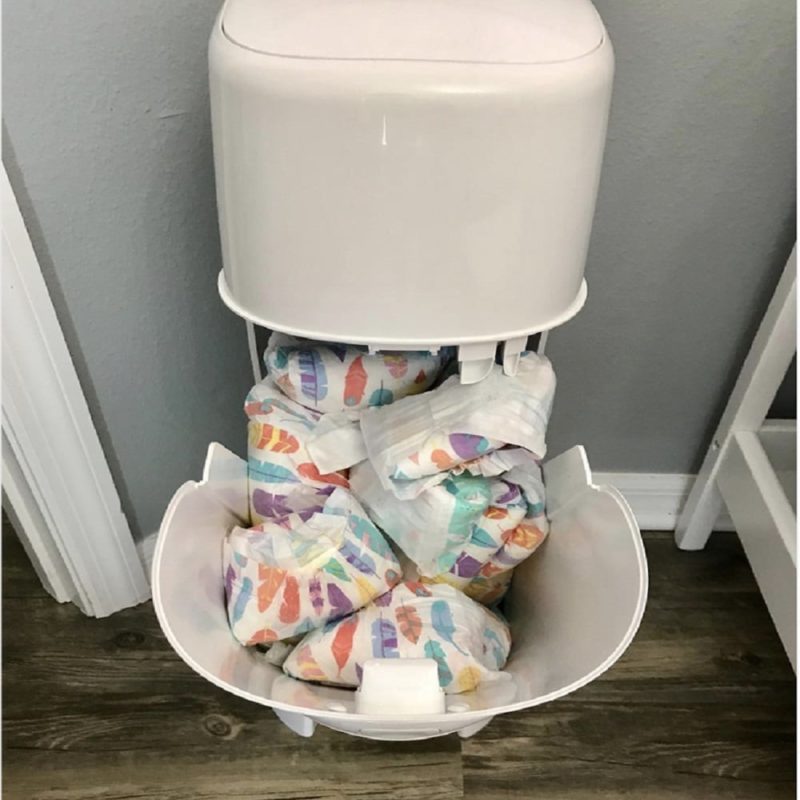 However, touching the dirty diapers after they've been sitting in the diaper pail all day isn't something you get used to. We've a;ready established that learning how to operate all the different baby appliances takes time, but once again, forgetting to put a bag in the diaper pail is a rookie mistake.
Milk
For his defense, they do look suspiciously similar. I only hope he made this mistake only once, with his bowl of cereal, and not with the kids' breakfast as well! I'm not as concerned about the laundry, although this might be the last time his wife allows him anywhere near the washing machine.
This photo makes you wonder how come those two bottles look so much alike, but then again, the answer is obvious: they never thought anyone could be so clueless as to confuse between the two! They shouldn't even be stored at the same place in the house, which makes you wonder about the choices of this father.
Nap time
We're not completely sure how this happened, but we imagine this father wanted to hug his baby until he fell asleep, and then this happened. Putting kids to sleep by pretending you're going to sleep as well is a known method – children often imitate their parents – but actually falling asleep before your kid does isn't the idea.
At least one of them is sound asleep, although it seems as if the father is taking up so much space in the crib, it might be hard for the baby to fall asleep next to him. The only question we have left is how did the father even fit inside the crib in the first place.
A bundle of joy
All the different baby accessories and appliances can get pretty sophisticated, not to say complicated, and some of them are not very intuitive. It takes time learning how to operate the different accessories, even the ones that seem simple and straight-forward, like the baby carrier.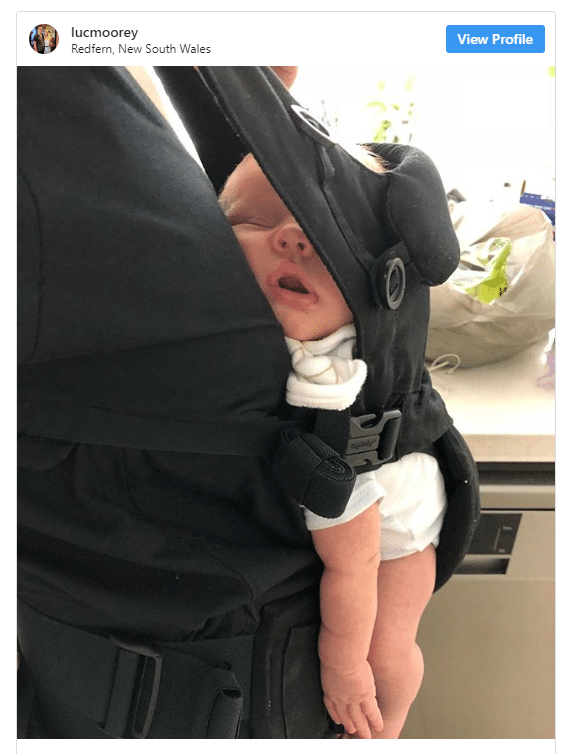 We can't even tell what's going on in this photo, but we can tell that something's not sitting right. This dad wanted his baby close to him while he attended to the house chores, and the obvious solution is the baby carrier, provided that it's used as it was designed. However, the baby seems comfortable enough, and he still managed to fall asleep, so challenge completed!
"Baby"
This is perhaps the worst one we've seen yet: this dad actually needed to put a "baby" sticker on his baby, so that he wouldn't confuse him with anyone or anything else. It's safe to assume this is another bored dad, who, in an attempt for some amusement and entertainment, played with his label maker and went a little too far.
After labeling everything in the house, he took the very unnecessary step of labeling his baby. He must have done it when his wife wasn't around, since I don't see how she could've approved of something like this. On the other hand, the baby doesn't seem to even notice what's happening, and as long as everyone's happy, no harm done.
Apples and onions
Apples, onions, what's the big difference? They're both round, and when you wake up early to prepare the kids' lunch boxes, it's easy to confuse the two, right? Imagine the surprise and dismay on this kid's face when he opened his lunch box to discover an onion inside.
Maintaining a healthy diet is important all year round, and especially now that we're spending all this time home with very little physical activity. However, it's important to know your fruits and vegetables, and know your apple from your onion – while both are important for a balanced and healthy diet, only one makes you cry.
Pancake face
This is another example of what happens when you leave dad alone with the kids. Especially during this time, when we're all stuck at home, almost going mad with boredom, leaving the dad in charge of the kids is more dangerous than ever. This is a photo he'll cherish for generations to come, proud of this work, and we can't wait to see the girl's reaction when she sees this in another twenty years.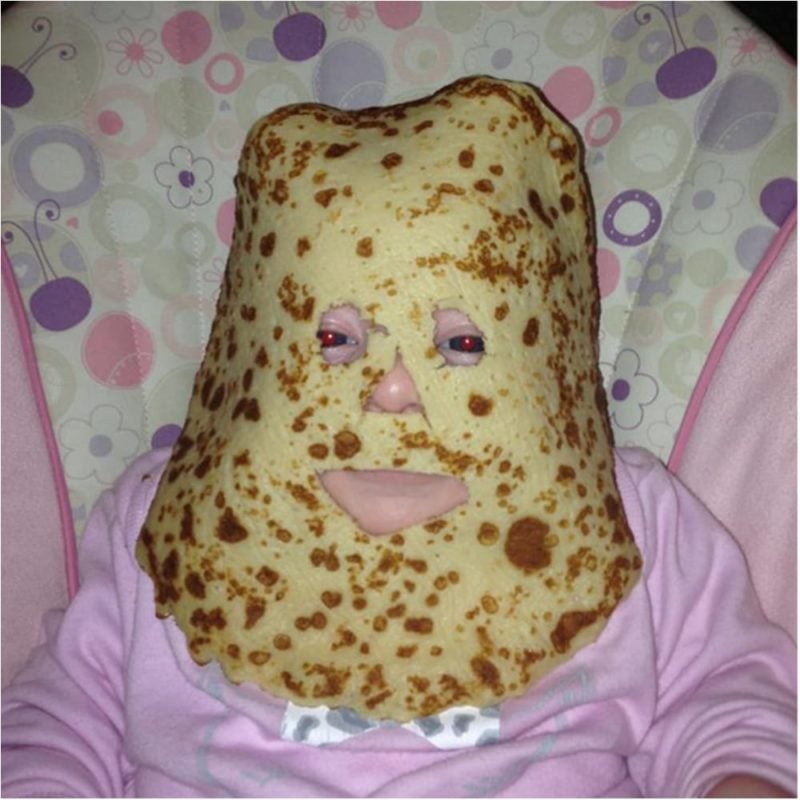 To be fair, we're pretty sure the father didn't discriminate, and made one of these masks for himself as well. Either way, it doesn't really make it any better. The first thing our parents teach us when growing up is that food is not a game, and this father is teaching this daughter the exact opposite.
Helping out
This kid was probably so excited about finally getting the chance to spend all day home with her father, and she was even more excited when he let her help with the house chores. However, we can think of plenty of house chores that are kid-friendly, and this one doesn't belong in this list.
We don't even want to think of the sobbing and screaming that will follow if the girl moves her finger even an inch at the wrong moment. Next time you need another pair of hands to help out, when it comes to nails and hammers, it's better to ask your wife or even a neighbor.
Space man
This isn't a costume, but the new clothes this dad bought for his daughter. Shopping for clothes for young children shouldn't be that much of a challenge – more often than not, they don't really care what they wear, as long as it's comfortable and they can run around in it. This ensemble certainly looks comfortable, that much we can say.
We don't want to sound outdated or anything, but perhaps her mother should've gone shopping instead of sending her father for this task. Men can hardly shop for themselves, so expecting them to guess what their kids would like seems like too much to ask.