All fifty states comprise the great nation that is America, but other than that, they don't have much in common. Every state has its own peculiarities that make it unique, and if you've ever wondered how the rest of the U.S perceives your state or hometown – gather your sense of self-humor and join us to find out – it's guaranteed you'll have at least 49 laughs while scrolling through the list! If you come up with a photo or description that better captures the state – feel free to share with us!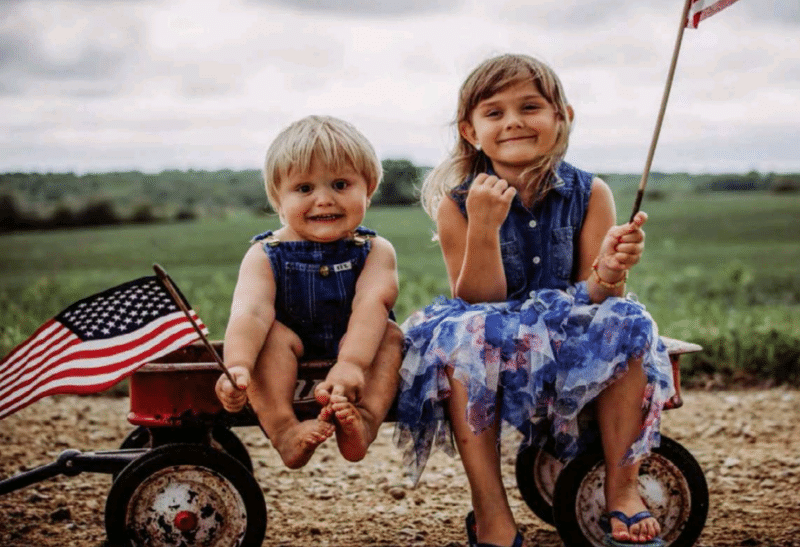 50. Rhode Island
Being a small state such as Rhode Island has its perks; for example, you never have to spend two hours on the road on your way to work, since you can drive from one end of the state to the other in under an hour. Also, growing up in a small place, you get to really know your neighbors and learn how friendly everyone in Rhode Island is.
Being a small state, however, also has its downside, like anything else, and for Rhode Island, this downside is mainly being made fun of your size! But luckily for Rhode Islanders, their state pride is a lot bigger than their state, and so they embrace the jokes and they've developed a healthy sense of self-humor. That's why the sign welcoming you to Rhode Island reads "So small and cute, Hello Kitty wishes she was us!"
49. New Hampshire
Moose can be found in different states around the U.S, but in New Hampshire, as this photo suggests, they're a much bigger nuisance than in other states. This photo was taken at a backyard in Bedford, New Hampshire, when a couple woke up one day to find a moose in their private swimming pool, to their great surprise (well, perhaps they weren't that surprised, it's still N.H we're talking about).
New Hampshire is known for its beautiful landscape and picturesque wilderness, but with this wilderness comes the wildlife, which seem innocent enough from a distance, but up close, as anyone from New Hampshire will tell you, isn't too pleasant. While the people of N.H normally live happily and in harmony with the wildlife, sometimes, when such incidents take place, it can get somewhat uncomfortable.
48. California
It's no secret that California is all about "live and let die" – all they care about is catching a good wave, sunbathing and overall enjoying life and everything that their beautiful state has to offer. That's why this photo best captures the essence of California – The Land of Milk and Honey. Californians have a clear value system, and religion, mostly, is not at its top, but comes after surfing, bodybuilding and Hollywood.
If there's one stereotype about the state that even Californians won't dare dispute is that they're all liberal hippies, and this photo proves that while some stereotypes have no hold in reality whatsoever, others are simply truth that people need to accept and embrace.
47. Hawaii
This photo might mistakenly be considered as California, but Hawaii is the surf capital of the U.S, and this photo isn't photoshopped, but a real surfboard accident that took place in Hawaii. It's no wonder that such a thing might happen when every other person drives with a surfboard on top of his car, though we still have a hard time figuring out how exactly did such a thing happen.
Aside from the Hawaiian shirts and the professional hula-hooping, Hawaii is most known for its inviting waves, and it's not just one of the best surfing destination in the U.S, but in the world. In fact, the sport (or art, if you ask any Hawaiian) of surfing originated in Hawaii – so it was probably just a matter of time until an incident like this occurred.
46. Oklahoma
There are plenty of states in the U.S that are notoriously known for being unhealthy (too many), and Oklahoma is at the top of the list. Visit any restaurant in Oklahoma and you'll soon learn that the motto is to fry anything they can, whether its meat, cheese, vegetables and even rattlesnakes – everything tastes better when its fried (no one's arguing with that).
This tweet makes the stereotype come to life, proving that when it comes o fried food, Okies would stop at nothing – not even gummy bears! Deep-fried gummy bears are an original Oklahoma invention, and we don't recommend to try it at home. At least Okies are aware of their condition and they're proud of it; Oklahoma has a lot of good things going on for it, but leading a healthy lifestyle isn't one of them.
45. Utah
When we think of Utah, the first word that comes to mind is "Mormons," and people living in Utah are probably sick of people from other states thinking they're all Mormons. This is another one of those stereotypes, however, that is completely based on reality; over two million Mormons live in Utah, which is one third of the total number of Mormons in the U.S.
So perhaps not everyone in Utah are Mormons, but in a state where it's not uncommon for kindergarten children to be aunts and uncles, it's not far-fetched thinking that every other person that comes from there is a Mormon. Another explanation, however, is that the birthrate in Utah is among the highest in the country, and even non-Mormon families have a lot of children, so this creates somewhat of a confusion.
44. North Carolina
Turns out when they're not fighting over who makes the best barbecue, North Carolinians are busy misspelling signs. North Carolina is known for a lot of great things, such as the friendly nature of the locals, Pepsi cola and the beloved Krispi Kreme chain which both originated in the Tar Heel state, but unfortunately, it's also known for some other, less flattering things.
One of those unflattering stereotypes about North Carolina is their inability to spell, and this photo doesn't help refute the prejudice, especially given that it demonstrates such an ironic mistake. Of course these are nothing but baseless stereotypes, and next time you visit the country, after having their famous BBQ, you can learn about the great nature of the locals.
43. Kansas
Finding a photo that better captures the essence of Kansas (or at least how it's viewed around the U.S) isn't a simple task. It's not a coincidence that the terrible tornado of the Wizard of Oz, the one that started Dorothy's adventure, took place in Kansas; the state is notoriously known for its unfortunate windy weather and the tornadoes that accompany this kind of weather.
Every person who grew up in Kansas is probably sick of being asked if they've ever been caught in a Tornado. Not many people know that while Kansas is incredibly windy, and it does have an unfortunate history of tornadoes, it's only ranked number eight on the worst tornadoes in the country, after Iowa, Tennessee, Alabama, Mississippi, Indiana, Oklahoma and Arkansas.
42. New York
It's true that the state of New York has a lot more to offer than just New York City, like any Up Stater will proudly tell you, but they shouldn't be so quick to dismiss NYC altogether – after all, it's not just an important city (and the biggest city) in the state, but it's one of the country's most iconic cities, and for a good reason.
People from New York, and particularly from New York city, have a major superiority complex, and that's just one thing that makes them so different than the rest of the county. Say what you will about New Yorkers, that they are too proud, they're rude, they're quirky, one thing is sure – they live in their own bubble, which can be all summed up by three words: New York Subway.
41. Virginia
Perhaps it's because a great part of the Civil War was held at Virginia, but for some reason Virginians seem to be stuck in the past. They are all history buffs, and more specifically, all obsessed with the Civil War. That's why they throw annual reenactments of the Civil War, and everyone in Virginia has in their closet periodic outfits.
It's not just the annual Civil War reenactments, but all around the state you will find war memorials keeping it alive. Most importantly, like every state, Virginians are in somewhat of a denial, and if you confront them about the Civil War fetish, they'll say it's just a healthy hobby; In Virginia, like every other state in the U.S, their loyalty for their state comes first.
40. New Mexico
Every state has its local pride, whether its Kentucky Fried Chicken for Kentucky, or Budweiser for Missouri, and for New Mexico this pride is their hot green chile. First of all, they call it "chile" rather than "chili," and they take it very seriously if you get it wrong. They also hold an annual chile festival – the Hatch Festival (photographed below).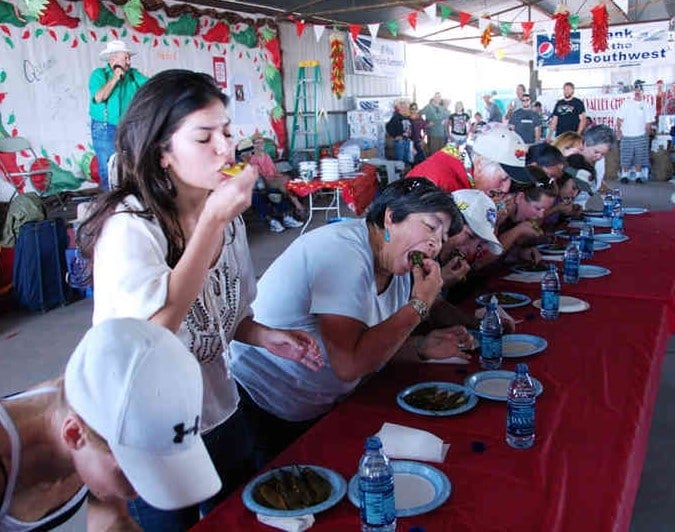 Aside from the chile, people from outside of New Mexico seem to think the Breaking Bad character of the bored chemistry teacher who becomes a drug dealer involved with the Mexican cartels is the embodiment of New Mexico, so it was a close competition between that and the chile. But ultimately, there's almost nothing they value more in New Mexico than their green chile.
39. Alabama
Every other state in the U.S is convinced they make the best barbecue, and so do Alabamians. But they are also famously known for their warn, Southern hospitality, so they just might be right about the best barbecuing skills, if you add to it their hospitality skills and top it off with their famous sweet tea (which is more sugar than tea).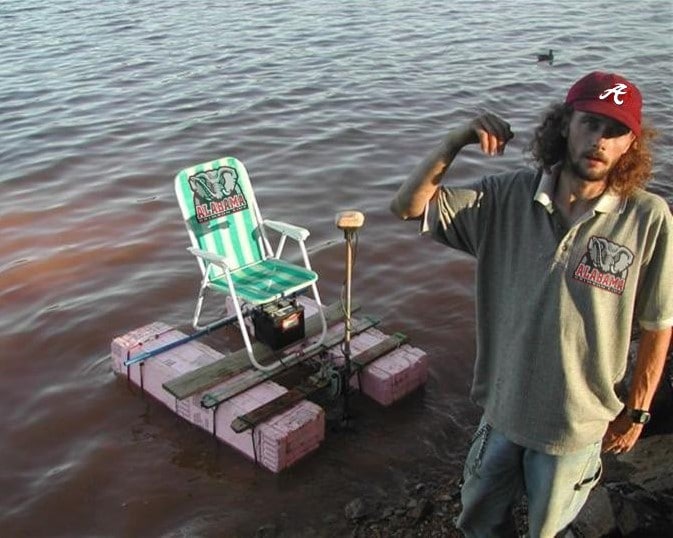 The song goes, "sweet home Alabama" since everyone who steps in Alabama immediately feels at home. Maybe it's the warm hospitality that we mentioned, and maybe it's because Alabamians are not as pretentious as other states. Take this fellow, for example, and his innovative chair-boat, though it seems too small for having guests, it seems inviting nonetheless, and it carries the pride of the Alabama Crimson Tide.
38. Illinois
We said that every state, whether they like it or not, has its own iconic food. For New Mexico its the green chile, for Oklahoma its everything that's fried (and the deep-fried gummy bears) and for Illinois its the deep-dish pizza that originated in Chicago. While most people from Illinois will argue they don't touch this stuff and they're better than that, it's still considered a state pride.
Properly named, the deep-dish pizza is a pizza made inside a deep dish that allows for more cheese, more sauce, and basically more of everything. It constitutes a great part of the tourist attractions in Chicago, and after their notoriously cold weather, and their love for the Cubs, this is what Illinois is most known for around the U.S.
37. Nevada
The first thing that comes to mind when we think of Nevada is a vast desert, and the second thing is Vegas. While there are plenty of interesting things to see and do in Nevada, such as the impressive nature and canyons, but when most people think of Nevada, all that comes to mind is partying in Vegas and for good reason. Sin City was created as a city for entertainment, and it still serves as one today.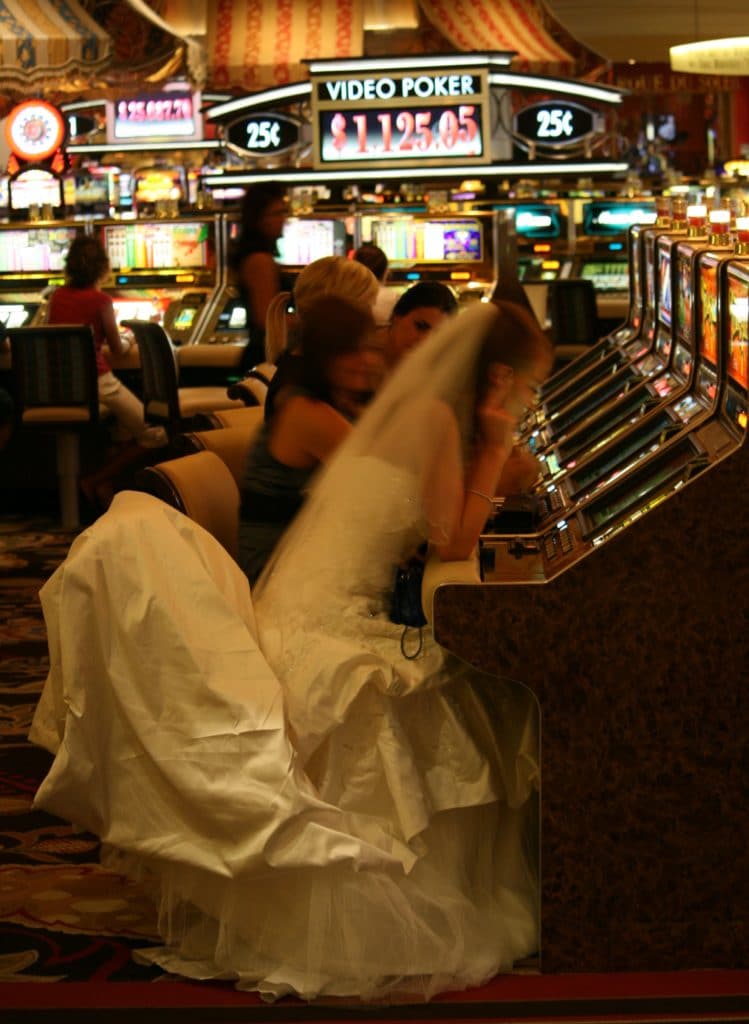 Two things Vegas is notoriously known for are the casinos and the easy process of acquiring a marriage license, which isn't a good combination, as this picture proves! Some people seem to believe that aside from wedding chapels, there are no churches in Vegas, and that every other person who lives there is either a cocktail waiter (or waitress), an Elvis impersonator, a gambler, or all of the above.
36. Arizona
Arizonians like to believe that they are most known for is the Grand Canyon, and while it's not that far from reality – it's still called the Grand Canyon state – when thinking of Arizona, what most people really think of is the senior citizens. Forget the Grand Canyon (with all due respect), Arizona is ought to be called the Senior Citizen state.
We can't blame them for wanting to spend their golden years in the warm weather of Arizona, traveling and spending some relaxed, quiet time under the sun. Though they are completely harmless, Arizonians don't appreciate the reputation they bring with them. Florida provides them with tough competition on the title, but ultimately, Arizona is the undisputed state of old people.
35. Michigan
When they leave the house, every Michigander knows by now to be ready to have both summer and winter on the same day, to be prepared either for a snow fight or a sunbathing session. That's why this photos best depicts the cold state. Although wintertime in Michigan lasts nine months, due to extreme weather changes, they might get to experience all four seasons all in one day.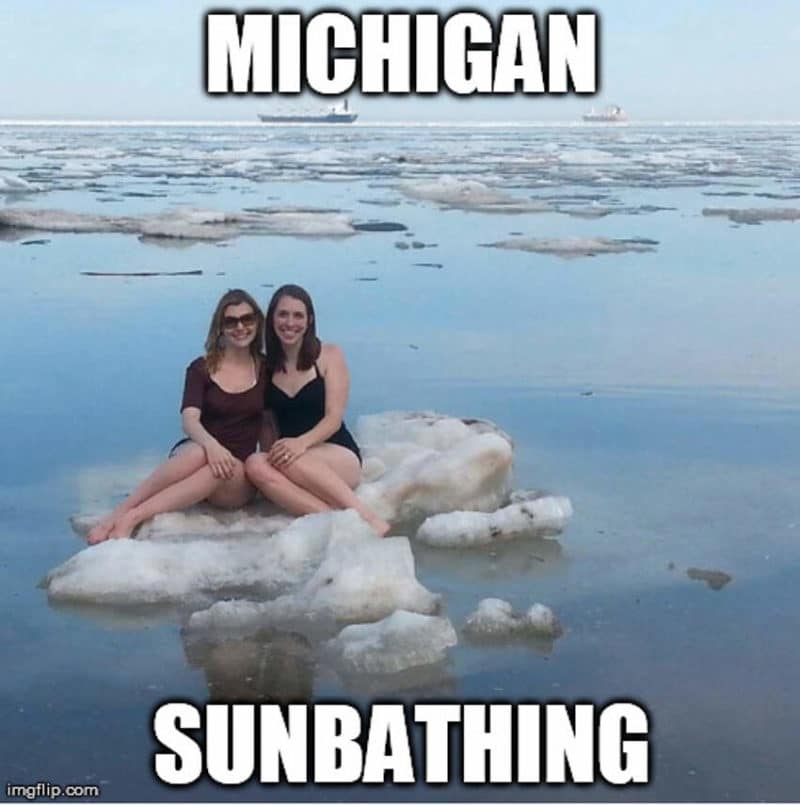 At least they make the best out of it, and they make their weather their main subject of conversation, complaining about it every chance they get. Another advantage of living in a cold state is the hunting conditions, which Michiganders make good use of, as hunting is basically their official sport. Sunbathing in the snow and hunting – they don't have it too bad.
34. Massachussets
Many states have their unique accent, but not many accents are like the one of Massachusetts. How bad is the Massachusetts accent? Even road signs have it, so that locals would have an easier time understanding the road signs (and obeying them). This goes to show how much this accent defines Massachusetts, the people who live there and their culture.
Aside from the unmistakable accent, Massachusetts has a lot to be proud of, mainly Harvard and MIT, which attract the country's sharpest brains. In Massachusetts you'll find the smartest people in the country, and also the most hardcore sports fans. How do these two things go together? We're not sure, but somehow they make it work in Massachusetts.
33. Tennessee
What characterizes Tennessee most is their love for country music (it's not just Nashville, though it has a lot to do with it) and their loyalty for their sports team, pretty much like any other state in the U.S. But in Tennessee they don't do things halfway, and so they take their two biggest passions – country music and sports – to the next level, as this photo shows.
The only time you'll find them outside of their cowboy hats and boots is when they put on the customary orange outfits to express their team's pride. But joking aside, while all people born and raised in Nashville are aspiring country stars (much like everyone in Hollywood is an aspiring actor), Tennessee should be proud of its country music culture.
32. Maryland
What an unfortunate (and extremely funny) coincidence it is that this car accident happened right in front of the sign welcoming you to Maryland, and how lucky is was that someone was there at the right moment to capture it. There's no photo that better captures the essence of Maryland, as it's known for being the state of the worst drives in the U.S.
Maryland is notoriously known for its bad drivers (and its seafood, but that's for another article), particularly Baltimore drivers, who are ranked almost every year consecutively as the worst drivers in the United States. They were rocking the bottom ten for a long time, and for the last two years, they made it to the first spot. It isn't exactly something to take pride in, but at least they have their seafood to comfort them.
31. Pennsylvania
If you thought horse-drawn buggies are long gone from the world, it means you didn't pay a visit to Pennsylvania in quite some time. What the Quaker State is most known for, of course, is their massive population of Amish, who, incidentally, use horse-drawn buggies as their leading means of transportation. Since Pennsylvania is home to the largest population of Amish in the country, seeing a horse-drawn buggy along the roads is not an uncommon sight (in some parts of the country more than others, to be fair).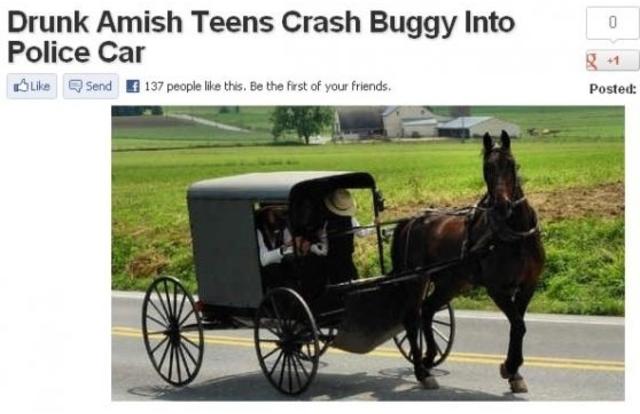 Seeing a drunken Amish teenager crashing the buggy into a police car, however, is a whole other story. However, perhaps when you have the biggest population of Amish in the country, incidents such as this one are not as uncommon as we might think.
30. Alaska
Alaska is known for plenty of things, including its beautiful nature and landscapes; but this beautiful nature comes with a price, which is that it's populated by an alarming wildlife that consists of grizzly bears, moose and other large mammals (that are only friendly in cartoons), and most importantly – mosquitoes. While many countries in the U.S suffer from a mosquito epidemic (ask anyone from Texas), in Alaska it became an even bigger nuisance than the grizzly bears.
This sign best depicts the essence of Alaska, and not just how people from around the U.S view it, but unfortunately how they view it as well. Alaska has over thirty different species of mosquitoes, and while not all of them are deadly or even dangerous, they are more than ready to nibble on human skin – which doesn't have to be dangerous for it to be unbearably annoying.
29. New Jersey
The typical New Jersey guy depicted in the notorious Jersey Shore has a lot to do with the state's reputation. However, in the case of New Jersey, the reality show wasn't too far from reality, and chances are if you pay a visit to any bar around New Jersey, you're likely to see at least one group of fist-bumping, spray-tanned guys wearing too much hair gel.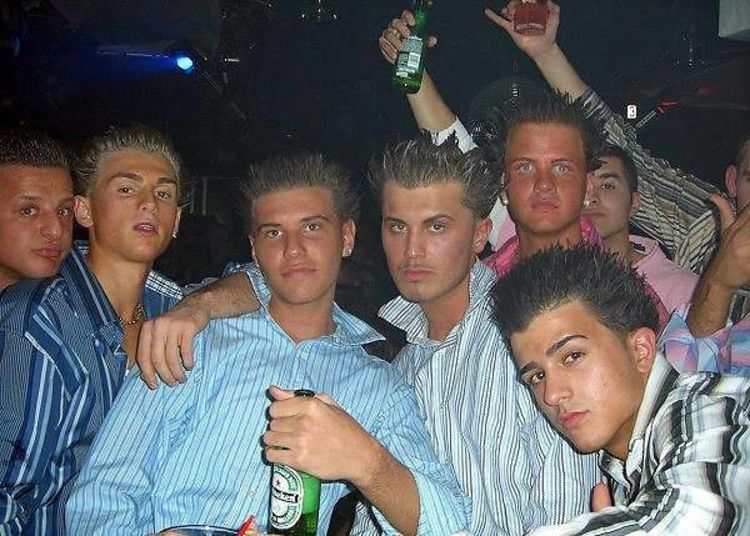 But no matter how much we make fun of New Jersey (they make it too easy for the rest of the U.S) nothing ever gets to them, because their state pride is even bigger than the amount of gel they put in their hair. The Jersey pride is a real thing, and people from New Jersey will go tremendous lengths to defend their beloved state.
28. Idaho
There are several states in the U.S that are known for being extremely boring, and at the top of this list is Idaho. Being notoriously boring means that the locals get excited about vending machines, because there are no other attractions whatsoever. That's why this photo embodies the biggest stereotype (which isn't really a stereotype, if we're completely honest) of the Gem State.
Aside from being notoriously boring, Idaho is also known for their famous potatoes – the Idaho Potatoes (they don't get extra points for creativity). The state might be boring, but at least they have their potatoes to take pride in, so things could be worse. People in Idaho are also some of the most cheerful people you'll meet, and so they manage to take pride in their state, no matter how boring it is.
27. Vermont
They say that people in Vermont are outnumbered by cows, and though this may be taking the stereotype a little bit too far, we didn't check, and we're inclined to believe it! That's part of the reason why the official sport of Vermont is tipping cows, and why it's not uncommon to find scattered around signs warning of cows on the road, as well as signs warning against tipping cows, such as this one.
We're joking, of course, and in fact tipping cows isn't just extremely wrong, it's also physically impossible, since cows are that much heavier than us; and so Vermonters know better than anyone else not to mess with them. However, we're only joking about the tipping of cows. Vermont does have a very large population of cows and other large mammals, such as moose and bison, which is the source of endless jokes, on our part, and distress on the part of the locals.
26. Washington
Washington is a very diverse state, but while all the different groups comprising it are different in essence, they share some mutual hobbies that bring them all together. These include drinking coffee, drinking beer, watching sports, and of course, smoking – and we don't mean cigarettes, but rather we're referring to the guy's sign in the picture below.
Another thing that all the people in Washington enjoy, strangely, is cycling. Every other person in Washington owns a bike, and when they're not too busy patronizing other states, or smoking, they enjoy riding their bike around the city. Turns out that much like the diverse population, Washingtonians also have extremely diverse hobbies.
25. Arkansas
Arkansas has a pretty unfortunate reputation as being one of the most hillbillies states in the U.S, something that is only sometimes correct (and only in some areas of the state) – but this photo doesn't help with this reputation. This random sign can be spotted in many places around the U.S, but incidentally, it was spotted in Alabama, and it's here to tell us that some areas of the state still have some pretty hillbilly conventions.
The hillbilly reputation of Arkansas has a lot to do with Hollywood and the entertainment industry, which panted it in such a way pretty much it was established. While the stereotype is outdated and exaggerated, they do have farms in Arkansas, where they out up such signs, they make their own moonshine, and their favorite sport is hunting.
24. Georgia
The state fruit of the Peach state is – you guessed it – peaches. That's why seeing the word misspelled on a cabin which sells peaches is a rather unfortunate mistake, and one that doesn't make a good reputation for the state. Or maybe that's how they pronounce "peaches" in the famous Southern accents? That's also a possibility, though it doesn't seem likely, but we'll give them the benefit of the doubt.
One of the stereotypes about Georgia, which this photo makes it hard to argue with, is that people in Georgia aren't educated. However, not many people from out of the state know that Georgia is a leading state when it comes to colleges, and Franklin Springs is ranked among the 100 most educated cities in the U.S.
23. Colorado
All American states take their sports team with utmost seriousness, but few can compete with Colorado and their love for their precious Denver Broncos. Their other major love in Colorado are their precious dogs (who come after the Broncos, naturally), and so this photo embodies everything that Colorado is about.
We're not making this stuff up – Colorado was in fact named one of the worst sports states in the U.S, meaning that they are hardcore fans, the kind you don't want to mess with. The obsession over the Denver Broncos isn't just reserved for the people of Denver, but all around the state they have a blue and orange epidemic.
22. South Dakota
We've said before that several states in the U.S are notoriously known for being boring, and one of those states is South Dakota. Yes, they have Mt. Rushmore, but it's not really that much of an attraction, and if you ask anyone from South Dakota, they'll tell you that after seeing it for so many times, you start resenting it.
However, they do take pride in Mt. Rushmore, since that's the one thing that makes them less boring than North Dakota – their eternal rival. The only other thing they take pride in, except for Mt. Rushmore, is the fact that at least they are somewhat better than North Dakota, which is just as boring as South Dakota is, only it's colder.
21. Iowa
According to popular belief, all there is to see in Iowa are endless cornfields. While people from Iowa try and convince you this is nothing but an outdated stigma, it's hard to argue with this sign! Hand in hand with this conception goes another one – that everyone in Iowa are farmers, because someone needs to tend to all this corn. This might be a wild exaggeration, but it's not completely baseless – Iowa is third most productive agricultural state in the nation.
This is not something to make fun of, however, on the contrary – they're proud of their corn, and why shouldn't they by? Have you ever tried it? They say it's really good. Aside from the corn, of course, there is plenty to see and do in Iowa, including nature attraction and a rich cultural life.
20. Maine
Maine is no different than any other cold state, which constantly get mocked for their cold weather. That's just because people from warm states don't know how to handle the cold, and so they have no appreciation for it. Mainers, on the other hand, embrace the cold weather, and make use of everything it has to offer, like this picture suggests.
But cold weather is not all about fun and games, and it has its disadvantages as well. Did you know that Maine is the state with the largest number of moose in the U.S, and that in its peak, it can get to over 500 moose-men road collisions during the Moosiest months of the year?
19. Ohio
Ohio is another one of those boring states, but at least in their case, they know their state is boring, especially when it comes to food. Much like Iowa, they have endless corn fields, and so chances are anyone you meet from Ohio has spent a period of time living in or next to a corn field.
Despite it being such a boring place, people from Ohio are still proud of their state, and proud to call themselves Buckeyes. That's why wherever they go, they make sure to take a photo like this one, expressing their state pride, so that everyone around will know where they came from, even at the most inappropriate of places, such as funerals.
18. Kentucky
It's not a myth, people in Kentucky really do love their fried chicken, and they're famous for it. That's why Kentucky is the place that brought us Kentucky Fried Chicken (well, it brought us Colonel Sanders, who brought us KFC), and so they will always hold a special place in our hearts. We also know that somehow, the KFC in Kentucky really does taste better, and so that's reason enough to visit the state.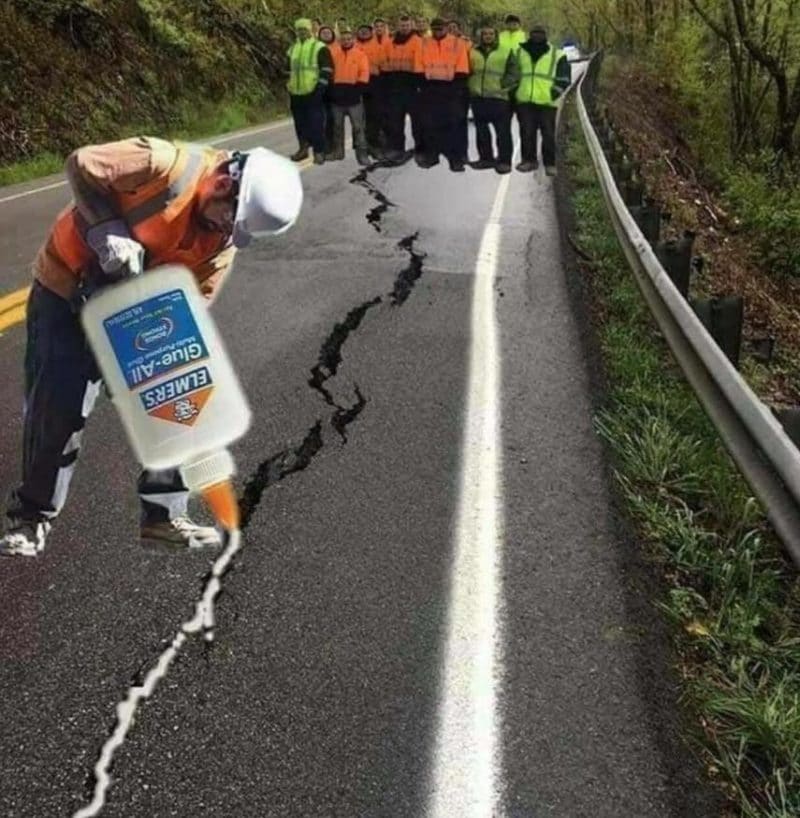 However, despite the glorious chicken, Kentucky has a long way to go when it comes to construction and road maintenance, as the picture shows. While in a lot of ways Kentucky is very developed, cultural and has a lot to offer (besides fried chicken), in many ways it still has a lot to improve, like any other place.
17. North Dakota
We said before that North Dakota is just as boring as South Dakota, only it's worse, because it's also incredibly cold! And when you're a boring state with cold weather, all you really have left for entertainment is hockey (or ice hockey in this case) and guns, though guns are in no way a from of entertainment. That's why North Dakota take their hockey (and their guns) very seriously.
Holding a hockey raffle that hands out guns as the prize is something you can see only in West Fargo, North Dakota. We don't really need to add anything else, because a picture speaks louder than words, and this initiative of the West Fargo Hockey Association says it all.
16. Wisconsin
Wisconsin is called the Dairy Land for good reason, since they are among the leading producers of dairy products in the country. When you have so many cows, producing dairy products is the only logical thing to do, and so it's no wonder that Wisconsin received this title. They also love cheese, and what they like even more is liquor, and more specifically, beer, like this sign shows.
People in America's Dairyland are famous for their love for beer and cheese, and so a common pastime in Wisconsin is hitting the local watering hole with friends, wearing plaid flannel shirts, watching football and drinking beer. But being the leading dairy products producer in the nation has its perks, aside from cheese, in the form of ice cream. Not many people know this, but Wisconsin is the place where ice cream sundaes were created.
15. Louisiana
People tend to deny their state's stereotypes with all their might, but in the case of Louisiana, there's no way to deny that what they like most it to party, and what they do best are festivals. Though Mardi Gras is their biggest festival of the year, they don't sit around for twelve months waiting for it to come around, rather they find any reason to celebrate all the time, and so every Tuesday in Louisiana is a cause for celebration.
With partying, of course, comes drinking, and so people from Louisiana know a thing or two about drinking. While they won't deny their love of partying, they might not agree on the drinking part, but that's just a stereotype they have to learn how to live with, because it doesn't seem like it's going anywhere. Perhaps the drinking has something to do with it, but people in Louisiana are also among the nicest people you'd ever meet.
14. Indiana
In Indiana, you learn how to ride a horse before you learn how to walk, and showing up in school on a horse is considered perfectly normal. True, we can say that about different states around the U.S, but people from Indiana are known to love their horses. That's why this is what an Indiana drive-through looks like.
If it isn't a horse, the second-best means of transportation in Indiana is a tractor, which you're not considered a Hoosier if you don't own. But say what you will, there's almost no other state that is loyal to their sports team as much as Indiana, and they take pride in it.
13. Wyoming
Wyomingites' favorite sport is hunting and fishing, and so it's no wonder that meat is the main component of their diet. When you have such a large population of large mammals, including moose, bison and buffalo, Wyomingites figured that hunting was the best thing they can make out of it. They're also probably the only state in the nation where people known the difference between bison, buffalo and moose.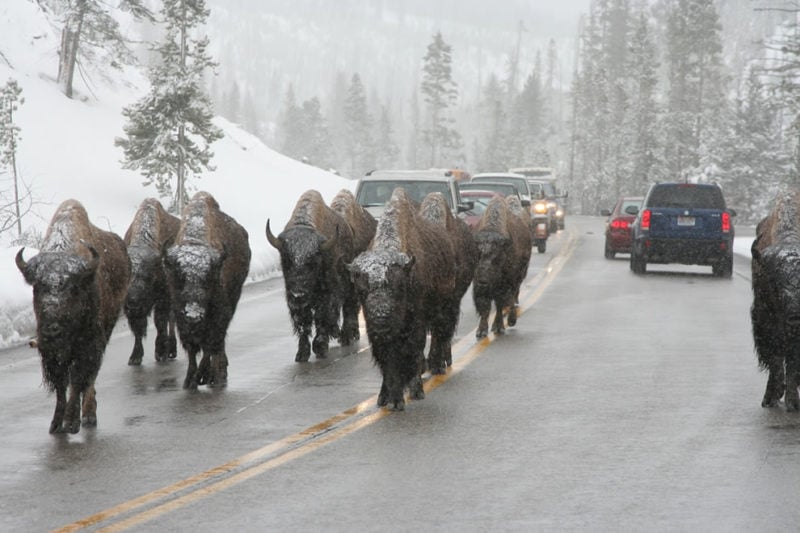 When meat is the main component on your dinner table, it means you know how to cook it, and so Wyomingites take pride in their meat. Although the large population of mammals occasionally cause some minor inconveniences to the people (such as the one shown in the picture), mostly they live in harmony.
12. Florida
Growing up in a hot state like Florida has its perks. One of them is being accustomed to alligators, rather than fearing them; the alligator population in Florida is so massive, people are no longer scared of them by now, on the contrary – they take them in as pets. Another perk is knowing how to handle warm weather. While they fear the cold, they thrive in hot weather and humidity.
Over 1 million alligators reside in the area of Florida, and so it's not uncommon to find them in unusual places, such as your backyard. All is good and well, only it doesn't seem too safe having this alligator (never mind that he seems to be a baby) next to the human baby and the little girl! I don't think this father will be up for Father of the Year award anytime soon.
11. Missouri
Missourians by now have learned not to trust the weatherman, and the word weather actually contains no meaning for them whatsoever. That's why, as the picture show, they can have rain (or flooding, to be precise) and have a barbecue on the same day, though to most people it wouldn't seem like an ideal barbecue weather.
Missourians know by now to always leave the house equipped to have any kind of weather, whether it's sunny or snowing, and they also never leave the house without their famous cheerful disposition! Joking aside, we'll always appreciate Missouri for being the home of one of the most popular beers in the U.S – Budweiser.
10. South Carolina
The woman has the same chance of winning the Mother of the Year award as the guy from thew Florida photo has of winning the Father of the Year award. People in South Carolina know all about living in the country, and if you don't believe us, their favorite sport supports this claim: mud-bogging. Mud bogging is a sport invented in South Carolina, where you drive a truck through a pit of mud.
Anyone who considers himself a real South Carolina native has experienced in this sport at least once in their lives, and for others, it's their usual Saturday outdoors activity. They also enjoy drinking, which doesn't seem to go too well with mud-bogging or babysitting. But joking aside, South Carolina has a lot to offer, such as beautiful nature and national parks.
9. Mississippi
The biggest stereotype of Mississippi is that it's such a simple place, the best attraction there is visiting Walmart. After that comes watching college football, religiously going to church, and hunting. Several states compete for the title of best barbecue in the nation, and as this picture shows, Missisippi constitutes tough competition for them.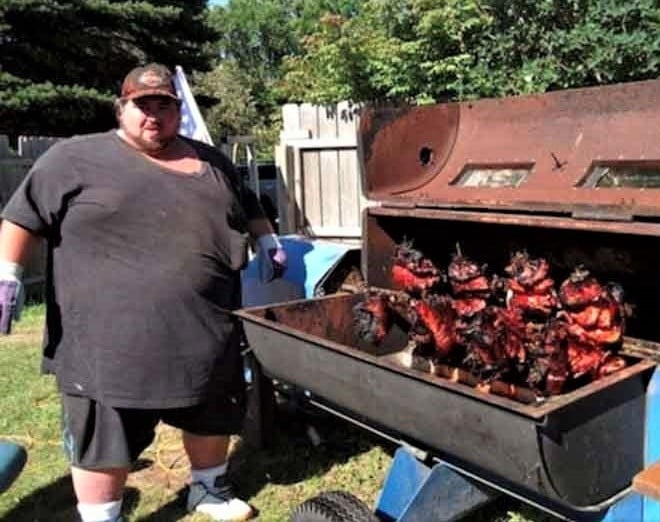 Mississippi is also an incredibly friendly place, the kind of place where everyone knows everyone and they meet every week to barbecue and watch college football together. That's why their hospitality skills in Mississippi are some of the best in the country, and their love for meet, and for their friends, allows them to throw some of the best barbecues in the nation.
8. Delaware
This is just an unfortunate name that embodies everything the rest of the country thinks of Delaware. Crabby Dick's is an honored Delaware establishment, where they serves crabs and other seafood. While their seafood is surprisingly good, their sense of creativity not so much. The guy who opened the first Crabby Dick's restaurant was probably named Dick, and he sold crabs, so that seems like a reasonable name; too bad he didn't realize it has another meaning.
Delaware is known for their love for seafood, and particularly crabs, any day of the year and in any shape – whether it's steamed crabs, crab cakes and any other form of crabs you can come up with – they have it, and it's as good as it sounds, since crabs are one of the state's main sources of pride.
7. Connecticut
Turns out that Connecticut is that boring, they started charging people for throwing rocks in a lake! 50 cents (excluding tax) sounds like an unreasonable price to me, then again, any price for throwing rocks in a lake sounds like an unreasonable price. Connecticut is the fourth wealthiest state in the country, so it seems weird that they'd be the one to charge money for such a silly activity.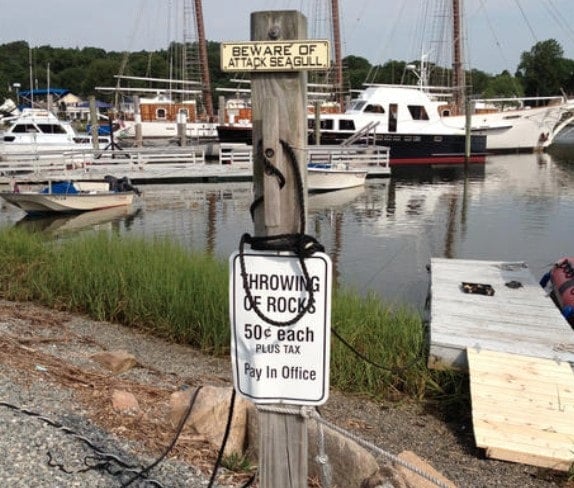 And don't think we missed the "beware of attack seagull" sign, which is just as strange as the bottom sign – is there just one seagull? And is he trained to attack whoever dares throwing rocks without paying? This list proves that nothing is impossible, and some places can be just as weird as others.
6. Oregon
They say that Oregon is the land of the hippies, and that they give a good fight to the hippies of New York City. One thing that supports this stereotype is the fact that they are incredible coffee snobs – in Oregon, they only drink fresh brewed local coffee, and they shop exclusively in local farmer markets, due to their high awareness of sustainability.
While in the big cities, namely Portland, you can find just as many hipsters as in NYC or California, the countryside of Oregon is a whole other story. The cities and the countryside in Oregon are like two different worlds, and if you visit both on the same trip, you'd have a hard time believing you never left the state.
5. West Virginia
Hollywood and the entertainment industry have painted over the years a rather unfortunate and unflattering image of West Virginia, and they fail to mention that what the state is best known for is their love and talent for playing the banjo. It's such an important part of their culture, that they even hold annual banjo contests, much like New Mexico holds chile festivals.
Not many people know this, but West Virginia has a rich heritage of playing the banjo, as well as other musical instruments, and they are responsible for a great part of America's musical culture. They celebrate with several music festivals throughout the year, all of which include playing the banjo.
4. Texas
We know that among the Southern states, Texas has it worst when it comes to stereotypes. They say that everyone in Texas wears cowboy boots and cowboy hats, they all drive pickup trucks (and horses) as legitimate means of transportation, and the two things Texans love more than anything are beer and guns. They love beer so much, even the armadillos are drinking it – the local Lone Star beer, naturally.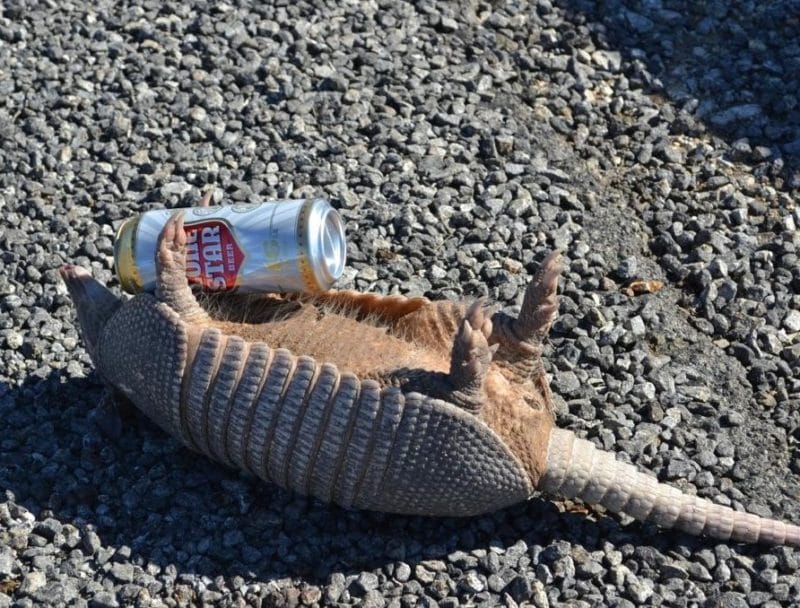 That's why this photo best embodies all the Texas stereotypes. If there's one stereotype that is completely true, however, is that you shouldn't mess with Texans, and perhaps also the Texan armadillos, after they had a few beers and possibly got a heat stroke from the hard Texas sun.
3. Montana
Montana, also known as the Treasure State, does have plenty of hidden treasures, but the bears aren't one of them. Or they are, depends who you ask. Their favorite sport in Montana is hunting, perhaps because you can find so many bears, moose and other large mammals, but while some people hunt these animals, others befriend them, like the guy in the picture below.
For some reason, bears and other large, intimidating animals are portrayed in cartoon films as friendly and amiable, and it seems like this guy didn't get the memo that they are incredibly dangerous. On the other hand, when you live in a state where people are nearly outnumbered by bears, you find them as attractive company.
2. Minnesota
Minnesota is known for its notorious cold weather, and so this sign couldn't best describe how other states see them compared to how they see themselves. They like to think they are the sunshine state, but the only thing sunny about Minnesota is the temperament of the people, which makes up for the low temperatures.
However, Minnesota is here to show us the perks of growing up in a cold state: they are surprisingly good drivers, and they can drive through the worst weather conditions, such as dangerous storms and blizzards and make it out without a scratch.
1. Nebraska
We reached the final state, and our funniest photo on the list. Can you think of a photo that better depicts the stereotypes on Nebraska? After Texas, they are considered the most hardcore hillbillies in the nation, and this photo of a rest area standing on a pile of hay in the middle of nowhere certainly doesn't help refute those stereotypes.
All they have to do to pass the time in Nebraska is sit on piles of hay and watch football. They truly are fanatic sports fans, like they say, and there's nothing they like more than to eat meat and corn. When it comes to these Nebraska stereotypes, this photo is truly worth a thousand words.