It's no secret that our parents have a hard time with technology, to put it nicely. They aren't used to the smartphones that have been a part of our lives ever since we can remember, but rather their childhoods were a lot more simple, phone-less and text-less. That's why they sometimes struggle with this new technology, and other times they don't fully understand what's it good for. These hilarious texts from parents show they're trying their best to fit in with the younger generation, mostly without much success.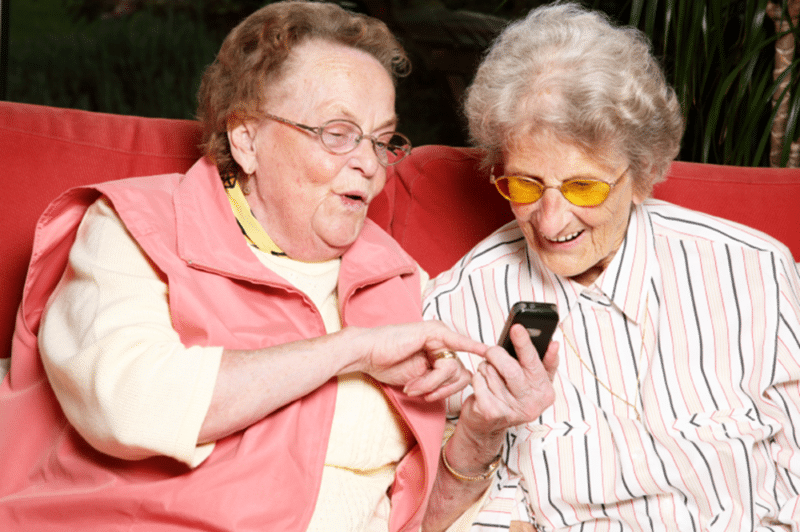 41. Am I getting through?
Some parents were able to adjust to the new era of technology surprisingly fast, while others, like this mother, are more technologically challenged. Eventually they all get the hang of it, though, some just take more time to adjust to the new technology. After all, texting can be hard when you're not accustomed to it.
On the other hand, maybe we're being too hard on this mother, and she played her son a trick? Perhaps she sent this message since her son wasn't answering any of her previous ones, and so this was her way of testing him – sending him something he'd be compelled to respond to? I'm not sure parents figured out technology to this level yet, or otherwise we're not giving them enough credit.
40. They'll have to learn sometime
Parents. We love them no matter how silly they get, and we have to treat them with the same patience they treated us when we were children and didn't know how to perform the simplest acts. While we take this new modern-day slang for granted, our parents weren't born speaking the same language, and so we have to show them some patience and compassion as they take time to learn.
Hopefully, she'll get a different answer from the sister, otherwise things might get very puzzling for this mother. We don't need to be so hard on them, though, they really don't deserve that – their only crime was being born in the wrong decade (or the right decade, depends how you look at it) and that's none of their fault.
39. You only live once
This mom wasn't that far-off, we can give her that, and that's actually a pretty smart warning – drive carefully, because you only live once. The phrase YOLO might not have been originally invented as a warning, but she makes a good point.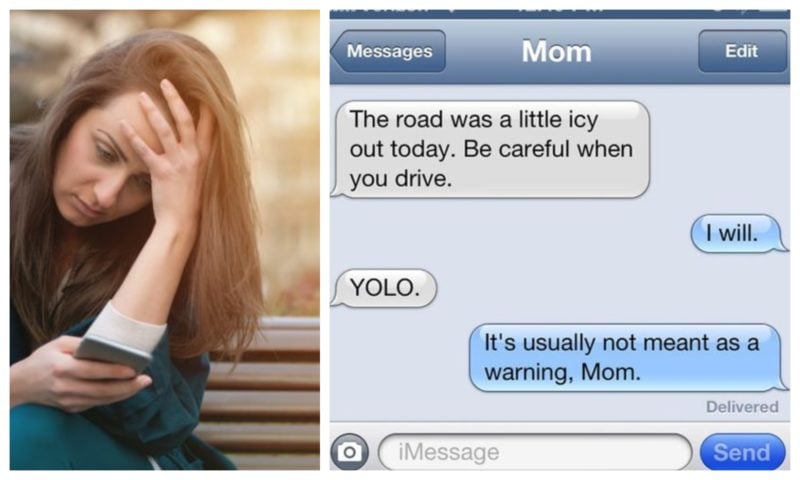 At least this mom knows what YOLO means, which can't be taken for granted. However, seems as if since the older generation started using this slang (even if they use it wrong), it somehow became less attractive in the eyes of their children. When was the last time you heard anyone use the phrase YOLO?
38. I don't see it
It's nice to see that this mom learns her way around the keyboard, and she definitely deserves extra points for creativity, but I don't see the winky face, do you? What's the plus sign doing there? She still has a long way to go, but at least she's making an effort.
And let's be honest, most of us don't really understand half of the emojis on our keyboard, so at least she's trying to come up with emoticons on her own. Perhaps this winky face will take on and someday we'll see it used by people all around us.
37. #hashtag
It doesn't seem like this mother learned how to #hashtag, but she's getting there. #don'tletparentstext. However, it's nice that our parents are making an effort to connect with us through something that interests us, such as texting. They noticed that it takes up a great amount of our time, so they decided to give it a try.
Our parents would do whatever it takes to be a part of our lives, even if it means texting and hash-tagging. Hopefully, after this conversation her son taught her what hashtags actually look like. It's for their own good to learn this stuff, since these days even politicians are using Twitter, Instagram and hashtags.
36. What's so funny?
We've already established that some parents didn't quite catch up to the modern-day slang, although LOL has been around for a pretty long time. However, with all these random abbreviations out there, it's pretty hard keeping track of everything, and our parents are doing their best to keep up.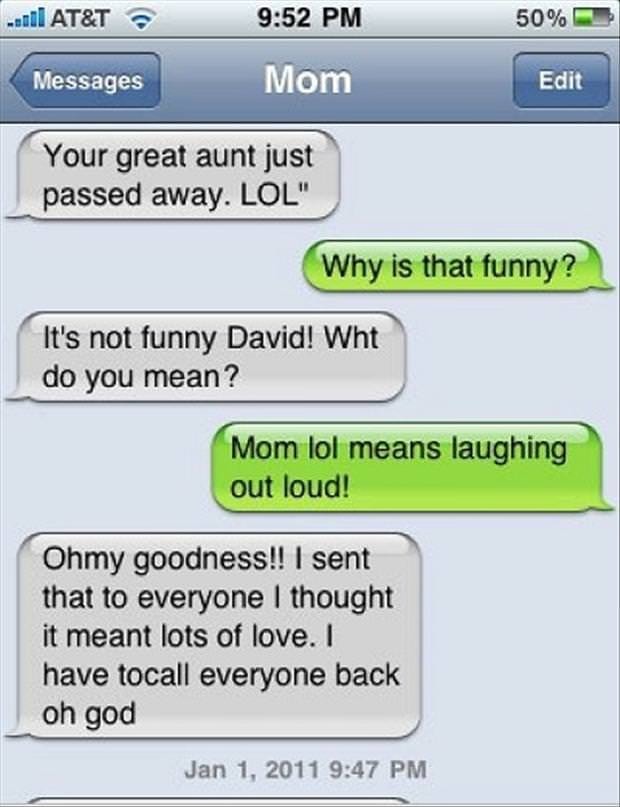 However, it is an unfortunate incident that this should be the first time she decides to use this abbreviation. If there's a lesson to be taught here, is that you shouldn't use words or abbreviations you don't know the meaning of, especially when you send out a group text. We've already seen too many such text-related incidents, and when you think about it, texting has caused us as much harm as it did good.
35. Auto correct
Who of us hasn't ever been burned by auto-correct? For all we know, the person who invented auto-correct might be sitting at home cross-legged, laughing at all the harm his evil invention has created. To be fair, auto-correct can get us youngsters as well, and not just our parents.
The innocent tool that was meant to help us and make texting an easier task for us turned out really wrong, and more often than not, it has the opposite outcome. For some reason, auto-correct sees fit to correct words such as Disney, a perfectly normal, positive word, to divorce, another perfectly normal word, but negative.
34. You only live once – buy the car
I wonder what this mom thought "yolo" really means, if she's claiming she has no idea (and we're inclined to believe her), yet still she managed to use it correctly. One way or another, how great is it when you can just use these abbreviations as excuses to buy new cars and do such reckless things?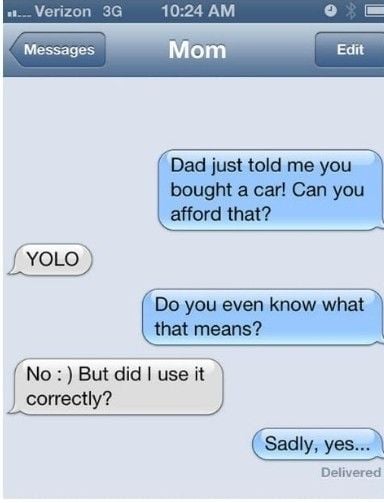 I like the way this mother is thinking – she must've heard her children use YOLO as an excuse to do some dumb things, and now she's using their own words against them. Either way, this mom is on her way to great things.
33. A gentle hint
Texting is an art that most parents haven't mastered yet. On the other hand, there are these parents who've learned how to use it to their amusement. We'd think this was cruel, if it wasn't so funny. You can see that sometimes smartphones are a new shiny toy for parents to play with, and sometimes they have too much fun with it, on their child's expense.
At least they're enjoying themselves, though. They deserve to have some laughs on our expense, for all the laughs we have on theirs. Seems like this mother came up with an original way to remind her daughter what she thinks of her current relationship status. This is parenting done right!
32. Twitter
Texting is one thing, but understanding the world of social media is a whole other thing – as if learning how to use these smartphones and all the applications wasn't challenge enough to begin with. Much like texting, while some parents quickly mastered social media and have their own Facebook, Twitter and Instagram account, others have stayed behind.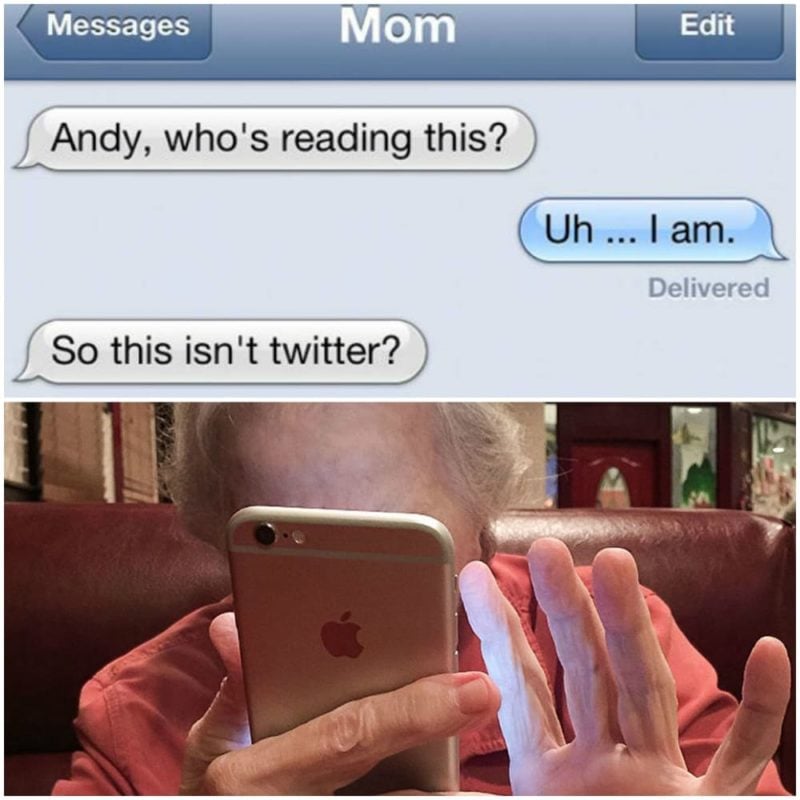 Perhaps someone should take it upon himself to give parents a quick class on everything related to social media (and texting), but on the other hand, perhaps it's better not to have them posting random things on Twitter, or going through your Instagram photos. Some things should be out of limits for parents.
31. Meeting
Having your phone accidentally pressed in your pocket is something that can happen to all of us, but for some reason, it happens almost exclusively to dads, perhaps because their pockets are so big and full of random things. We can't be mad at them for this one way or another, since their pockets almost always contain something we end up needing, such as a band aid or small change.
We can't be mad, but we didn't say we can't have a good laugh, as long as we laugh along with them. His poor dad probably didn't even notice he pressed it too many times, but getting used to the dimensions of smartphones and the delicate touch-screen is something that takes time.
30. Happy Holidays
Our parents don't need to know how to make a smiley face, because it's the thought that counts, and I'm pretty sure this message put an even bigger smile on her child' face than a thousand smiley faces could, don't you think?
If the whole family can't meet to spend the holiday together, in our age, smartphones allow us to be together and share our love even when we're physically apart. Though it often seems like this new age of technology is bringing us apart, in some cases, like this one, it can bring us closer.
29. Love you, grandma
Our parents not getting technology can sometimes be annoying, we admit; but we have to go easy on our grandparents, it's not a given that they'd even own a cellphone, let alone a smartphone. In their days, they didn't even have a home phone. Things have changed so much since they were teenagers, imagine how hard it must be for them to adapt to these incredible changes.
So what if she texted back "7" when her grandchild said he loved her? When it comes to parents – or grandparents – texting, it's the thought that counts. And it's no surprise either that she texted back a day later, but again, at least she took the time to respond. Sometimes, though, it's better to stay with the old methods when it comes to our grandparents and simply pick up the phone.
28. Who's in charge of Google?
Imagine the bewilderment on this mom's face opening google every day to find a new logo every time. It's also a pretty safe assumption that her tech-savvy kid controls the logo of google on her computer; it's not really that far-fetched, given that we can change the background of our search-engine, why not the logo as well?
Everything was fine up to the moment she asked, "you don't run google?" This might seem an incredibly ridiculous question for us, but sarcasm isn't always the answer, even if you run out of patience when dealing with your technology-challenged parents.
27. The cool parent
We all know that parents consist of the good cop and the bad cop, and it's pretty clear that in this partnership, the dad is the cool cop (as is usually the case, isn't that so?) This is texting, and parenting, done right. He's obviously kidding, and his child is obviously lying, but in this exchange it almost seems as if the father has tricked his son.
Or rather he's just a really cool father who wants his kid to enjoy his teens to the fullest. Either way, texts like this is both the reason why parents should never be allowed to text – since this obviously wasn't fun for his kid – and also the all the more reason why parents should never stop texting, so we could enjoy these funny exchanges.
26. Finally
Some of us were dreading it when our parents joined our technological world, and some of us were happy to welcome them, after all, it's supposed to provide us with an easier way to communicate with them, share photos, etc. Only we didn't realize that their integration in the digital world wouldn't be as smooth as ours (some parents more than others).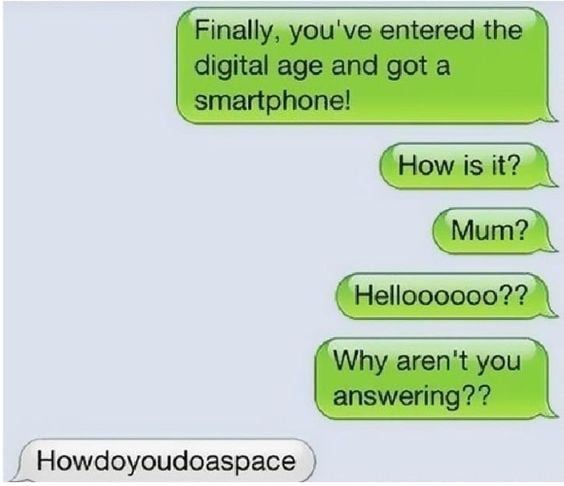 It's understandable that the first time she's required to text using a smartphone, this mom wouldn't know how to operate it. Though our mothers seem to know everything about the world, here's something we can teach them. Instead of seeing it as a bother, we can feel gratitude that after learning so much from them, we can impart some our modern-day knowledge.
25. Joke's on you
Parents know their children better than anyone else, and so it's no wonder that this mother knew exactly how to get her child's attention. Her kid found it to be cruel, but we acknowledge she simply did what she had to – desperate times call for desperate means.
This is another reason why kids might be bothered by having their parents use smartphones and texting – it's another way for them to give them chores. If you think about it, though, it's a pretty useful tool to give orders, and so I don't see parents giving this up any time soon.
24. Excuse me?
We're starting to notice a pattern where more and more parents are learning how to text and use it to mess with their kids. Imagine receiving such a text from your parents! On the one hand, it's nice to see they care about your social life, on the other hand, no one likes to be called a loser by their mother.
Our parents are supposed to be the people who love us unconditionally, even if we're somewhat socially awkward. However, it's nice to see these parents having fun with their smartphones, so every now and them, why not let them have it?
23. WTF
Again, if you don't know what the acronym means, just don't use it. Why would WTF mean Wednesday, Thursday, Friday? It is pretty creative to assume that, but if you've ever heard anyone use that phrase before, you must know that's not even close to what it actually means. On the bright side, at least she made this mistake with her kid, and now she'd learn not to use it again. Or use it properly.
Hopefully her kid had the chance to correct her before she used it with other people as well. can you relate? Do you try and keep up with all these modern acronyms? It seems as if sticking to our rich language instead of trying to use these abbreviations is not a popular choice these days.
22. Gif skills
This mom has taken it to the next level and learned how to use gifs – properly! Moments like these, when parents know how to use technology better than us – are priceless, because they're so rare. Yes, some parents have learned the endless universe of entertainment that is gifs, but few of them know how to use it properly.
This is what it looks like when our parents know how to text better than we do, and the result is pretty hilarious. Some parents have experienced with gifs, but usually it just comes out awkward, in the form of gifs that are completely irrelevant or inappropriate for the situation – but not this mom! She knows what she's doing.
21. Space space space
For some reason, it seems as if finding the space button is particularly challenging for parents learning the secrets of technology. The option for voice-text, though it was meant to make texting easier (especially for those of us who have a hard time with those tiny screens), but much like auto-correct, more often than not it creates more confusion.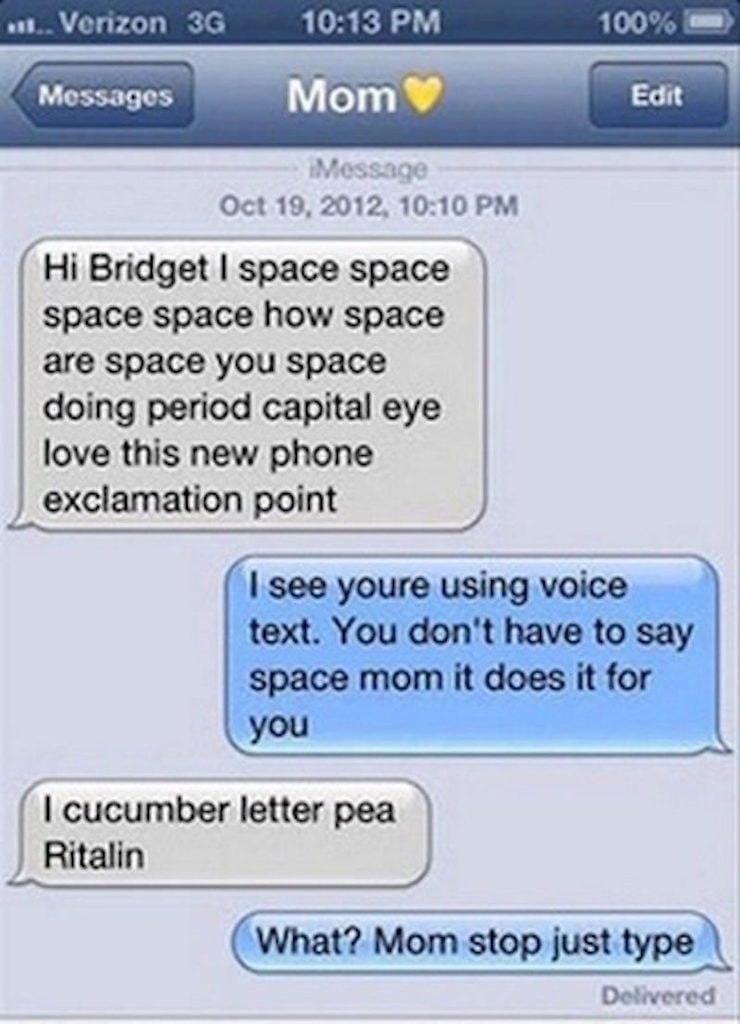 To be honest, voice-recording is something that even young people haven't quite figured out yet, and it seems as if we found something that (most) parents operate better than their children. Not this mom, perhaps, but some parents do get along pretty well with the voice-texting option.
20. Dad jokes
Now that we all have smartphones, including our parents, fathers have a new platform to share their stale dad jokes – how great. If this would have gone down the old, traditional way, the girl would scream from her room, calling her father. But she opened up the option for him to text her back this silly response.
This is pretty funny, though, and hopefully this girl found it just as amusing as we did. Seeing parents explore their smartphone possibilities and having fun texting nonsense to their kids never gets boring.
19. Pancakes
In her defense, it is an incredibly confusing emoji! First, why make a poop emoji? And if you have, why make it so sweet? This is just inaccurate, and as this text shows, it's downright confusing. I best this mom is neither the first nor the last person to confuse the meaning of this emoji.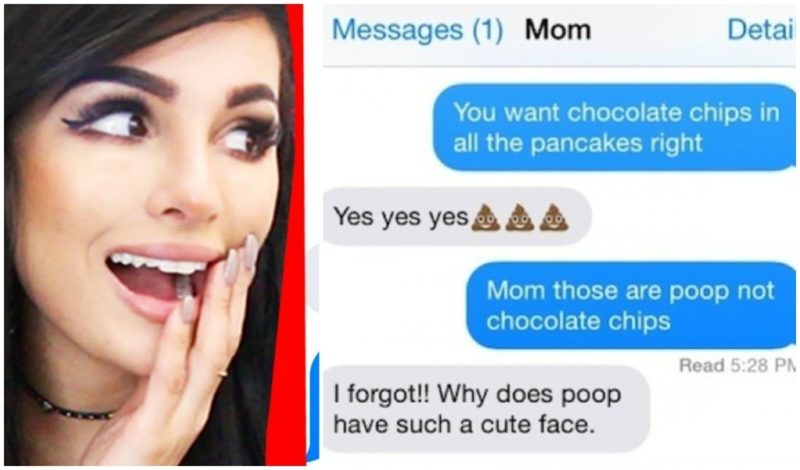 This mother has a good point, but I'll pass on the pancakes. This text goes to show that when you're not sure what an emoji means, perhaps it's best not to use it. You'd be surprised to learn how many emojis are not used according to their original meaning.
18. Chinese
How does something like this even happen on accident? Seems to me like you need to really meant it in order to change the language of your keyboard. In fact, it's such an elaborate task, that even if I'd try, I probably wouldn't be able to find the right settings to change the keyboard language.
So if you look at it this way, this mom is actually pretty talented; though it seems like she somehow changed it on accident. At least she found a very creative way to tell her child she needs help with her new phone, though, again, it seems that it would have been easier to just pick up the phone.
17. Boundaries
Sometimes, understandably, parents have no boundaries when it comes to their children (our dads in particular, if we're honest), and now that they've learned how to use smartphones, it opens up a whole new world of possibilities for them, and provides them with new boundaries to breach.
I wouldn't be surprised to receive such a text message from my father, would you? Though sometime it seems as if the older generation has figured out how to enjoy the possibilities these smartphones allow us to the fullest – such as using face-time camera while on the toilet.
16. Ice cream, you scream
I can see why this mother confused ice cream with love, as it's a mistake too many of us make. Too many times ice cream equals love for us, and perhaps that's why the heart emoticon resembles an ice cream cone. This is an innocent mistake that can happen to all parents.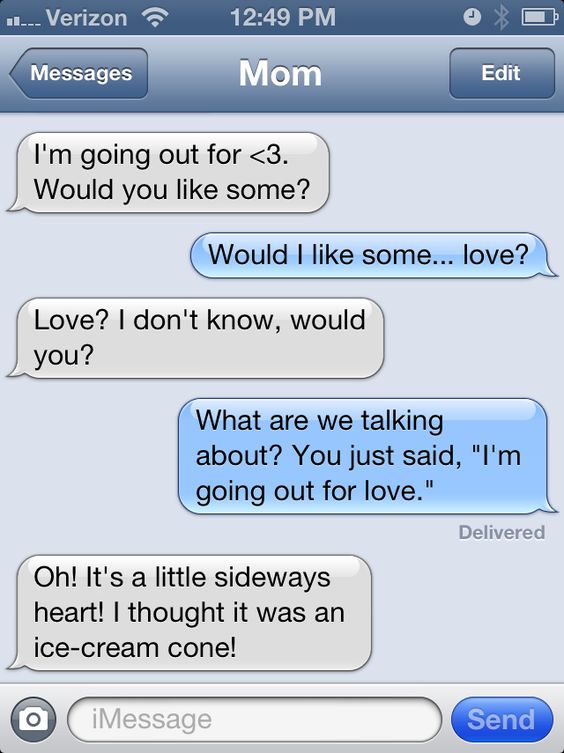 These silly mistakes would all go away if people bothered to take the time and teach their parents what the emoticons and emojis mean, and while they're at it, they can reveal the secrets of texting, and give them a quick session on acronyms. Or perhaps parents just weren't meant to use smiley faces of any sort.
15. Still me, grandma
I'm sorry, but asking your grandparents to learn how to use a smartphone and expecting it to go smoothly is just asking for too much. Grandparents weren't meant to text. They've been through enough in their lifetime, they've seen wars and they had their fair share of hardships, so why not let them spend their golden years in peace?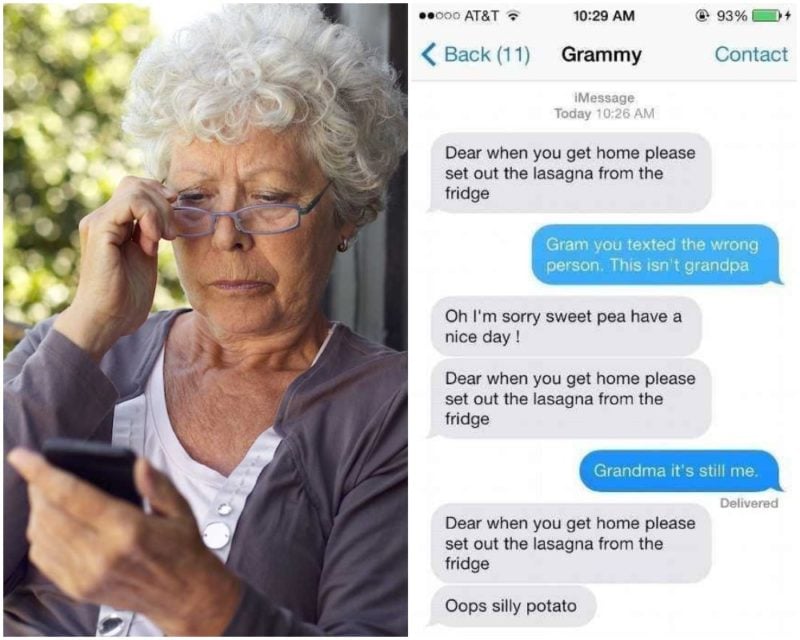 Obviously giving grandparents smartphones is meant as a kind gesture, but when you think about it, they don't really need it. All they need is something that allows them to communicate with their children and grandchildren, so what's wrong with the good old cellphone? For their purposes, it's more than enough.
14. Sewing
This is another great example of why auto-correct is the devil. This poor mother was just trying to tell her daughter she didn't need any help, and instead she ended up doing the opposite – this is quite an alarming text to receive from anyone, let alone your parents.
Ideally, auto-correct corrects your typing according to words you typically use, but then what does it mean in this case? 'Unhemmed' is probably not a word that is regularly used by anyone, but 'urinated' is? I can see why her daughter was worried.
13. Bowtie man to the rescue
This, folks, is what happens when parents are trying to be funny on text messages. Parents have a hard time acknowledging they just aren't as funny as they like to think, and now that they can make jokes on texts as well, we'll never see the end on it.
To be fair, this child taunted his mother when he said she wasn't funny, and so he had it coming. Bowtie man is also a pretty genius invention, one that makes us think perhaps parents know more about texting than they're willing to share. Unlike the unsuccessful attempt at a winky face we saw earlier, this smiley looks like a bowtie man.
12. Egg rolls
Parents want to be involved in our lives as much as possible. Contrary to what teenagers might think, it's not to make our lives miserable, but simply because they love and care about us, and want to make sure we're doing okay. But this modern age of technology allows parents to step a little too far in our lives, as this text demonstrates.
Smartphones allow them to constantly keep track of where we are, contact us and share their opinion, even if nobody asked for it. I'm sure this mother has the best intentions, and that the egg rolls are great, but asking the guy if he likes kids on the very first date is simply bad advice.
11. Lightly fried fish fillets
Lightly fried fish fillets sound good anytime of the day, even in the middle of the night. Some people get inspired to write in the middle of the night, and others get inspired to cook in the middle of the night; we're not here to judge, and it was nice of this father to offer his son to join him, but this makes for one of the weirdest conversations I've ever seen.
Keep in mind that this is all taking place in the middle of the night, and this father has typed "lightly fried fish fillets" about four times. That's probably the weirdest thing about this conversation – why not just say 'fish' and go back to sleep?
10. Father of the year
This is dad humor at its finest. He might not be kidding, however – I've heard stories of fathers who picked up the wrong kid at school, because they all look too similar to one another. Imagine how many mistakes of this sort could have potentially happened before we could text our children when we pick them up.
Or did he mean that he texted the wrong kid? This is the sort of dad humor that is both obvious and hard to understand, and the kid of dad jokes we get enough of as it is – the last thing we need is to have it evading our phones, but it was only a matter of time until this happened.
9. Exploring her options
It's nice that this mother enjoys her new smartphone and wants to explore her options to the fullest, but receiving such a text message from your mother can be quite alarming. Again, rather than texting, some things and some questions it's better to ask on a phone call.
However, this is a good question that I'd like to get a answer to! Currently I doubt that it's possible to text 911, but it wouldn't come as a surprise if within a couple of years this service would be available.
8. Don't mess with grandma
Now this is one grandma I'd like to meet! She just showed her grandson what's what, and gave him a grammar lesson. But the most curious thing about this conversation, never mind how funny it is, is that the grandma had absolutely no texting mistakes – she has a perfect grasp of texting.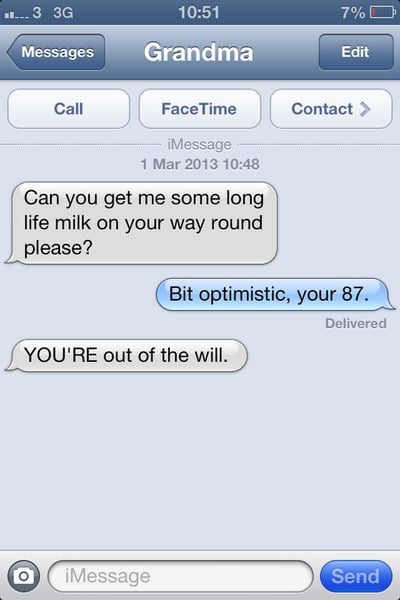 Perhaps the parents are the ones who got it right, and their kids are behind. This grandma sure seems to think so. This cool grandma is living proof that technology and the older generations don't necessarily have to be enemies.
7. How texting works
Texting works in mysterious ways, if you ask your parents. We all know this person who signs his name at the end of a text message, even if he's family, a friend and even if you've texted before – some people don't get how it works and feel the need to express formality in text messages.
It's probably because the only form of texting our parents have known for the majority of their lives is emailing, where it's accepted, not to say required, to sign your name at the end of the message. Before email was regular mail, where you're also require to sign your name, and before that were letters, hand-written, where you signed your name. Old habits die hard, as this text message shows.
6. Oops
This one isn't really the mother's fault, after all, there are some ways to interpret this text; but this goes to show that sometimes it's better to give up on technology and just pick up the phone. On the other hand, perhaps this mother shouldn't have been so quick to respond to an such an ambiguous text, and with such enthusiasm.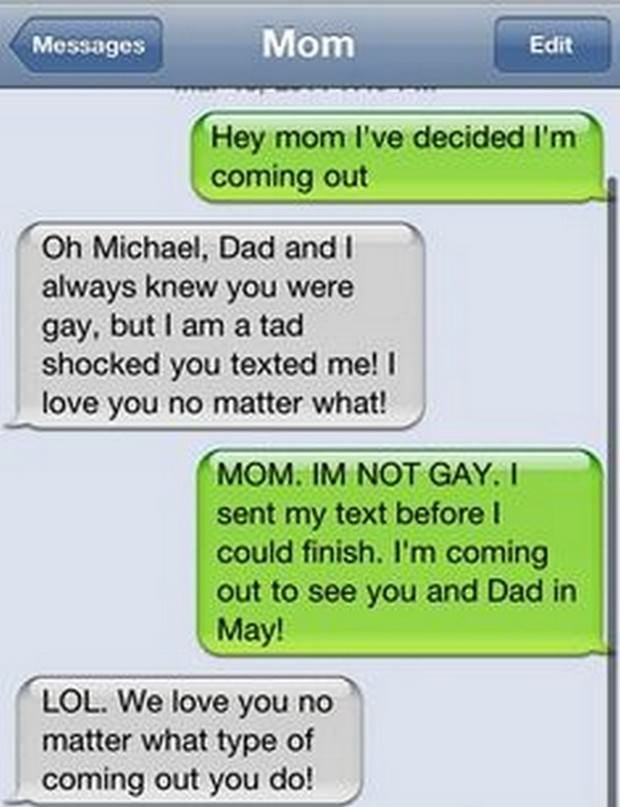 At least she was supportive when she thought her son was coming out of the closet, otherwise it could have been a lot more awkward. If there's a lesson to be learned here, it's that technology can be our friend sometimes, but it can also create a lot of confusion.
5. Beautiful day
The camera is another story altogether when it comes to smartphones. Our parents know how to operate cameras that we've never even seen or heard of, but the smartphone camera is too much for them, as it turns out. It is something that takes getting used to, so much as is the case with texting, we need to be patient with them.
While our parents are mostly superheroes that can do pretty much anything, one thing that is beyond their skills is photography, and particularly taking pictures using a smartphone, as this mother demonstrates. We just need to accept that this is one thing they'll probably never learn how to do properly.
4. Your phone
Growing up, we always look up to our dad, not because he's so tall and impressive, but since it seems as if he knows everything about life, whether it's physical or emotional, our parents always have all the answers. However, there comes this awkward moment in life when we learn that there are some things we can teach our parents, particularly when it comes to technology.
This is a strange, and at time frustrating realization – how can they be so smart and yet not understand this simple thing we take for granted? This dad's text is the perfect example for such a case.
3. No connection
When parents don't know how texting works, sometimes they can use it to their advantage. Take this mother, for example. On the phone, or face to face, you can't just ignore a question you don't have the right answer to, but with texting, a whole new world of opportunities presents itself to us.
This mother took the opportunity that texting allows to simply ignore her kid's question, because she knew her answer was probably not the one he wanted to hear. Perhaps "no connection" doesn't work with texts, but the mother is obviously just using it as an excuse to buy some time before she has to give her child the bad news.
2. Husk make gaggles
We've seen auto-correct mistakes before, but this takes first prize. What was this mom trying to say and how did the auto-correct see fit correcting it to "did muck save maggots"? Once again, these unfortunate texting efforts demonstrate why texting is not for everyone (not for every parent, that is) and sometimes it's better to stay with the old, familiar method of the good old phone call.
However, though I'm sure this child must have been frustrated of trying and failing to understand what his mother was trying to say, I'm sure he got a few good laughs out of it, as did his mother. So looking at the perks of failed texting, it can get very funny.
1. A proud moment
I wonder how his mother would have reacted. How is it that fathers always get to be the fun parent, while mothers have to be the ones who discipline the kids? Anyhow, this father doesn't seem to have any problems with texting, but this was too funny not to include in the list.
The bad thing about texting, though, is that they provide evidence. Hopefully, his mother would agree with his father and find him to be witty, rather than rude, and she'll be on board with him.