Bearded Ladies Go Way Back, Bearded ladies have always been around but haven't featured prominently in history apart from the notable century-long sideshow era starting in the 1840s. Records show that bearded women were also regularly invited to dazzle and entertain the royals and their guests in court at least a thousand years ago. The 12th century text, Topographia Hibernica (above, left) recalls that "Duvenald, king of Limerick, Ireland had a woman with a beard down to her navel, and also, a crest like a colt of a year old, which reached from the top of her neck down her backbone and was covered with hair." Centuries later in 1631, the Duke of Alcalá commissioned what became a well-known painting of Magdelina Ventura, (above, right) "the Bearded Lady of Abruzzi," whose whiskers didn't grow in until she was 37 years old.
The Freaky History of Bearded Ladies
While the history of bearded women stretches back as far as people do, female facial hair has never gained wide acceptance in a civilized society. The only place they could fit in for a long time was at a freak show, but hairy women of the modern age are now breaking free of the stigma and shamelessly embracing their beards in the real world.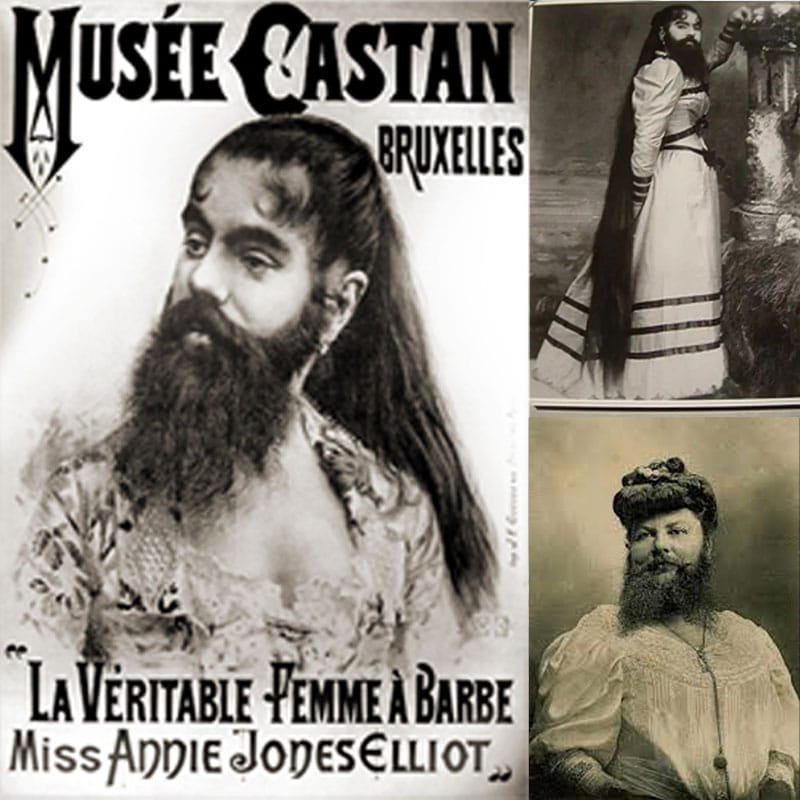 Annie Jones Elliot (pictured above, far left) was America's top bearded lady during the glory days of P.T. Barnum's traveling sideshow. By age five, she had already grown a mustache and sideburns, earning her the name "Bearded Girl." Josephine Clofullia (above, middle) and Jane Barnell (above, left) were also among the dozens of bearded lady sideshows around that time.