With the holidays approaching it's time to gear up for social gatherings and family get-togethers. We wanted to lend you a helping hand, so we've collected a list of the most popular party games that don't require electronic gadgetry. Put your smartphones away and enjoy a true quality experience with your friends and family members. It's time to reconnect and enjoy hearty laughter and good times: face to face.
Cards Against Humanity
Source: Amazon
Cards Against Humanity is a party card game. It contains 500 white cards and 100 black cards for maximum replayability. The game is simple. Each round, one player asks a question from a Black Card, and everyone else answers with their funniest White Card.
Users say: "This game has got to be the funniest game I've played in awhile… Played it with friends at a BBQ and it was a huge hit… "
Recommended Ages: 17 +
***
Watch Ya' Mouth Family Edition – The Authentic, Hilarious, Mouthguard Party Card Game
Source: Amazon
In this laughter-inducing, competitive card-based game, teams of players, hampered by cheek retractors, attempt to read and interpret/speak out phrases and…. hilarity ensues! Watch Ya' Mouth is a must for any gathering, party, game night, or family night.
Users say: "Played with the kids, parents and grandparents…we all laughed until our bellies hurt and we were all in tears."
Recommended Ages: 8+
***
Hearing Things Game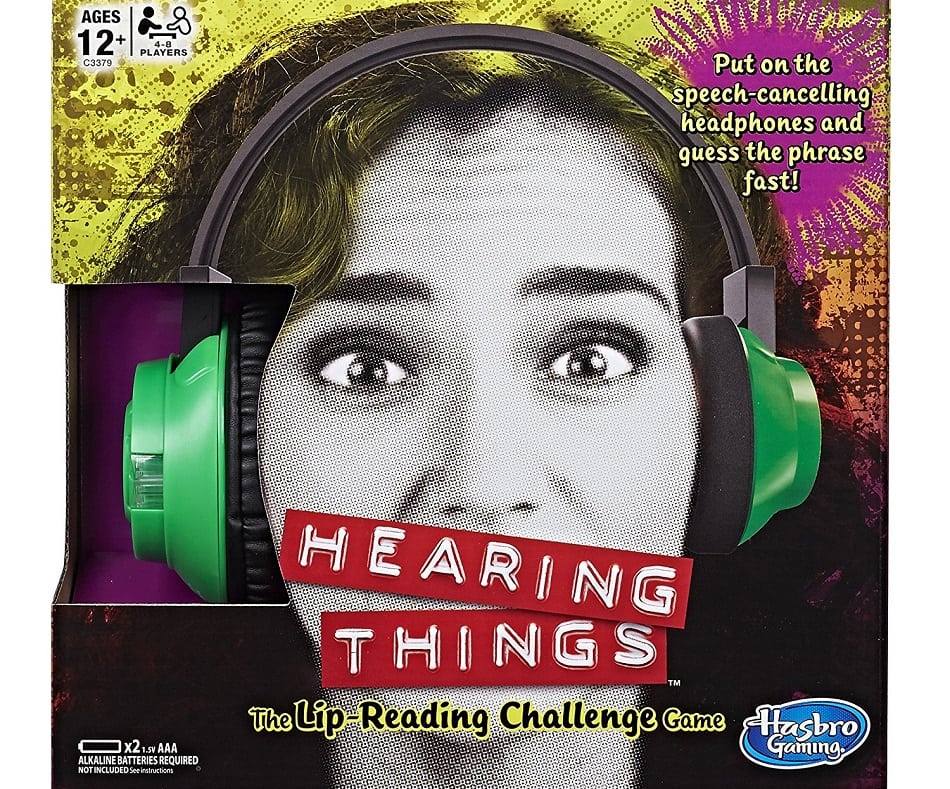 Source: Amazon
The Hearing Things Game, Hasbro's twist on the online viral "Whisper Challenge" sensation, the Hearing Things Game has players guessing what they think their teammate is saying by reading their lips. One player puts on the speech-canceling electronic headphones and the other player says the random phrase shown on the card. The player wearing the headphones can't hear what their teammate is saying and has to figure it out to earn the card..
Users say: "It's a fun game the only thing that bothers me is the fit on the headphones." "Our advice is to drop the headphones and just mouth the words."
Ages 12+
***
5 Second Rule
Source: Amazon
Pick a card, read the seemingly easy topic, then start the timer! Now with only 5 seconds to name 3 things that fit the topic, it doesn't seem so easy!
Users say: "This game is perfect for several reasons – 1) It's simple – Anyone can play with a minimal explanation because the rules are easy and flexible. 2) It can be as clean or as dirty as you make it! My family is pretty straight-laced and dirty jokes/games are generally uncomfortable, but this game can easily match its audience. 3) It's flexible enough that people can jump in and out of the game and it doesn't mess anything up – My family members have the attention span of a goldfish and often get up for food or conversation, but thankfully gameplay doesn't have to stop! 4) It's multi-generational!"
Ages 10+
***
Exploding Kittens: A Card Game About Kittens and Explosions and Sometimes Goats
Source: Amazon
In this highly-strategic, kitty-powered version of Russian Roulette, players draw cards until someone draws an Exploding Kitten, at which point they explode, they are dead, and they are out of the game — unless that player has a Defuse card, which can defuse the Kitten using things like laser pointers, belly rubs, and catnip sandwiches. All of the other cards in the deck are used to move, mitigate, or avoid the Exploding Kittens.
Users say: "Exploding Kittens is quite easily one of the most hilarious game I have played." "The quality of the playing cards are quite cheap and are not durable at all."
Ages 7+
***
Forbidden Island
Source: Amazon
Forbidden Island is a visually stunning cooperative board game. Instead of winning by competing with other players like most games, everyone must work together to win the game. Players take turns moving their pawns around the 'island', which is built by arranging the many beautifully screen-printed tiles before play begins. As the game progresses, more and more island tiles sink, becoming unavailable, and the pace increases. Players use strategies to keep the island from sinking while trying to collect treasures and items.
Users say: "Fun, strategic, cooperative play. I recommend this game for families and friends."
***
Hedbanz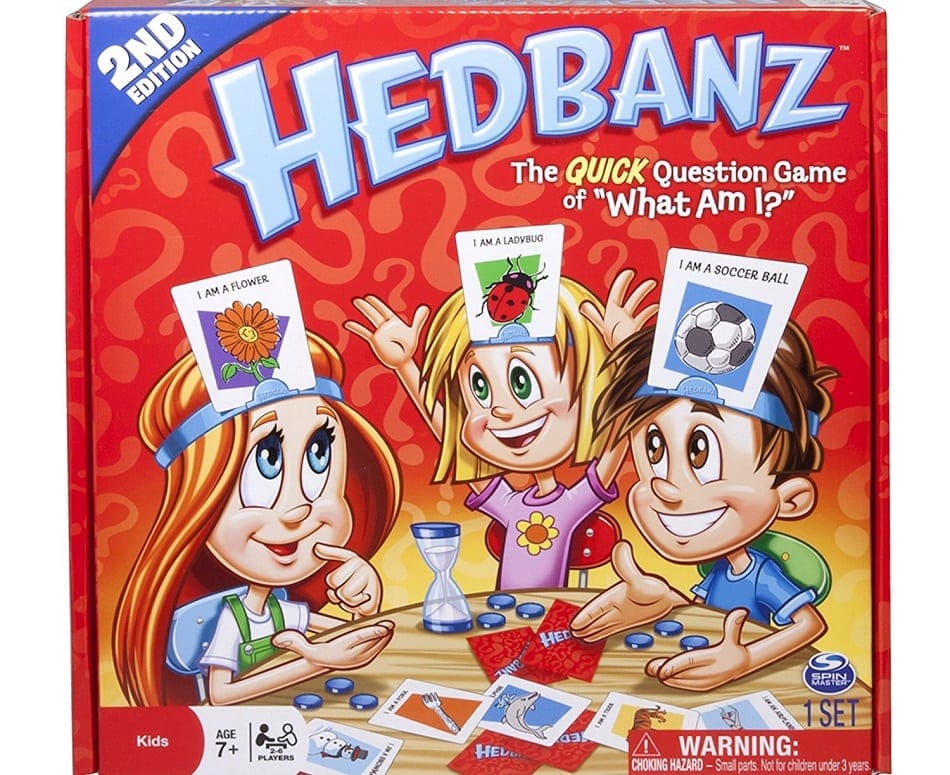 Source: Amazon
Spice up game night with the Hedbanz Board Game, a fun, fast-paced, and simple question game that everyone can enjoy. In a group of two to six players, you'll draw an identity card for an animal, food, or common object but with one catch – everyone but you will see the card, displayed by the headband on your forehead. The goal is to guess who or what you are by asking the players questions before the clock runs out.
Users say: "This game was purchased for my middle-school students. Their ages range from 10-17 and they all love it! It is also great for adults, like me, you probably played this as a kid! Great for kids, great for families, pretty much great for everyone! You can NOT go wrong with HedBanz!"
Ages 7+
***
Bananagrams
Source: Amazon
The Anagram game that will drive you bananas. The award-winning word game that needs no pencil, paper, or board. Fast and fun. Players race against each other to build crossword grids and use all their letter tiles first. Great for travel.
Users say: "Warning: highly addictive and highly competitive! This game has definitely got in the way of mine and my partner's relationship. I bought it because I played it with friends, but little did I know that bringing it home from Amazon would mean declaring war! "
Ages 7+
***
Googly Eyes Game — Family Drawing Game with Crazy, Vision-Altering Glasses
Source: Amazon
Googly Eyes is the hilarious family game that challenges your vision and leaves you googling for more! Put on the zany, vision-altering google eyeglasses and start to draw while your team tries to guess what you're drawing. Is that an igloo or a turtle? A birthday cake or a fortress? Players take turns drawing and guessing, so everyone gets a chance to wear the glasses.
Users say: "Kids love the game. Kids are 6 to 10 yrs old. Adults liked it too. So it is not out of the realm of getting for an adult too. Seriously."
Ages 7+
***
Codenames
Source: Amazon
Codenames pits two rival spymasters who know the secret identities of 25 agents. Their teammates know the agents only by their codenames. The teams compete to see who can make contact with all of their agents first. Spymasters give one-word clues that can point to multiple words on the table. Their teammates try to guess words of their color while avoiding those that belong to the opposing team. And everyone wants to avoid the assassin.
Users say: "Got this game because of the price & the popularity. It did not disappoint. The first time we played it we played 3 games & laughed for quite a while. As a party game, it is amazing & has an infinite amount of replayability. If you enjoy fun games that make you think this is for you."
Ages 14+