Star-Studded Locations in the "Magic City"
Planning a Miami vacation? It'll be deja vu all over again, as you see places that you'll recall from your favorite movies and TV shows. For many folks, it was Miami Vice – the 80s cop-action TV hit that popularized the laid-back pastel-hued, no-socks attire – that put the Magic City on the film location map. But the truth is a lot of filmmakers, before and since, have deemed Miami the perfect backdrop for a whole gamut of films – from low-brow comedy to highly intense dramas. Perhaps it's that stylistic blend of glamor and grit – the mixture of contrasting cultures, colorful architecture, and a rich music scene – that makes the place a "special effect" in and of itself. Check out this preview of top Miami* attractions that shined on the silver screen:
1. Scene-Stealing: Vizcaya Museum & Gardens
Want to be swept away to fairytale land? Then be sure to visit one of Miami's most treasured spots. The Vizcaya (Basque for "an elevated place) Museum – built as a winter home for early 20th-century industrialist James Deering – is an Italian Renaissance villa come to life. Filled with authentic 15th-19th-century European furnishings, as well as French and Italian fountains and sculptures, Vizcaya has hosted world leaders from Pope Paul II to Queen Elizabeth II during their Miami stops. Today, its opulent interiors and lovely gardens are a favorite backdrop for weddings, quinceañeras – and films.
2. Show-Stopping: Ocean Drive
If you want to experience quintessential Miami, then a slow cruise on Ocean Drive is in order. Imagine yourself in the '20s or '30s, as you pass those beautiful pastel-hued Art Deco buildings. Old-style glamor and flamboyance are back in hotels like the Cardozo, the Waldorf Towers, the Breakwater, the Beacon, the Cavalier, the Park Central, the Colony Hotel, and other structures by the top architects of the era. Ocean Drive is the best place to start your Art Deco District tour. It's also one of Hollywood's favorite film locations.
3. Long-Running: Versailles Restaurant
(Seen in 2 Fast 2 Furious)
Flickr
Dubbed the "World's Most Famous Cuban Restaurant," Versailles has been a Miami fixture for four decades. It serves both locals and tourists with delicious Cuban cuisine – and the best cafe Cubano in Miami – as proved by the long-time fans who line up by the restaurant's coffee window. Of course, patrons get all that with a side of local color and culture. So much so that Versailles is the go-to place for politicians and media who want to garner the community's support and/or take on the issues of the day. It's also the go-to film locale for movie makers seeking that authentic Miami vibe.
4. Star-Studded: South Beach
If you want to hang out with (or simply gape at) models, hipsters, and sundry celebrities, then South Beach is the place to be. This 10-block stretch along Ocean Drive – known as America's party beach – offers sun and fun for surfers, sunbathers, rollerbladers. Enjoy postcard-pretty views of Art Deco buildings and great cafes, restaurants, bars and clubs, and designer boutiques. Or take a break from the partying and enjoy quiet palm-fringed Lummus Park with attractions for the whole family. With new hotels and hot spots sprouting on either side of the 10 blocks, the South Beach scene is ever-expanding. And of course, all this glamor is not lost on film location scouts and managers.
5. Audience Favorite: Bayfront Park
A 32-acre pedestrian-friendly waterfront oasis, the Isamu Noguchi-designed Bayfront Park lies in the heart of downtown Miami on Biscayne Bay. The park is home to Noguchi's innovative playgrounds and sculptures, three major event spaces (Bicentennial Park, Tina Hills Pavilion, and Klipsch Amphitheater), and three significant monuments (the Challenger Memorial, World War II Memorial, and Torch of Friendship). Oak and palm trees (for instant shade), family-friendly activities (free yoga classes, flying trapeze school), and a great location (a few minutes' walk to the Bayside Marketplace open-air mall) make the park a must-see on your itinerary. And its iconic place in the Miami landscape makes it a great movie locale.
6. Family Entertainment: Crandon Park Beach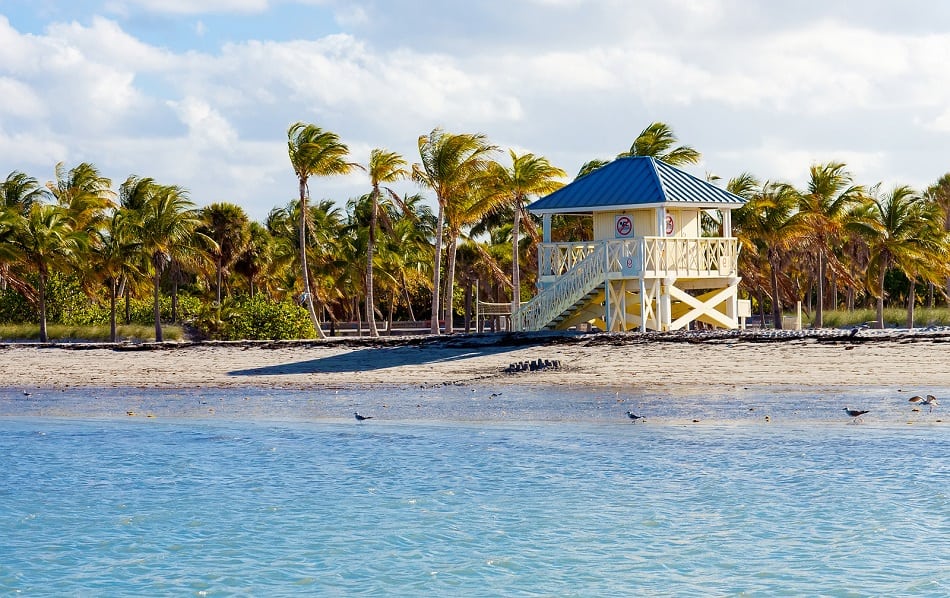 If you just want to kick back and find a place where there's something for everyone, you can't do better than Crandon Park Beach. Just look at everything this northern Key Biscayne beach escape offers: two miles of palm-tree lined, rip-tide-free beaches; great tennis and golf; kite-board and kayak rentals and water sports lessons; ecosystem-showcasing tours and nature trail walks; amusement center with restored carousel and old-fashioned outdoor roller rink; plus lots of picnic tables and concession stands. No wonder it always ranks in "top 10 US beaches" lists. And with its gorgeous views, it's also the most photographed beach in South Florida and a popular film location.
7. Blockbuster Shopping: The Miracle Mile
Feel like having an unparalleled shopping experience? Head on to Coral Gables – nicknamed "The City Beautiful" for its tree-lined boulevards, giant banyan trees, beautiful fountains, and old-fashioned elegance and exclusivity. And the upscale ambiance extends to its Miracle Mile shopping district, where fine boutiques, specialty shops, salons and spas, and world-renowned restaurants offering the best in international cuisines are to be found. With the Mediterranean setting, high-end products, and personalized service from shop owners, who can resist. Not tourists. And I guess, not filmmakers either.
8 Atmospheric: Espanola Way
Looking for spice, local color, and atmosphere? Want to enjoy the world's flavors all within just two blocks? Espanola Way, with historic ties to Al Capone and bandleader Desi Arnaz, is a small, charming European-style street. Its pink sidewalks, Spanish colonial architecture, overhanging café lights, striped awnings, foliage-lined streets, and cuisine from every part of the world give the place a bohemian feel. If you're a romantic, a foodie, or an architecture fan, you'll want to explore Espanola Way and transport yourself to another world. Just like when you're watching a film.
* Don't know the difference between Miami and Miami Beach? The City of Miami and Miami Beach (the beach town and more touristy area) are two different municipalities in Miami-Dade County. South Beach is part of Miami Beach.