Brides and grooms-to-be (but mostly brides, to be honest) face a lot of difficult, not to say impossible, decisions when it comes to planning their wedding, but perhaps the hardest decision of them all is choosing the perfect wedding dress. While some brides take months to find the ultimate dress (or dresses), others find it to be a love-at-first-sight situation and go with the first dress they love. Either way, you can count on our favorite A-listers to always bring their A-game when it comes to wedding gowns. From Paris Hilton, who just tied the knot in 2021, to Anne Hathaway, we have curated a collection of dresses ready for your viewing pleasure.
57. Pippa Middleton
Pippa Middleton is not officially royalty; she's the sister of the Duchess of Cambridge, and she looked like a proper princess at her wedding, but she's just almost-royalty. However, she is a beloved figure in the United Kingdom, perhaps thanks to her impeccable style. On her big day, marrying banker James Matthews, her dress left us speechless. It was modest, yet not too modest, leaving her arms and back uncovered – the perfect combination, since it makes the dress look fancy but effortless.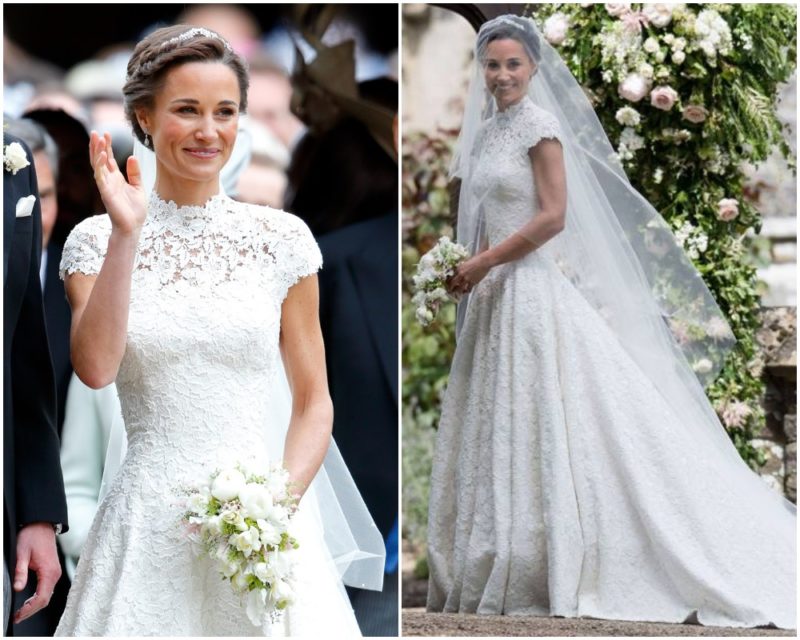 The lace made it look delicate and soft, which fits her gentle personality; fashion designers commented on the dress, saying it looked "English" – we're not sure what an "English" dress looks like, but perhaps it has something to do with the British designer responsible for this masterpiece – Giles Deacon. Either way, a British dress is very appropriate for this almost-royal British wedding. After the young sister showed up in Kate Middleton's royal wedding in a tight dress, we can't exactly say that seeing this perfectly elegant gown surprised us, but it's definitely a look that fits her better!