Brides and grooms to-be (but mostly brides, to be honest) face a lot of difficult, not to say impossible, decisions when it comes to planning their wedding, but perhaps the hardest decision of them all is choosing the perfect wedding dress. While some brides take months to find the ultimate dress (or dresses), others find it to be a love-at-first-sight situation, and go with the first dress they love. 2019 is officially over, and what a year it has been – full of romance, celebrity weddings, new relationships, exciting engagements, and the most important part of it all, the reason we gathered here today – wedding gowns. There's no better time to take a look at the most beautiful and iconic celebrity wedding gowns of the decade, and it's sure to inspire all the brides-to-be in the crowd.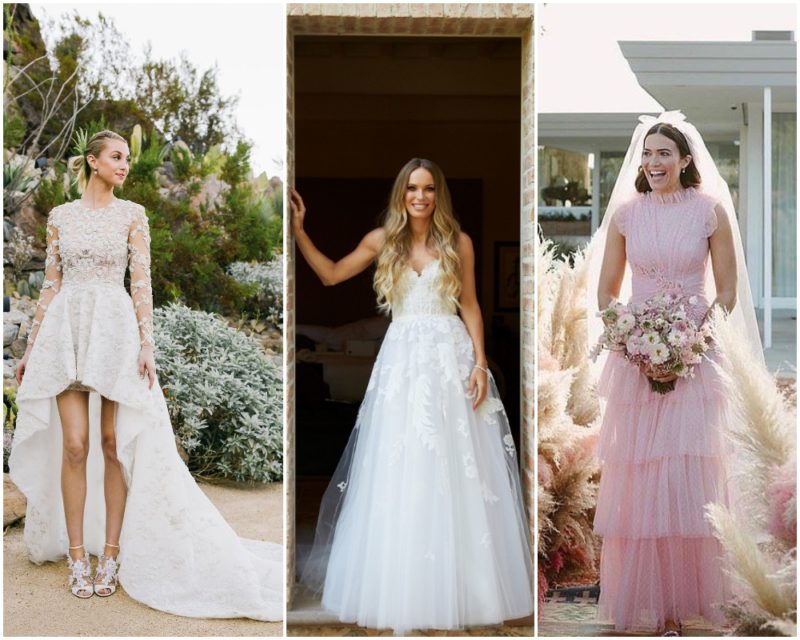 33. Misha Nonoo
Misha Nonoo is an acclaimed fashion designer, but what she's most known for is being the one who introduced Prince Harry to her good friend Meghan Markle, and the rest, as they say, is history. Misha and Meghan are reportedly close friends, and having connection in the U.K, Nonoo arranged the first blind date of the two. Thanks to her, the couple has found each other. This year Nonoo married her boyfriend Michael Hess in Rome, and naturally, Prince Harry and Meghan Markle were among the celebrities (and royalty) who attended the romantic event.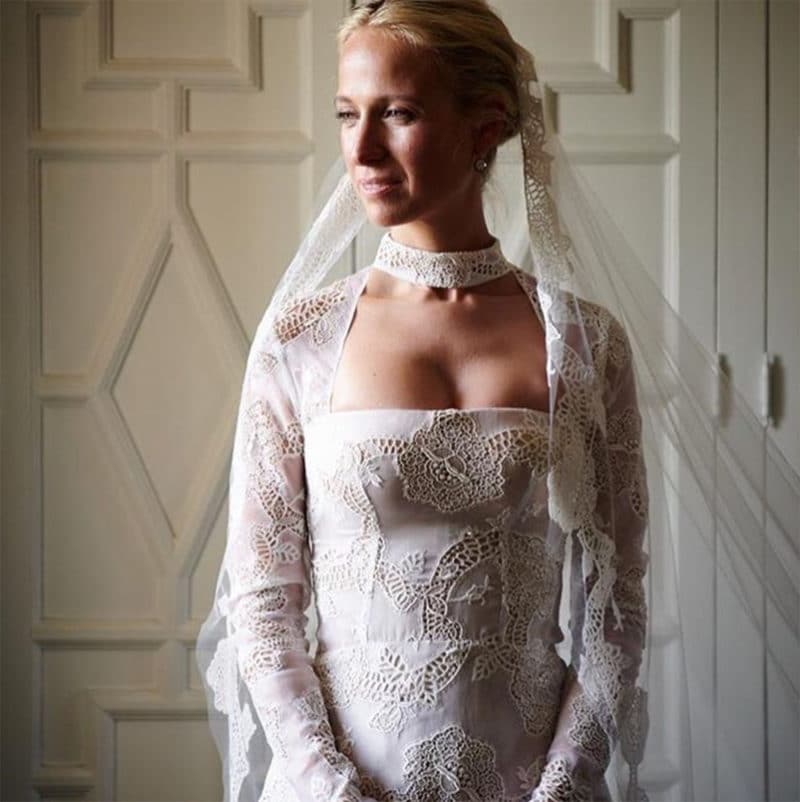 Choosing the right wedding dress is a hard decision for every bride, but it gets that much harder when dresses are what you do for a living. Any fashion designer with self respect would prefer to design their own wedding dress (or wedding suit, if we're talking about male fashion designers, such as Marc Jacobs, who also tied the knot this year – but that's for another article). And as appropriate for a fashion designer, she shared every piece of detail about her masterpiece of a dress: it is hand-embroidered guipure lace, with a 10-meter long silk tulle veil.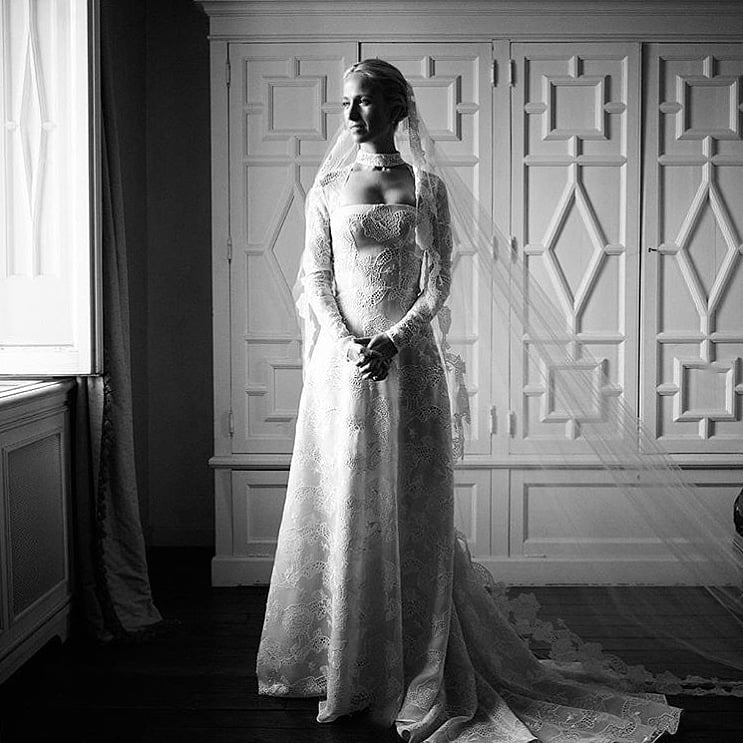 32. Whitney Port
You shouldn't be surprised to find Whitney Port on the list – since she's a fashion designer, though some of you might be more familiar with her from her days as a reality star in The Hills. Being a fashion designer, though Port decided not to make her own dress, grants her an advantage in choosing the perfect one – since she has an eye for style, as her wedding photos prove. The lucky designer who got to make Port's dream come true was Mohammed Ashi of Ashi studio.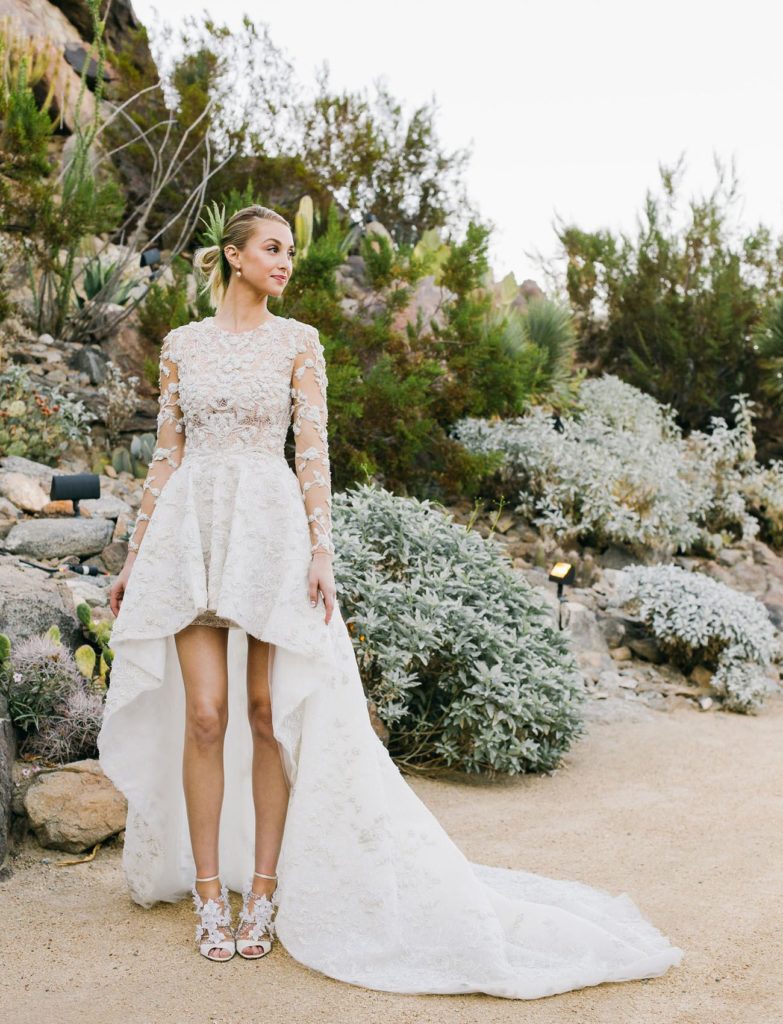 The style of Port's dress is called "high-low" (quite self-explanatory) and it has been spreading like wildfire in the fashion world for the past few years, with more and more fashion designers making dresses of the like, which combine the classic high neckline and long trail of traditional dresses, and a modern look of short dresses, allowing the bride more freedom. The TV personality beamed about her dress, which was everything she ever dreamed of – both elegant and delicate with the lace and the long trail, and both modern and fashionable, and the best part – according to her (though it's hard to believe) – it was comfortable as well.
31. Serena Williams
In the case of tennis sensation Serena Williams, we're not talking about a wedding dress, but three dresses. As you can see, the athlete's dress was quite a fashion statement, and according to her, one she'd never imagine making! Every little girl dreams of her dress for the big day, and Williams said she'd never thought her wedding dress would look anything like that, but upon meeting fashion designer Sarah Burton (for Alexander McQueen) and seeing this sketch, she fell in love with the idea of having a fancy ball-gown dress.
And why not make a spectacular ball of your wedding? After all, most people only have one wedding (ideally, at least). The best solution for not being able to choose the ultimate wedding dress is, naturally, choosing three. If you were impressed by her first dress, you've seen nothing yet. For the reception (that reportedly cost around $4 million), the tennis star changed to another dress – her second dress of the night – was hand made by world-renowned fashion designer Versace's team of embroiderers, in a delicate work that took 1,500 hours to complete.
30. Leona Lewis
British singer Leona Lewis (winner of the X-Factor) married her long-time boyfriend this year, and she truly amazed us with a wedding that can only be described as a wedding from the movies. Although things took an unexpected turn when it started to rain, and their outdoor Tuscan ceremony had to be held indoors, the wedding ended up being perfect, even better than what the bride had in mind. From the old Tuscan estate (property of fellow musician Sting), to the exclusive guest list and the romantic atmosphere, the best part about the wedding was probably the bride's dress.
Her (first, and if you ask us, best) gown was the work of Israeli designer Mira Zwillinger, who operates in the U.K – a lace gown with mesh detail and floral embroidery. For the reception, that lasted all night (rumor has it the guests partied until morning), she changed to her party dress – a sparkling pink dress with spaghetti straps. Wait, that's not all – after the reception she changed one again to a more comfortable (for dancing, that is) crystal jumpsuit.
29. Charlotte Casiraghi
The granddaughter of the fashion icon Grace Kelly didn't disappoint with her wedding dress, or, to be precise, three wedding dresses. They were all very different, but just as beautiful, and so choosing the best one seems almost impossible. For the couple's first nuptials, the bride began with two outfits in honor of her grandmother: a mini dress that resemble the style of Grace Kelly for the civil ceremony, and later she changed to a strapless Channel gown, completing the look with a diamond necklace heirloom of Grace Kelly.
The bride's third dress, for the couple's second ceremony – a religious ceremony at the Abbaye Sainte-Marie de Pierredon – was inspired by her mother's wedding gown – Princess Caroline of Monaco – in 1978 (on the left). Honoring both her mother and grandmother while still looking extremely beautiful, stylish and most of all – modern, is something only a true fashionista can achieve.
28. Pippa Middleton
Pippa Middleton is not officially royalty; she's the sister of the Duchess of Cambridge, and she looked like a proper princess at her wedding, but she just almost-royalty. However, she is a beloved figure in the United Kingdom, perhaps thanks to her impeccable style. At her big day, marrying banker James Matthews, her dress left us speechless. It was modest, yet not too modest, leaving her arms and back uncovered – the perfect combination, since it makes the dress look fancy but effortless.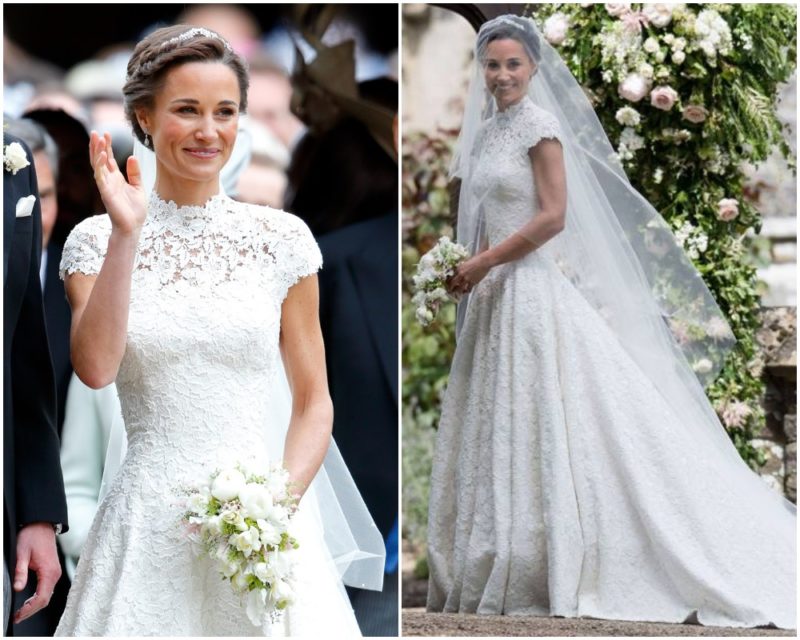 Th lace made it look delicate and soft, which fits her gentle personality; fashion designers commented on the dress, saying it looked "English" – we're not sure what an "English" dress looks like, but perhaps it has something to do with the British designer responsible for this masterpiece – Giles Deacon. Either way, a British dress is very appropriate for this almost-royal British wedding. After the young sister showed up in Kate Middleton's royal wedding in a tight dress, we can't exactly say that seeing this perfectly elegant gown surprised us, but it's definitely a look that fits her better!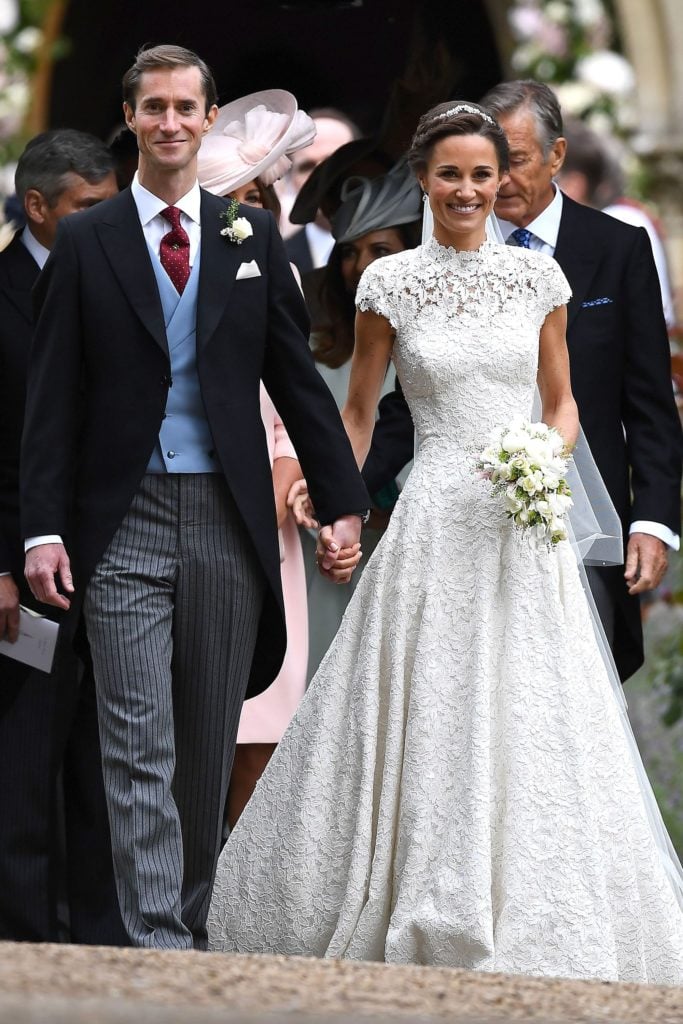 27. Billie Faiers
The British reality star (most known for her performance in The Only Way is Essex) and her boyfriend Greg Shepherd neglected their home country to tie the knot under the romantic sunset of the Maldives, and seeing their wedding photos, it seems as if they made the right choice. Unlike most other dresses on the list (so far), the reality star went with something bolder and sassier, but nonetheless beautiful. The matching veil made completed the look, and on the background of the pink sunset and the vast ocean, the blushing bride looks the picture of perfection.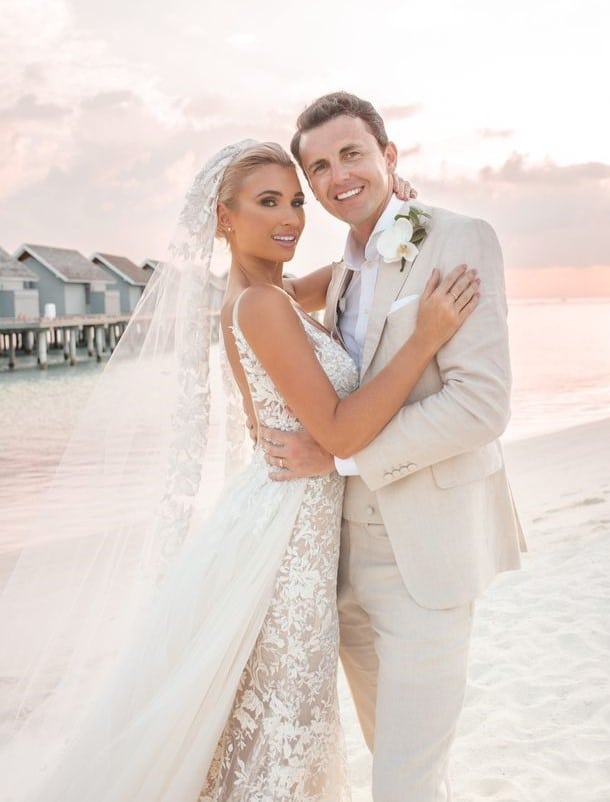 Some brides prefer to go with something more traditional, but as Faiers said, commenting on her dress, since they held their ceremony in the Maldives rather than at church, she could go with something more "daring." We were looking for the right word to describe her dress, and she found it – daring it is. Faiers had her flower girl – her four year old daughter Nelly – as well as her bridesmaids dressed in white as well, and her groom wore gentle colors, to match the white sand and the flower theme.
26. Caroline Wozniacki
When two athletes get married, for some reason, you don't expect their outfits to be this stylish; but Tennis champion Caroline Wozniacki and former NBA star David Lee prove otherwise. Caroline's dress was custom made by fashion designer Oscar de la Renta, a lace gown embroidered with ferns and a floral design. But the blushing bride only changed to this dress after wearing her everyday clothes – for a competition with which the couple opened their wedding celebrations.
After cutting the cake, the bride changed once again to a custom Stella McCartney sequin dress, paired with her good old Adidas sneakers! Yes folks, despite her extremely expensive custom made dresses, the bride kept it simple, proving the world she's a down-to-earth bride by strapping on a pair of sneakers, so that she can fully enjoy dancing at her wedding. There's nothing we respect more than a bride who is confident enough in her dress, to match it with a pair of sneakers.
25. Hailey Bieber
Model Hailey Baldwin, who now goes by Bieber, officially changed her name on her Instagram account, after tying the knot with her singing sensation and teen-idol Justin Bieber. The bride's three head-turning dresses were everything that the venue wasn't: the couple chose to have a quiet ceremony in a small boutique hotel in South Carolina. And perhaps because the venue was modest, the bride went all out and over the top with all three of her dresses.
Her two second dresses, which she wore to hit the dance floor (pairing the third one with sneakers, after getting tired of dancing!), were both made of silk. Her first gown, on the other hand, is made of lace, with a delicate floral pattern, hand custom-made by fashion designer Virgil Abloh. As you can see in the photo, the model had a unique twist, having the words "Till death do us part" sewn on the edge of the long veil.
24. Amal Clooney
The first word that comes to mind when we think of George and Amal Clooney is "elegant," and their wedding was just as elegant as they are. The bride wanted to capture the "romantic and elegant" atmosphere of their wedding in her wedding dress, and so she enlisted for her team-bride the help of the world-renowned fashion designer Oscar de la Renta. The wedding human-rights lawyer and the actor that was once considered Hollywood's most eligible bachelor will always be remembered as one of the most romantic events of the entertainment world.
We could expect nothing else from the couple that is all about elegance and class. After working closely on her dress with the designer, the bride shared that she made the right choice going with him, not only because his impeccable work, but since he is a perfect gentleman, a warm, gentle and respectful man (those were her words!). After long examinations and discussions of different designs, they went with a lace and bead-and-crystal embroidery and a matching veil.
23. Hilary Duff
The former Disney Channel star Hilary Duff got married this year to her rocker boyfriend Matthew Koma in a very non-childish dress. fishtail gown with an open back and what the designer referred to as "empowered shoulders." The actress described it as "striking but simple." Judging by her memorable performance in the modern version of the Cinderella tale, A Cinderella Story, from 2004, we mistakenly thought that in her own wedding, she'd go with something a little more fairy-tale style, some sort of a puffy ball-gown.
The wedding dress wasn't just everything the actress wanted it to be from the outside, but on the inside as well: even before she knew what her wedding dress was going to look like, she knew she wanted her children's initials sewed on the inside of the dress (Luca, 7 – from her previous marriage, and Banks – one year old, from Matthew). She explained that her children are the most important thing in her life, as well as an important part of their marriage and the ceremony, which wouldn't have been the same without them. The wedding dress, though she'd only wear it once, would remain forever as a reminder of her special day. Thus, she wanted her children's names to be part of it.
22. Lauren Hashian
For all brides-to-be reading this, we'll being by sharing that Lauren's dress is still available to purchase from Moda Operandi (not the one she wore, but the design). However, we're not sure anyone in their right minds (that excludes celebrities, of course) would spend close to $13,000 on a wedding dress, which is what the actress spent on it. If the style of the fitted lace dress somewhat resembles that of Leona Lewis, it's because it was designed by the same fashion designer who works closely with many celebrities, including Kate Middleton – Mira Zwillinger.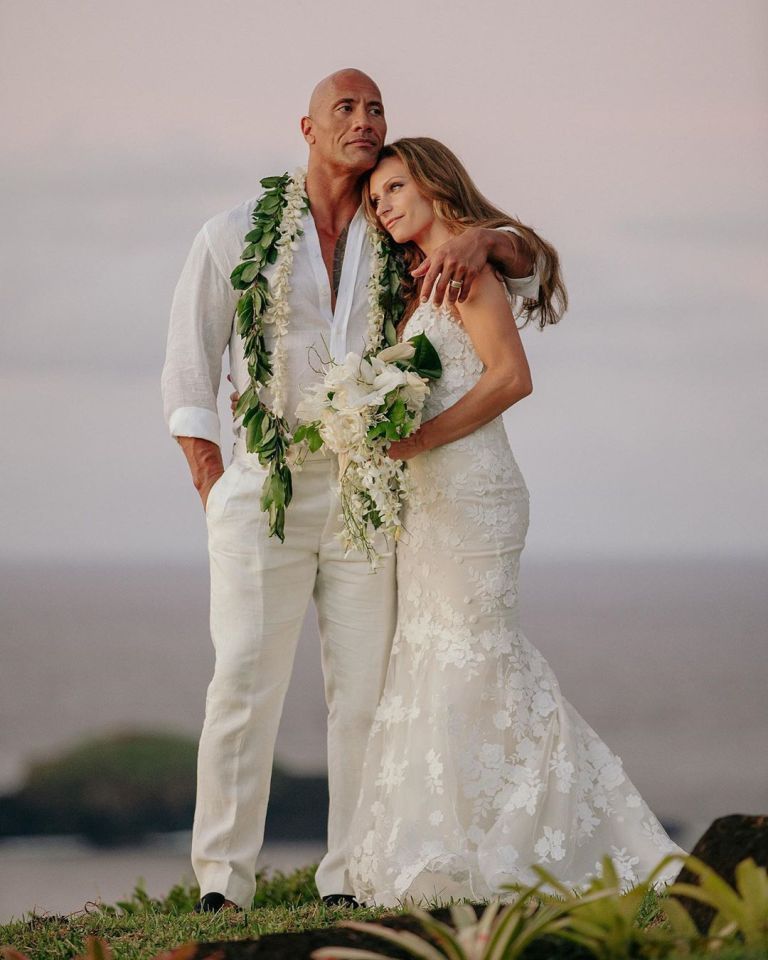 Former WWE star and actor Dwayne "The Rock" Johnson and his long-time girlfriend actress Lauren Hashian tied the knot this year in a beautiful Hawaiian ceremony, that was made perfect by the bride's dress. The dress the actress chose for the big day is slightly dramatic and daring, with an open neckline and an equally open back. The dashing groom matched his outfit to his bride's festive look, with a lightweight white dress shirt and white trousers, neglecting the traditional, yet boring, black and white suit.
21. Katherine Schwarzenegger
With all the talented fashion designers out there it seems impossible to choose the right one, but it seems as if celebrities always end up making the right choice, and more importantly, the one that fits them like a glove. For their ceremony in Montecito, California, Katherine (29), daughter of Maria Shriver and Arnold Schwarzenegger, and actor Chris Pratt decided that acclaimed fashion designer Giorgio Armani would be the lucky designer to create their wedding outfits (though I'm Not sure how much the groom had to say about it).
Thus, both sides had the pleasure and honor of working together. Armani himself designed the couple's outfits, a blue suit for the dashing groom and two gowns for the bride. The first, a strapless lace gown with a (very) long trail, and the second, a silk dress. Aside from the impressive gowns, the bride added some sentimental pieces to complete her bridal look, including her mother's veil and her grandmother's earrings (as her something old).
20. Katharine McPhee
Katherine McPhee, singer, Broadway star and American Idol alum found her perfect match with music producer David Foster, and the happy couple tied the knot this year in a summer wedding in London, after dating for two years. They settled on London as the perfect destination since the bride would be just finishing her Waitress run on Broadway in London around the time of the wedding, and the two planned on traveling through Europe with a group of friends. Also, having your wedding ceremony in England always gives it a certain royal glow.
As shown in the photos, the bride had not one, not two, but three wedding dresses, as appropriate for a dramatic theater actress. The blushing bride made her first appearance on the big day in a custom-made Zac Posen gown – a strapless dress with a deep neckline and antique white striped tulle (in the bottom left photo). The bride realized she made the right choice by Going with Zac Posen when he suggested she'd make the dress more unique by incorporating the couple's love for music on it somehow. This is how she ended up with one of David's songs notated on the back of the dress.
19. Sabrina Dhowre
Finally, designer Vera Wang makes an appearance for number 20 on the list of most memorable wedding dresses of the decade. For those of you who aren't familiar with the name, Vera Wang is one of the best, most acclaimed fashion designer in the U.S and Europe, specializing in wedding dresses. And just one Vera Wang dress wasn't enough for the model/actress, because you can never have enough of something this beautiful, so after the ceremony the bride changed to another custom Vera Wang gown.
Turns out having references, words or sentences embroidered somewhere on your wedding dress was the hottest trends of 2019: The new wife of eligible actor Idris Elba had her Vera Wang wedding gown embroidered with a special tribute to her new husband. On the hem of her second dress were you can find the words "This train carries no wrong do-ers," a phrase the actor has tattooed on his forearm.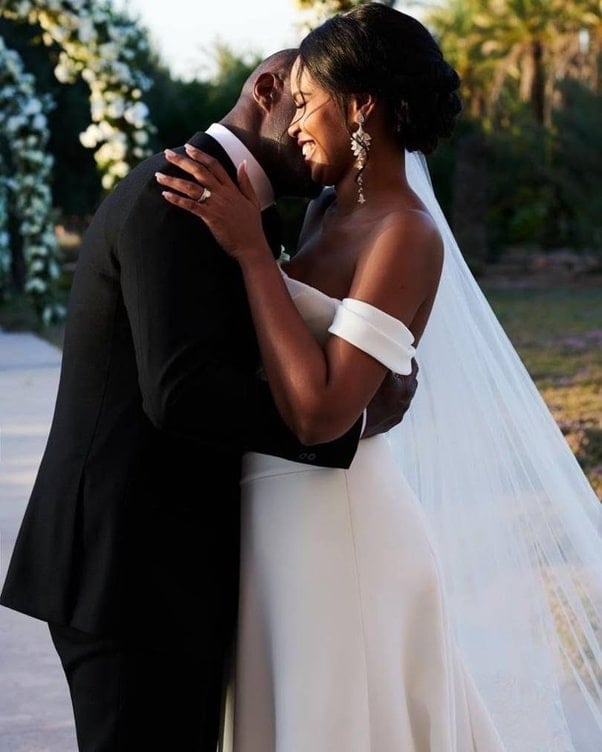 18. Sadie Robertson
2019 was a busy year in Hollywood, full of celebrity weddings, including american actress and reality star Sadie Robertson and her boyfriend Christian Huff, after going out for only nine months. But a lot of weddings mean a lot of wedding dresses, so we have no complaints. Sadie Robertson brings something new to the table, and takes us back in time with her classic dress, which grants her a place on this list. We've seen Vera Wang, Giorgio Armani, Mira Zwillinger and other notable names, and here we see the work of yet another talented fashion designer, Rita Vinieris.
It seems like most wedding dresses on the list were found in London, but the reality star found the perfect dress in New York, at Kleinfeld Bridal, and she's living proof you don't need to go far to find the perfect dress. The bride shared that the moment she saw the dress, she knew it was the one. Love at first sight exists outside of fairy tales, and it tells the story of brides and their wedding gowns. Robertson was visiting New York for a work trip, and she just thought of paying the store a visit to get excited about the wedding and get a first idea of wedding gowns – she had no intention of buying a dress that day. Sometimes you don't choose the dress, the dress chooses you.
17. Jessica Biel
While some brides go by the book with the white dress, the cans on the car, the something old, something new, something borrowed and something blue, others prefer to neglect tradition, and see their wedding day as an opportunity to unleash their creativity. Perhaps this is what created the colored dresses trend that has been around the weddings world for the past decade – and it doesn't seem like it's going anywhere! Very appropriately, Jessica Biel was one of the brides who went along with this wild trend, looking more gorgeous than ever in a pink puffy dress.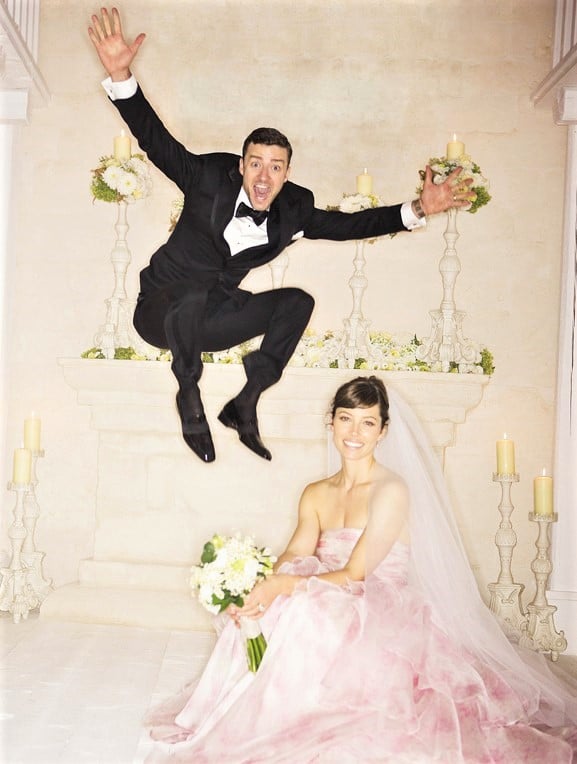 Naturally, when it comes to a celebrity, and a beloved couple such as singer Justin Timberlake and actress Jessica Biel, this unconventional choice didn't go unnoticed, and the actress had to provide some explanations for this dress; she said that white was never her color, and that she wanted something romantic and feminine – and really, what's a more romantic and feminine color than light pink? If you ask us, she couldn't have picked a better dress, and this bold choice suited her perfectly.
16. Christina Aguilera
If there's one thing that can describe the iconic singer Christina Aguilera, it's that she has her own rhythm, and she isn't afraid to follow it. This was always the case with her music, and also when it came to her wedding back in 2005. The singer fell in love with this dress, by Christian Lacroix, during the Paris Fashion week several months prior to her wedding. We've seen plenty of different designs when it comes to celebrity wedding gowns, but the flamenco style dress, with the long ruffled tulle is something we've never seen before not after Christina Aguilera.
While the dress was extremely unique, it seems rather uncomfortable! Today we see more and more brides replacing the high heels with sneakers for the dancing part, but over a decade ago, something like this would've never been accepted! Back then, it was believed that brides had to suffer in order to look their best, and this partly explains the singer's choice of dress. Her red lipstick is a signature mark of hers, so even on her wedding day, you could have expected to see the singer with a rather bold, unconventional look.
15. Carrie Underwood
When the country singer (former champion of American Idol) was set to marry Canadian Hockey player Mike Fisher, she went all out on her wedding day, with a gown by Monique Lhuillier, matched with a tiara. Her gown, as you can see in the photos, is quite extravagant, and it's only one part of the wedding where the bride went over the top. For their wedding venue, they rented an entire hotel (all 251 rooms of it), and not just any hotel – the Ritz Carlton Lodge in Georgia, combining luxury with country. The event reportedly cost around half a million dollars.
Talking about her wedding, the singer admitted that the gown was too huge, and that "in order to get her boogie" on, she had to change to a different dress! Well, we can't say that we blame her – we wouldn't be able to dance in a gown like this one either. For the reception, then, the bride changed into a slim-fit cocktail dress, another design by Monique Luhillier. Turns out having more than one wedding gown isn't a trend of recent years.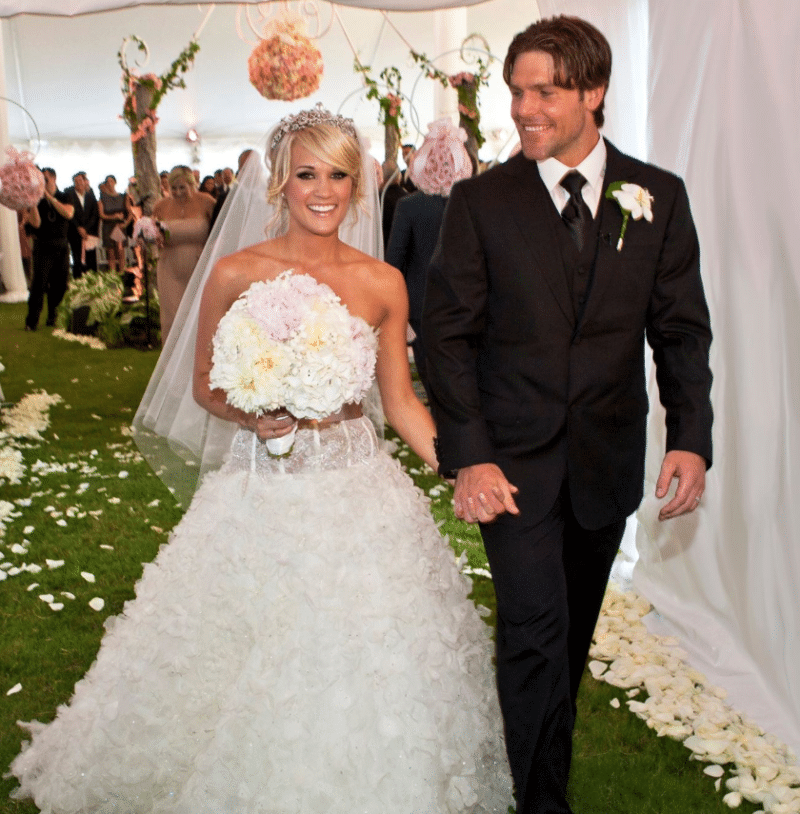 14. Meghan Markle
The wedding of Prince Harry and Meghan Markle was probably the most public wedding of the decade, and imagine the regular stress of your wedding day, with the added pressure of having the eyes of the entire United Kingdom upon you, examining your every step. Choosing the perfect wedding dress – one that is both traditional and modest, but also daring and modern – becomes that much harder when you're marrying the prince of England! Meghan Markle knew that walking down the aisle on her way to become an official part of the royal family, her dress had to be impeccable. And we think she did quite a good job, don't you agree?
The Duchess of Sussex' wedding dress might look simple on first glance, but it's full of intricate details that make it extremely special and valuable. The designer chosen by the former actress is a British designer situated in Paris – a tribute to her new nation – Clare Waight Keller. The veil is embroidered flowers representing the 53 nations of the British Commonwealth, a tribute to her husband's role as Youth Ambassador for the Commonwealth. It is 16 feet long, and took no less than 500 hours to embroider. The veil also contained Meghan's sentimental something blue – on the inside was sewed a small piece of the blue dress Meghan wore to her first date with Prince Harry. How adorable is that?
13. Nikki Reed
Hollywood's favorite vampire couple stunned us with a beautifully elegant outdoors wedding. Reed (Twilight saga) and her husband Ian Somerhalder (The Vampire Diaries) took to nature with all their nearest and dearest to celebrate the happiest day of their lives, and the photos are breathtaking. Nikki's dress was everything that a wedding gown should be: it was delicate, elegant, modest (but not too much, just the right amount) and it fit her perfectly. Together with the groom's cream suit and the green background, their wedding photos embody the essence of their relationship: they are down to earth, enjoy nature, and most importantly – they are always coordinated.
The talented designer responsible for this stunning gown is Claire Pettibone, a couture fashion designer. While the lacy front of the dress looks quite conservative, with the long sleeves and high neck, as you can see in the bottom photo, the back is revealed, a detail that creates the perfect balance between classy and sexy. The unconventional bride decided to loose the veil, and instead, she wore a string of white flowers along the back of her head, to match the nature theme of the wedding.
12. Sofia Vergara
In 2015 actress Sofia Vergara married actor Joe Manganiello after only after only short months of dating – I guess when you know, you just know. Judging by her constant red-carpet look, we expected the bride to go with a silk, tight, body-fitting gown, but for the ceremony, she surprised everyone with a more traditional, puffy, lace gown (on the left). Of course, that was only after she wore something a lot more revealing to enjoy some relaxing time by the pool before the big night (on the right).
Her wedding gown, custom-made by designer Zuhair Murad, which unlike the style of the dress, didn't come as a surprise, since the actress and the designer have a long history of working together when it comes to award shows and different events, and now the biggest even of them all – her wedding day. This kind of a gown with the long trail and intricate details (that sadly don't show in the photo) takes a lot of work, 1,657 hours of work to be exact! It features 6.6 pound of pearls and 350 crystals.
11. Sophie Turner
Game of Thrones star and singer Joe Jonas tied the knot this year, twice. The first was a classic Vegas wedding, a spontaneous with some of their celebrity friends and an Elvis impersonator as the officiator of the ceremony. But as appropriate for the Queen of the North, she wasn't going to give up having a proper wedding, and more importantly, a proper wedding dress. So the couple had another, fancier and bigger wedding in the most romantic place in the world – France; and the bride's dress was just as romantic, a dress that wouldn't shame real royalty.
The actress is the ambassador for the fashion house Louis Vuitton, and so it was no surprise when she chose them to design her wedding dress. The intricate hand-made gown required over 350 hours of work. from the front, the dress looks the picture of tradition and purity, with the long sleeves and the long, puffy skirt with the ling trail. But from the back, you can see the open-cut that gives the dress a modern twist, and as a whole, it embodies the impeccable style of the actress.
10. Miranda Kerr
The Australian model, known for her participation in Victoria's Secret Angels line, married her prince charming – the founder of Snapchat, in 2017. While the two tied the knot in a humble, 45-person ceremony at their house, the blushing bride's wedding gown but anything but humble. Since he popped the question a year before the happy event, the only thing the model was obsessed about was the dress she was going to wear, and who would be the lucky designer.
When Maria Grazia Chiuri joined the fashion house of Dior, Kerr thought she would make for a perfect partner in crime, and of course – it's every little girl's dream to have your wedding gown designed by a big brand name such as Dior. This made the decision easier than Kerr ever thought it would be. Kerr chose something that is quite uncharacteristic for a Victoria Secret's model, who usually wears very little – and covered up from head to tow, in a dress that according to her creates a sense of purity on the one hand, and mystery on the other.
9. Shenae Grimes
Here comes the bride, all dressed in black! 90210 star Shenae Grimes decided to break the norm by wearing all black to her wedding, and she's not the only one. The trend was first introduced by fashion guru Vera Wang in her fall collection in 2012, and was adopted by different celebrities, because when a big name in the industry such as Vera Wang says something of this kind is a good idea – you listen!
And we must say, it suits the 90210 actress, don't you think? And her dress wasn't any black wedding dress, of course, because if you go with something this unconventional, you better do it right; her dress is one of Vera Wang's designs included in her 2012 black wedding gowns collection. The actress, who we haven't seen much on screen since her memorable performance in 90210, is reportedly trying to pursue a career in the fashion world, which partly explains her unusual choice of a wedding dress back in 2013.
8. Priyanka Chopra
Where does one begin discussing actress Priyanka Chopra's wedding outfits? Let us begin by saying that the actress and her now-husband Nick Jonas had one of the most colorful celebrity weddings of the decade, and we're not just referring to her bride's outfits. The two had a long wedding celebration in India, where they held both a religious Christian ceremony and two traditional and Indian parties, including the cultural music, food, and most importantly – outfits, which included almost ten different gowns.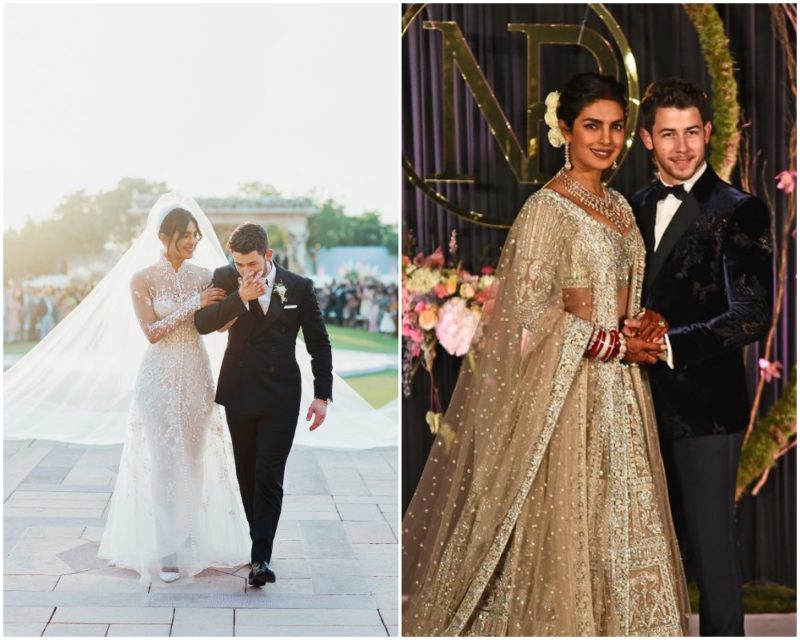 Including her bridal shower, bachelorette party and three wedding ceremonies, the bride wore a total of nine dresses! Yes, you heard right. Having two wedding gowns is a norm that isn't reserved only for celebrities, three wedding gowns is also considered normal by now, and four wedding gowns is somewhat pushing it, but it still works. But never have we heard of nine wedding outfits, until Priyanka Chopra entered the picture! For the religious ceremony she wore a stunning Ralph Lauren gown (upper photo on the left), but the more interesting dresses were probably the traditional custom gowns, honoring her Hindu culture.
7. Kate Middleton
This list wouldn't be complete without Kate Middleton, the Duchess of Cambridge, who entered the royal family in 2011 and it seems like she was born to be part of it. When Kate Middleton said "I do" to Prince William in Westminster Abbey on lovely spring day, all eyes of the United Kingdom were on her. Every royal wedding attracts great public attention, but for some reason, this one attracted more. The wedding day of Prince William and Kate Middleton was a national holiday in the U.K, and people stayed home, with their eyes glued to the TV screen fascinated by their nuptials.
Alexander McQueen is another acclaimed fashion designer, one which we haven't yet seen on any celebrity on the list, and it was about time he'd make an appearance here. The intricate royal dress is very impressive, but would you ever guess it cost nearly $500,000 dollar to make? On the other hand, when you learn that nearly $1 million was spent on flowers for the wedding, spending this amount of money for the wedding gown doesn't seem like too much.
6. Ciara
When the singer married NFL quarterback in 2016, the whole thing – from the venue, to their love story, and of course, the dress – looked like a proper fairytale. The two American superstars chose an English castle as the perfect venue for their dream wedding (quite understandably) and flew around 100 of their nearest and dearest to participate in their fairytale. And when you get married at an old English castle, the dress must be appropriate for the venue.
The beautiful lace dress was a custom-made gown by Roberto Cavalli's A-team, and it features a boho, vintage look (the bell sleeves, for example) combined with a modern twist. As you can see in the photos below, the bride's wedding gown was spectacular. So spectacular, in fact, that it was too big to fit in the wedding chapel inside the castle! Reportedly, the bride had trouble fitting her 13-feet long dress inside the chapel.
5. Gwyneth Paltrow
The award-winning actress proved once again that she's one of the most beautiful women in Hollywood, with her angelic wedding day look. Her dress was to stunning, that the actress didn't need anything else, and in fact, coupling it with the wrong jewelry might have taken away some of the dress' elegance. Thus, she settled for minimal makeup, she wore her hair down, and no jewelry except, of course, for her engagement and wedding rings.
For her Hamptons wedding with Brad Falchuk, the actress chose to wear a dress by the acclaimed fashion master Valentino. The dress featured a lace bodice, cap sleeves, and an open back. If you ask us, the dress looks rather comfortable (for a wedding gown, that is), but still the bride changed into another custom-made gown for the dancing, where she was accompanied by her good friends from the show biz, including actress Cameron Diaz and comedian Jerry Seinfeld.
4. Mandy Moore
When she married the love of her life in 2018, actress Mandy Moore chose a simple, elegant light-pink dress, custom-made by luxury designer Rodarte, and if it wasn't for the unusual color, the dress would have been the picture of tradition. The actress said she never had an idea of what her wedding dress would be like, but she always knew she wasn't the one to wear a traditional white wedding dress. Her wedding as a whole was very humble and laid-back, and indeed her dress, though it was beautiful, wasn't your usual grand ball-gown wedding dress.
The couple tied the knot in front of their nearest and dearest in their home in Pasadena, California, and that's where her husband, Taylor Goldsmith, had popped the question. The blushing bride completed her angelic look with a delicate pink tulle veil, embroidered with flowers. Her hair, as well as her bouquet and her ceremony floral arch all featured Gypsophila.
3. Kate Moss
The weekend long wedding of supermodel Kate moss and rock star Jamie Hince was privately called Mossstock, to describe the laid-back atmosphere of the three-day long party in an England rural town. The name Mossstock also suggests something about the bride's dress: the model went with a vintage style dress, not too extravagant upon first glance, but full of details on a closer examination.
John Galliano was the lucky designer who received the honor to make the wedding dress for the iconic super model, a dress that was bound to set a trend for future weddings. The much-anticipated dress turned out to be even more beautiful and unique than anyone anticipated, and most importantly – very characteristic of the bride and the atmosphere of the event. It's a silk slip dress, covered with a bodice embroidered with gold sequins, rhinestones and gold beading decorating the long skirt. The vintage style is also present in the veil, which features a 20's style lace cap veil.
2. Rose Leslie
They met on the set of Game of Thrones and were out favorite on-screen couple, and now they make our favorite real-life celebrity couple. The elegant couple tied the knot in front of all their loved ones (including, of course, their co-stars from Game of Thrones) in a Scotland castle. While most guests wore traditional Scottish costumes, the bride dazzled everyone with a stunning lace dress, with long lace sleeves. It fit her perfectly, and together with the floral crown, she made for an angelic bride.
The actress' wedding dress wouldn't shame a queen, perhaps because it somewhat resembles in style a royal gown – that of Kate Middleton. The impeccable dress is the work of fashion designer Elie Saab, which hit the spot with the dress that fit the bride perfectly. The rain of white flower petals the guests at the star-studded wedding added a nice touch to the already perfect look of the happy couple as they walked towards the car as newly weds.
1. Chrissy Teigen
With all these beautiful dresses we've seen over the decade, seems like it should have been a hard choice picking the best one, but Chrissy Teigen made it a lot easier, when she tied the knot with singer John Legend in this Vera Wand wedding dress. The model wore three Vera Wang dresses, to be exact, all equally impressive. She said she couldn't hold back every time she met with the designer, because everything was too beautiful to choose only one. She had a difficult mission choosing the perfect dress to fit the perfect wedding location in front of Lake Como, Italy.
The dress she wore when she said "I do" to Legend, exactly seven years after the couple's first date, had everything in it, and was truly fit for a princess: it was an ivory strapless dress on the one hand, with an open back, which isn't too traditional, but the skirt, on the other hand, featured layers of a tulle ball-gown – like the skirt every princess in every fairy tale wears. After the emotional ceremony, the bride changes to a more comfortable dress, for dancing, and later that night, she changed once again, this time to a daring red dress, to end the magical night on a romantic note.