There are several Hollywood events throughout the year for which we all wait with bated breath, perhaps even more so than the celebrities (probably not, though). One of these anticipated events, of course, is the Golden Globe Awards. We all want to see whether or not our favorite film, series, actress or director won an award, but more importantly, we want to see the outfits!
If there's one thing celebrities excel at (except for their jobs, that is) it's dressing up extravagantly. They're never afraid to try new things and set new trends, and you need to have this certain quality and confidence to be able to wear these kind of dresses and look good in them, a quality which, as it seems, is reserved for stars. So the only thing left for us to do is sit back and enjoy examining all these magnificent dresses.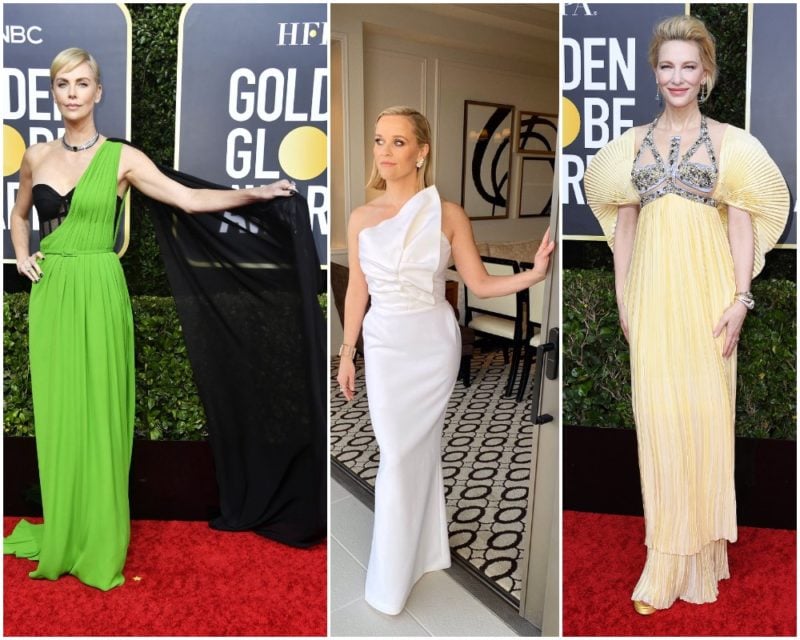 37. Jennifer Lopez, 2020
The new year has only just began and already we see some questionable fashion trends emerging. J. Lo's dress choices have always been somewhat controversial (scroll down to see her scandalous dress from 2015), but this year we feel as though she truly outdid herself. We're not saying that her dress isn't beautiful, but it's a lot to take in, and it's certainly not everyone's cup of tea. The combination of gold, white and green is a bit unusual, and the giant bow at the front seals the deal nicely. Overall, this is quite a unique dress.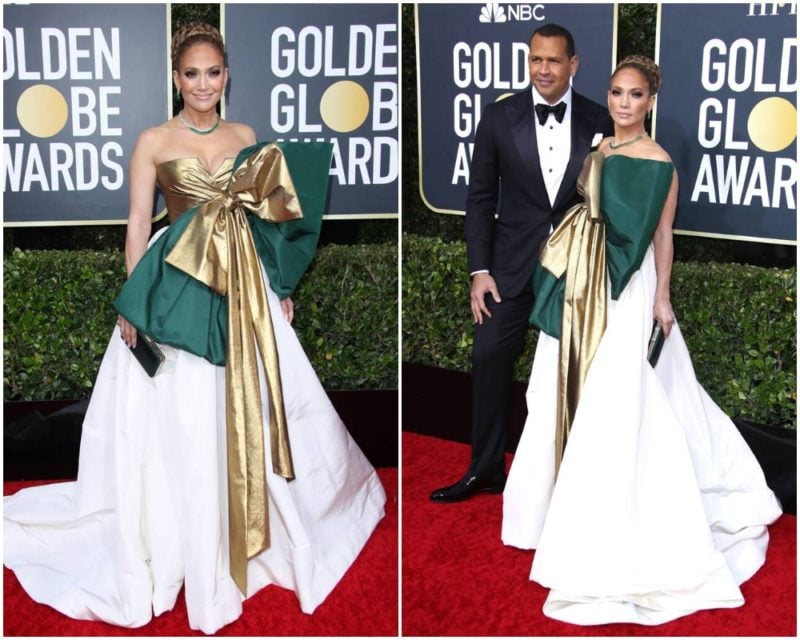 This dress is the work of acclaimed fashion desginer Valentino, and while some would say it resembles a Christmas present (green and gold are associated with the festive holiday, after all), you can't argue with the fact that not many people can pull off an extravagant dress like this one, and the singer/actress certainly does! She showed up at the luxurious event with her new husband in tow, but it's quite safe to say that he gets lost behind this giant bow and attention-drawing dress.
36. Jodie Comer, 2020
It's only been short hours since the celebrities walked down the aisle looking their best, and already there are endless memes out there comparing actress Jodie Comer's dress with Baby Yoda. If you ask us, the actress looked stunning, and true, the color is somewhat Mandalorian, and the puffy sleeves resemble Baby Yoda's ears, but aside from that, we don't see any similarity whatsoever.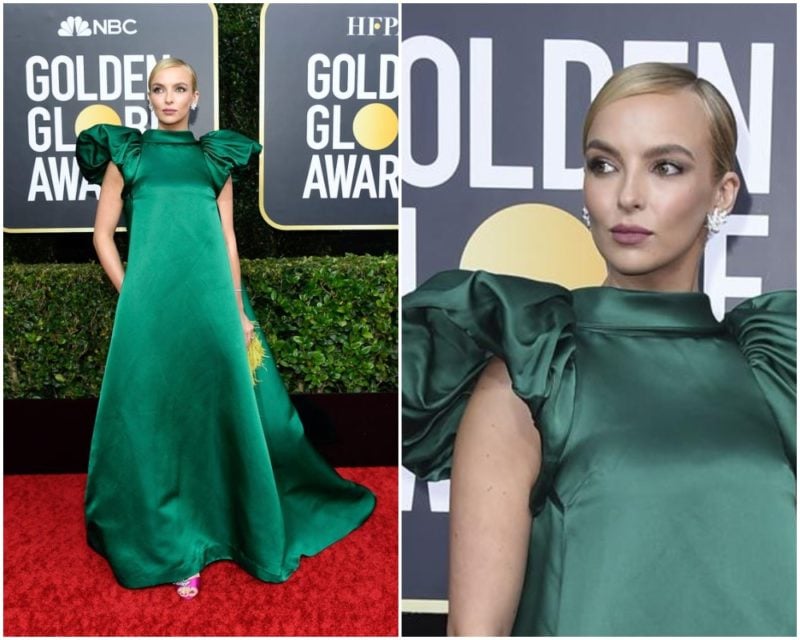 I'm sure this unfortunate resemblance to Baby Yoda wasn't at all intentional, but as they say – there's no such thing as bad publicity, so perhaps it's better to have people talking about your dress, even if all they have to say is that it looks like an alien. Seems like the dress wasn't her lucky one, though, since the actress was nominated for Best Actress for her performance in Killing Eve, but didn't win this time around. But don't worry, she already has an Emmy on her shelf from last year's Emmy Awards.
35. Ellen DeGeneres, 2020
Never stepping out of character, Ellen DeGeneres suited up to yet another red carpet event, and we must say this is a look that suits her. This year, her wife Portia de Rossi and her decided to present a united front, and they both showed up is suits and dripping with style. DeGeneres won the Carol Burnett Award for her significance work in television, and we must say, it's well deserved.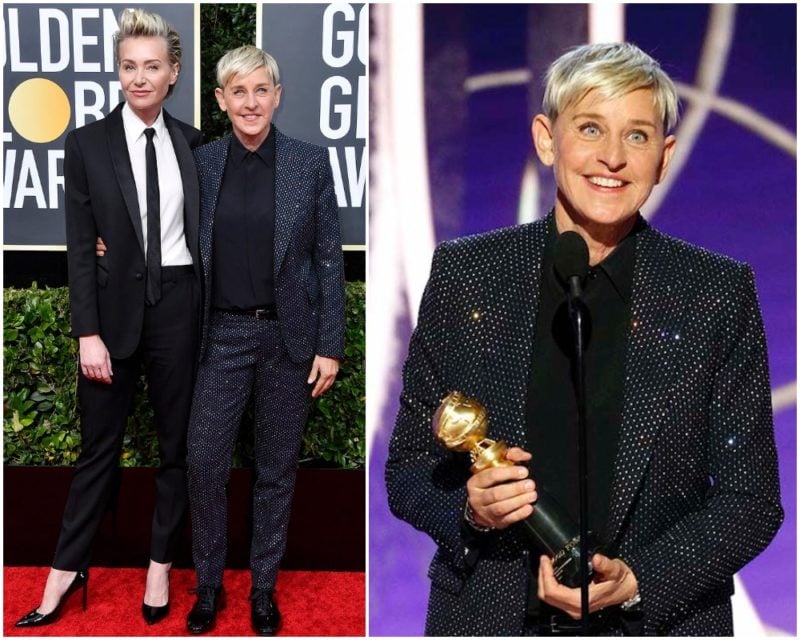 Her suit, designed by Celine, featured navy glittering sequins, which looked dazzling on stage when she received her award; it seems as if the award was created just for her, so that she could win even though she isn't an actress! Every celebrity has her own characteristic style, and for Ellen DeGeneres, it's an androgynous style that she's known for from both her T.V show and the red carpet. She pulls off this style better than anyone else, and by now it has become her signature mark.
34. Kirsten Dunst, 2020
The actress made her first appearance on the red carpet at the age of eleven, when she was nominated for Best Supporting Actress for her role in Interview With a Vampire. Over twenty years have gone by since, and several more nominations, and by now the actress is not unfamiliar with the red carpet. This year, she was nominated for her performance in the Showtime series On Becoming a God in Central Florida, and although she didn't win, her dress left a mark, so she can mark herself a different kind of win.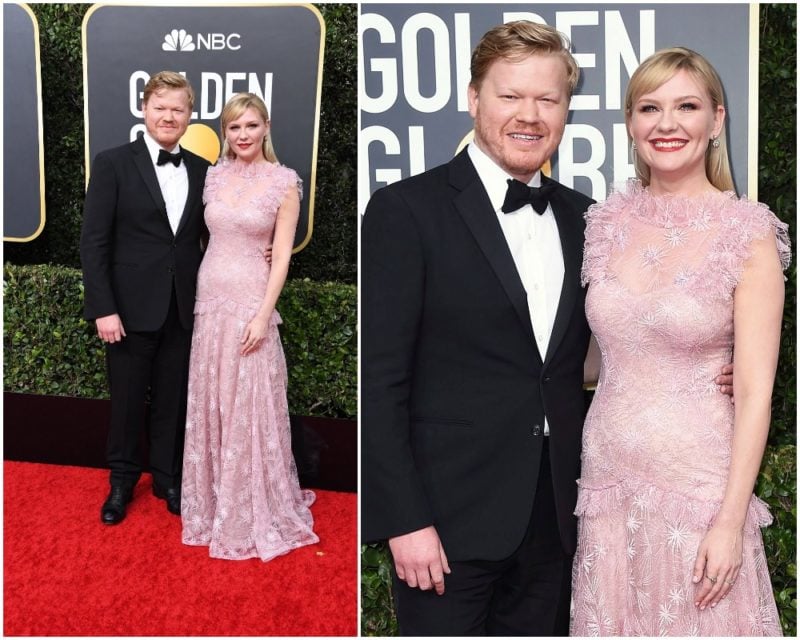 The actress wore a dress by Rodarte in accordance with her usual style coupled with her signature red lipstick. It seems as if celebrities take their red-carpet almost as seriously as they do their wedding gowns; the acclaimed actress took a big part in designing her dress, and she shared in an interview that she joined the designers in their hunt for the perfect fabric and eventually picked out the lace herself. Judging by her dress, Dunst knows her style better than anyone else, and joining the designers and picking out the lace truly paid off.
33. Jennifer Aniston, 2020
The blackout dress code of the Golden Globe Award was two years ago, but seems like Jennifer Aniston didn't receive the memo. Black is always a safe choice, something you can't really go wrong with, but seems like this year's award was a very colorful one, as very few celebrities showed up all in black. While some celebrities go with a more extravagant look to the luxurious event, actress Jennifer Aniston has never been one to go for flashing colors and unconventional designs, and why would she, if she can turn heads even while wearing black?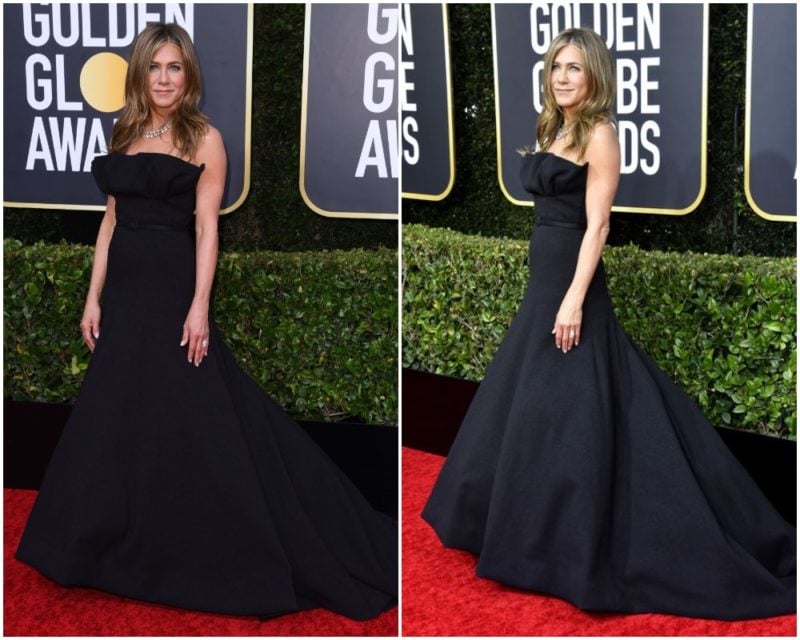 The best thing about wearing a black dress? It goes with any kind of jewelry. Aniston paired her black strapless ballgown with a diamond necklace, and proved what we already knew, that diamonds are a girl's best friend. She was nominated this year for her show The Morning Show, and she honored the exciting, much-anticipated moment with a Dior Haute Couture dress. Aniston is here to show us that you don't need flashing colors to be dazzling.
32. Michelle Williams, 2020
And from Dior we move on to Louis Vuitton, which wasn't a surprising choice made by Michelle Williams, as the actress is a long-time ambassador for the global brand, and wears them almost exclusively to red carpet events. The actress is close friends with stylist Kate Young of Louis Vuitton, and so she was the one who got the honor to design her look, which is destined to be part of the brand's Spring 2020 collection.
It was a good thing the actress decided to go with this stylish dress, since she ended up not only turning heads on the red carpet, but she also stepped on stage to receive the Best Performance by an Actress in a Limited Series or a Motion Picture Made for Television Award for her performance in Fosse/Verdon. Her custom gown was paired with $70,000 worth of jewelry, which completed the actress' luxurious, yet elegant look, and she truly looked like a million dollars; don't you agree?
31. Reese Witherspoon, 2020
No, Reese Withespoon didn't confuse the Golden Globes with her wedding day, but if you ask her, it's very possible she thinks this is an even bigger event that her wedding. The actress posted a picture of her dress on social media, along with the caption "Wearing white to the biggest party of the year, wish me luck!" The actress and her husband of eight years, Jim Toth, have never been more coordinated, as he matched her all-white outfit with an all-black velvet tuxedo, and walking down the red carpet hand in hand, they looked like bride and groom, in a good way.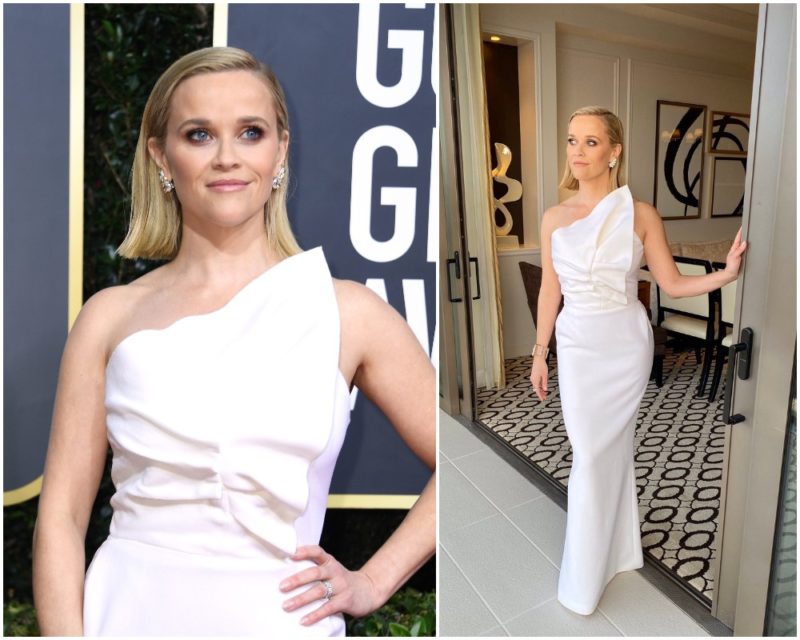 The actress' angelic look wasn't created out of thin air, and she made sure to post another photo on Instagram, with her beauty team, thanking them for creating her perfect look. This year, the actress was celebrating two successful TV shows, Big Little Lies and The Morning Show. Although this year she would have to settle for only a nomination, she already has two Golden Globe Awards on her shelf, and we're still counting.
30. Renée Zellweger, 2020
The years 2000-2007 marked the seven good years for Academy Award winner actress Renée Zellweger, when she showed up to the esteemed ceremony with her then-husband Jim Carey every year looking her best, being nominated every year and winning three Golden Globes during these seven consecutive nominations. However, since then, the actress somewhat disappeared from the red carpet, showing up to only selected events, without marking significant marking any nominations. This year, she's back on the red carpet, looking better than ever.
The actress was nominated for her role as Judy Garland in the biographic film Judy, and luckily fir her, she chose the right dress for the event, as she ended up stepping on stage to receive an award for Best Performance by an Actress in a Motion Picture. Her Armani pastel-blue strapless gown, matching the color of her eyes and her blonde hair featured a thigh-slit, to remind us she's still got her figure at the age of 47, and crystal-embroidered piping.
29. Cate Blanchett, 2020
say what you will about Cate Blanchett's dress, the award-winning actress achieved her goal: to draw attention. After all, that's what the Golden Globes are all about (well, that, and hailing this year's best works of cinema). The Australian actress dazzled the crowd with a Mary Katrantzou custom Haute Couture gown, with a jeweled bodice, looking like an angel with yellow wings.
This year's ceremony didn't mark a win for the Where'd You Go, Bernadette star, but in the category of Best Dressed, or Worst Dressed – depends on who you ask – she's definitely in the lead! She wore her hair up, probably as to not attract attention away from her dress (as if that's even possible), and matched the jeweled bodice of the dress with diamond earrings, and the light-yellow gown with yellow heels.
28. Margot Robbie, 2020
As we said, celebrities take their red carpet outfits very seriously, and start planning months ahead the perfect dress. In fact, it's very possible that as soon as this year's ceremony was over, attendees already started thinking about next year's dress. Take actress Margot Robbie, for example, who dazzles us every time, with every dress being more beautiful than the previous one. Last year she stunned the crowed with a gown by Gucci (scroll down the list to see), and this year she spiced things up and wore a dress by Chanel.
The Australian actress was nominated this year, Best Supporting Actress award for her role in the drama Bombshell, which marks her second nomination. The bustier top combined with the white skirt might look simple, but it consists of 4,750 sequins and beads, and it took over 200 hours to create. Pairing the intricate, colorful top with the simple, white satin skirt makes for the perfect combination, and creates an elegant, tasteful look, that almost makes you think this outfit was completely effortless.
27. Meryl Streep, 2020
After 33 Golden Globe nominations and eight wins (not to mention other awards the actress has picked up throughout her career), Meryl Streep is no longer fussing about her dress for the red carpet. She's earned her name in the industry, and though she doesn't take her looks lightly, she also doesn't try too hard to impress anyone. We take a look at her dress in this year's ceremony, versus the ceremony of 2017, when she was the recipient of the honorary Cecil B. Demille Award for outstanding contributions to the world of entertainment.
The actress knows that black is always a winning color, and this year, her shiny black Dior gown was described as "timeless" – and we couldn't agree more. But what people are talking about after the big night isn't the actress' tasteful dress, but her act of friendship towards fellow actress Helen Mirren: when the latter had a mishap with her gown, Merryl Streep rushed to her aid – that is, took her backstage and fixed her dress. In the few hours that passed since then, that's all people can talk about, saying how the admire the actress for what she did. Some of the comments included, "friendship goals," and "queens support queens."
26. Charlize Theron, 2020
Charlize Theron's green and black one-shoulder dress made waves at this year's Golden Globes red carpet. Her masterpiece of a dress was the result of a successful collaboration between the actress and Maria Grazia Chiuri, the artistic director of Dior. The actress only said she wanted to wear something green (a popular choice of color for the red carpet), and the black corset was the idea of the artistic master. When she first saw a sketch of the flawless dress, the actress fell in love with it.
This is one of the most successful outfits of this year's award ceremony, and so winning this honor is ought to alleviate the disappointment of nor receiving an award, though Theron was nominated for her performance in the drama Bombshell. The designer of the dress said that having Theron wear it brought it to life, but that the photos don't portray the delicate details of the dress, such as the detailing inside the inner corset work. Either way, we can see that it's spectacular.
25. Emma Stone, 2017
The young actress was already nominated for the desired award five times, and in 2017 she marked her first win the Best Performance by an Actress in a Motion Picture for her performance in the acclaimed musical La La Land. Every time she steps on the red carpet, the actress immediately steals the show, but in 2017 she truly outdid herself, almost as if she knew this was the year she would finally win and step on the stage, after two nominations.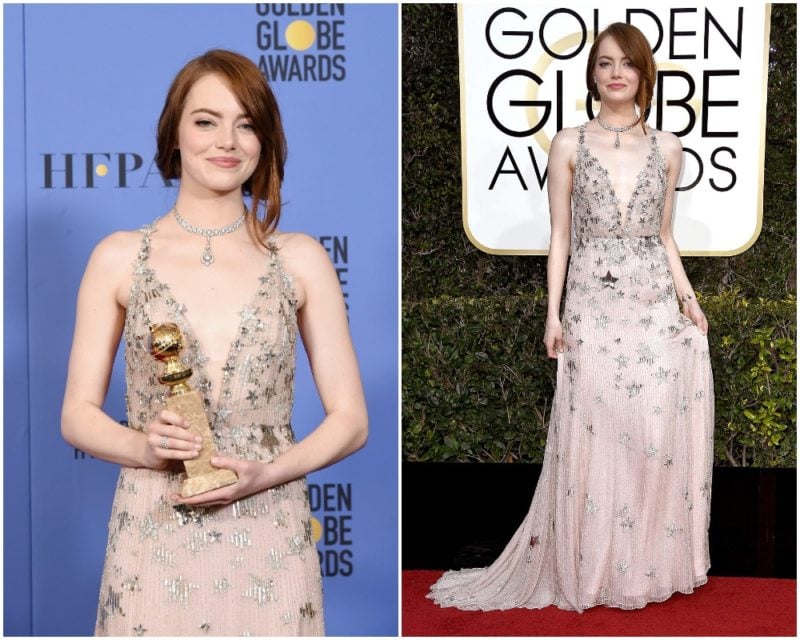 The dress she chose for the big night, which ended up being even bigger than she'd expected, was a Valentino gown, and her starry look was created by stylist Petra Flannery, who matched the metallic stars of her dress with silver Tiffany & Co. jewelry. Silver sparkles and a deep neckline is pretty much the actress' usual red carpet look, giving it a different version and a different twist every year. This year's award wasn't much different, and the actress donned a Louis Vuitton gown, featuring twisted glass tubes to achieve the silvery, sparkling look.
24. Penelope Cruz, 2019
Although she didn't take home an award that year, marking her fourth nomination, the actress can feel proud for her performance in last year's Golden Globes. When she stepped on the red carpet of the Beverly Hills Hilton, Penelope Cruz stunned the crowd with her Ralph & Russo dark-purple gown, that looked as if it was changing color as the actress moved on the red carpet, turning from metallic silver to black, purple and then back to silver.
She wore her hair up as to pay enough respect to the black bow tying up her open-back dress from the neck, and it gave her dress the final touch it was missing. We can't find one flaw in this dress, and so it's for good reason that the actress was named one of the best dresses of the 2019 Golden Globes. This year, she wasn't in attendance, perhaps she did not receive any nominations, but she left her mark last with with this magnificent dress, which we still cannot stop obsessing over.
23. Sofia Vergara, 2017
We said it countless times before and we'll say it again – every celebrity has a signature look and fashion rules she religiously lives by. For actress Sofia Vergara, it was that you don't show up to the red carpet with your hair pulled back. According to the actress (47), wearing your head up after you reach your forties is the biggest no-no there is, since it makes you look old. However, since she declared this rule in 2016, a year later, the actress showed up to the Golden Globes red carpet wearing her hair up.
We're not sure what brought on this change in attitude at the 2017 Golden Globes, but our best guess is that the actress wanted her dress to shine with its full glory, without having her hair cover any part of it. Her hair style isn't the only thing that changed in that year's ceremony, but also her usual style of dress. The actress is known for her fondness of strapless mermaid gowns that emphasize her figure, but in 2017, the year that marked one of her most memorable red-carpet performances, she wore a Zuhair Murad couture gown embroidered with gold and silver sequins.
22. Halley Berry, 2019
Halle Berry's Golden Globes dress last year stirred quite a reaction on the red carpet and outside of it, as she usually does. The acclaimed actress rocked a dress by acclaimed fashion designer Zuhair Murad, and as if the plunging (and daring) neckline and the thigh-slit weren't enough, the lace dress featured panels of sheer lace, revealing even more skin. This created some controversy around the dress, which was named among the sexiest and most scandalous dresses ever worn to the red carpet.
This wasn't the first time the actress is turning heads with a dress of this kind. Halle Berry has a notorious reputation of wearing controversial (that is, minimal) dresses for the red carpet. Accordingly, at the Golden Globes of 2018, she wore a similar dress, with sheer lace and a plunging neckline, only it was black and mini, unlike this year's more traditional floor-length gown (and the length is the only traditional thing about the dress, that's for sure).
21. Lady Gaga, 2019
Singer (and recently actress, as well) Lady Gaga won two awards at last year's Golden Globe ceremony: The first was a Golden Globe (her second) for Best Original Song – Motion Picture, for her song "Shallow" in the acclaimed film A Star is Born (for which she was also nominated for Best Performance by an Actress). The second, and the more important award of the night, was winning the desired title of "best dressed." Each year, the best dressed celebrity is chosen, and though you don't receive a golden globe trophy for this award, it's still a major honor.
Lady Gaga truly deserved winning this title (she also deserved the Golden Globe, but that's for another article). She went all out with her dress, as far as dying her hair blue to match the color of the pastel-blue dress. Her choice of a dramatic Cinderella-like ball-gown was not much of a surprise, since the star has a flare for the dramatic, but no one expected its magnitude. The masterpiece was designed by renowned fashion designer Valentino, and it required a whole team of wranglers to carry the extra-long train (that was too long to fit in the picture).
20. Janelle Monae, 2017
Janelle Monae's dress for the Golden Globes 2017 is one of the most iconic dresses ever seen on the red carpet of the Golden Globes. The singer-songwriter tried something new, with a polka-dot and black sequins mini dress, and it worked. Pulling off a dress like this takes courage, and luckily, this is not something that celebrities lack. On the contrary – sometimes it seems as if they might have too much of it, but it's not always a bad thing, especially when it comes to fashion.
The red carpet seems like a risky place to try new things, and that's why some celebrities prefer to go with something safe and wear a little black dress. Actually, this is what Janelle did, only with a unique, vintage-style twist. Somehow she created the perfect balance between vintage and modern, and her Armani Privé dress was a huge success on the red carpet, one that is sure to be remembered for years to come.
19. Jessica Biel, 2018
You might have heard that at the Golden Globe Awards something special happened, fashion-wise. All the celebrities, women and men, decided to show up wearing only black, to protest and express their solidarity with victims of sexual harassment and assault, namely in the entertainment industry. This became an urgent matter after multiple stories of sexual harassment in the industry were revealed. This explains actress Jessica Biel's dark look, which wasn't coincidental.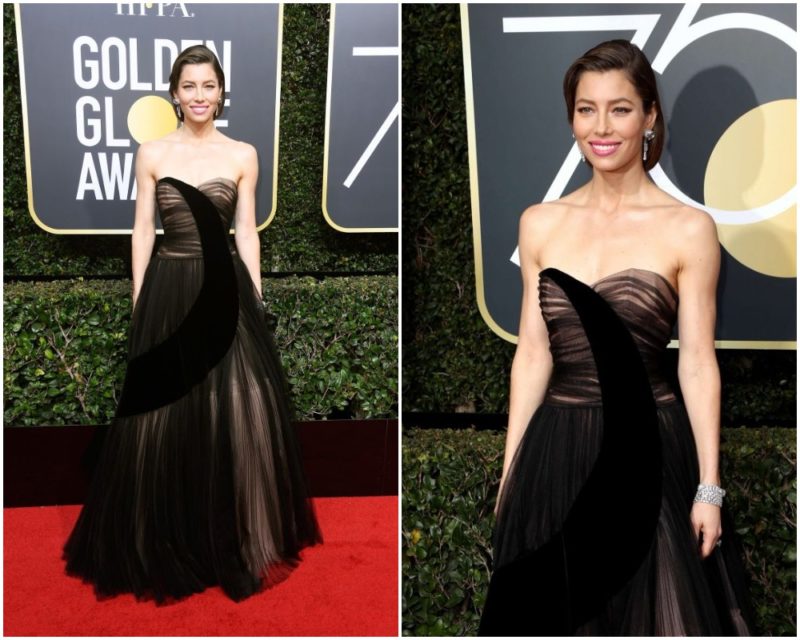 We're not sure how much awareness this protest raised, but as you can see in the photos below, it gave the event a surprisingly festive and formal feel. Jessica Biel looked extra festive, in honor of her first-ever nomination for the Golden Globe award, for her performance as the leading role in the Netflix series The Sinner. She wore a strapless tulle dress from the house of Dior Haute Couture, and paired it with her best, most shiny silver jewelry to accompany the black dress.
18. January Jones, 2011
It's almost a decade now since January Jones wore this red-hot dress to the Golden Globes red carpet, and people still can't stop talking (and thinking) about it. In her red, fringes Versace dress, the blonde actress was the talk of the red carpet that year, and her dress made it to the list of best Golden Globe dresses of the decade. The Mad Men actress kept her hair in her signature vintage-style golden locks, which, combined with the red dress and red lipstick, gave her a timeless look.
Wearing red to the red carpet is a good choice, but it's also risky, because you're at risk of blending in with the background. That wasn't the case for actress January Jones, though, which stunned the crowd with her impeccable look. Her dress wasn't everyone's favorite, though, and it received some controversial reviews thanks to he deep (or too deep, as some people would claim) neckline. Either way, she was the talk of the show in 2011, and so this dress counts as a major success.
17. Reese Witherspoon, 2007/2017
Yellow isn't the easiest color to pull off, and perhaps that's the reason why you don't see many yellow outfits on the red carpet (think about it for a moment). Actress Reese Witherspoon, however, likes to love on the edge, and she has enough confidence to know that she can pull off any color she wants. Somehow, something about her light complexion and her blonde hair accommodates the yellow dress, and so it became a favorite for the actress. She wore it to the Golden Globes in 2007, and again ten years later, in 2017.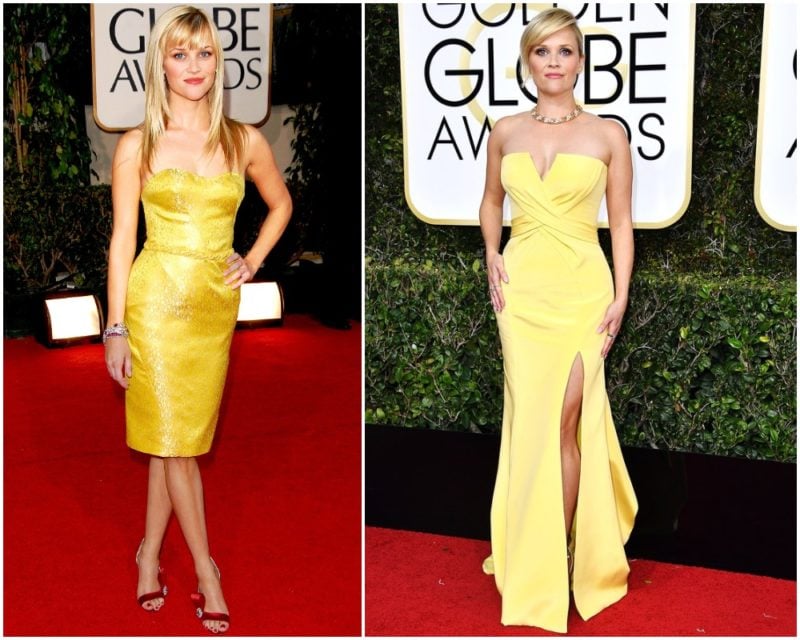 The actress described her yellow dress from the 2017 ceremony as a "classic Hollywood look." In 2007 she wore a Nina Ricci cocktail dress, and in 2017 she wore a Versace gown with a thigh-slit, keeping it more classy, but she looks equally stunning in both dresses. This year she went with a more solid, bridal white dress, but perhaps in a few years she'd pull the yellow dress again with a new design, and light up the red carpet with her golden look.
16. Emmy Rossum, 2019
Another iconic Golden Globes red carpet dress is last year's Emmy Rossum's pink tulle gown. The actress' impeccable look, wearing a Monique Lhuillier with Lorraine Schwartz jewelry, got her on the list of best dressed. Although the Shameless star hasn't received a nomination since 2005, she shows up to the ceremony every year stunning us with the most stylish outfits, proving she can look good in any kind of dress.
Her pink dress is a personal favorite, despite it being somewhat over the top – because if you're not going to dress over the top for the red carpet, where else would you have the chance to go wild? The red carpet is all about fashion designers portraying their best works, and celebrities looking their best and most festive. Despite what people might think, in their everyday lives they dress up in sweatshirts and jeans, just like us, and so these opportunities to dress up like a princess are rare.
15. Anne Hathaway, 2019
Some would say that actress Anne Hathaway took a risk at the 2019 Golden Globes, but it's a risk that paid off, as she was considered one of the best dressed celebrities of the luxurious event. Leopard is definitely a controversy in the fashion world, going on and off on the trend scale for years. In 2019 it seemed as if the Leopard theme made a comeback, and Anne Hathaway jumped on this train before it was to vanish once again. With the help of fashion designer Elie Saab, she created a memorable look.
This year the actress wasn't in attendance, but luckily for her, her dress from last year's ceremony was enough to make an impression; we still remember it as a success, and it seems like this dress will be considered an iconic red carpet dress for years to come, since combining Leopard and metallic fabric is a bold choice that deserves recognition, don't you think?
14. Nicole Kidman, 2019/2020
The renowned actress dazzles us every year with her stunning dresses, but 2019 was something special. The 52-year-old actress dazzled with a figure-hugging shiny crimson dress, designed by Michael Kors. The sequinned dress showed the actress' slim figure, which is probably what she opted for, and the thigh-high slit was a final touch, to reveal some skin with the floor-length dress and high neckline.
Like every actress, Nicole Kidman has a favorite color, and it's beginning to look like this color is red. For this year's ceremony, she showed up in yet another red gown, though of a different style, for the second consecutive year, and a pattern begins to emerge. She was nominated for her phenomenal performance in Big Little Lies, and even though she didn't take home an award, it's the second year in a row the actress makes it to the best-dressed list.
13. Sandra Oh, 2019
Actress Sandrah Oh wore not one, not two, but three dresses for the Golden Globe Awards of 2019, as if this was her wedding day. And also quite suspiciously, as if this was her wedding day, two of these dresses were white. This was a big event for the actress though, since it marked her first win since 2006 (and second overall) of the desired award – the Best Performance by an Actress In A Television Series Award for her performance in Killing Eve. Both times the actress was nominated, she ended up taking the golden globe trophy home.
So how come she wore three dresses? Last year Sandrah Oh received the honor of hosting the ceremony, alongside comic actor Andy Samberg. Hosting the ceremony, the actress made history as the first-ever actress of Asian decent to host the Golden Globe ceremony. Her first gown for walking down the red carpet was a white Versace; later, to present the awards, she changed to a hot-red dress, and for her big moment, receiving the desried award, she changed once more to a white dress by Stella McCartney, featuring gold sequins sleeves.
12. Julia Roberts, 2019
Wearing a suit to the red carpet migtht be Ellen DeGeners' signature look, but she doesn't have any copyrights on it. That's why for last year's ceremony, acclaimed actress Julia Roberts showed up wearing a suit-like pant-dress to the red carpet. Last year's ceremony was almost as stylish as this year, full of iconic, over-the-top dresses, from Lady Gaga to Anne Hathaway, and so Julia Robert's outfit might not seem like much, compared to these dresses, but unlike the Golden Globe award, wearing the best outfit is not really a competition, and so luckily there could be more than one winner.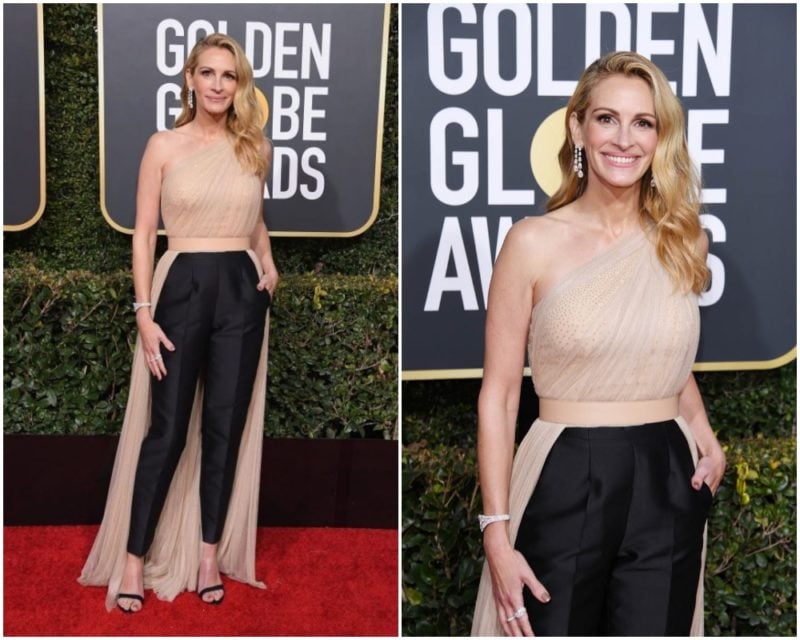 The star was nominated last year for the Best Performance by an Actress in a Television Series for her performance in Homecoming, and though she didn't take home an award, her outfit was turning heads on the red carpet. She didn't really give up on a dress, if you look closely, she just did the unexpected and paired it with black pants. The outfit by Stella McCartney is comprised of a tulle one-shoulder nude dress and crisp black trousers, which make her look stylish and elegant.
11. Jennifer Lopez, 2015
Perhaps this year J. Lo's dress wasn't her best one yet (though we think otherwise), but at least we still have her dress from 2015 to remind us how chic the star really is. Her sparkling dress, which features an extremely deep neckline and a thigh-high slit stirred a lot of conversation around it, and it was named one of the most scandalous dresses ever worn to the red carpet. Jennifer Lopez was never afraid to arouse comments, and so wearing a dress like this one wasn't out of the question for her.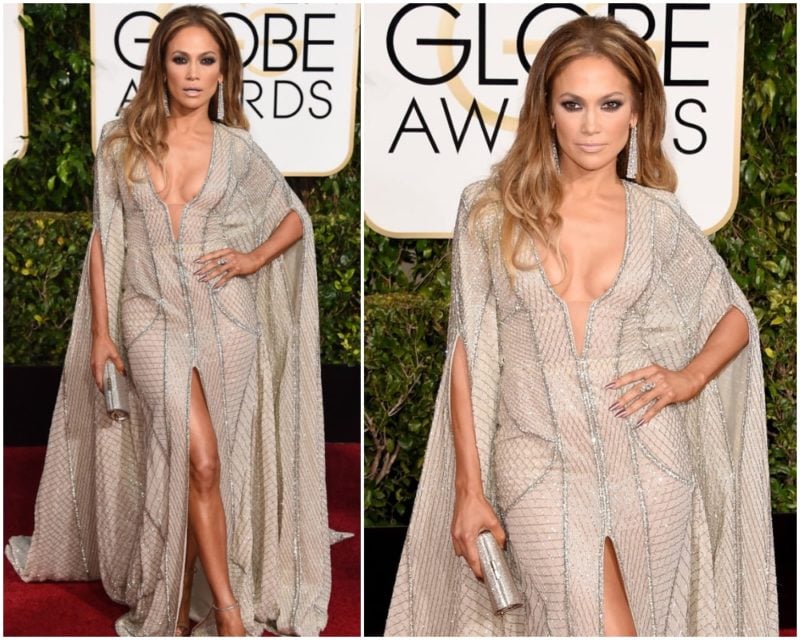 Her shining dress is the proud work of fashion designer Zuhair Murad, and this is not the first iconic look the singer wears to the red carpet (we also have this year's dress to judge, and it seems like she still didn't have enough) – every year she surprises with something completely different, yet equally iconic and unique. Wearing a dress like this one requires courage, confidence, and a figure that very few people in the entertainment industry have.
10. Isla Fisher, 2019
While this year the actress donned a hot-pink dress, last year she was all in black. In fact, perhaps after wearing all-black to last year's ceremony, Isla Fisher and her husband, actor Sacha Baron Cohen decided they needed to add some color, for a change. The couple's outfits of 2019 and 2020 are pretty much the definition of opposites, and it's hard to determine which look works better on them! If you ask us, it's the colorful one, which better matches their personalities.
Either way, last year Isla Fisher's ball-gown with layers of lace made an impression on the red carpet, perhaps because it was a more traditional look, coupled with her husband's black and white tuxedo. Which look do you like better?
9. Eva Longoria, 2009
The Desperate Housewives star looked nothing like a desperate housewife in her Reem Acra dress for the Golden Globes in 2009. Eva Longoria's style has evolved over the years, and judging by these photos, it seems as if it reached its peak in 2009, with this beautiful hot-red silk dress, that make the actress look like a true glamour girl.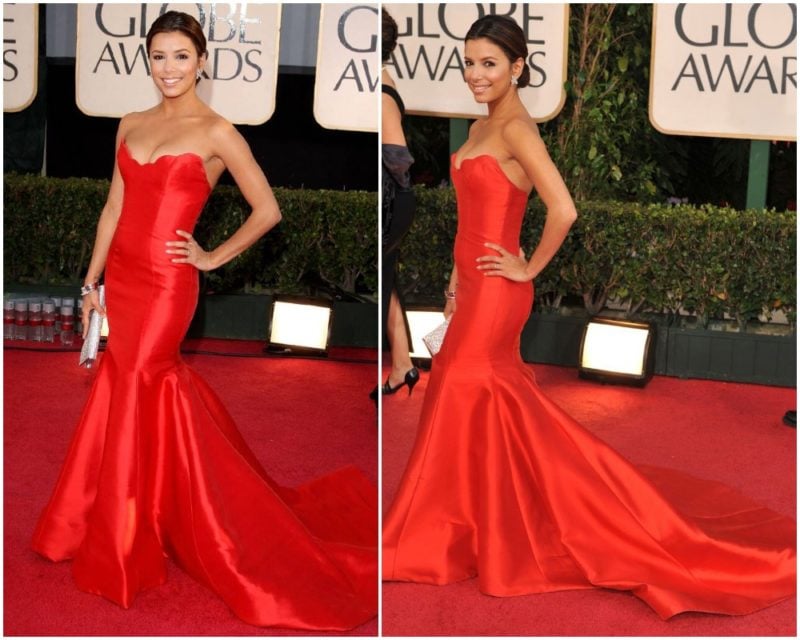 It's now officially over a decade since Eva Longoria wore this red-hot dress to the red carpet of the 2009 Golden Globes, but it's still one of the most iconic dresses ever worn to the red carpet. As we've seen with Nicole Kidman (twice), red is a winning color, as it's a bold choice and one that makes a statement, but Eva Longoria was among the first starlets to wear this kind of ball-gown red dress, and since then we've seen multiple version of it. If you ask us, this style suits her better than anyone else.
8. Angelina Jolie, 2012
Every actress has her signature, both in her acting and in fashion. For Angelina Jolie, it's the metallic colors and fabric. For the Golden Globes 2012, the renowned actress wore a metallic Versace dress of white and red, coupled with a red handbag, red lipstick and white heels, almost as if she's supporting a red and white sports team, but doing so in style. And as always, her dress was somewhat controversial.
Every dress on the red carpet is somewhat of a statement, perhaps because only celebrities have the guts to wear something this bold and constantly try new things. Either way, we this Jolie's dress completely works, and if anyone can pull off this look – it's her. Jolie had to look her best for this night, since her directional film Land of Blood and Honey was up for Foreign Language Film Award.
7. Mila Kunis, 2011
Green is a popular color for the red carpet, as it stands out in contrast to, well, the red carpet. The actress showcased a beautiful Vera Wang design and much like anything else she wear, including sweatshirts and hoodies, she owned this look. She might not have won a Golden Globe Award that night, but she definitely won best dress.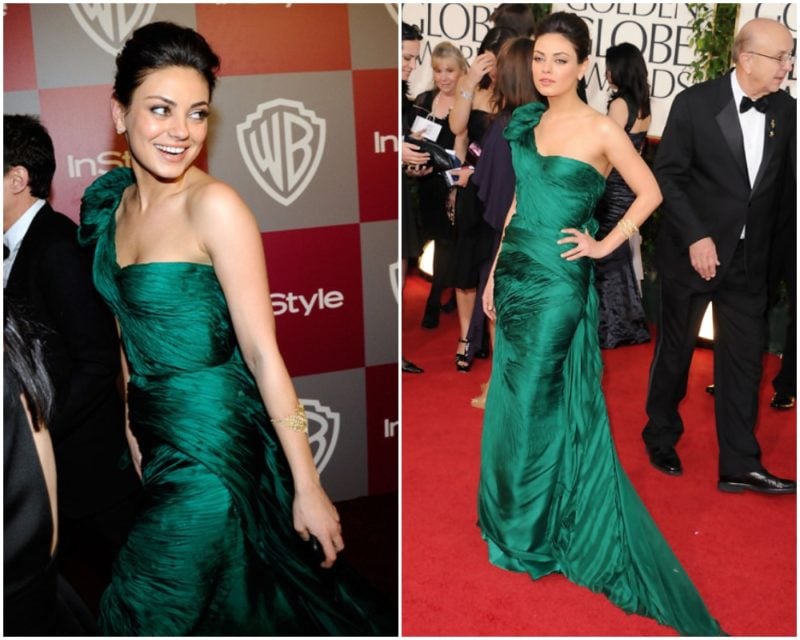 Like any actress, Mila Kunis takes her red carpet looks with the utmost seriousness, but it's no coincidence that 2011, the year she rocked this silk custom-made dress, marked one of her most memorable red-carpet appearances. This was an important one for her, as it was the first (and last, so far) year the actress was nominated for an award, for her performance in Black Swan.
6. Jennifer Lawrence, 2016
A red dress for the red carpet is not a unique choice, but to be fair, every color and every design have been worn for the red carpet by now, so coming up with something unique can be quite a challenge. And sometimes it's better to go with something sure, because why trade a winning horse? Red is always a good color, as it is both festive and daring, and most importantly – it attracts attention. It certainly got our attention, especially when Jennifer Lawrence is wearing it.
And this isn't just any red dress, but a Dior dress. Though this looks like the perfect choice, the actress admitted this wasn't the original dress she had in mind, but eventually she picked this one since she wanted something loose and comfortable. Either way, seems like she chose right, since this dress was a lucky one, and the actress went on that night to win her third (and counting) Golden Globe Award, for her performance in the film Joy.
5. Heidi Klum, 2019
For last year's Golden Globe Awards the supermodel made an appearance with her new husband, Tom Kaulitz, the two looking very stylish together. Her dress, though, stole the show from her husband, as well as from almost every other person in attendance at the event.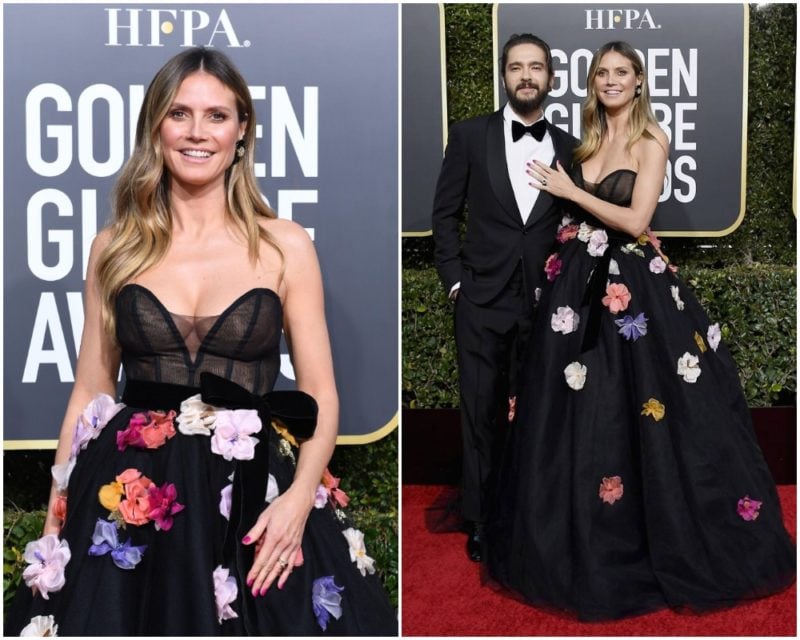 The lucky designer chosen to represent Klum's first outing with her (then) fiance is Monique Lhuillier, an acclaimed fashion designer well-known in the show business. The supermodel's dress with the see-through material, plunging neckline and colorful flowers, contrasting the black netted skirt, was extravagant enough, and so the model completed it with light makeup and her signature pink nail polish to add another dimension of color to her black dress.
4. Viola Davis, 2018
The renowned actress is known for wearing bold, daring colors to the red carpet, such as bright yellow (2017) and bright red (Golden Globes 2015). In 2018, however, she took part in the TimesUp campaign and opted a black velvet dress to the Golden Globes, in solidarity with victims of sexual assault. Davis is the only black female actress who won the triple crown of the entertainment industry – an Emmy, a Tony, and an Academy Award, and so she makes sure to represent this title with honor, and puts on a show every time she steps on the red carpet.
To match her fierce look and the protest statement attached to her black dress by Brandon Maxwell, the actress wore her hair in it natural Afro, a look that isn't characteristic for her on the red carpet. This was a personal statement the actress was making, as Afros represent a symbol of resistance.
3. Blake Lively, 2017
On the Golden Globe Awards of 2017, actress Blake Lively proved to the world that "little black dress" is out, and "long, black, extravagant dress" is in. The head-turning dress the actress wore is the work of acclaimed fashion designer Versace, and it features gold sequined detailing and pockets. Or are they pockets? To this day, this is probably the one unanswered question left from the 2017 Golden Globe Awards. Either way, every picture of the actress shows her putting her hands on her hips, probably to draw attention to those golden pocket-like sequins.
Her green bracelets didn't go unnoticed either, and her Lorraine Schwartz definitely complete her dark look with a dazzling touch. Throughout the night, though she was in attendance with her husband Ryan Reynolds, the actress kept her hands on her hips, and the only explanation we can find is that she wanted her jewels to be noticed! As if we can let something as dazzling as this pass under out radar.
2. Kendall Jenner, 2018
Kendall Jenner, the supermodel sister of the Kardashian-Jenner clan, was another celebrity who participated in the black dress code of the Golden Globe 2018, in support of victims of sexual harassment. True, she's not an actress, and so she was never nominated to any of the awards, but a real model never misses on a chance to wear a gorgeous dress and take some pictures, and a real fashion designer never misses on a chance to showcase his new design on the red carpet on one of the most successful models of our days – so it's a win-win situation.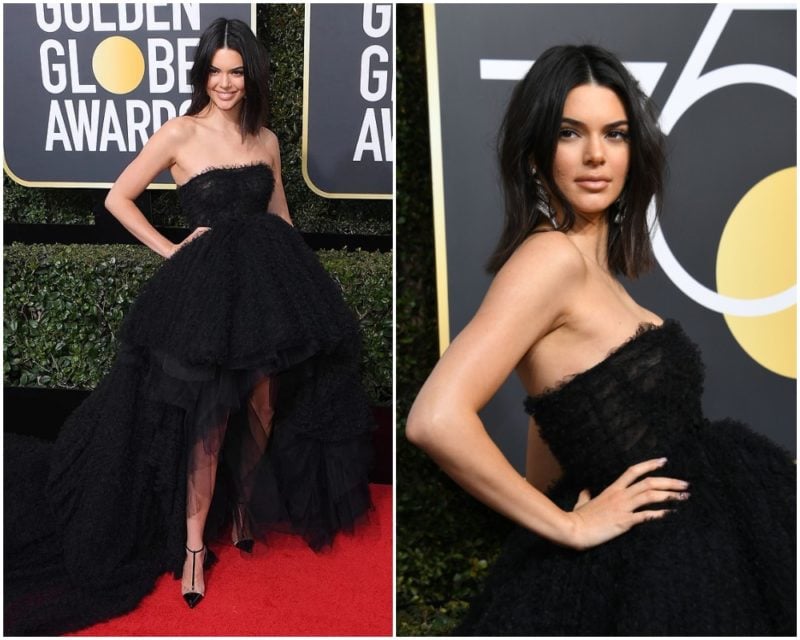 For the Golden Globe Awards of 2018, the supermodel wore a black dress by Giambattista Valli, taken straight out of the designer's fall collection, quite a jaw-dropping dress, with a mini-skirt front and a long, puffy trail from the back. The model has millions of followers on social media, and she used this platform to raise more awareness to the cause of the black dress code, when she posted on her Twitter account, "I stand with women across every industry to say #TIMESUP on abuse, harassment, marginalization, and underrepresentation."
1. Margot Robbie, 2018
The Australian actress moved to the U.S and entered Hollywood in a storm this decade, with her performance in the drama series Pan Am in 2011. Since then, the blonde beauty seems like an inseparable part of the industry, and every year she dazzles us both on screen and on the red carpet, dressed impeccably every time. It was hard to choose her best red carpet look, and if this list wasn't dedicated to the Golden Globe red carpet, her number one look would have probably been the Academy Awards or the Met Gala of 2016, but finally we decided that her look from last year's Golden Globe was our all-time favorite.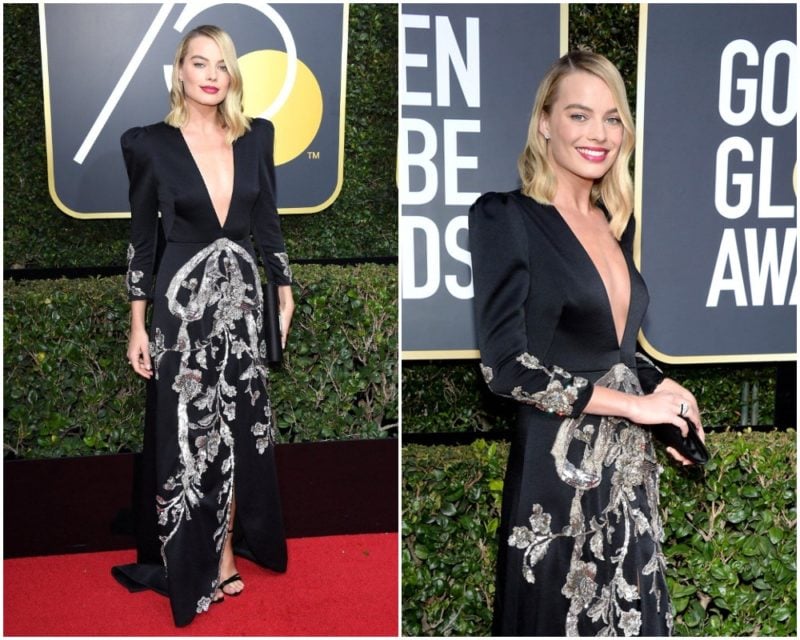 The actress is wearing a dress by Gucci, a black silk dress featuring a plunging neckline and silver sequins. A dress like this is beautiful enough to stand on its own, as the actress knows, and so she paired it with minimal jewelry by Tiffany & Co, loose hair and hot pink lipstick. This year, the actress was nominated for her role in Bombshell, and while she didn't take home an award, her look definitely made a mark.