The long, twisted story of sworn enemies Joseph Maldonado-Passage, better known as Joe Exotic, and Carole Baskin came into the limelight with the release of the popular Netflix docuseries Tiger King: Murder, Mayhem and Madness, featuring the true story of Joe Exotic, the controversial owner of the GW Zoo, an exotic animal park in the suburbs of Oklahoma.
It was only natural that Joe, an owner of an exotic animal park and a big-cats enthusiast, and Carole, the founder and owner of Big Cat Rescue, would cross paths. In essence, although neither would admit it, what they do is not all that different: both their businesses were established from their love and fascination with big cats, and although Carole has always claimed Joe Exotic abuses and takes advantage of the animals, she also hosts tours and offers attractions in her big-cat sanctuary.
If you didn't watch the show, now would be the time to do so, since we really can't capture the colorful character of Joe Exotic in one sentence in order for you to understand the rivalry between the two. Baskin was determined to take down any operation in the U.S involving the breeding of big cats, and she put her sights on Joe, also known as the Tiger King (a nickname he gave himself). Carole sees herself as somewhat of a tiger queen, and as both of them felt, only one of them could survive in the business.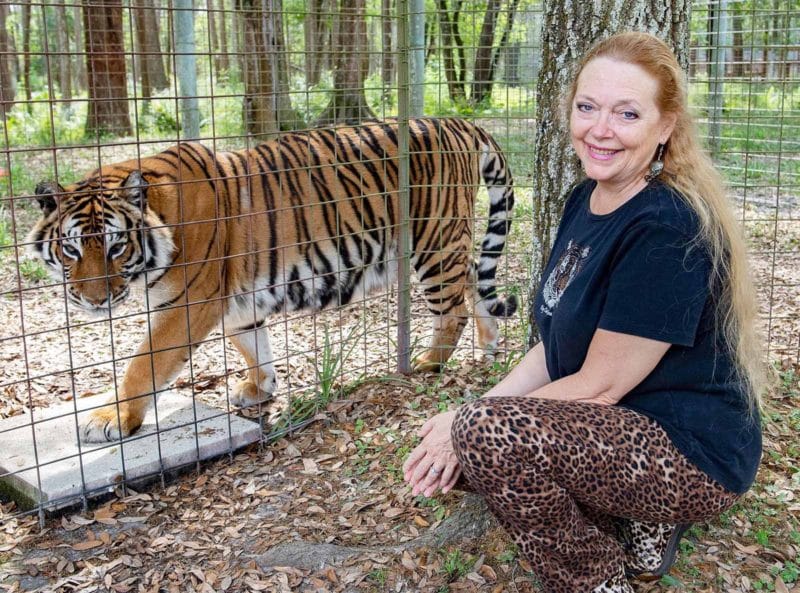 Their rivalry went on for years, and it was in 2019 that their feud, which involved extensive law suits and death threats, reached its final stages, when Joe Exotic was convicted for paying someone to have Baskin killed.
Earlier this week, court ordered the GW Zoo would be relinquished to Baskin, as a settlement to the legal dispute between the parks. This grants Baskin control of the property and its facilities, but not the 200+ exotic animals that reside in the zoo, which legally belong to Jeff Lowe, the current owner of the animal park. Still, this is a huge win for Carole Baskin in her 8-years rivalry with Joe Exotic. Meanwhile, Lowe, a shady businessman and a big-cat enthusiast, is claiming to be building a new, larger facility for the many animals of the GW Zoo. With this new court order, Lowe has 120 to complete this new park, if he wants to have a new home for the animals.