12. Julia Roberts, 2019
Wearing a suit to the red carpet migtht be Ellen DeGeners' signature look, but she doesn't have any copyrights on it. That's why for last year's ceremony, acclaimed actress Julia Roberts showed up wearing a suit-like pant-dress to the red carpet. Last year's ceremony was almost as stylish as this year, full of iconic, over-the-top dresses, from Lady Gaga to Anne Hathaway, and so Julia Robert's outfit might not seem like much, compared to these dresses, but unlike the Golden Globe award, wearing the best outfit is not really a competition, and so luckily there could be more than one winner.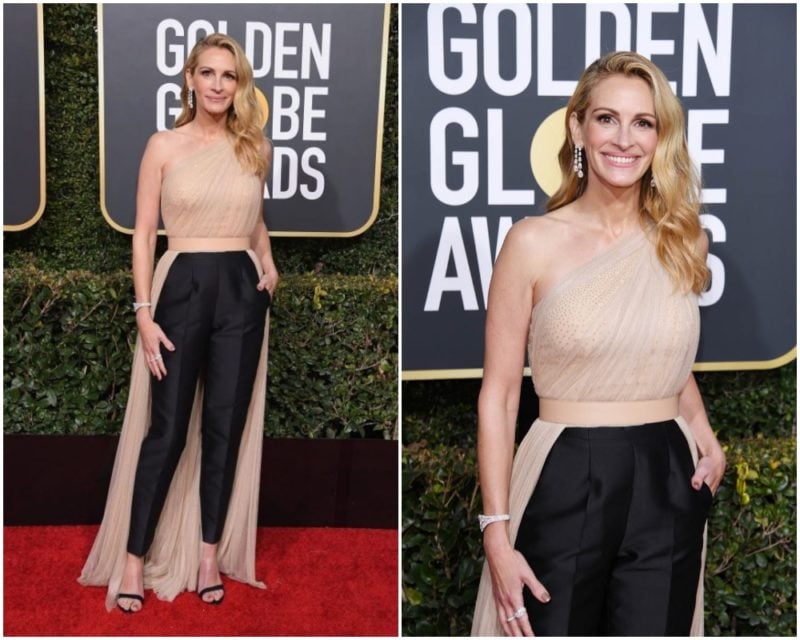 The star was nominated last year for the Best Performance by an Actress in a Television Series for her performance in Homecoming, and though she didn't take home an award, her outfit was turning heads on the red carpet. She didn't really give up on a dress, if you look closely, she just did the unexpected and paired it with black pants. The outfit by Stella McCartney is comprised of a tulle one-shoulder nude dress and crisp black trousers, which make her look stylish and elegant.