Another batch of Abacha Loot is expected back to the Nigeria, this time a $750 Million buck is on its way back according to he Attorney General of the Federation and Minister of Justice, Abubakar Malami. He made this disclosure during an interactive session with the members of the national assembly committee on justice. He further assures Nigerians that another £6.9 million of James Ibori's loot is also expected back to the country.
Mr Abubakar said this processes involves the engagement of foreign-based counsel to attend to matters related to the loot recovery on behalf of the Federal Government of Nigeria. In his words some of the Low-hanging fruits being targeted in this current initiative include $750 million 'Abacha loot' as well as £6.9 million of the 'Ibori loot'. In the long run, the ministry will coordinate the recovery of billions of dollars in foreign jurisdictions, based on current estimations."
Mr Abubakar also reminded the meeting that Nigeria is currently owning N75 billion in judgment debts as a result of the services rendered to the nation in the past, he said. " It is equally necessary to highlight the fact that the ministry's liability for judgment debt is N75 billion.
" The ministry has, however, proposed N16 billion to meet a portion of the outstanding sum in 2016, of which the Budget Office proposed N709, 155,140.00, which does not meet one per cent of the debts," he said.
On terrorism, he said: "My ministry is processing approximately 800 terrorism cases for prosecution. The resources required for the successful prosecution of these cases as well as the coordination of the Criminal Justice Sector as envisaged under the ACIA, were captured in the proposal made us to the Ministry of Finance."
Chairman of the Committee Razak Atunwa said the purpose of the interaction was to allow the committee appraise the situation in the ministry and deliberate on finding solutions to challenges it might encounter.
Previously Returned Abacha Loot And How It Was Spent
However, the average Nigerians have been lamenting, stressing they have not been able to experience any benefit from the previously returned loot. We sought to find answers as to how and what the previously returned loot were spent. In the process we stumbled on this beautifully put together infograph by YourBudgit.com. Go through this infograph below and see if the previous returned Abacha loot were judiciously spent on tangible projects we can actually point to.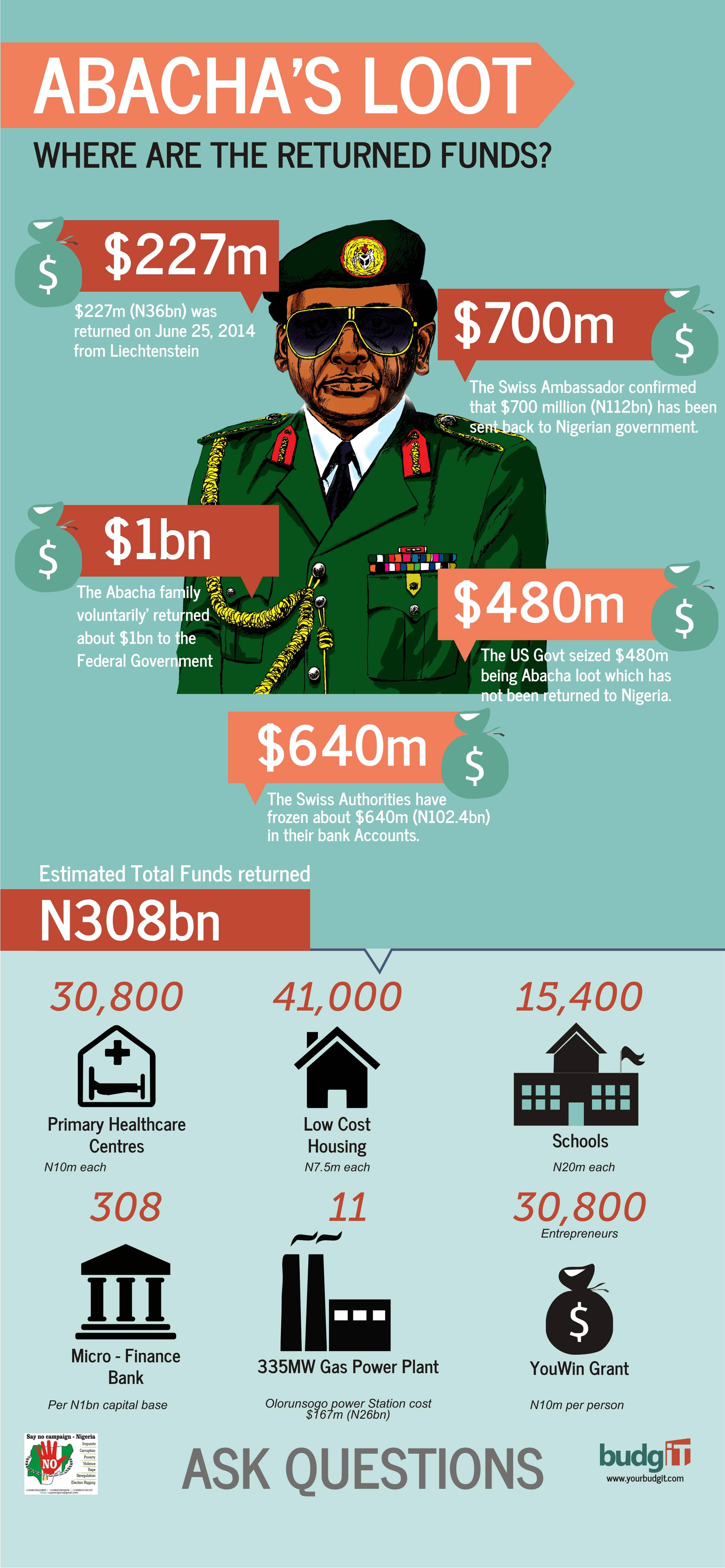 Now, whether these projects were really completed and beneficial to the masses is another thing entirely. We leave the answers to your discreet judgement. If you or your community have benefited in any of these mentioned project in anyway, kindly let us know. We want to see your comment and how exactly the said projects were of benefit to you and your community.