The Uganda president once said in an interview that he is the least paid president but rich, so how much is his net worth. How come he is one of the richest president in Africa if he is the least paid? To answer these questions, let find out Museveni other source of income. Apart from being the president of Uganda for almost 30 years, Yoweri Museveni net worth is made high because of other businesses he is into.
Full Name: Yoweri Kaguta Museveni
Country: Uganda
Yoweri Museveni Net Worth: $4 Billion
Occupation: President and Agriculturist
Yoweri Museveni was born on 15 September 1944, in Ntungamo, Uganda Protectorate. He attended Kyamate Elementary School, Mbarara High School, and Ntare School. In 1967, he went to the University of Dar es Salaam in Tanzania. There he studied economics and political science and became a Marxist. In 1970 he joined the intelligence service of Ugandan President Dr. Apolo Milton Obote. When Major General Idi Amin seized power in a January 1971 military coup.
Yoweri Museveni assumed office as Uganda president since 29th of January 1986 till date, he believes he is the only person to lead the country.
SEE ALSO: Olusegun Obasanjo Net Worth And Biography
Yoweri Museveni Net worth And His Agriculture Business
Yoweri Museveni major source of wealth is Agriculture, particularly livestock. According to Mondaytimes report He owns thousands of cows and they produced thousands of litres of milk to different industrial milk processors in the country and he also makes money from the sales of the cows. He is a major supplier to hotels in Kampala that use his beef to serve clients.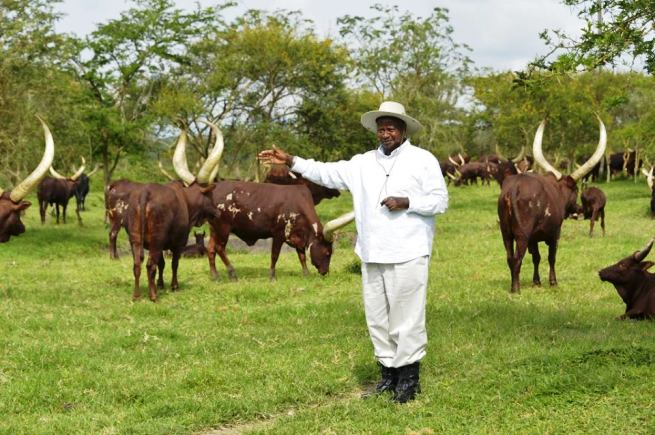 He is among the richest Africa president, he has been earning salary and other benefits as the president of Uganda from 1986 till date together with the money he makes from his agricultural business, Yoweri Museveni net worth is estimated to be $4 billion.
SEE ALSO: Goodluck Jonathan Net Worth And Biography