2019 is almost over, and right before we welcome the new year in open arms, it's time to look back on the most iconic celebrity weddings of the past decade. The end of the year always gets us in a nostalgic mood – don't you agree? – And so we can't think of a better way to conclude this year (and this decade) than looking back on all the most fabulous couples of Hollywood, the most unique wedding gowns and the most iconic weddings. 2020 is bound to bring with it new, exciting reunions and new celebrity weddings, but topping off the ones on this list is going to be challenging! Still, Hollywood never disappoints, and we're looking forward to seeing what the new year will bring along.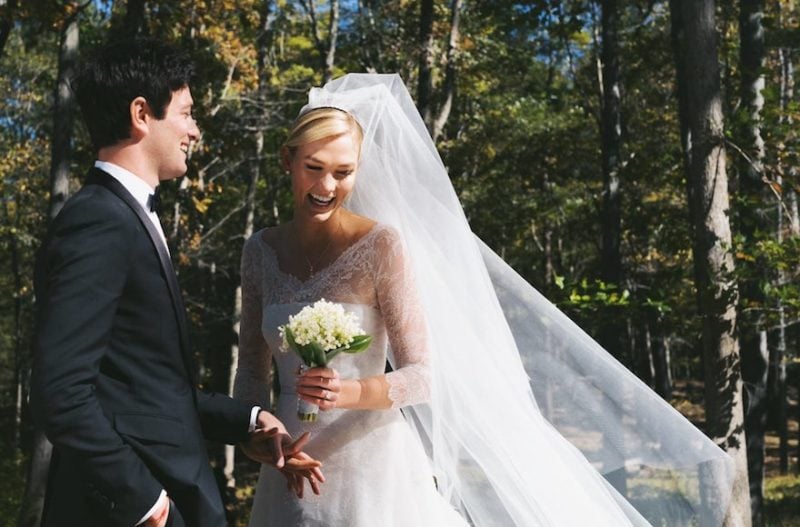 37. Kit Harington and Rose Leslie
The relationship that started as the most lovable relationship on-screen, turned into our favorite real-life relationship! Jon Snow and Ygritte tied the knot in a beautiful ceremony in a church in Scotland, in the Bride's hometown. As beautiful as it was, the church ceremony was the boring part of the wedding! After that, they moved the party to a castle owned by the bride's family. Of course, the entire cast of Game of Thrones came to celebrate the couple's happy day – after all, they did meet on the set of the show.
You probably noticed with gawking eyes Rose's unique wedding dress with the delicate lace details – well, it's not everyday you see a $20,000 dress – that's what they look like! Their guests, on the other hand, wore traditional Scottish kilts. The guest list included many celebrities other than the Game of Thrones cast, such as the band members of Mumford and Sons – and we're left wondering how come the list came down to mere 200 people.
36. Michael Phelps and Nicole Johnson
The professional swimmer and Olympic gold-medalist Michael Phelps and American model Nicole Johnson tied the knot in 2016. The couple actually had two weddings that year, several months apart – the first was a ceremony with five guests (that's what I call 'intimate'!), in their Arizona backyard, and the second, a 50-guest ceremony on the beach of Cabo San Lucas, Mexico. The two have been dating on and off for nine years before finally settling down, so perhaps that's why they wanted to have two weddings!
Their first, backyard wedding was held right before the Olympics, and while it seems to me like having a wedding ceremony several days before a huge contest would put some pressure on both events, it doesn't seem to have affected the swimmer whatsoever. In fact, it doesn't sound at all like your typical, stressful wedding – the two shared in an interview that they "practically got married in their pajamas." In their second weddign, however, they made up for that – as we can see by Nicole's impressive bridal dress and Michael's slick suit.
35. Justin Timberlake and Jessica Biel
The beloved Hollywood couple neglected the views of California or even Mexico – two extremely popular celeb wedding destinations – and pulled off a beautiful wedding in Italy. The European castle has a rustic look you can't find anywhere in the U.S, so their choice is understandable. After all, it's hard to compete with the Italian countryside. Much like the unusual venue, Biel said "I do" in an unusual dress! In a rather bold move, that only few people can pull off, she traded the traditional wedding dress with a blush-pink dress, to match her natural blush.
Timberlake, singing being one of his many talents, serenaded his new bride as she walked down the aisle. All those unique details are what makes their wedding one of the most memorable celebrity weddings of the decade, although seven years have already passed (and that's a lot in Hollywood time). Besides, the couple deserves a place on this list just for maintaining their marriage for seven years already, which is also quite unusual to celebrities, who sometimes get divorced after only a year of marriage (and even several months, in some extreme cases).
34. Guy Ritchie and Jacqui Ainsley
Seems like every celebrity wedding is more special than the other. Take Guy Ritchie's wedding, for example. The acclaimed film director and his long-time girlfriend, British model Jacqui Ainsley, tied the knot in their England mansion – with a special surprise: an exclusive premiere screening of the director's new film. Never before have I heard of a wedding where they screened a movie, but everything is possible when it comes to celebrities! The only question remaining is whether or not there was popcorn.
The couple has been dating since 2010, and by the time they tied the knot five years later, they had three children. Thus, their children were the special guests of the wedding, which, naturally, included many celebrities as well. Ritchie's children from his previous marriage to Madonna, aged fourteen and nine, were also present to celebrate their father's big day. Madonna, however, wasn't among the guests, and we're wondering whether she was invited, or perhaps it would have made for an awkward situation.
33. Nikki Reed and Ian Somerhalder
This is one we haven't yet heard of, and yet another proof that celebrities manage to surprise us every time: the vampire couple of Hollywood got married in a surprise wedding! What's a surprise wedding, you might be wondering – well, the surprise wasn't for the bride and groom, but rather the guests. While they thought they were attending a housewarming party on a lovely April afternoon in 2015, they were actually attending the couple's wedding!
Reed (Twilight franchise) and Somerhalder (The Vampire Diaries), invited their family and friends for a housewarming party in their new Topanga Canyon house. However, when the guests arrived, a shuttle was waiting to take them to the actual wedding, which was outdoors as well. This shouldn't really have come as a surprise for the guests, however, since the adventurous couple got engaged only after six months of dating.
32. Mandy Moore and Taylor Goldsmith
The angelic looking actress got married in an angelic wedding – how unexpected! You might be wondering what is the beautiful, flowery venue – well, it's the actress' backyard. Yes, when your house is so beautiful, why pay for an expensive venue? Blushing bride is the right term to describe the actress on her wedding day, as she was rocking a blush-pink dress, surrounded by blush-pink flowers, and a matching bouquet. This is Us stars and other A-listers were in attendance, including the couple's closest family and friends, but somehow, it was a small, 50-person wedding that fitted in their backyard.
If you thought their ceremony was unusual, you haven't seen anything yet – for the reception, the party moved to the Fig House – a private event venue in L.A – and the bride changed into a little black dress – taking the untraditional wedding dress a step forward. This goes to show that even when celebrities have small weddings, they still do it in style, thinking of the smallest details and making everything perfect, while making it look effortless!
31. John Legend and Chrissy Teigen
Recording artist John Legend and model Chrissy Teigen met through a friend's set up – but it wasn't your everyday set up. a mutual friend figured the best way for the two to meet was if Teigen would perform as a background dancer in the singer's new video. John later said that working together on the video allowed him to get to know her personality from up close, since the shoot was "pretty up close." That's how the two met in 2006, and in 2013 they tied the knot in a wedding Italian-style, in the picturesque Lake Como.
Since he popped the question in 2011, it took the couple two years to plan the wedding and come up with the perfect location, and you can see we're dealing here with two serious people, who don't settle for anything. Lake Como was eventually chosen because this is where the couple first took a vacation together – so going back to where they love had kindled seemed like a goo choice (good meaning romantic). Seems like it was worth the wait, as they eventually found their dream location and had their dream wedding.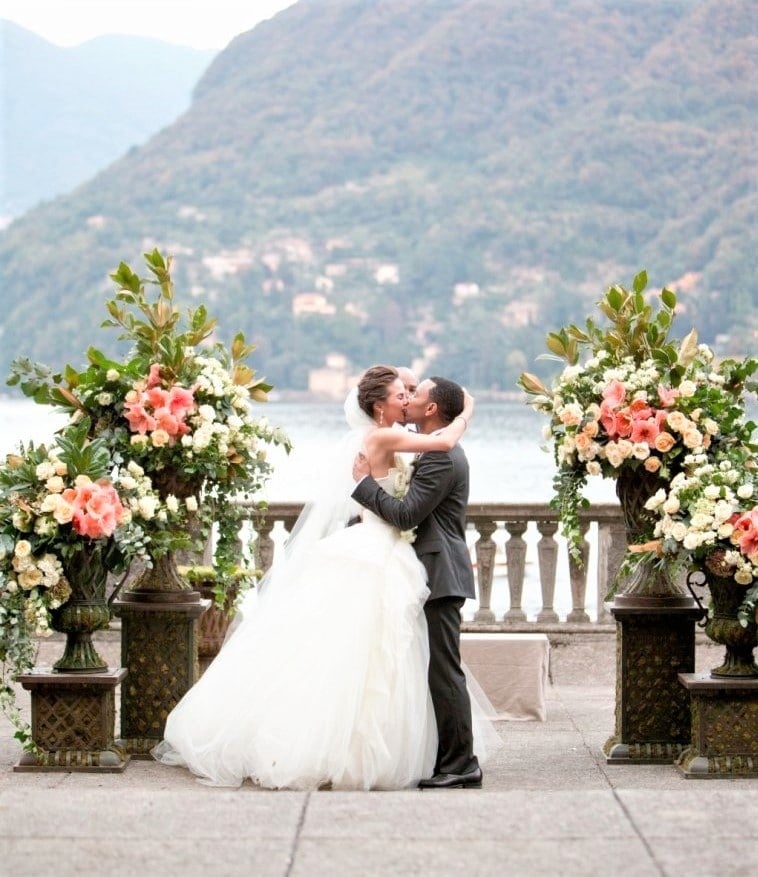 30. Amy Schumer and Chris Fischer
What's really special about Amy Schumer's wedding are her wedding vows. The two got married in a rather intimate ceremony, and though the wedding was rather humble, they still did it in style. It was on a beach overlooking the breathtaking view of the Malibu coastline, in February 2018. Using the word "intimate" is relative here, since it suggests it was only family and close friends, while that's not exactly the case – the ceremony was attended by top celebrities including Jennifer Aniston and Jennifer Lawrence.
The buffet, apparently, wasn't so humble either, as it featured a "huge seafood bar" with oysters and other seafood delicacies – not your average wedding buffet. However, her wedding vows, as we mentioned, were perhaps the most unique part of the wedding, and very appropriate to the couple's personalities; Schumer, as a comedian at heart, inserted a few jokes before getting to the serious, emotional part. The couple got married within three months of dating, and their vows explained they couldn't wait another minute to be officially husband and wife.
29. Sofia Vergara and Joe Manganiello
The actors' wedding four years ago was one of the most lavish and luxurious weddings Hollywood has seen the past decade. The photos don't reflect, it, but you're looking at a $3 million wedding. Yes, you heard right – this is probably the most expensive wedding on this list. Too bad we don't have better pictures to show for it! The event took place at a historic resort in Palm Beach, Florida, and was followed by a festive brunch the next day! Sounds like the couple didn't want the celebration to be over. They though of everything, and provided a medical team the next day for anyone attending the brunch and feeling a little dehydrated from the night before. Did you ever hear of something like that?
The wedding was a weekend event, as it started on a Thursday with a pool pre-party, a rehearsal dinner, the main event – the wedding – and a brunch the next day. But don't worry, they made sure all the guests had a place to stay in the big mansion. Now it's starting to become clear how they spent $3 million. And perhaps they felt like they somewhat over did it, and as compensation, instead of gifts, the newlyweds asked their guests to donate the money to St. Jude's Children's Research Hospital.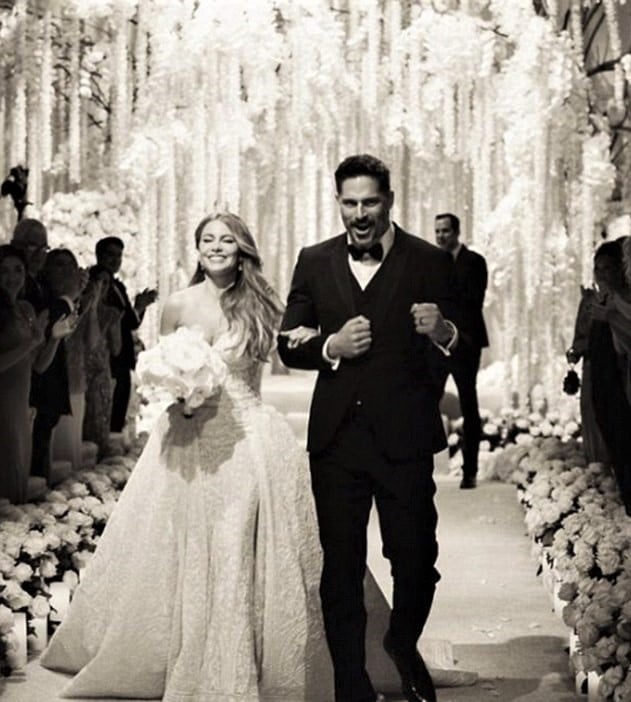 28. Kate Moss and Jamie Hince
The supermodel and rock star got married in the pastoral Gloucestershire in England, causing road closures to local villagers, and they held a three-day celebration, so you imagine the villagers' dismay! But no hard feelings were held against them, people used alternative roads and were actually excited the couple had chosen their pastoral village as the destination for their nuptials (most of them, at least). Either way, they aren't the focus of attention here, but the beautiful supermodel bride.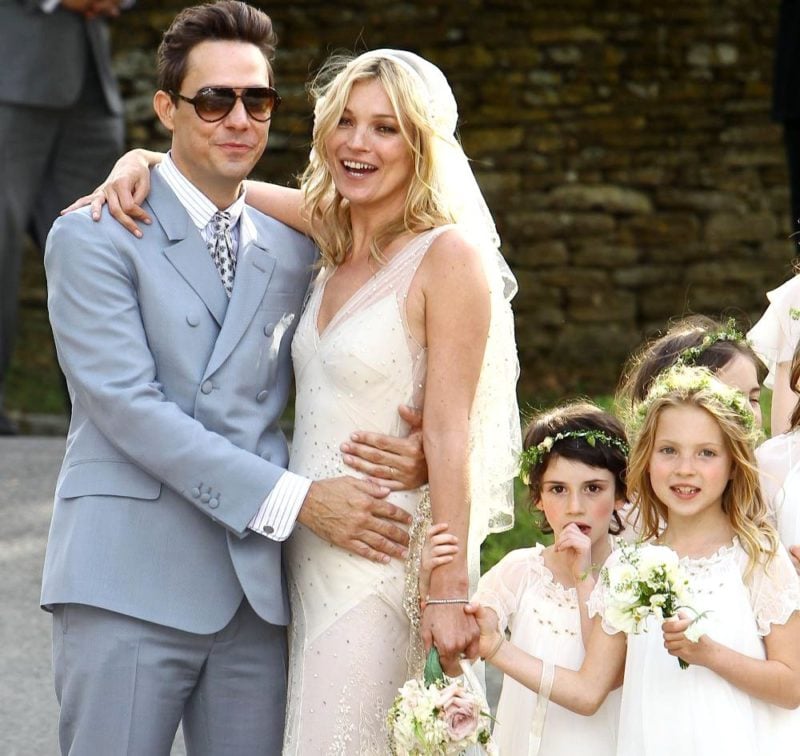 The fashion world waited to see what (and who) the supermodel would wear on her big day, and she didn't disappoint: the happy bride wore a vintage-inspired dress made by the world-renowned designer (and her close friend) John Galliano, and looked stunning and effortless, like she always does. Her 9-year old daughter was among the fourteen bridesmaids (yes, that many), and you can say she was the maid of honor.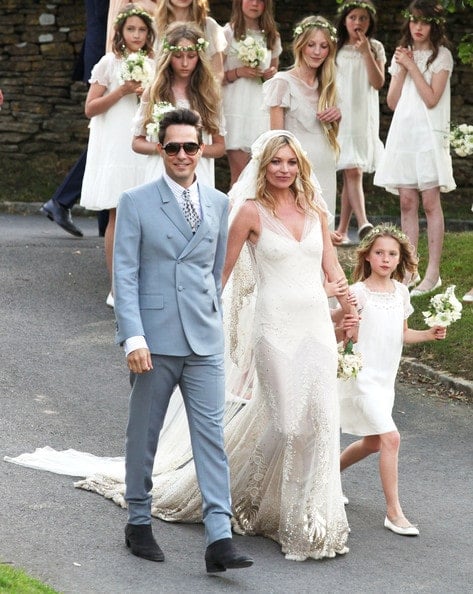 27. Anne Hathaway and Adam Shulman
Our all-time favorite on-screen princess had a wedding appropriate for a real princess. The actress was gleaming in her blush-pink wedding gown with an endless veil, and celebrated in the rustic scenery of Big Sur, California. That is, as much as you can call a million dollar wedding 'rustic'. What's surprising about her wedding is that it included almost no celebrities at all, except for Anne's double. Instead, the 180-person guest list was comprised exclusively of family and close friends.
The groom, Adam Shulman, happens to be a jewelry designer, and so he designed the actress' engagement ring, making it a truly one of a kind ring. You can see how glowing the actress is, probably because she waited for this wedding for quite some time – they finally tied the knot after four years of dating, which, as you probably guessed by now, is considered a long time for celebrities, who usually wed in lightning speed. But we say – why the rush? As long as you're happy together, there's no need to rush into anything, as these marriages have a tendency to end in divorce.
26. Ashton Kutcher and Mila Kunis
Mila Kunis and Ashton Kutcher are the oldest couple on the list, and so when the two finally tied the knot, it was a big deal in the industry! If you don't remember their love story, allow us to refresh your memory – the actors first met on the set of That Seventies Show, back in the late nineties, when Kunis was merely fourteen years old. That's not when they first started dating, since he was five years older than her – but he was her first kiss! Little did the actress know she would end up marrying the guy who was her first kiss. Can you think of anything more romantic?
After years of friendship and three years of dating, the couple finally tied the knot in a sunset wedding at the fourth of July weekend. Some time passed before it was revealed that this wasn't in fact their first marriage – that is, when they celebrated on the weekend of fourth of July the two were already legally married. Though it wasn't their 'real' wedding, you could have never guessed it, and though the couple prepared to have their own private ceremony with just each other and their daughter Wyatt, it was still nice of them to celebrate again with friends.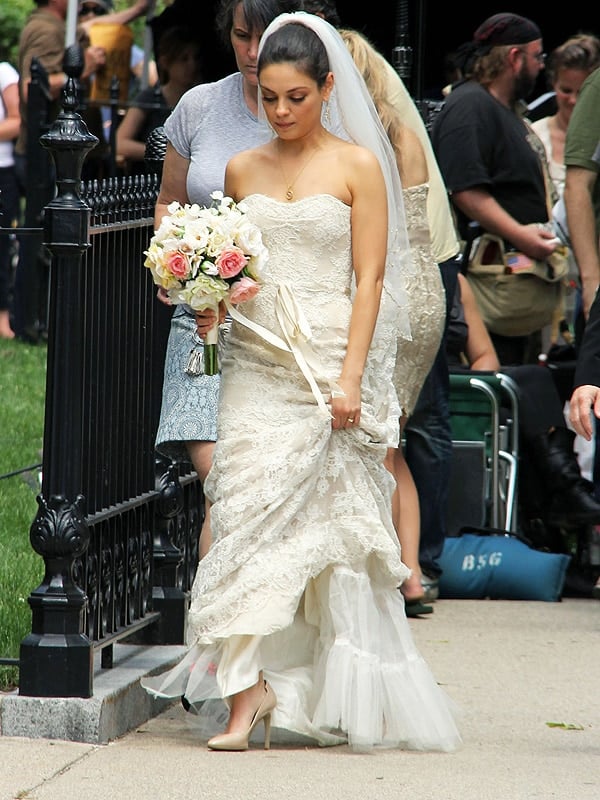 25. Dwayne "The Rock" Johnson and Lauren Hashian
Actor and retired professional wrestler Dwayne "The Rock" Johnson and his long time girlfriend, singer Lauren Hashian, tied the knot not too long ago in a beautiful Hawaii wedding. The intimate ceremony included mostly family members, and the guests of honor were their two daughters, three-year old Jasmine and 16-months old baby Tiana. they first met almost thirteen years ago, in 2006, on the set of The Game Plan, so you can say it took them some time to get here, but it was worth the wait, because their wedding was fabulous.
Yes, we say it about almost every other wedding on the list, because apparently that's how celebrities like it – but this time we mean it when we say it was an intimate ceremony! The couple kept quiet about their wedding, and that's why the fled to Hawaii! It was attended solely by a few family members, the couple's parents, and of course their daughters, the flower girls. Oh, and let's not forget about the lucky photographers – but that's it.
24. Kim Kardashian and Kris Humphries
For all the people out there following Keeping up with the Kardashians and wondering who this guy is – worry not, Kim and Kanye West are still together. This is her ex-husband, Kris Humphries (hard core fans should be familiar with him). The two got married in 2011, but unfortunately, their love didn't last, and two years later they got divorced. It was probably for the best, though, because seems like Kim and Kanye are a much better match. However, though their marriage didn't last, their wedding was still one of the most impressive celebrity weddings of the decade – because everything Kim touches is turns magical.
Having your bridesmaids (and sisters, in this case) in white dresses carrying bouquets is an extremely unusual choice! Most brides want to be the focus of attention on their big day, and so it's usually considered highly inappropriate to dress in white for someone else's wedding! However, we know that the Kardashian's do everything a little different than the rest of us, they don't go by the norm, and I guess Kim is confident enough to have her sisters dress as the bride in her own wedding. Celebrities, go figure.
23. Joe Jonas and Sophie Turner
The Queen of the North and her singer husband initially tied the knot in Vegas – the last thing you'd expect from a queen! It was everything you know about a sleazy Vegas wedding, including the traditional Elvis impersonator as a minister. But rest your worries, they made up for it big time with a big, classy wedding in France! Since Jonas is American and Turner is British, we're not sure how they got to celebrate in France, of all places, but we approve of the choice, as the wedding was everything you could have expected from the royal couple.
Sophie's impressive dress was designed by Louis Vuitton, a big name in the fashion world. This shouldn't have come as a surprise, though, as the actress is the ambassador for the French brand. The couple made a whole vacation out of it, and spent the week leading up to the wedding in Paris with family and friends. The wedding-party then all moved to the south of France, to have the ceremony in a queen-appropriate French chateau (that by the way, anyone can reserve on Airbnb! We haven't checked the pricing, though).
22. Princess Eugenie and Jack Brooksbank
Princess Eugenie, for those of you less-updated on the royal family tree, is the one of the three grandchildren of Queen Elizabeth, which makes her the cousin of Prince Williams and Prince Harry. As part of the royal family, she had the traditional wedding ceremony – the venue was the same one where Prince Harry and Meghan wed only several months before – the St. George Chapel at Windsor Castle. However, it wasn't traditional in all aspects.
Princess Eugenie doesn't look like someone who'd break tradition and live on the edge, but celebrities are full of surprises. Customary wedding cake for royal weddings is Christmas-style fruit cakes, but Eugenie decided to go with a chocolate and red-velvet cake. But Princess Eugenie' choice is not all that outrageous, as she followed in the footsteps of her cousin Harry; short months before her wedding, Harry and Meghan were the first to break this tradition by serving a lemon-flavored cake decorated with fresh flowers. Chocolate sounds like a safer choice to me.
21. Gwyneth Paltrow and Brad Falchuk
Hollywood's sweetheart said "I do" to her sweetheart a little more than a year ago, on September 2018. It was a lovely Hamptons wedding, but the more interesting event was her bachelorrte party, which was reportedly organized by her celebrity friend Cameron Diaz and took place in Mexico. We don't have the juicy details, but sounds like it was an fun getaway. Back to the wedding – the rehearsal dinner was hosted by Jerry Seinfeld, who also attends the wedding, as well as other celebrities including film director Steven Spielberg and actor Robert Downey Jr.
The Oscar-winning actress and her husband tied the knot after four years of dating. It was reported that the couple took a year to plan the wedding, but at the same time, they kept it a secret, which sounds somewhat impossible for a celebrity couple. It also makes us wonder what to these celebrities have with secret weddings – I get not wanting to share it with the entire world, and put yourself under the inspecting eye of the public, but why hide it from your friends?
20. Pippa Middleton and James Matthews
If you remember, before her big, lavish wedding, Pippa was the bridesmaid who almost stole the show at the sister's wedding six years before, and stealing the thunder from Kate Middleton is not an easy thing to do! But seeing Pippa's beautiful wedding photos, we're starting to understand how someone like her can steal the spotlight. At her nuptials, however, she was the undeniable focus of attention. While Pippa didn't become royalty like her sister, who married a prince, her marriage to James does make her a royalty of sorts.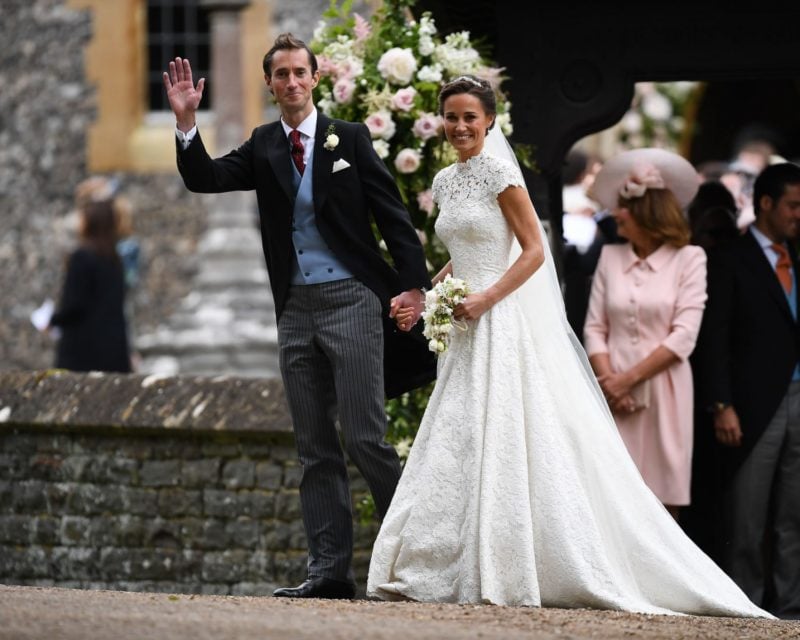 James Matthews is the heir to the Scottish title of Laird of Glen Affric, which makes Pippa the Lady Glen Affric. You can tell by her looks that Pippa Middleton is not one to defy tradition, and so she maintained every tradition in the book, from the something old, to something new, something borrowed and even something blue! Her something old was a pair of heirloom pair of pearl earrings, which she incidentally also wore when she was a bridesmaid at her sister's wedding.
19. Heidi Klum and Tom Kaulitz
If there's one couple you can count on to do something extraordinary, it's supermodel Heidi Klum and her singer husband Tom Kaulitz (lead singer of Tokyo Hotel). Weekend-long weddings or even week-long wedding celebrations are nothing for the couple, who celebrated three weeks of wedding fun in Italy! It all started with a yacht ride with their close friends and family, where the couple said "I do" and tied the knot – a wedding ceremony on a boat, did you ever think something like this exists outside the movies? Turns out they weren't the first celebrities to get married on board, though! The idea was apparently inspired by the legendary weddings of Princess Grace Kelly and Jackie Onassis.
It wasn't just any boat, though, but the famous Italian Yacht Christina O., a 340-foot long craft. The wedding Party set sail from the shore of Capri, Italy. The weeks leading up to the main party the couple spent partying in Italy, as seen by the pictures the model has published on her Instagram account. How do we know it was a vacation dedicated to the wedding celebrations? Because in all the photos, consistently, she is wearing bridal-white outfits!
18. Lauren Conrad and William Tell
Lauren Conrad is famous for many things, such as her multiple appearances in reality shows, but currently her blog is the hottest thing she's up to. From the DIY guides she puts on her blog, to merchandise and outfits, everything she touches is in good taste, so we expected nothing else from her wedding. Conrad somewhat left her days as a reality star behind, including her co-stars, who didn't make an appearance at the media-covered wedding.
As befitting a fashion designer (at heart, but also Conrad's new profession it's more than a hobby!), her bridesmaids rocked her Paper Crown collection for bridesmaids gowns. Not only did they wear the dresses to the wedding, but they performed on the cover of Martha Stewart Weddings – that's how a wedding turns into a PR event, but hey, two birds and all that; why not use this grand opportunity to show case your talent? The supporting bridesmaids were delighted with the choice, as the dresses really are gorgeous.
17. Gisele Bundchen and Tom Brady
The quarterback and supermodel make a couple from the movies. They met through a mutual friend, and both say it was love at first sight. Exactly 10 years ago he popped the question, and the couple was married within ten days! Yes, it took them only ten days to plan the perfect wedding – because when you have each other, this is bound to be the happiest day of your life, and you don't really need any superlatives. This is not to say it wasn't an impressive wedding! It's amazing what celebrities can pull off in just ten days.
It was a small wedding, but a unique one nonetheless. The nuptials took place in Santa Monica, and later the small wedding party (comprised solely of family members) moved to the couple's house. Brady barbecued, they had champagne, and of course, a wedding cake, and the best company they could have asked for. Wait, you didn't really think that was it, did you? The power couple had another, larger wedding a couple of months later; this time it was a somewhat more exotic event, held in Costa Rica. Luckily for us, the model shared some of the wedding photos on her Instagram account, since they weren't published after either of the events.
16. George Clooney And Amal Alamuddin
Hollywood's most eligible bachelor one day was no longer a bachelor, and women around the world wept. The handsome actor found an equally beautiful wife, and the stylistic couple tied the knot five years ago in a wedding dripping with style. The classic couple had a classic wedding ceremony in Venice, Italy. Forget about Paris – Italy is the real romantic spot for celebrity weddings. As you can expect, the anticipated wedding included many Hollywood stars, some of the groom's best friends, including Bono, Cindy Crawford, Matt Damon and other A-listers who joined the Italian-style celebrations.
Rumor has it that the person who officiated the ceremony was one of Clooney's closest friends, an Italian journalist and the mayor of Rome between the years 2001-2008, Walter Veltroni. But the most interesting fact about the wedding, is, of course, Amal's gown. Much like the couple, their lifestyle and their wedding venue, Amal said she was looking for a gown that is "romantic and elegant." The couple didn't make it easy for the paparazzi to cover their wedding, since they had to cross the canals of Venice by boat – but it was definitely worth the trouble.
15. Kaley Cuoco and Karl Cook
When your husband owns a horse ranch, you know your wedding is going to be glamorous. Although it seems like horses and glamour don't really go well together, leave it to the celebrities to find a way to make it work. What's most important is that the wedding was extremely personal; the two love animals (hence the horse ranch), and they have three dogs, who were an integral part of the wedding, and so they managed to incorporate their love for animals in their wedding and still kept it classy and prestigious. The walk down the aisle was through the horse stables, and as the bride walked down the aisle, and petted and kissed the horses!
Seeing the wedding photos, you could have never guessed it took place at a ranch! (well, except for the horses and dogs in the background). The party was nothing like your average wedding, and in fact, some would say it looked more like a circus than a wedding; while most couples debate whether to go with a DJ or a band, Kaley and Karl went in a different direction all together, and hired a fire breather! If that's not enough to convince you how circus-like the wedding was (in the best possible way), they also hired stilt-walkers and trapeze acrobats – that's a first on this list!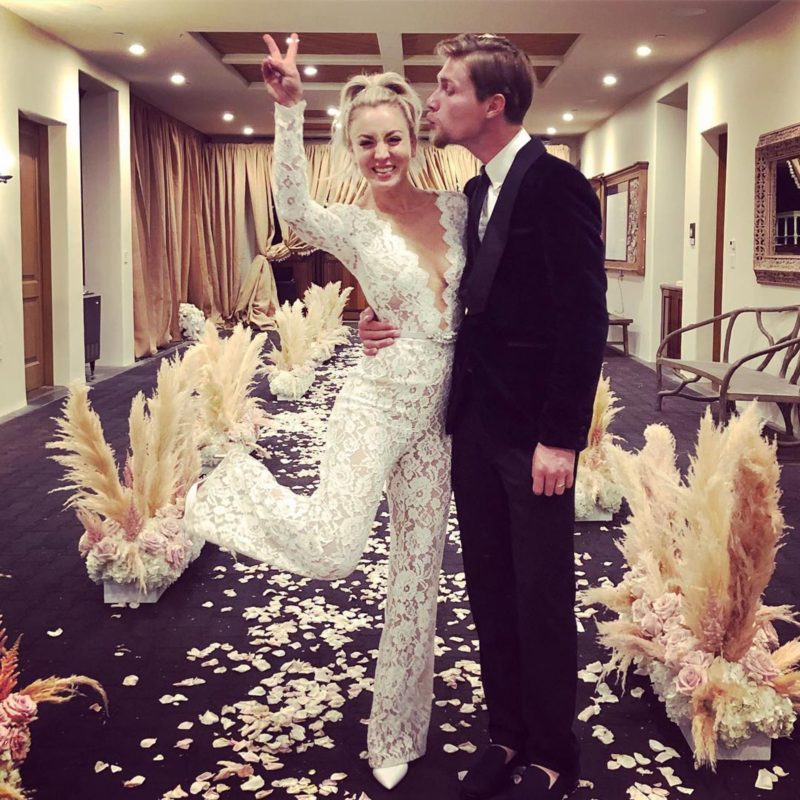 14. Kate Upton and Justin Verlander
Another Italy wedding, but don't worry, it's nothing like the other Italian wedding we've seen. Somehow model Kate Upton and Houston actors pitcher Justin Verlander found a way to make their wedding both extremely personal and incredibly luxurious. They gave their wedding a sports feel coming up with the Uplander Olympics – at the weekend of the wedding, the came up with a series of sport games, the guests received sports uniform, were divided into teams – and let the games begin! It was nothing too extreme, though, as the games included a ping-pong tournament, a football toss and a water balloon fight.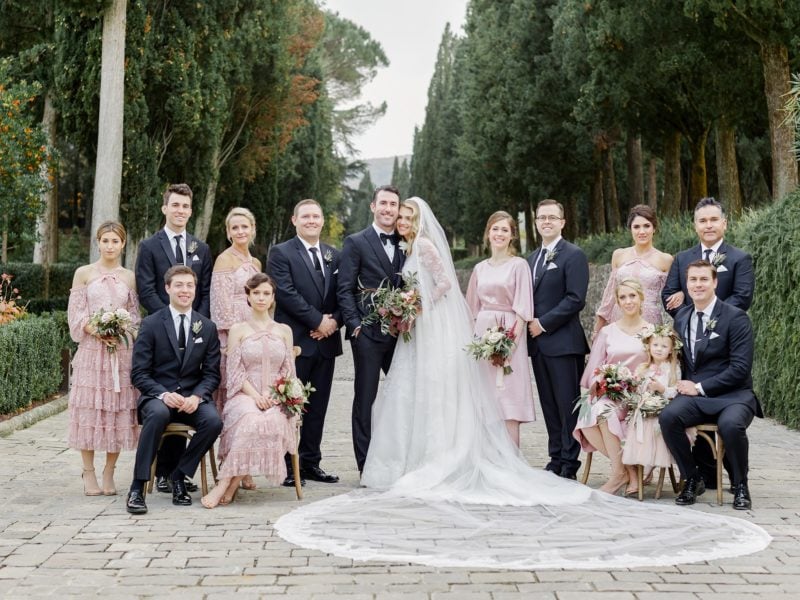 They wanted to make their wedding a fun vacation, and they found the best possible way to do that. However, the wedding didn't go as smoothly as they would have liked, since the couple was late for their own wedding ceremony! No, it wasn't due to traffic, but because Justin had to work – the weekend of the wedding was also the weekend of an important championship game for Houston Actors (who ended up beating the Los Angeles Dodgers), and so this made Justin late for his own wedding. But at least he ended up celebrating two things. And though the wedding didn't go as smooth as any bride would like, or at least didn't start off so smoothly, they didn't let it ruin their big day for even a minute.
13. Nick Jonas and Priyanka Chopra
This list wouldn't be complete without Nick Jonas and Priyanka Chopra's Indian wedding! Without a doubt, this was one of the most iconic celebrity weddings of the decade – how can you compete with a wedding in India including traditional customs and costumes? It's not a competition and all that, but with all due respect to Joe Jonas and Sophie Turner, this elaborate wedding celebration, held in India, takes the money. The couple started the celebrations with a puja – a traditional Hindu prayer ritual where all the guests (including brother Joe Jonas and fiance Sophie Turner) wore traditional costumes, which surprisingly suited them.
The couple reached the middle ground as they decided to have two wedding ceremonies – a Christian ceremony, in addition to the traditional Hindu ceremony. Both were held in India on consecutive days. Naturally, the Hindu ceremony was a lot more interesting, and accordingly elaborate. It included a party with traditional music and dancing, a henna ceremony (a paste made of turmeric, sandalwood powder and water), followed by another dance party with traditional dancing.
12. Whitney Port and Tim Rosenman
The Hills star Whitney Port is here to prove that you don't need to go far to have a beautiful wedding – forget about France, Italy or India – the perfect wedding location is right under our noses, in Palm Springs. Don't let Whitney's incredible style fool you – in her heart, she's an extremely simple person. You can't guess that by her elaborate wedding gown, but according to the happy bride – she wanted to keep things simple at her wedding. The first step was having the entire operation planned and executed by friends and family members; her sister was the wedding planner (how lucky she is to have an event planner for a sister), and the ceremony was officiated by family members.
The most surprising detail, however, is that the rehearsal dinner (if you can call it that), was held at a bowling alley! Another proof of how casual and simple the actress kept her wedding is all the wedding traditions she refused: she skipped her bachelorette party, what some would say was the best part about getting married, and the traditional bridesmaids uniform as well, and asked her bridesmaids (and her husband's groomsman) to wear whatever they want.
11. Ciara and Russell Wilson
This truly looks like a photo taken out of a fairy tale. The singer and the NFL quarterback got married in an old castle in Liverpool, England. They had Earth, Wind and Fire by their side, and that's not to say the wedding was attended by the elements, but a band that kept the guests dancing into the night. According to the blushing bride, their performance was one of the highlights of the big day, and that says a lot about the band when your venue is a magnificent castle. The bride's magnificent gown was tailor made by Roberto Cavalli, a big name in the fashion industry.
The most interesting fact about the wedding? It was a no-phone zone – guests weren't allowed to bring cellphones to the event! Sounds somewhat contrasting for a celebrity wedding, as they usually excel in their selfie skills and flaunt the best moment of their lives on Instagram, making us all gawk in awe and envy. Yes, guests were required to check their phones at the entrance to the wedding, and yet again the celebrities manage to surprise us with their wedding insanity. While it seems like a surprising decision, it can also make the wedding a lot more special, when your guests aren't all focused on their cellphones and stories.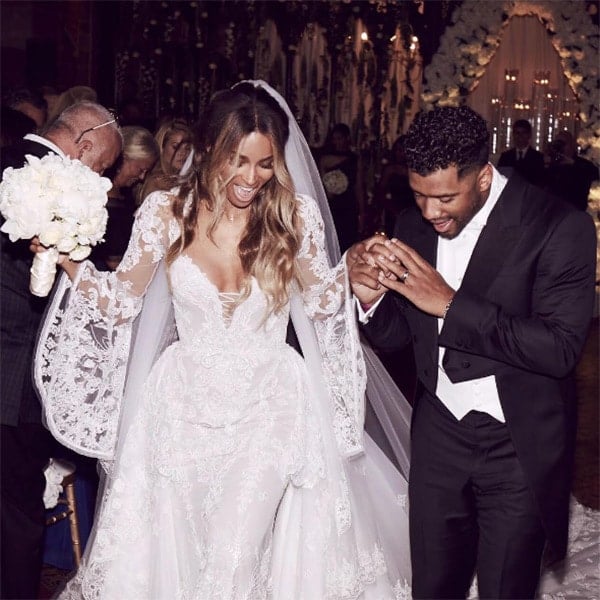 10. Nicky Hilton and James Rothschild
The glamorous hotel heiress Nicky Hilton married her knight on shining armor in July 2015. But she didn't trade her trademark family name for just anyone, but for another heir name: James is the grandson of the third baron Rothschild. This was almost a royal wedding, and it definitely was as glamorous as one, as the nuptials took place at the Kensington Palace in London, not far from the church where every royal family takes place. Paris Hilton, the more scandalous sister, was by her sister's side, and she performed all the duties of a bridesmaid.
As you could probably tell by the wedding photos, and the fact that James is a banker (that's not to say they are square), the couple is very old-fashioned, and so before getting down on one knee, he traveled to the U.S to ask Nicky's parents permission to take her hand in marriage. The combined wealth of the couple – the one an heiress of the Hilton Hotels chain, the other an heir to a European dynasty – allowed them to have the wedding of their dreams (not that we're jealous or anything), and the outcome looks life a fairy tale.
9. Khloe Kardashian and Lamar Odom
10 years ago Khloe Kardashian (our favorite sister, but don't tell anyone) and Lamar Odom tied the knot in a memorable ceremony. Though the two are no longer together, they will probably always be remembered as one of the best couples of the show industry; well, at least in the history of Keeping up with the Kardashians. Though the couples said their vows only one month after they started dating, it seemed like a promising relationship!
Much like her sister Kim (and perhaps even more so), Khloe is known to be somewhat over the top. The wedding took place at a Beverly Hills mansion, and though it might sound humble compared to other wedding venues on the list (did someone say an Italian 16th-century castle?), it was the opposite – the bride walked down the aisle in a Vera Wang dress – the top wedding dress designer in the U.S, and it was attended by Hollywood's biggest stars, as well as A-listers from the sports industry.
8. Justin Bieber and Hailey Baldwin
The couple said "I do" for the second time (get with the program – celebrities like to have two wedding ceremonies), only a couple of months ago, last October, after tying the knot at city hall. Their second marriage was to celebrate the happy union with their nearest and dearest. Rumor has it that the young couple changed their minds about the venue probably more than any other celebrity couple. The Canadian singer was eyeing his homeland as the ideal location for his wedding, but eventually they settled on a spot they once visited together – a lovely hotel in South Carolina. Choosing a pace they were both happy with seems like a safe way to start their married life.
However, not everyone were happy with this choice! Rumor has it that hotel guests were upset with the noise and disturbances made by the big wedding. They were denied access to the garden, pool area and restaurant during the time of the wedding (which we've already learned can take three days when we're dealing with celebrities). But the hotel was grateful for the publicity – after sharing their magical wedding photos, people are going to line up to have their nuptials at this location! And to top it all off, the groom gave a special performance after the emotional ceremony.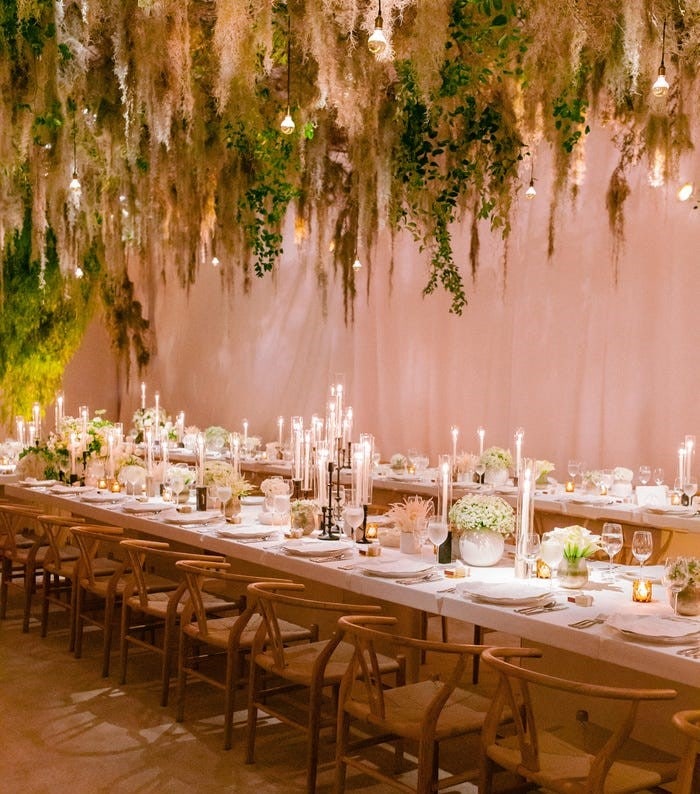 7. Chris Pratt and Katherine Schwarzenegger
The 29-year old daughter of Arnold Schwarzenegger and the 39-year old actor (Jurassic World, Guardians of the Galaxy) tied the knot after only several months of dating, and they couldn't look happier. Of course, the bride and groom's families were all there, including Chris Pratt's 6 year old son from his previous marriage. The event took place at a luxurious resort in Montecito, California, and the rehearsal dinner was hosted by the couple's good friend, actor Rob Lowe. Both the bride's gown and the groom's suit were tailor made by fashion designer Giorgio Armani.
Pratt's previous marriage to actress Anna Faris lasted almost ten years, but reportedly, they didn't end on a positive note (but to be fair, marriages rarely do). Seems like after tying the knot with Katherine he'd finally managed to move on, as he said, "God is good. God heals a broken heart." Seems like he had found the perfect partner in Katherine, and hopefully this marriage wouldn't end the same way. Perhaps for Pratt it's second time's a charm.
6. Billie Faiers and Greg Shepherd
After having two children together, and being engaged for five years, the TOWIE star finally tied the knot with her long-time boyfriend and she now shares the family name of her children. The celebration was double at the Faiers-Shepherd wedding, as two days after the emotional ceremony, their son celebrated his second birthday. The Maldives wedding turned into a proper Maldives vacation, marking two happy occasions. But not everything was bright and smooth as the pictures show, and in fact, at one moment it seemed like everything was about to fall apart.
When you wait five years for a wedding, you put a lot of expectations on it. And so although eventually nothing went wrong with the wedding, there were some alarming signs leading up to the big day, starting with Billie's step father almost missing his daughter's wedding. According to reports, her step father was suffering side effects after mixing sleeping pills with wine, to relieve his fear of flying, and so wasn't allowed to board his original flight. Eventually he did make it to the Maldive to give his daughter away, but it was a very upsetting moment for the actress when she learned her father might not make it to her wedding.
5. Serena Williams And Alexis Ohanian
In November 2017 the Grand Slam Champion and her husband tied the knot in a magical wedding. Unlike most celebrities on our list, who insisted on keeping their weddings rather small and intimate, Williams wasn't afraid to go big – on the contrary, her wedding included so many celebrity guests, we could have sworn it was an award show or something of the likes. The wedding date was carefully chosen, to commemorate the memory of Alexis' mother, who passed away nine years before the wedding, on November 16. She couldn't be there for her son's big day, but she was always in their hearts, and so the couple wanted to do a nice gesture for her memory.
As befitting a sports star, after the ceremony Serena changed into a pair of sneakers – white, of course, to match the dress. Snickers on a bride is a rather unusual look, but Serena is an unusual woman. Her wedding gown, however, was impressive enough to distract the guests from her feet, and we doubt if anyone even noticed the unconventional choice of footwear. The bride changed three outfits on this important evening – seems like that should have bene distraction enough from her feet!
4. Matt Bellamy and Elle Evans
The lead singer of the rock band Muse, Matt Bellamy, and model Elle Evans come in number four on our list of the most iconic weddings of the decade! When you propose in Fiji, the wedding is ought to be at least as romantic as the proposal. Judging by his previous relationships, Bellami likes to take things slowly – he was engaged to Gaia Polloni for nine years, and before they had the chance to tie the knot, the relationship was over; then he was in a four-year relationship with actress Kate Hudson, and the two got engaged and had a kid together before ending the relationship. Now, after four years of dating model Elle Evans, he finally felt like he had found the right person, and we wish the couple the best of luck!
The nuptials took place in Malibu, and like every bride understands sooner or later, so did Elle – the flowers are what makes the wedding from great to fabulous. Thus, they got married under a rather surprisingly expensive arch of flowers. Although the musician has been engaged two times before, it was the first wedding for both of them, and so they wanted everything to be perfect, down to the smallest detail – and it was! After dating for four years, they were practically already married, and right before the wedding, the couple was spotted in casual attire taking their dog on a walk.
3. Kim Kardashian and Kanye West
Kim Kardashian started dating Kanye West in 2012, and in 2014 she got married for the second time! So far, it seems like this marriage is going better than her first. A few years have passed, and like good one, the Kardashian's only get finer with the years, so it was to be expected that her second wedding would be that much more impressive than her first one. After all, Kim Kardashian was the one who invented the saying "over the top" (well, not really, but you get the point).
Where do we begin to describe why Kim and Kanye deserve to be third place on this honorable list? Perhaps with the venue – the couple got married in Italy, but a plain old castle wasn't good enough for them – so their wedding venue was a fortress! Talk about a fairy tale. The wedding dress is the second reason: while many brides (if not most) change to a second dress after the ceremony, Kim wore a total of four dresses to this classy European wedding. But we can't really say we're surprised.
2. Prince Harry and Meghan Markle
We're down to the last two, and as you could have probably guessed – Prince Harry and Meghan Markle make it to the bottom two, because no one does it better than the royal family. Like any royal wedding, their nuptials were broadcast for the world to see, but in case you missed it, or you had the time to forget (over a year had passed already, though it seems like it was yesterday), we've gathered the best, most memorable moments of one of the best weddings of last decade. There had been a lot of fuss around the couple's wedding, aside from the normal fuss attached to a royal wedding, and we're here to cover it.
The main story surrounding the wedding was Meghan Markle's family. As we all know, Meghan isn't royalty, and the engagement of the American actress and the British Prince came as a surprise to Hollywood as well as the royal family. Thus, her family was on object of interest for the people of Great Britain. Her father was allegedly involved in several different scandals at the time of the wedding, eventually leading to his banishment from the event. This made Meghan Markle the first bride in the history of the royal family to walk down the aisle solo. This was her choice, though, and so she did it with pride, and she couldn't have been happier walking down the aisle towards her prince charming.
1. Prince William and Kate Middleton
We finally made it to the number one wedding on our list – the most iconic, glamorous and prestigious wedding of the decade – Prince William and Kate Middleton's wedding. Why does it deserve to be first place? To begin with, their wedding wasn't just the happiest day of the couple's lives, but it was a national holiday! Citizens all over the United Kingdom were given a day off to celebrate the nuptials – and this isn't something that happens on every royal wedding day. Kate was a picture pf perfection, and she stuck with all the traditions (unlike Meghan ten years later), and wore her something old, something new, something borrowed and something blue.
The crowd in Westminster Abbey broke a record – forget about your intimate wedding, on this happy day, 2,000 people crammed inside the church to witness the union. The floral budget alone was estimated at a little more than $1 million (we already said that flowers were the most important part of the decoration scheme, but still this seems like an outrageous amount to spend on flowers!), and this goes to show that they saved on nothing for this special day. And lat but not least – Prince William received three new titles that day: the Duke of Cambridge, the Earl of Strathearn and the Baron of Carrickfergus. This wedding definitely deserves to be crowned the wedding of the decade, and it's probably going to be remembered for a long time to come.