This year's mother's day, like other holidays and festivities, was a bit (or a lot, really) different from previous years, as people around the world are restricted to stay home. However, quarantined or not, it did not stop any of these celebrities from making the most out of this special day, and show their love and gratitude towards their mothers, from the comfort of home. Take a look at how celebrities flooded our social media with love on this annual holiday.
Demi Moore
Tallulah Willis, daughter of actors Demi Moore and Bruce Willis, shared an adorable post on Instagram in tribute to her mother. In a Mother's day Instagram post, the 26-year old actress opened up about her feelings and her struggle with this special date. The post was an old photo of her mother and her smiling for the camera, alongside a long caption, in which she opens up about the 3 years drift between them, when she did not speak to her mother and how they grew back together, for which she feels immense gratitude.
Victoria Beckham
The former Spice Girl turned fashion icon (the founder of Victoria's Secret) shared a throwback family snap of herself and her four kids: sons Brooklyn, Romeo and Cruz, and daughter Harper. Victoria is currently isolating with husband David Beckham and three of their children. In the post she does not only manifest her well-wishes to the moms in the world but admits she is missing her older son, Brooklyn.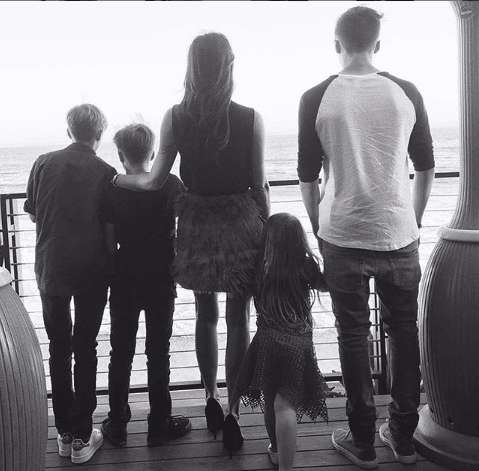 Drake
The 33-year old rapper did not stay behind, as he shared a sweet throwback picture of him as a toddler with his mother, Sandi. The One Dance singer captioned this lovely photo with "Happy Mother's Day to all the big time women out there doing the hardest work on God's green earth."
Chris Hemsworth
The Australian actor showed his mom, Leonie Hemsworth, some extra love with a post he made on Instagram in which he 'salutes all the incredible mums.' The picture stunned the Thor actor's fans with Leonie's gorgeous looks, sparking a heap of comments, most of them appreciating her beauty and claiming she looks so young, she and Elsa Pataky (Chris' wife) could pass as sisters.
Kim Kardashian
Whoever keeps up with Keeping Up With the Kardashians, knows how close the Kardashian sisters are to their mother, Kris, and how much they value their families. Kim celebrated this holiday at home with her husband, Kanye West, and their four children. Through her Instagram stories, the controversial star showed her fans how she was being showered with love on this special date. Her day started with her kids treating her to breakfast in bed, which included French toast and bacon, and a handmade card from her children. Remember the gift Kanye West prepared her on Mother's day in 2016? Although he can't gift her an at-home orchestra this year, the American rapper did everything in his power to make his wife feel love and appreciated.
Pink
Pink's message to the world on mother's day was a reflection amid coronavirus, in which she encourages her fans to think about all of the world's children. The singer's messages was dedicated to all the mothers in the world who are doing their best to protect their children every day, and especially during these troubling times. The singer made a reflection on the challenges she went through as she battled with the virus, while she was with her 3-year-old child who also tested positive. Pink message inspired her fans and people around the world to help those mothers and families who are still in need of help during this time.