It seems as if Hollywood stars always marry inside the industry, but you might be surprised to learn that some starlets preferred to escape the hectic Hollywood dating scene, and rather chose to marry your Average Joe, their high school sweetheart or the guy they met in line for coffee. The old saying goes, "behind every successful man stands a woman," but these A-listers prove it's the other way around – behind every successful woman stands a supportive man.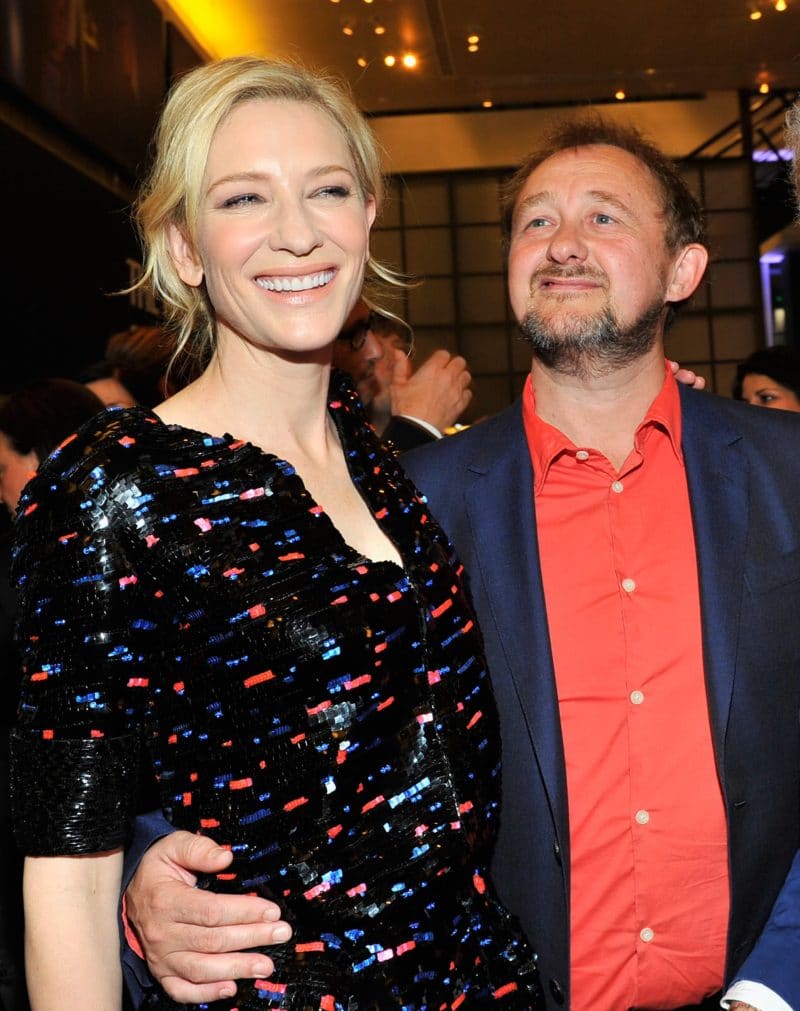 Reese Witherspoon and Jim Toth
The love story of actress Reese Witherspoon and her husband of nine years Jim Toth is a modern day love story. Unlike most celebrity couples who meet their partners on set, the first encounter of the actress and her husband was completely coincidental. The two happened to attend the same party, when Jim's friend was trying to court with Witherspoon, a little too aggressively. Toth noticed that despite Reese subtle objections, his friend wouldn't give up, and stepped to her rescue.
He apologized for his friend's drunken behavior, explaining he was getting over a breakup, and Reese immediately recognized Jim's kind heart and good intentions. Although Jim hasn't got what it takes to be an actor, he also works in the entertainment industry, as a talent agent. However, the two never met through work. Ever since their first interaction, when he saved her from that awkward situation, Jim has made Reese feel safe and cared for.
Meryl Streep and Don Gummer
The three-times Academy-Award winner Meryl Streep is a household name, as she's been an integral part of the entertainment industry for almost fifty years, but how much do you know about her husband of 42 years, Don Gummer? The love story of Meryl Streep, one of Hollywood's most accomplished stars, and Don Gummer, a sculptor, is one for the ages, and surely one that every Meryl Streep fan should be familiar with.
Back in the seventies, Streep was in a relationship with actor and co-star John Cazale (The Godfather), which seemed at the time like a once-in-a-lifetime romance. However, the actress has suffered a great tragedy when her partner passed away from an illness in the late seventies. It was her brother's friend, Don Gummer, who offered the actress a helping hand in her time of tragedy and grief. Streep couldn't bare the thought of staying in the apartment she shared with her former love, and so Don, offered his place. That was the beginning of their love story, which commenced several months later.
Oprah Winfrey and Stedman Graham
There's a reason why Oprah Winfrey was named one of America's most influential women, and that's because she dedicated her life to her career, her iconic T.V. show and her charity endeavors. The legendary T.V. host had to make sacrifices to fulfill her professional dreams – one of them is never getting married – but ultimately, she has no regrets. Oprah never became a wife, but she's in a long-term relationship with Stedman Graham, an American businessman, author and educator.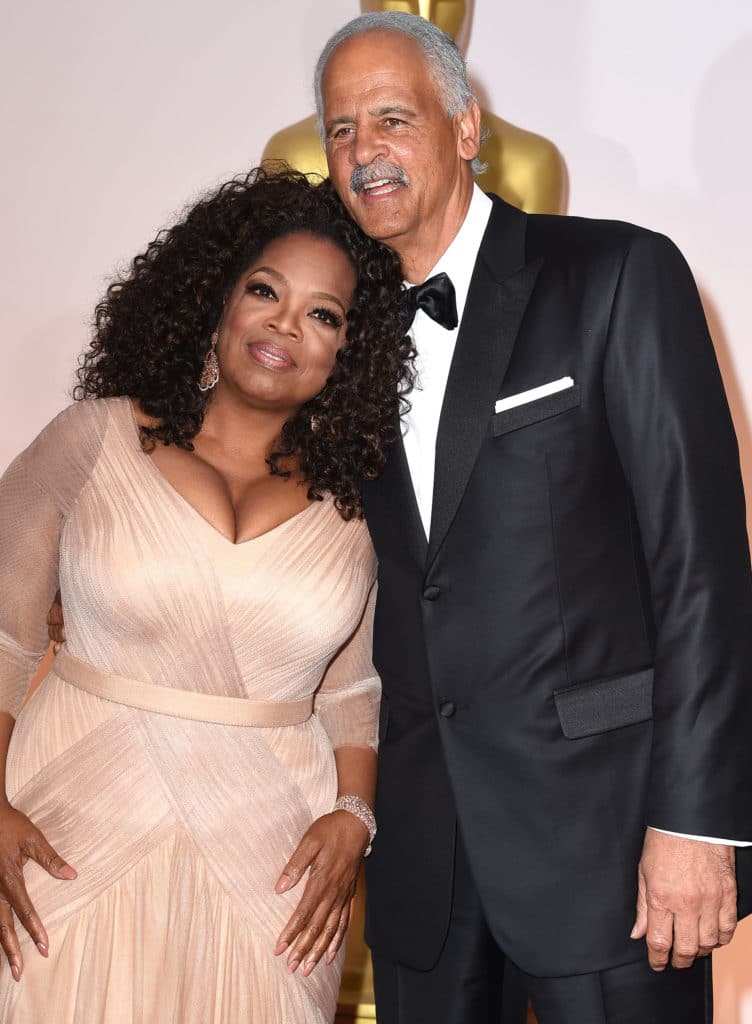 Stedman did get down on one knee, but according to Winfrey, she never wanted to be a wife, since the commitment it required was too much for her to handle. Although the couple has been in a relationship longer than some of us have been living (34 years and counting), Winfrey has never felt ready to take the next step and exchange vows. Despite that, they are living happily together for over 30 years, and Winfrey even says that not getting married has only made their relationship better.
Tina Fey and Jeff Richmond
Jeff Richmond is an actor, director, and producer, but for us, he'll always be the husband of Tina Fey. While he's far from being anonymous, Richmond is certainly not as accomplished and well-known as his wife, actress and comedian Tina Fey, and hey, why do women always end up being "the wife of-"? Let the men occupy this role every once in a while.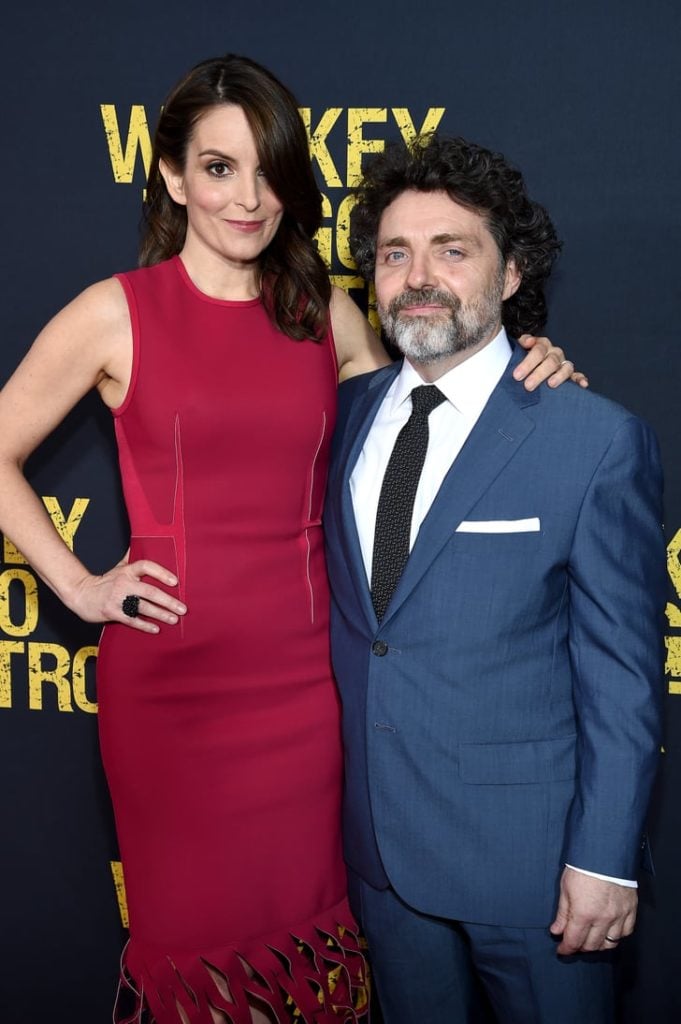 Back when the couple met, in the mid-nineties, Richmond hasn't yet spread his wings in the show business, and he worked as a pianist (he's always had a musical sense, though Broadway seemed like an unreachable dream at the time). They met at the famous Improvisational comedy troupe The Second City, where they both worked. They hit it off immediately, and, as they say, they always made each other laugh (which is not surprising, since Tina's job on SNL is making the entire nation laugh on a regular basis).
Jennifer Lawrence and Cooke Maroney
You probably didn't know, but Jennifer Lawrence, who became a household name after starring in The Hunger Games, is among the highest-paid actors is Hollywood, and if you ask us, we don't know nearly enough about her new husband, Cooke Maroney. While he's a big name in the Manhattan art scene, not much is known about the gallerist among Lawrence's fans.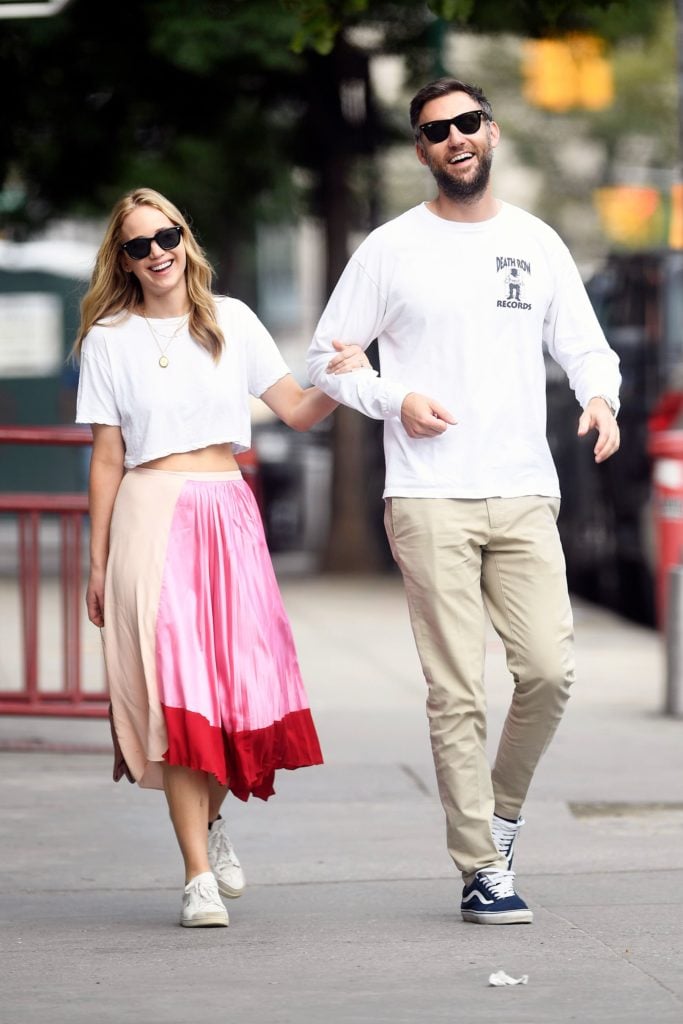 Maroney always had a passion for art, and upon graduating from high school, he moved to the Big Apple and received a B.A. in art history from NYU. Maroney has made his way through the art world, and today he is the director of a famous Manhattan gallery. Now that we know what he does – and we approve – the next big question is how the two met. The answer might surprise you, since it's really that simple: they met while at a night out with friends, and quickly hit it off.
Amy Schumer and Chris Fischer
While you can't say Chris Fischer is you Average Joe (he's married to America's favorite comedian, so that's enough to revoke him this title), he isn't nearly as famous as his wife. Chris Fischer, Amy Schumer's husband, and the father of her child, is a chef and the author of the award-winning cookbook The Beetlebung Farm Cookbook.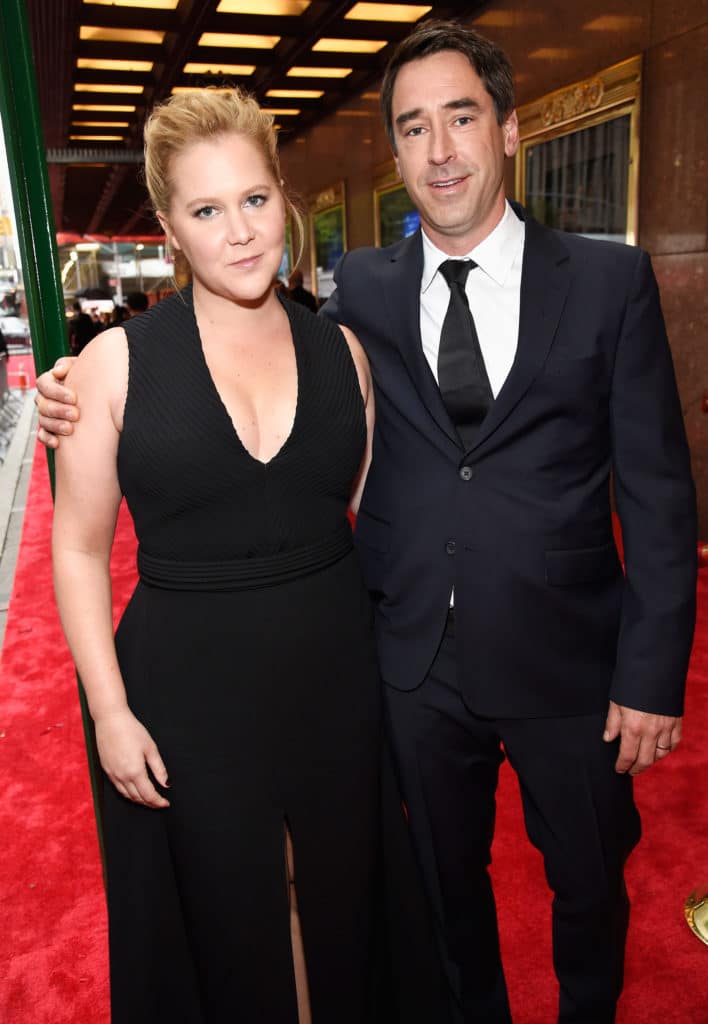 The couple were lucky enough to meet through a mutual connection – Chris' sister happens to be Amy's assistant, and she's the one who set them up; if you ask us – she has a place reserved in heaven for this perfect match. The couple started dating in 2017, and it took them only a few months to know this was the real deal. In early 2018 they tied the knot in a wedding that can be best described as very characteristic of the couple – chill and low key.
Anne Hathaway and Adam Shulman
From the minute she laid eyes on him, award-winning actress Anne Hathaway knew she was going to marry Adam Shulman. As cliche as it sounds, that's how the actress tells the story, adding she was newly single at the time, and was looking forward to being a single woman for a while, but Adam "completely changed her plans" when she first saw him at the 2008 Palm Springs Film Festival.
Although he isn't a big name in the industry like his wife, Shulman is also an actor. However, he's only participated in rather minor roles, and it seems as if his other line of work, as a jewelry designer, forms his real passion. Shulman owns a California-based jewelry business, called James Banks Jewelry (don't ask us why, we assume the 'Banks' comes from his middle name), and he helped design Hathaway's one-of-a-kind engagement ring. Ah, the perks of marrying a jewelry designer.
Cate Blanchett and Andrew Upton
Andrew Upton, Cate Blanchett's husband of 23 years, is a theater director, playwright and screenwriter, but despite his talent, he has managed to stay in his wife's shadow, in the best possible way, and he's the one who supports her as she progressed in her impressive Hollywood career, never resenting her success. The two-times Academy Award winner, 50, and her husband, 54, met back in 1997, and got engaged after three weeks of dating.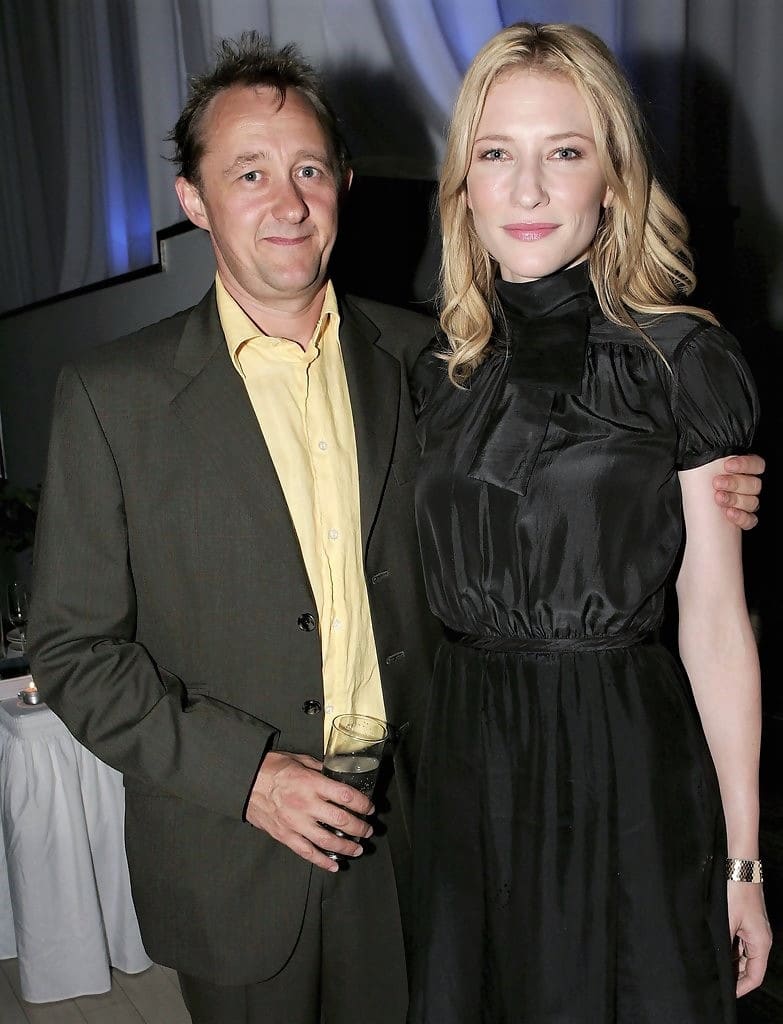 Although they have been happily married for over two decades, their relationship didn't take off smoothly. The two have known each other through mutual friends for seventeen years before their romance began, and at the time, they weren't fond of each other, to say the least. Even though some would say they rushed into this marriage, the couple is still going strong, now with four kids, and they have no regrets whatsoever. Despite their busy schedules, they manage to see each other and spend time together.
Ellen Pompeo and Chris Ivery
Grey's Anatomy star, Ellen Pompeo, is married to record producer, and while he's a big name in the music industry, Pompeo's fans might not be familiar with him. While fans were rooting for Dr. McDreamy (Patrick Dempsey) and Dr. Grey to become a real-life couple, each of them was involved in a long-term relationship while filming the show, which they've managed to keep out of the limelight.
It might give you hope to learn that love can come at the most unexpected time and place, as the coincidental encounter of Pompeo and Ivery proves. The first meeting of the two wasn't at all glamorous, but the other way around – it was ordinary. The couple met while shopping for groceries at Whole Foods. However, one meeting at Whole Foods isn't really enough to spark a romance, since our lives aren't scripted by Shonda Rhimes, and it took another coincidental encounter, two days later, for Pompeo to give this a chance.
Keira Knightley and James Righton
Although actress Keira Knightly have somewhat disappeared from the spotlight, we still remember some of her most iconic performances, in The Pirates of the Caribbean and Pride and Prejudice among others. Her personal life, on the other hand, is a different story. Much like other celebrities on the list, who've managed to keep their relationships (relatively) out of the spotlight, we now realize we knot almost nothing about Keira Knightly's husband, who doesn't share her Hollywood life.
James Righton might not be a Hollywood star, but it doesn't mean he's not a rockstar. Righton is a British musician, who currently works as a composer for T.V. and cinema. When the two met, in 2011, Righton was part of a London-based band called Klaxons, which disbanded in 2015. The couple tied the knot in 2013, and they have two duaghters.
Kate Winslet and Edward Abel Smith
Edward Abel Smith, who was formerly known as Ned Rocknroll, isn't a Hollywood star like his wife Kate Winslet, but his job might be even cooler. He works as a head of marketing promotion and astronaut experience for the spaceflight company Virgin Galactic. While both have extremely cool jobs, it begs the question how did they meet. After all, Hollywood has nothing to do with spaceflight off the set.
It all started one sunny day in 2011, when the acclaimed actress was vacationing in businessman Richard Branson's holiday estate in the Virgin Islands. Smith happens to be Branson's nephew, and as luck would have it, he was enjoying his holiday in his uncle's estate as well. However, the two didn't meat by the poolside, but rather when a fire broke. Ned was the one who saved Kate and her children from the fire, helping them escape the burning house, and at this moment, he became her knight on shining armor.
Alison Sweeney and David Sanov
We'll always remember Alison Sweeney as Sami from Days of Our Lives, the show she dedicated her life to. Sweeney was studying towards a B.A. in Economics, but eventually quit her studies to fully commit to the popular show. With the show taking up most of her time during the nineties and early 2000s, it's no wonder that Sweeney met her husband, David Sanov, on the show.
However, Sanov isn't an actor, a producer or a camera assistant. In fact, aside from his marriage to a Hollywood star, Sanov has nothing to do with the industry; he works as a Los Angeles police officer. Sanov wasn't a regular part of the cast, but appeared as an extra in one episode, and that's how the couple met. they started dating shortly after, and tied the knot in 2000, after three years of dating.
J.K. Rowling and Neil Murray
Despite her fame and fortune, the Harry Potter author and philanthropist J.K. Rowling has always been humble and preferred to keep her personal life out of the public eye. While she doesn't share much about her personal life (besides sharing what are her favorite books and authors), we do have some information about Rowling's second husband, Neil Murray.
Murray and Rowling got married four years after the first book in the Harry Potter franchise saw published, and the pressing question was how did the two meet. As it turned out, Murray was a doctor working in Scotland, but not just any doctor – Rowling's doctor. This marked his second marriage as well, and friends of the couple say they had found the perfect match in each other; much like Rowling, Dr. Murray is quiet, reserved, intelligent and studious.
Kelly Clarkson and Brandon Blackstock
American Idol winner Kelly Clarkson and her husband Brandon Blackstock both work in the music industry, but that's only part of the reason why they ended up meeting. Blackstock isn't a fellow singer, but an artists manager, like his father Narvel Blackstock. Back in 2006, Narvel was Kelly's manager, and the two met coincidentally through this mutual connection. However, although Clarkson was immediately infatuated, Blackstock was married at the time.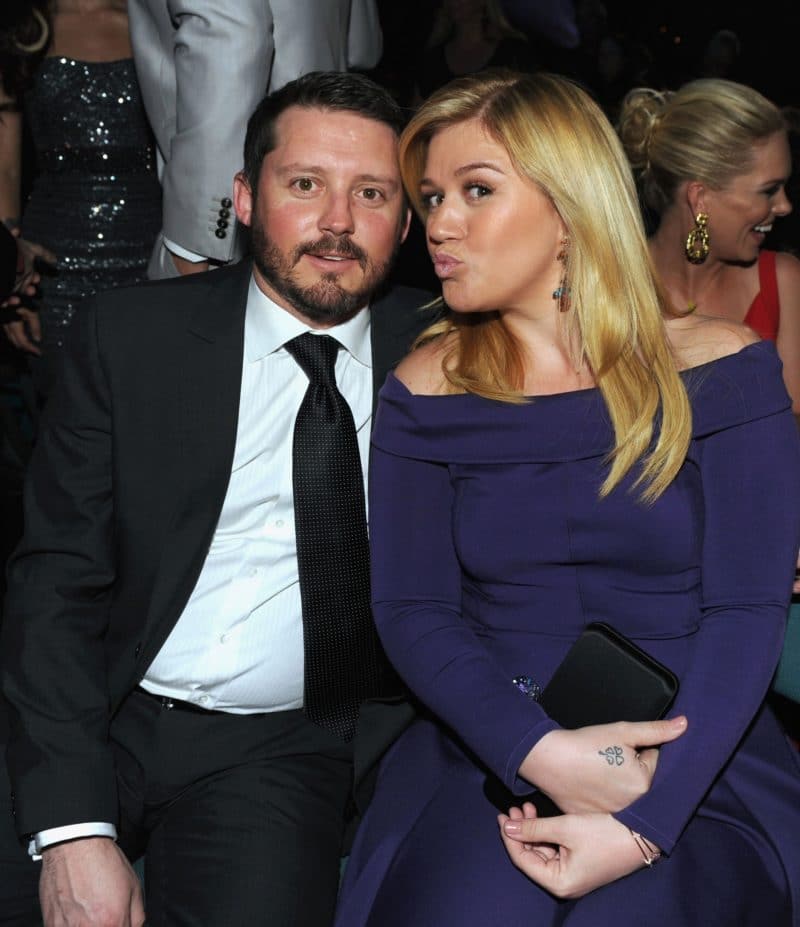 It was only six years later, in 2012, when Clarkson was set to perform the national anthem in the Super Bowl. As luck would have it, the second performer of the big night was Blake Shelton, who was managed at the time by Brandon. Knowing that Brandon was in the crowd made this performance that much more nerve-wrecking for Clarkson, as she later confessed. By now, Brandon was divorced from his wife, and that's when the two started their love story.
Margot Robbie and Tom Ackerley
Australian actress Margot Robbie has been in the spotlight since her memorable portrayal of Tonya Harding in the drama I, Tonya, and recently she swept she screens again as Sharon Tate in Tarantino's Once Upon a Time in Hollywood. However, the acclaimed actress has somehow managed to keep her personal life out of the spotlight, and very little is known about her husband of four years, Tom Ackerley.
They say the best couples are the ones who started out as friends, and this seems to be the case for Robbie and Ackerley. Back in 2013, when Robbie was still on the brinks of her Hollywood career, she met her husband on the set of a World War drama. However, Ackerley wasn't a fellow actor, as you might've suspected, but a camera assistant on the production team. Robbie didn't feel confident enough to socialize with the fellow actors, and preferred the company of the crew. Robbie and Ackerley started out as close friends, before they started dating in late 2014.
Zoë Saldana and Marco Perego-Saldana
You might not recognize her without the blue makeup, since actress Zoe Saldana is most known for her role in James Cameron's blockbuster Avatar. Saldana's husband, Marco Perego-Saldana (yes, he took her surname), isn't an actor, but an artist. When the two met, Perego was an aspiring artist, and his art is what brought the two together.
Perego and Saldana were both living in the Big Apple at the time, and while Saldana was already an acclaimed actress, Perego was trying to make it with his art. He was exhibiting his work on the street one day when Saldana happened to pass there, and she bought one of his paintings. Perego approached Saldana, asking for her genuinie opinion of his work, saying he'd give it up if she thought it was no good, and the rest is history. Saldana and Perego secretly married in 2013, and today they have two children together.
Julia Roberts and Daniel Moder
Award-winning actress Julia Roberts and her husband, Daniel Moder, met back in 2001, almost two decades ago. While the couple did meet on set – after all, for busy celebrities, meeting anywhere else can be challenging – Moder isn't an actor. He was born in California, and his father was a film producer, so it was only natural that he'd find his way to the show business, but Moder didn't see himself as an actor, so he went on to become a cinematographer.
Moder hasn't got his wife's talent for acting, so started out in the entertainment business as a production assistant and a camera loader, at first as a Second assistant camera, later a First assistant camera, and finally he's gone on to become a cinematographer, one of the best in Hollywood. Roberts and Moder met on the set of The Mexican, where Roberts played the lead role alongside Brad Pitt.
Gal Gadot and Yaron Varsano
It's been three years already since Gal Gadot conquered the screens as the princess warrior Wonder Woman and became a household name, and it's time to have a look at the man who conquered Wonder Woman's heart, Yaron Varsano. Gadot started her career as a model and started her Hollywood career in 2009 with the film Fast & Furious.
Varsano, on the other hand, is a businessman and a real estate developer. The couple didn't meet on set and neither did they meet at a Hollywood club, but rather, they met at a yoga retreat in the Israeli desert. The two attended the retreat with friends and both felt completely out of place, and as gal describes it, they didn't exactly find themselves there, but they did find each other. Despite the ten-year gap between them, the couple quickly learned they have plenty in common, and in 2008 they tied the knot.
Christina Aguilera and Matthew Rutler
Acclaimed singer Christina Aguilera has been in the show business long enough to learn her lesson – never to date someone from the industry. As someone who's been a part of the entertainment industry since her teens, when she first broke out as a singer, Aguilera explains, "there's gotta be something wrong with you if you want to be in this business," and she's speaking from experience! So if he's not in the show business, who is Aguilera's long-time boyfriend, Matthew Rutler?
Matthew Rutler seems to be the one who balances the singer's wild spirit. He isn't a part of the music business, but he is familiar with the Hollywood scene, from a different angle: he is a cinema assistant. The couple met on the set of Burlesque, where Aguilera starred on stage and Rutler was working behind the scenes. While the two have been going strong since 2010, and they have two children together, it seems as it they aren't yet ready to tie the knot, and perhaps they never will be – because why change a good thing?
Lisa Kudrow and Michel Stern
Friends star Lisa Kudrow (also known as Phoebe Buffay) recently signed the contract for a much-anticipated Friends reunion, so work-wise, she has a lot on her hands, but her personal life seems to be going quietly and smoothly since she married her husband Michel Stern in 1995. is an advertising executive, and so the two didn't meet through Lisa's work, but rather they met through a friend.
Before the two started dating, Michel was dating Lisa's good friend – there's a drama for you. Although Kudrow was fond of him, she couldn't do anything about it, until they separated six years later. The two started dating while Kudrow was filming Friends, and when she got pregnant with their son, Julian, the show had to make her character pregnant as well. Going into this relationship, they knew Kudrow's busy schedule would make it challenging, but they've managed to overcome any Hollywood obstacle, and their relationship is stronger as ever.
Jessica Alba and Cash Warren
When we think of women empowerment, we think of Jessica Alba, who's not only a renowned actress, but also a devoted philanthropist and a public speaker. Her husband, Cash Warren, is a film producer, and despite his many virtues, he never outshines his wife's success. The two met in 2004 on the set of the Fantastic Four, and much like any other celebrity couple who meets on set, they never suspected this film might be more than just a job for them.
Jessica was starring in the film as Susan Storm, while Cash was working behind the camera as a production assistant. Jessica didn't want to rush into things, as she was rather young at the time and this was only her second serious relationship, and so it took the couple four years of dating before finally tying the knot in 2008, when Jessica was pregnant with their first daughter.
Natalie Portman and Benjamin Millepied
While Benjamin Millepid isn't a Hollywood star, Natalie Portman's husband is a different kind of artist: he is a dancer and a choreographer who worked for the renowned New York City Ballet, the Metropolitan Opera, American Ballet Theater and more. After founding the L.A. Dance Project, Millepied was settled in L.A for a while, and in 2009 he was chosen as the choreographer for the drama Black Swan. Spoiler: Natalie Portman was the star actress in the film.
Little did Natalie Portman know that her role in Black Swan would be this crucial both for her career and her personal life. The two met on set and had an immediate connection, and it wasn't long before they started dating. In 2011 they welcomed to the world their first son, and in 2012 they tied the knot. Although Millepied isn't an actor, their jobs sometimes intertwine (as happened with Black Swan), and on their part, the couple does everything in their power to keep their professional life separated.
Cynthia Nixon and Christine Marinoni
The Sex and the City star is married to Christine Marinoni, an education and social activist. Before this relationship, the 53-year old actress was married to her high school sweetheart, Danny Mozes, with whom she had two children. Nixon, an actress and a social activist, shared she'd never expected to fall in love with a woman, but when she did, it felt natural.
Christine Marinoni, Nixon's significant other, was raised by two teachers, which is probably part of the reason why she became an education activist. Marinoni helped establish Alliance for Quality Education among her other endeavors in the field. Naturally, since announcing their engagement in 2009, the actress and Broadway star has increased her battle for LGBT rights and equality.
Elizabeth Banks and Max Handelman
Max Handelman, Elizabeth Banks' significant other, isn't what you usually call a celebrity, although some sports enthusiasts might disagree. Handelman is a sports writer and an avid fan of fantasy football. Among his works, you'll find the book Why Fantasy Football Matters: (And Our Lives Do Not). Handelman also works as a minor film producer, although sports is his true passion.
Banks and Handelman are college sweethearts; they met on their very first day of college (kicking off college to a good start), and they tied the knot in 2013. Handelman has always been the biggest fan of the actress, and the one who stood by her side through thick and thin. Banks recently gushed in an interview about their blossoming relationship and how Handelman has allowed her to grow.
America Ferrera and Ryan Piers Williams
Although Ryan Piers Williams is an actor, writer and director, somehow he's most well-known for being America Ferrera's husband. It was Williams' writing ambitions that allowed the couple to meet in the first place: back in 2007, the young writer cast the Ferrera for the lead role in a short film he was making, called Muertas. The talented Williams was the writer and producer of the film, as well as the star opposite Ferrera.
This was the beginning of a beautiful friendship, and later a relationship. It was the first of many collaborations, as Ferrera appeared in several other of his productions later on. While the actress received great exposure from her roles in The sisterhood of the Traveling Pants and her lead role in ABC's Ugly Betty, Williams has stayed in her shadow, but he never resented it. On the contrary – he is her biggest supporter.
Wanda Sykes and Alex Sykes
This is the comedian's second chance at love and it seems as if this time she's found the one, and in this case it isn't a supportive husband standing behind the successful woman, but a supportive wife. Wanda Sykes, the talented comedian, actress and writer was previously married to record producer Dave Hall during the nineties. In 2006 Wanda has met Alex, and this time she knew this was the real deal.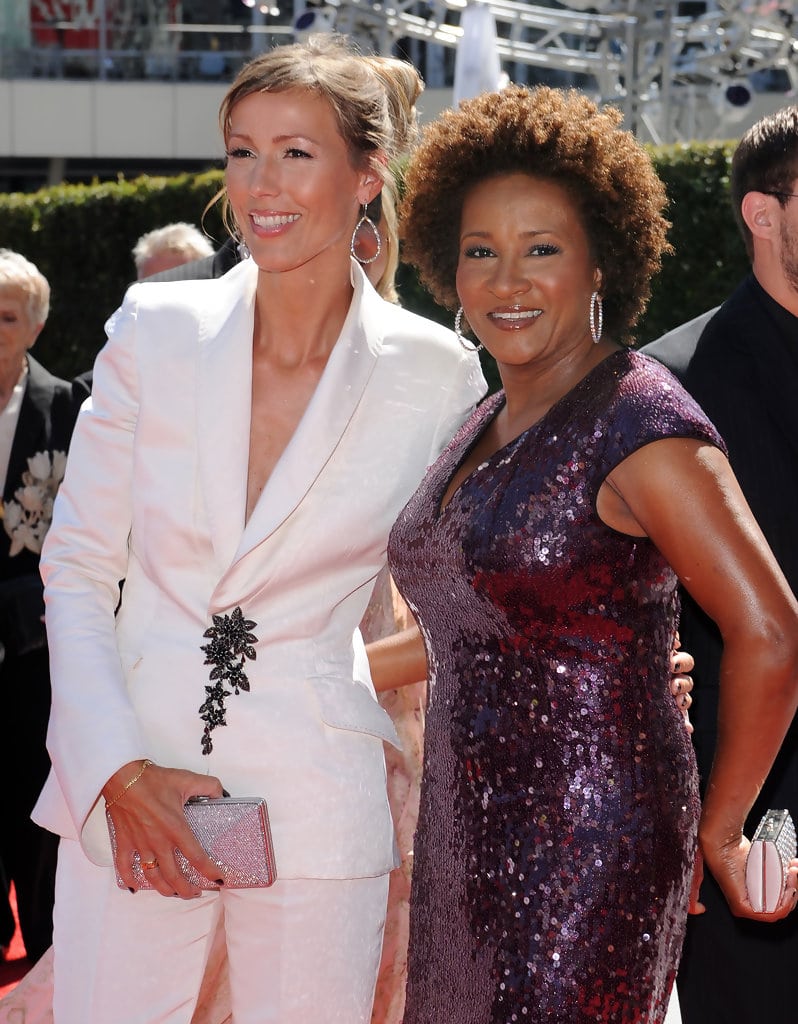 Alex Sykes isn't a celebrity, a comedian or an actress, but an international business woman. When Wanda first saw her, she could tell immediately that she was a down-to-earth, organized person, and that was the kind of stability she was looking for in her life. The couple has two children together, and while their careers seem to be the opposite of one another, perhaps this is makes them so compatible.
Julianna Margulies and Keith Lieberthal
The good Wife star Julianna Margulies is another one of the Hollywood stars who refrained from dating inside the industry. She was previously in a relationship with fellow actor Ron Eldard, but after this romance ended, she wasn't interested in pursuing another Hollywood love affair, since it only makes things complicated. As a Hollywood star, you're constantly followed by media attention, and it's that much worse when both partners are famous!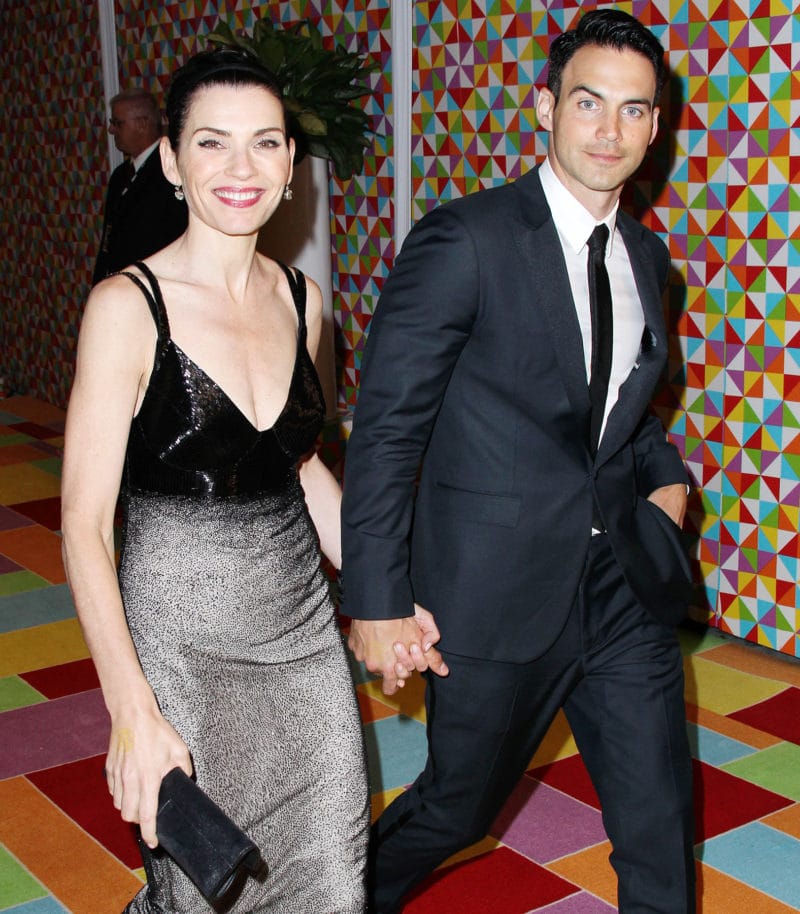 The actress is currently married to attorney Keith Lieberthal, which, if you ask us, is the most fitting match she could've found, since the character she plays in the legal drama The Good Wife is an attorney. Liberthal is very supportive of his wife's career, and we don't know this for sure, but perhaps he's also shared with her some professional secrets, to help make her character more believable. The couple first met in 2007, and today they have a son.
Scarlett Johansson and Colin Jost
Scarlett Johansson, one of Hollywood's most beloved actresses, is married to Colin Jost, an actor, writer and comedian. While Johansson is the familiar face of the relationship, her husband, working mostly behind the scenes as a writer, is just as talented. The couple met on the set of Saturday Night Live, where the Avengers: End Game actress is a regular host and Jost is a sketch writer.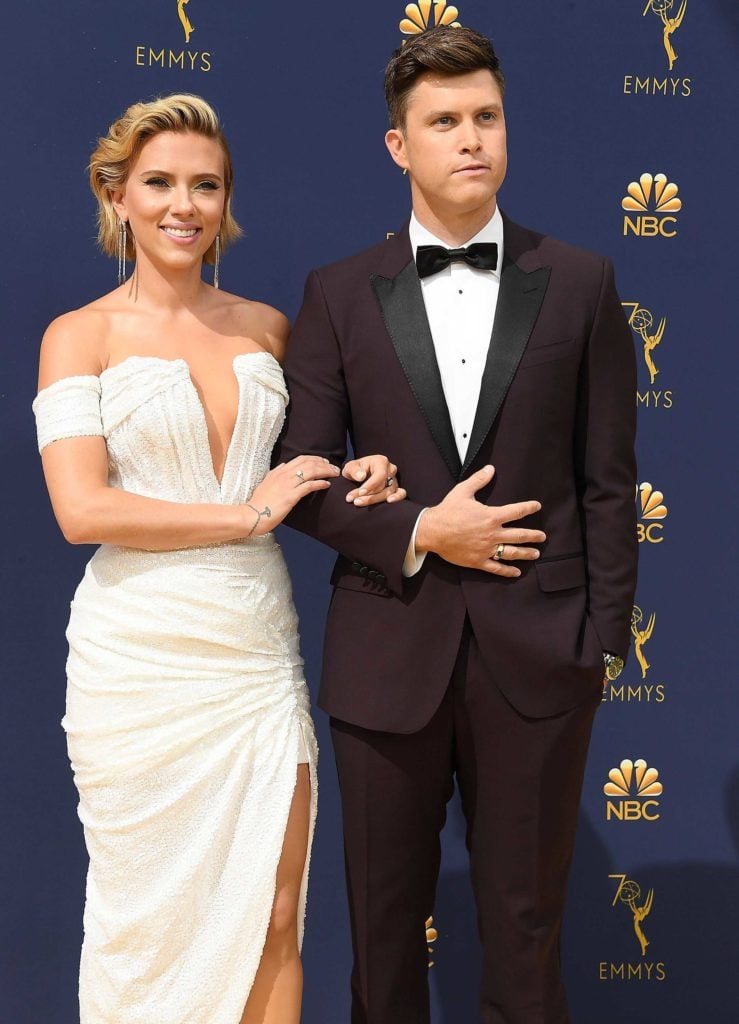 They initially met a decade ago, in 2010, when Johansson appeared in one of Jost's skits for Saturday Night Live. However, at that time both stars were in a relationship, and so nothing happened between the two, besides professional cooperation. It was seven years later, during an SNL cast party, when the two stars were newly single, that they were seen close to each other. Later that years, they started dating, and in 2019, Jost popped the question.
Mary-Kate Olsen and Olivier Sarkozy
Mary-Kate Olsen and her twin sister Ashley Olsen, the actresses turned fashion-designers, are quite familiar with the limelight, since they've entered the show business when they were young children starring in Full House. During the 90s and 2000s, the sisters were among Hollywood's most successful stars. Mary-Kate's husband, on the other hand, wasn't too familiar with paparazzi and red-carpet events before meeting his wife.
Olivier Sarkozy is a banker, which seems like a boring job compared to Mary-Kate's glamorous profession, but rest assured, their relationship seems everything but boring. When the love birds started dating, back in 2012, their romance raised eyebrows, since they have a 17 yeas gap between them. This dramatic age difference was all people could talk about, and so other than that, and while the media attention and the paparazzi was the last thing on the couple's mind, Sarkozy was more concerned with the reaction of his ex-wife and the mother of his children. However, the couple didn't let anybody bring them down, and in 2015, after three years of dating, they tied the knot.
Julianne Moore and Bart Freundlich
Bart Freundlich, the man behind the successful actress Julianne Moore, is a film director and producer. Although Moore and Freundlich are nothing like other celebrity couples in many ways, their meeting was: they met on the set of The Myth of Fingerprints which Moore was starring in and Freundlich was directing.
How they differ from other celebrity couples, you wonder? While it's not uncommon for celebrities to change partners as often as they change their socks, with Moore and Freundlich, who are married for almost seventeen years and counting, things are different. While many Hollywood actors put their career first, which often sabotages the relationship, Moore says she always acknowledged that relationships require hard work, and so the two talked about it from the very beginning, and always tried to put their relationship first.
Jenna Fischer and Lee Kirk
Also known as Pam Beesly from NBC's sitcom The Office, actress Jenna Fischer is married to scriptwriter and director Lee Kirk. This marriage was Jenna's second chance at love, and it seems as if this time they're in for the money. When the couple first met as colleagues, they weren't ready for a new relationship; Fischer was going through a divorce after an eight-years marriage, and Lee has recently broke up a seven-years relationship.
It was only a few years later, when the actress was looking to work on a project from beginning to end, when she approached Kirk – a scriptwriter – to collaborate. He wasn't the only writer she had approached, but perhaps it was fate that brought the two together, since he was the first one to agree and take on this project. Although both Kirk and Fischer had feelings towards each other, they were reluctant to make the first step, and eventually it was Jenna who asked out Lee.
Julia Louis-Dreyfus and Brad Hall
The Seinfeld star Julia Louis-Dreyfus and comedian Brad Hall met in college, but didn't start dating until a couple of years later. Back at Northwestern University, the aspiring actress joined a theater group founded by her future husband, Brad Hall. Soon after college, the talented comedians were both hired for Saturday Night Live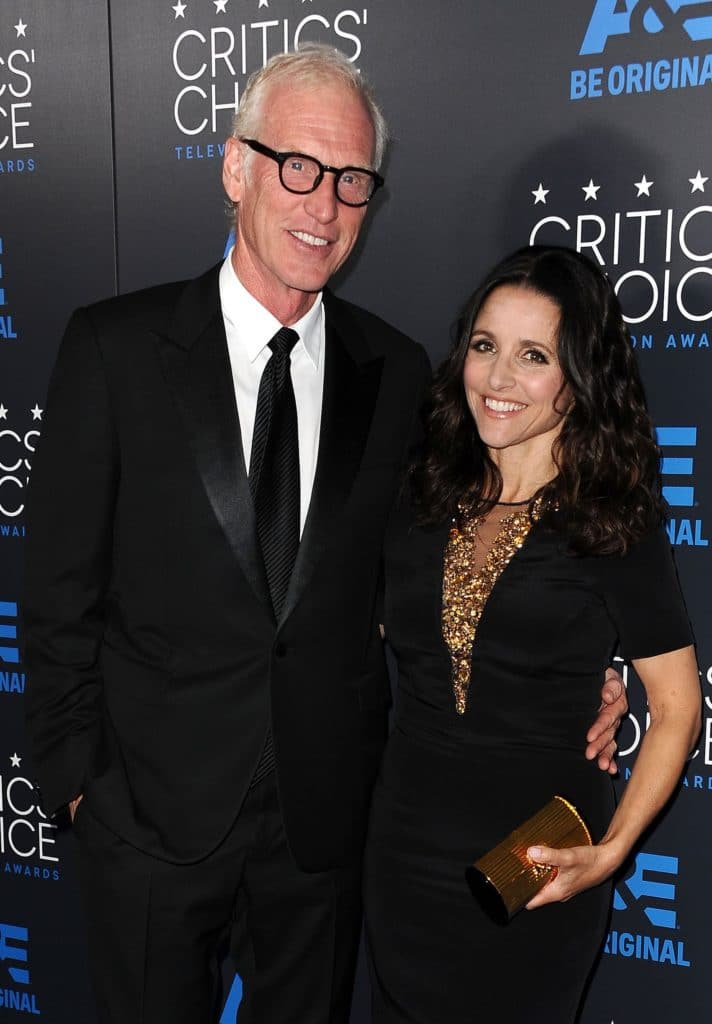 However, while Hall flourished on SNL, the Veep star didn't feel as if this was the place for her. They only started dating after they left the show, for fear of people's reactions to their romance. The couple tied the knot in 1987, and two years later, Louis-Dreyfur received the role of a lifetime – the character of Elaine Benes in the all-times favorite sitcom Seinfeld.
Laura Linney and Marc Schauer
Actress Laura Linney was previously married to a fellow actor, but after this relationship failed, she resolved, as many celebrities do, not to repeat this mistake. The four-times Emmy winner is currently married to Marc Schauer, a humble real estate agent who's been by her side for thirteen dramatic years now.
However, before meeting Schauer, the Ozark star had some rough years, dating-wise. Although Marc has no connection whatsoever to the entertainment industry, the couple met at a film festival (which the actress attended with her mother, since she was "painfully single" at the time), where Marc luckily volunteered to work. That's perhaps the biggest lesson to learn from this successful love story: if you're not part of the industry and looking to meet Hollywood stars, volunteering at different events is always a good idea!
Tamera Mowry and Adam Housley
The Sister, Sister star Tamera Mowry is married to award-winning journalist, former baseball player and winery owner Adam Housley. Yes, as impressive as this list of professions is, and while Housely excelled at every one of the fields, it seems as if he hadn't had his career planned for him since childhood. Starting off as a professional baseball player, moving on to winning awards at journalism, and later on starting his own winery, Housley is a man of many talents.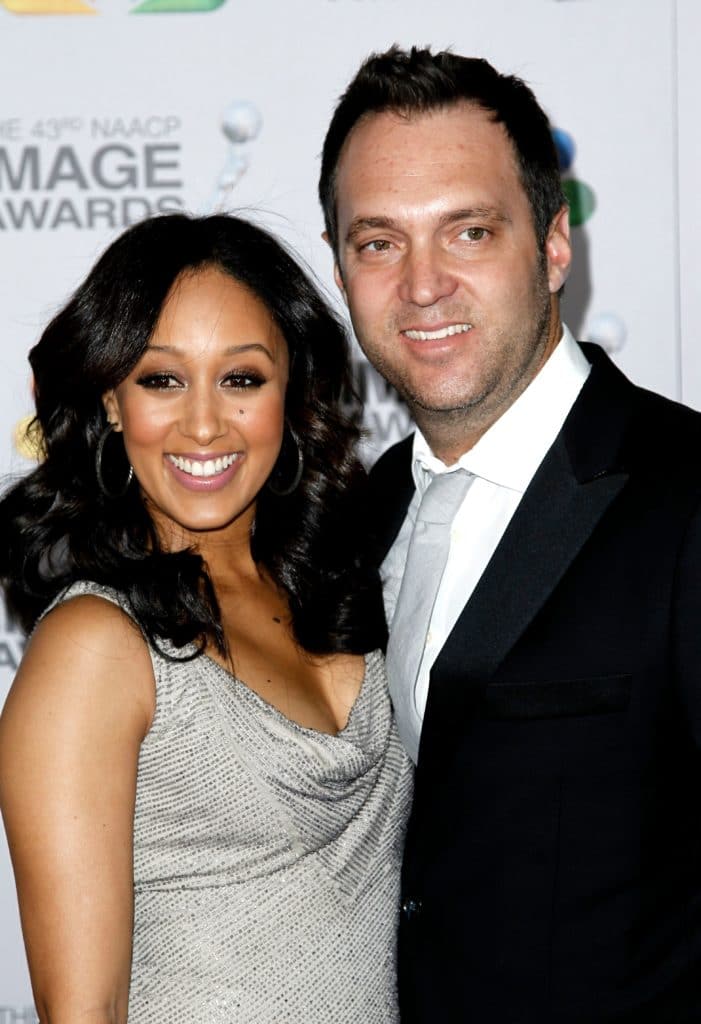 His wife, Tamera, is just as talented. She started her acting career in her childhood with the Disney Channel film Twitches. This made the actress popular mostly among teenagers, and when Housley and Mowery first met, despite her fame, he had to look her up to know who she was, and the other way around. The actress and the Fox News correspondent met in 2005 and dated for six years before tying the knot.
Jennifer Hawkins and Jake Wall
Miss Universe Jennifer Hawkins is married to property developer Jake Wall. In 2004, the Australian model was crowned Miss Universe Australia and later Miss Universe. But much like his wife, Wall has also received praise and awards for his work in property and construction, although we're not here to compare their accomplishments.
The runway model and television host met her husband through their shared interest in property business. Although he eventually went on to pursue his dream in the property and construction world, for six years Jake cultivated a promising football career. The two Australian talents tied the knot in 2013 in a secret Bali wedding.