The 92nd Academy Awards show once again went hostless, giving a major focus to the awards, tributes and performances throughout the three-and-a-half-hour ceremony… and it was quite the show. The 2020 Oscars were full of surprises fans still can't get over. From a first in Oscar history non-English language film to win Best picture to Martin Scorsese sleeping during Eminem's performance.
Missed the live stream of Hollywood's biggest night? We've got you covered! Here is a roundup of 10 must-see moments worth reliving.
Editorial content
123
1. Eminem's performance
Wait, why did Eminem perform? People were surprised by Eminem's performance of his 2003 Oscar-winning song "Lose Yourself." It left the audience confused and wondering why was he there and why was he performing the song… 17 years late.
While some seemed to be into it, rapping along the words, some others… not too much. Martin Scorcese, for example, was caught on camera sleeping during Eminem's performance.
Grammy-singer Billie Eilish meme-able moment during Eminem's performance. She was all of us, staring at the performance in a very confusing way. Although some people on Twitter commented that it was just a reaction after seeing her own face on the screen.
2. Natalie Portman's hidden message
The actress embroidered her Dior cape with the names of the female directors that the Academy Awards failed to nominate. All five Best director nominees for 2020 were men.
3. Parasite and a History-making night
Last night Parasite made Oscar history by becoming the first non-English language to win Best Picture in the history of Academy Awards. It also won Best Director, best original screenplay and best international film. The director Bong Joon-ho accepted the prize with the cast.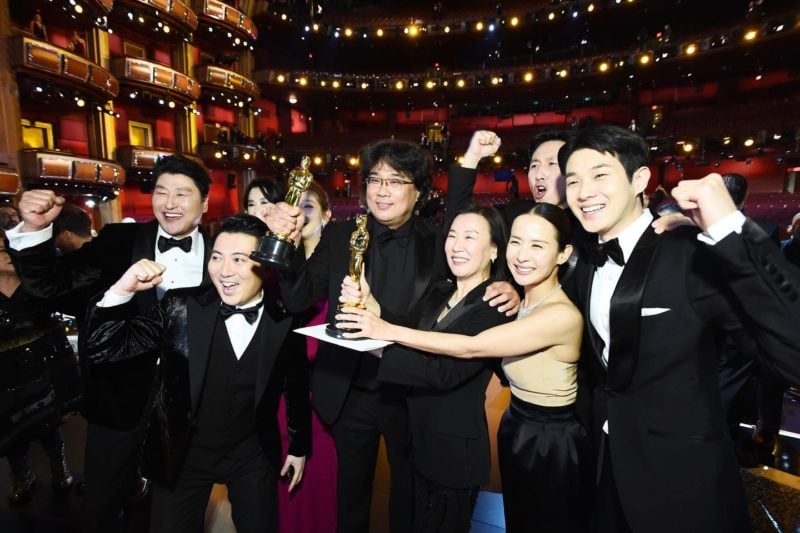 4. Janelle and Billy performance everybody is talking about
Janelle Monae and Billy Porter's killer-opening show with a song and dance presentation of all the year's top movies. The show had shoutouts to the actors and films of color that the Academy Award failed, once again, to nominate this year.
As if it was not clear enough, she stated "I'm so proud to stand here as a black queer artist telling stories. Happy Black History month."
5. Elsa from all over the world
Indina Menzel's performance of "into the unknown" along with other international versions of Elsa of Frozen, represented by nine women from all over the world.
6. A colorful tribute paid to Kobe Bryant by Spike Lee
Spike Lee wore a purple and gold Gucci suit, these colors represent the LA Lakers team in which Kobe Bryant spent his entire career. The famous director had "24" embroidered across his lapel and his back honoring Kobe Bryant on the red carpet.
7. Bong Joon-Ho shouting out Martin Scorsese in his Best Director acceptance speech
Bong Joon-Ho praised Martin Scorsese upon accepting an award for Best Director. "I thought I was done for the day and ready to relax," said Bong Joon-Ho, as he was collecting the second Oscar for the night. "I thought I never would win" stated Bong, adding "I will drink until morning."
8. A couple's major debut
Remember the last time we saw Leonardo di Caprio debuting a major Hollywood award show with someone? It was 15 years ago when he walked the red carpet with his then-girlfriend Gisele Bundchen. Last night, and although they walked the red carpet separately, Leonardo di Caprio did it again, and made a public appearance with his girlfriend, the actress Camila Morrone. Both were sitting side by side in the front row during the Oscars 2020.
9. Salma Hayek holding Oscar Isaac's hand
The moment the film actress and producer held Oscar's hand, as she made a joke by stating "I can now officially say that I have held an Oscar on this stage."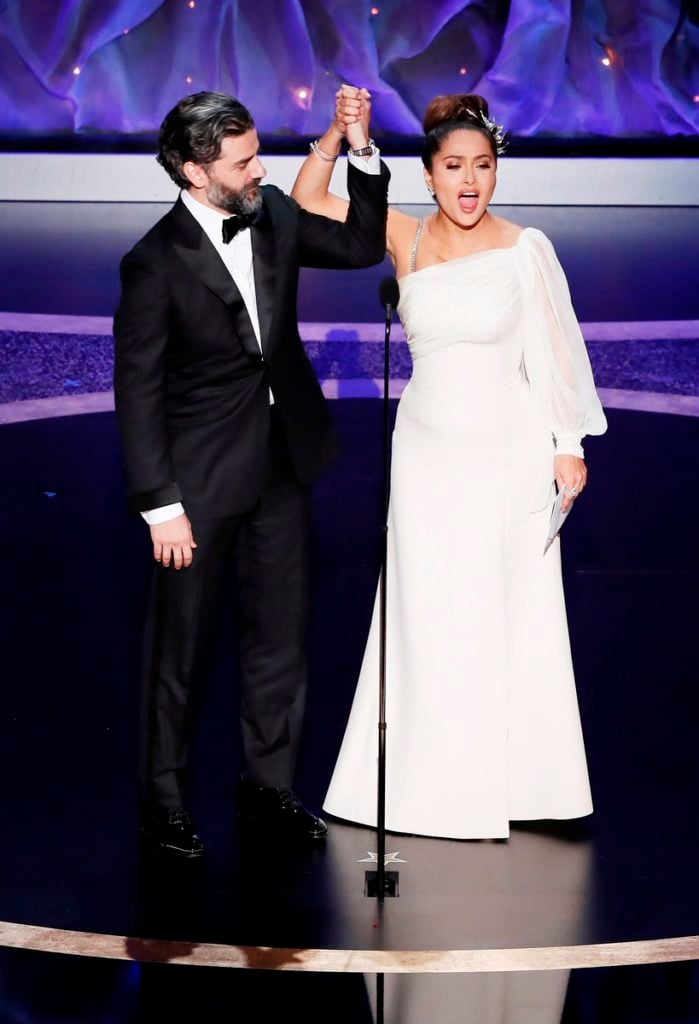 10. What about Joker?
Most of the predictions indicated that the Joker would be taking home several awards last night. It came as a surprise that it was Parasite taking home four Oscars instead. Nevertheless, Joker did take home one award – Best Actor, and it surprised no one that it was Joaquin Phoenix to receive it for his role in Joker.