There have been an ongoing argument whether P-Square's net worth is more than D'Banj's net worth. To solve this argument, let's look at some facts about P-Square and D'Banj and see who is the richest. But one thing is sure, they are among the top 10 richest musicians in Nigeria.
The koko-master, Oladapo Daniel Oyebanjo,(aka D'Banj) was born in Nigeria. He is a  musician, a song-writer, and harmonica player. he was introduce to the Harmonica by his late elder brother Femi Oyebanjo may his soul rest in peace. D'Banj was a business man and also the founder of koko foundation for youth and peace development.
Kokomaster has proven that what you need to be successful is hard work and believing in yourself, you don't need to look for it elsewhere, it start with you. He has won several awards which include best African Act at the MTV musical Awards 2009 and Best selling  African Artist at the 2014 World Music Award and many more.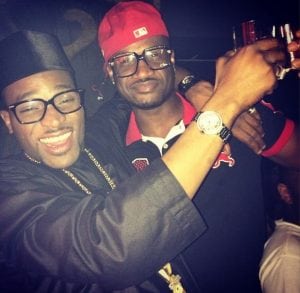 He is one of the best super star Nigeria have ever seen.Oliver Twist was his biggest song ever and was produce by Don Jazzy. It took over from P-Square's song (chop my money) in 2013 as the highest viewed Nigerian songs on You-Tube as at that time before another P-Sqaure song (Personally) re-claimed the number one spot and smashed the record which it has continued to hold on till this day. D'Banj's net worth is $5.6m placing him far below P-Sqaure.
Paul and Peter Okoye (aka P-Sqaure), this guys are making it big in the entertainment industry in Nigeria, so much that nobody is competing with them as at this time, this guys charge between $150,000 to $300,000 per show across Africa, making them the most expensive artistes in Africa by far. they are also the most booked  musicians in Africa, they are the only famous celebrity (after Linda Ikeji) that has mansion in Banana Island where houses are sold in Billions.
P-Square is currently on record as the richest musicians in Nigeria. P-Square recently acquired a property in Atlanta Georgia, they also have big house/mansion in Omole Estate in Ikeja it worth N500Million ($2.5Million) which is equipped with swimming pool and all other facilities. They have another mansion in Ikoyi/Victoria Island and beverage production company, food processing company, brewer company, recording label company, football academy, property company, etc.  The combined net worth of P-Sqaure is about $129Million, placing at the number one position as the richest musician in Nigeria, far richer than D'Banj.