Being a mother isn't an easy task, especially if you're trying to raise kids by yourself. It gets even harder when doing it under the spotlight and constant scrutiny of fans and strangers. That's why these single-moms celebrities deserve a shutout who for giving everything they have to be the best mothers they can.
Michelle Williams
It started out like a fairytale romance, Michelle Williams and Heath Ledger met and fell in love on a movie set and went on to have a child together in 2005. But tragedy struck when the Australian actor died from a drug overdose in 2008, leaving Michelle a single mom to two-year-old Matilda Rose. With courage and grace, Michelle and her little cutie pie, who resembles her father, have built a life for themselves and are often spotted in NYC with all of the other cool families. This down-to-earth single mom admits she sometimes suffers from burnout. In an interview, she said, "It's a real luxury to have a moment when I'm not scrambling. I feel like most of my life, I'm trying to do two things at once, both to the best of my abilities. So that leaves me feeling pretty exhausted."
Hilary Duff
The Lizzie McGuire star is all grown up. This talented actress also has a clothing line "Stuff by Hilary Duff" and a fragrance "With Love". While still in her teens she fell for hockey player Mike Comrie, whom she married three years later at the age of 22. In 2012, the couple welcomed their first and only child together — son Luca Cruz – but separated two years later. Co-parenting son Luca with ex-husband Mike Comrie is not always easy and Hilary admits she often experiences feelings of guilt as she struggles to balance motherhood and her career. But her Instagram channel shows the world what a dedicated mom she really is.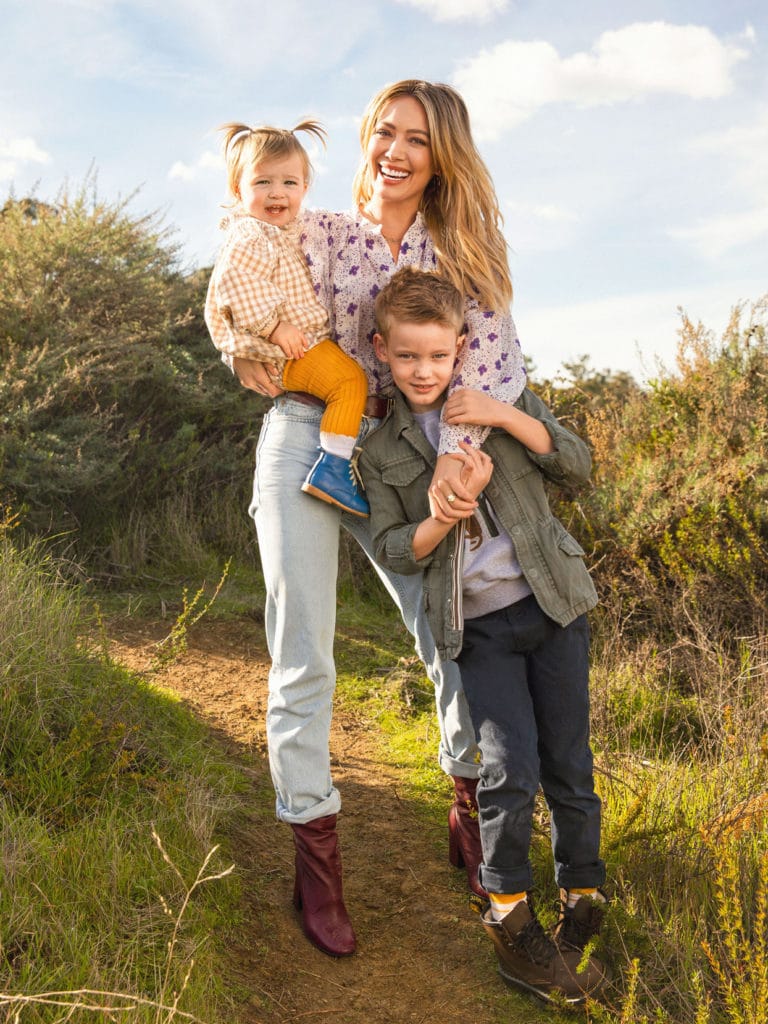 Padma Lakshmi
Indian-American author, actress, model, and TV host is best known for her reality television program, Top Chef. Lakshmi's career began at age 21 when she was discovered by an agent at a café in Madrid. Padma says, "I was the first Indian model to have a career in Paris, Milan, and New York. I'm the first one to admit that I was a novelty." After her marriage to novelist Salman Rushdie ended in divorce she dated venture capitalist Adam Dell and they had one daughter together Krishna Thea Lakshmi-Dell who is now 8 years old. She is raising Krishna as a single mom.
Malin Akerman
When Malin Akerman's son Sebastian was just 4 months old, her husband, actor Roberto Zincone left her. Divorce after so many years of being a couple was harsh Akerman admitted in an interview, "You can't control life. I roll with the punches. And ultimately, it's like, 'Where is the opportunity in this?' And that's been a nice way to look at it. Like, oh my God, I get to have so much special time with my son now." Actor Tom Arnold lashed out at Zincone for leaving Malin with a young child. He said, "She's a single mom. I have so much respect for her. She is such an amazing woman. You know, her husband, they're together 10 years, they have a baby, [and] four months in, he's like, 'I'm done.' So, she not only pays him alimony to take care of this guy, but I watched her as a mother, and I was like, 'This is the most inspiring woman. I'm not gonna complain about anything in my life.' Because she is incredible."
Halle Berry
Halle Berry won the 2002 Academy Award for Best Actress for her performance in the movie Monster's Ball – she's the only black woman to have won it to date. Not content with fame and fortune, later in life, Berry decided to have children as well. Berry had her daughter, Nahla Ariela, with ex-boyfriend Gabriel Aubry (when she was 41 years old), and her son Maceo-Robert, with ex-husband Olivier Martinez (when she was 47 years old). Berry spends as much time as she can with her children. She said: "When I happen to have free time I am always thinking about what can I do with them. What can I do to have those moments really matter? I want that quality time because I know quantity is sometimes limited."
Sheryl Crow
After breaking up with fiancé Lance Armstrong and surviving cancer, the singer decided to move forward with her life by adopting son Wyatt in 2007 and son Levi in 2010. In 2013, juggling motherhood and a career, Crow told Parade magazine she is a quintessential single working mom. "All of my decisions are based around what's best for my kids," she said. "I'm lucky that right now they're little and pretty malleable when it comes to travel. I get to take them on the tour bus, and I get to tuck them in at night even though I'm tucking them into a bunk. We read stories, and I try to keep things as normal as possible. We take the things on the road that matter to them, and we try to keep things schedule-wise as normal as possible: naps, meals, and that sort of thing. But I'm just like every other working mom — I go to sleep at night with them on my mind, and I wake up with them on my mind, and all my decisions are informed by their presence in my life. I think that's what all moms do."
Drew Barrymore
Motherhood agrees with this former party girl. Actress Drew Barrymore, split from her ex-husband Will Kopelman a few years ago. Now she juggles acting, a cosmetics company and being a supermom to two adorable daughters, Olive and Frankie. Somehow, Drew makes it all look easy and, most importantly, enjoyable. Drew said: "It was just like my worst nightmare. I so wanted to raise kids in this ultra-traditional way and do everything so the polar opposite of my experience." Drew had a difficult relationship with her own parents and divorced them while still in her teens. Incredibly enough, her setbacks have not slowed her down at all and she is giving her children and her career everything she has.
January Jones
The Mad Men star made a startling announcement in April 2011 – that she was expecting her first child and did not reveal who the father was. She was totally cool about being a completely single mom. Two years later, she revealed to Net-A-Porter's The Edit online fashion magazine what it was like to be a single mom to son Xander, "I don't have room for anything else so I don't know how I would have done it with a partner." She continued, "I knew I would be raising my son alone. It was something I went in to knowingly, I was prepared mentally — and I was excited about it."
Diane Keaton
The Oscar-winning icon adopted daughter Dexter in 1996 and then son Duke in 2001 when she was already in her fifties. Diane said, "The loves of my life are my children and my mother," she said. "I don't feel as if I need a man." However, it took her a long time until she decided to become a mother. She admitted that was waiting until she was in a "strong and substantive" relationship before becoming a mother — but that never happened for her. "I've had such an unusual life. Obviously career-oriented. I was happy to be a daughter well into my 40s. That was something that meant a lot to me," Keaton told Ladies' Home Journal.
Scarlett Johansson
Actress Scarlett Johansson and her ex-husband, Romain Dauriac co-parent their four-year-old daughter Rose Dorothy. They married in Philipsburg, Montana, in 2014 and separated two years later. The actress is very open about her struggles with motherhood. "I don't profess to know anything about parenting, anything more than anybody else, [but] being a working mom is an incredible challenge, [and] it's an incredible gift," she told Entertainment Tonight. "I think you always feel a little bit of guilt," the actress continued, "If you're at work, you feel like you're missing out on those special moments with your kid. If you're with your kid, you feel like you're not giving enough to your job. It's a balance."
Meg Ryan
America's Sweetheart Meg Ryan and actor Dennis Quaid had one son together, Jack. But after they called it quits, Meg decided she wanted another child, so in 2006, she adopted Daisy True from China. Meg explained that in China the adoption process includes a lottery system and Daisy was randomly assigned to her. Meg points out, "But that said, I am convinced, completely convinced that there was nothing random about it. She is the daughter I should have." About being a single mom Meg shares: "…Jack has his dad and they're close, he'll always have that. But when you're the only one in the house with the kids, you get to be the one in charge. You're the one making the rules. There's no stress because you and some other adult don't agree on how you want to raise your kids."