Jennifer Lopez
Last year many celebrities, including Jennifer Lopez, chose to stay in for the holidays and celebrate Christmas at home with the family. Jennifer Lopez and Husband Alex Rodriguez stayed home, wore matching pajamas, and invited the entire family for a cozy Christmas celebration. Jennifer's mother and kids from previous marriages also joined in on the fun.
The multi-talent also posted photos of her decorating the tree with the children – a Christmas tradition that doesn't pass over the celebrities! Though it seems like they are always on the move, constantly planning their next big hit, even celebrities celebrate Christmas with the family and cherish those little moments. This year, however, the singer will have a more adventurous holiday, and it started with her opening performance of the Saturday Night Live Christmas special.
Joe Jonas and Sophie Turner
The newlyweds spent the holiday together in England – in Sophie's hometown. She hosted a Christmas dinner party at her house in Warwick, and (almost) the entire Jonas family flew from the U.S to attend the festive dinner. Nick Jonas and his new bride actress Priyanka Chopra were also spotted at the family dinner, but the third Jonas link was missing – he preferred to spend the holidays in the U.S.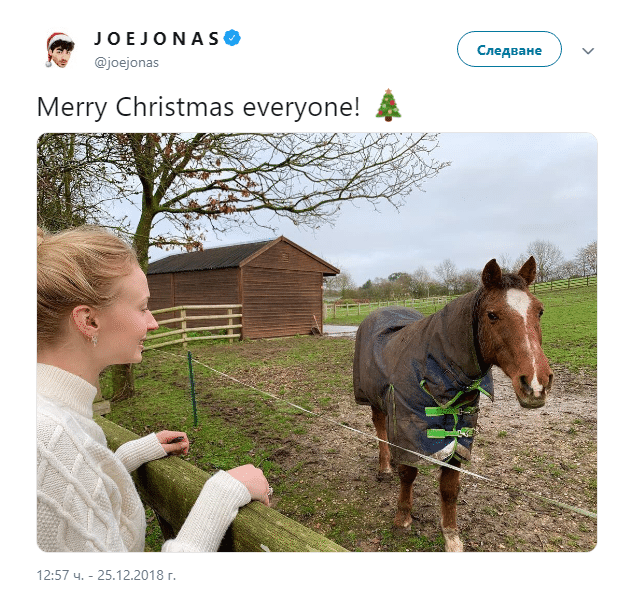 They made an entire trip out of it, and throughout the holiday, the extended family traveled and enjoyed Warwick's countryside. Even the Queen of the north takes a break from her duties sometimes to spend time with the people she loves. Since last year it was in her hometown, perhaps the couple will spend this holiday season in the U.S with Joe's family.