Taylor Swift
The superstar celebrated a big milestone this holiday season – her 30th birthday! And since her birthday is so close to Christmas (December 13), and everyone is already feeling those holiday vibes, she decided to celebrate the two happy occasions in one big Christmas/birthday bash, and hosted a Christmas themed birthday party for all her friends and loved ones. This is one party we'd love to attend – wouldn't you?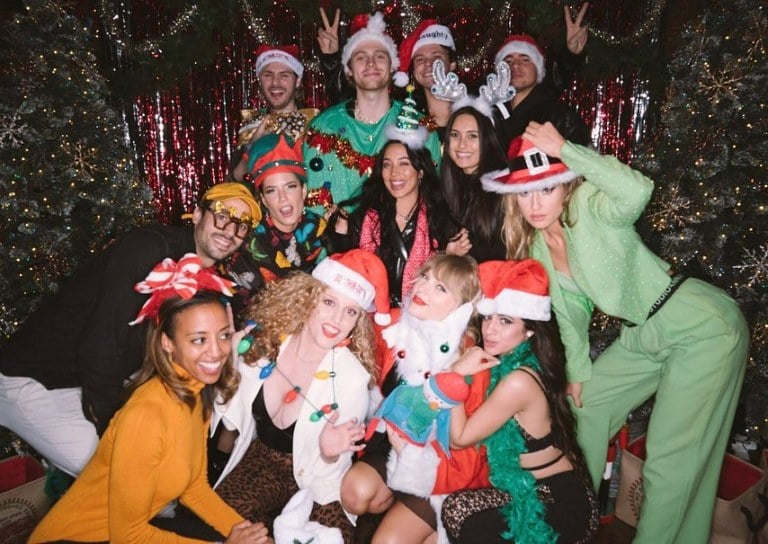 It's hard to spot the singer underneath all those Santa hats and Christmas decorations, but she's right there in the middle having a jolly good time. Perhaps you'd expect the music sensation to have a special party dedicated to her special day, but she figured – why not celebrate the two jolly occasions together? People who were born around Christmas time – did you ever feel your birthday was being shunned by Christmas?
Jason Biggs and Jenny Mollen
Actors Jason Biggs and Jenny Mollen are preparing to spend this holiday season with the kids, and judging by this Christmas card, seems like their kids are having more fun than the couple! But we always adore celebrities who include their pets in their holiday celebrations, and the Biggs' didn't fail to include their dog's name (Gina, in case you were wondering) right in there with their kids. One this is certain – Gina wasn't the one who wrapped them in those Christmas lights!
This is one of the most successful Christmas cards we've seen this holiday season (and not just this year!), with the couple all dressed up and their children pointing and laughing in their Christmas pajamas – it's not your usual photo of the perfect family smiling in front of a Christmas tree. We just hope it was worth the picture, and that it didn't take them too much time to untangle themselves from this Christmas mess.