Miley Cyrus
Miley Cyrus knows how to have fun, and so she always her holidays are always exciting (even more so than her daily life!), but last year was special. Perhaps some of you caught to Christmas special of the Tonight Show starring the outrageous singer. During the show, she was asked to perform her version of the Christmas classic "Santa Baby," and being the feminist that she is, gave it a little personal twist.
The classic hit from 1953 has undergone many renditions over the years, but you can count on Miley Cyrus, Jimmy Fallon and Mark Ronson to do something that's never been done. The singer said she thinks the outdated song might need a change of lyrics, more fitting to our modern times: "Am I saying I'm gonna hook up with Santa if he buys me all this stuff?" she asked on the show.
Bethenny Frankel
T.V personality Bethenny Frankel had a very pink Christmas! In case you were wondering where you might find a tree like this one, this pink tree is her own making, and it has a place of honor in her house. We've seen different Christmas tree trends over the years, including black Christmas trees and white Christmas trees, but this is a first! Frankel believes in unleashing your creativity and finding unique ways to express it at any opportunity, including, of course, Christmas.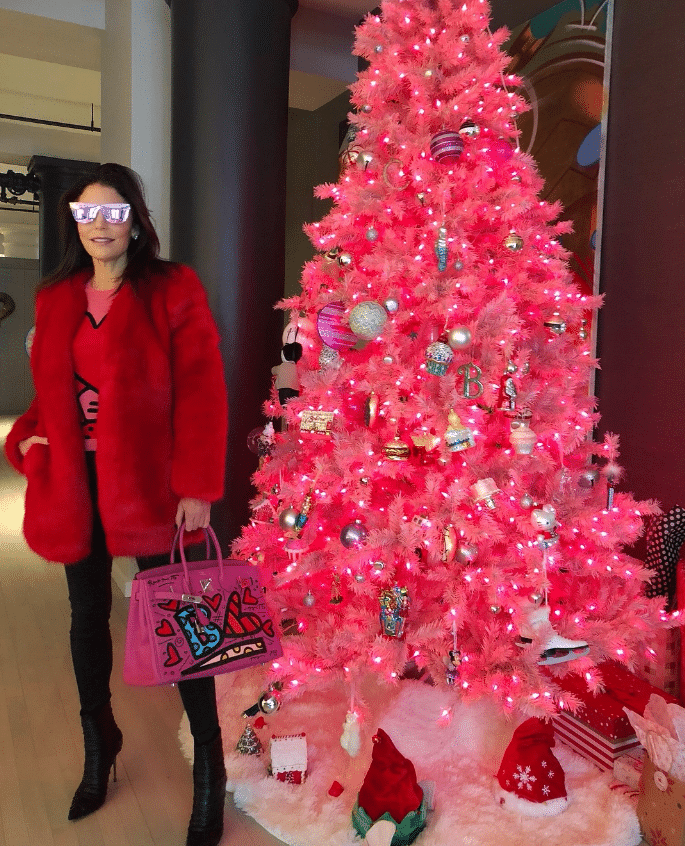 The actress liked this concept of neon pink trees, and so she's maintaining it this year, and taking it to the next level. You can say this is a new tradition she started herself, and who knows, perhaps it'll spread like wild fire, and the next holiday season cities will be covered in pink. This year Christmas came early for Bethenny, as she posted this photo on her Instagram page thanking all the good things she has in life.
Ryan Reynolds, Jake Gyllenhaal and Hugh Jackman
Celebrities also enjoy a good prank every now and then, especially if it involves Christmas! Huge Jackman and Jake Gyllenhaal executed the perfect prank on fellow actor Ryan Reynolds when they invited him to an "ugly sweater" Christmas party, and he's the only one who showed up with a Christmas sweater! One thing is sure – he's going to think twice next time he puts on a Christmas sweater; and just to be clear – we don't condone pranks like this one, hampering Ryan's Christmas spirit.
Of course, no good prank is complete without pictures commemorating it for generations to come, and you can see Hugh Jackman and Jake Gyllenhaal laughing it up and enjoying themselves while poor Ryan Reynolds, well, not so much. We're wondering how come his wife Blake Lively wasn't there to rescue him from the humiliation, but for all we know – she might be the one holding the camera!
Tom Brady
Football legend Tom Brady and super model Gisele Bundchen seem like their lives are the image of luxury (perhaps even more so than the Kardashian family!) – they live in a hip New York apartment most people only dream of, and they attend the most glamorous parties and events. But as it turns out, you can't party all the time, and so on the holidays the couple takes a break to stay in and spend some quality time with each other.
This seems to be a tradition for the couple, as every year Brady posts a traditional photo of his wife decorating the tree (we're not sure when this tradition started, but it dates at least four years back). His wife may be a tall runway model, but it seems funny that the football player lets her do all the hard work – climb the ladder, decorate the tree and put the star at the top!
Drew Barrymore
We already established that Christmas is a time for loving and sharing, and so even divorced couples, such as Drew Barrymore and Will Kopleman, come together to spread some holiday cheer. The actress and her ex husband agreed that the holidays are a time to set their conflicts aside, even momentarily, so that they can give their daughters the best Christmas experience possible.
As if it isn't enough they decided to get together, the little family (with daughters Olive, 5 and Frankie, 3) made a whole trip out of it! The family took a trip to Idaho over the weekend; three whole days spent together with your ex would be intolerable to some people, but perhaps Christmas worked its magic on them. The couple even shared a corn dog together, for old time's sake.
Jessica Alba
The acclaimed actress shared that her husband and her have a tradition of spending Christmas with the family in matching pajamas, in front of the fireplace. In this photo Jessica is expecting her third child, which means this year the family will have a bigger Christmas!
There you have it folks – it turns out that all celebrities enjoy the small things in life, just like we do. Only, they somehow manage to do it with more style – how is it that even in striped pajamas they manage to look so attractive? These photos were taken two years apart, and this year Alba's family is bigger, and they are celebrating as a family of five. But don't worry, I'm sure they have plenty of room under the tree.
Brittany Cartwright
Brittany Cartwright, the undisputed star of Vanderpump Rules, had a big Christmas last year. Though she was sans current husband (and fellow Vanderpump Rules star) Jax Taylor, and single, it didn't stop her from having a fabulous holiday with family and friends. And it's not a real Christmas without the ugly sweaters, jumpsuits and red noses!
This year, she will celebrate the holiday with husband Jax Taylor. The newly wed couple take their Christmas business seriously, and they demonstrated some serious Christmas spirit, and an impressive Christmas tree, and this year they prepared for us a Holiday Gift Guide with their best recommendations for Christmas gifts.